After making some suggestions to our friends' for their three weeks trip to Sicily, we decided to share our ideas for a three weeks itinerary to Sicily.
For more general tips, you can also check out our guide to Sicily.
Week 1 – Catania and Etna
We would spend our first week, flying into Catania and visit the eastern part of the island.
Catania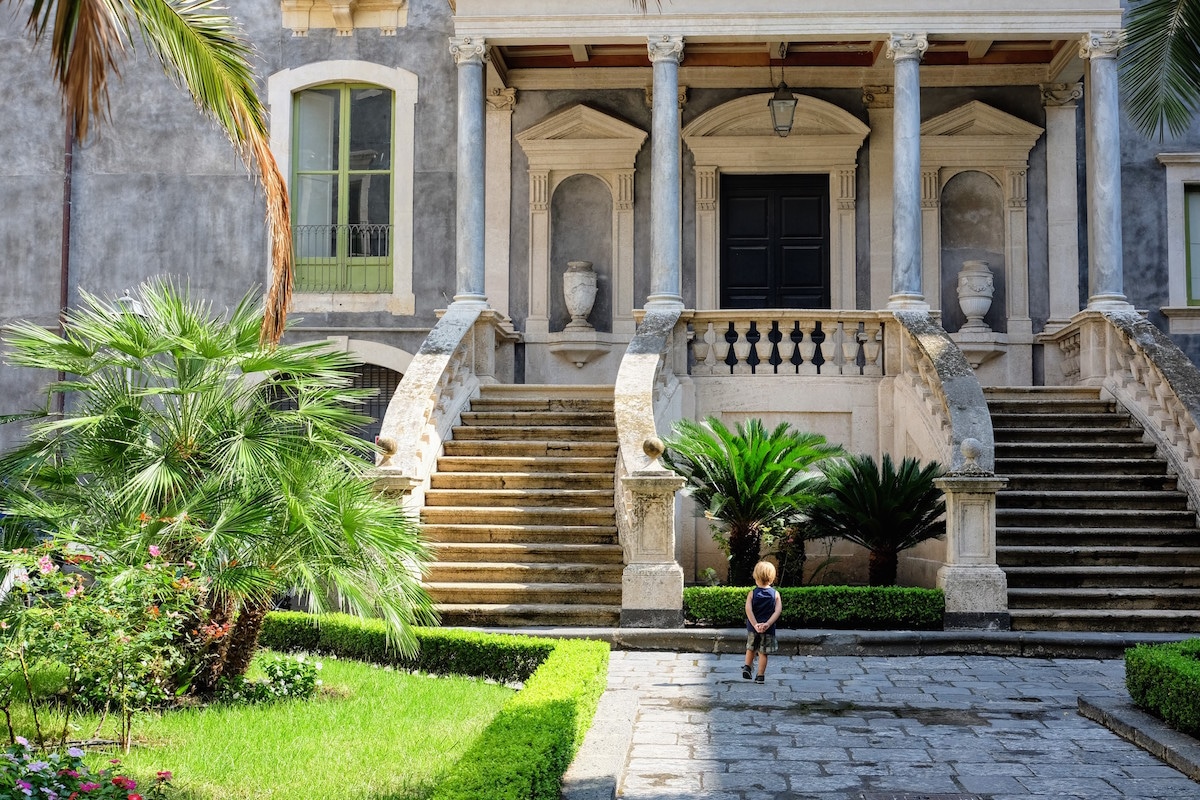 Catania is the second largest city of Sicily. Close to the sea, it offers all kinds of good food, especially from the sea.
Some of our favorite places in Catania are
– Savia (Pasticceria more than 100 years old. They make delicious granita, cakes, gelato, and arancini.
– Al Vicolo Pizza &Vino (Delicious huge pizzas and nice wine list)
– The Raucous fish market (sample fresh oysters and buy great seafood to cook at home)
Stroll the city and have espresso in one of the many beautiful piazzas. Or bring your coffee from Savia to Parco Bellini, which is a quiet oasis in the middle of the city.
Etna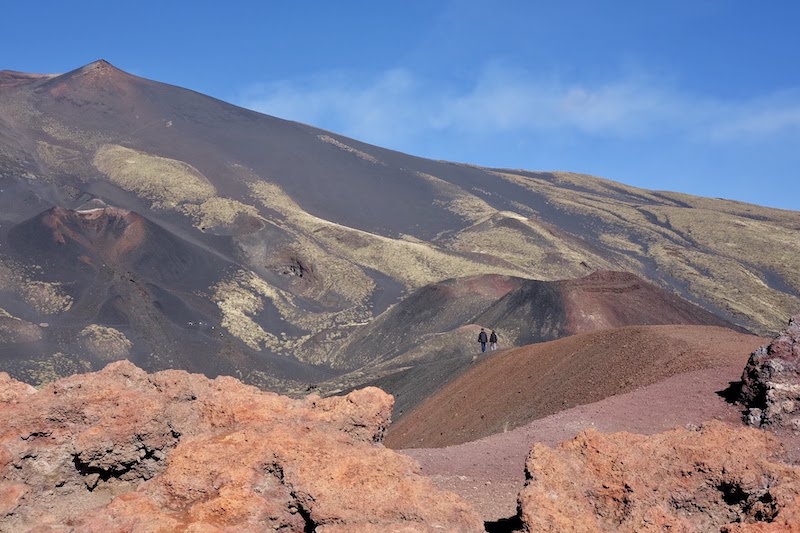 The active volcano Etna is a fantastic destination for nature, views and experience the rich wine culture. Visit producers like the famous Frank Cornelissen or spot any "vino" sign on the road, which probably leads to some locals selling great (and very cheap) wine.
You can also stay in Giarre or Riposto and still be close to the sea.
Great places for food are Cave Ox and La Bitta in Giarre.
Read more about experiencing Etna
Week 2 – South East of Sicily; Modica, Noto and more
After the first week in Catania and near Etna, then move more south to e.g. Modica or Comiso, from where you can reach all the following suggested places on day trips.
Modica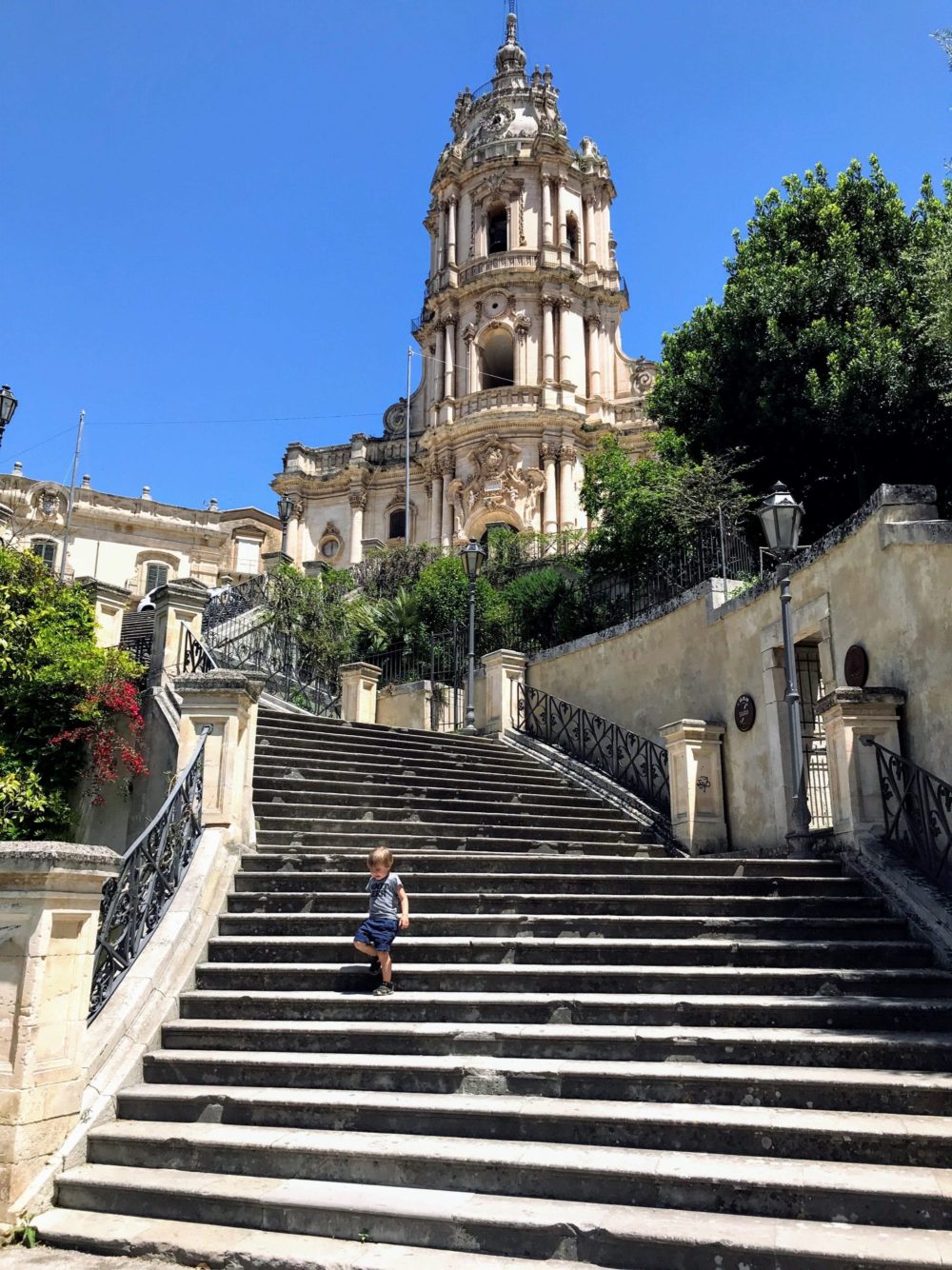 Modica is a beautiful UNESCO heritage city in the south-east part of the island. It's extremely beautiful and not bigger than a two days stay will let you experience it.
You should sample the local specialty scacce at Bar Piccolo, eat a hearty mountain meal at La Rusticana, and try the great family restaurant Invito. You should definitely also have cassata at Caffé Adamo!
Noto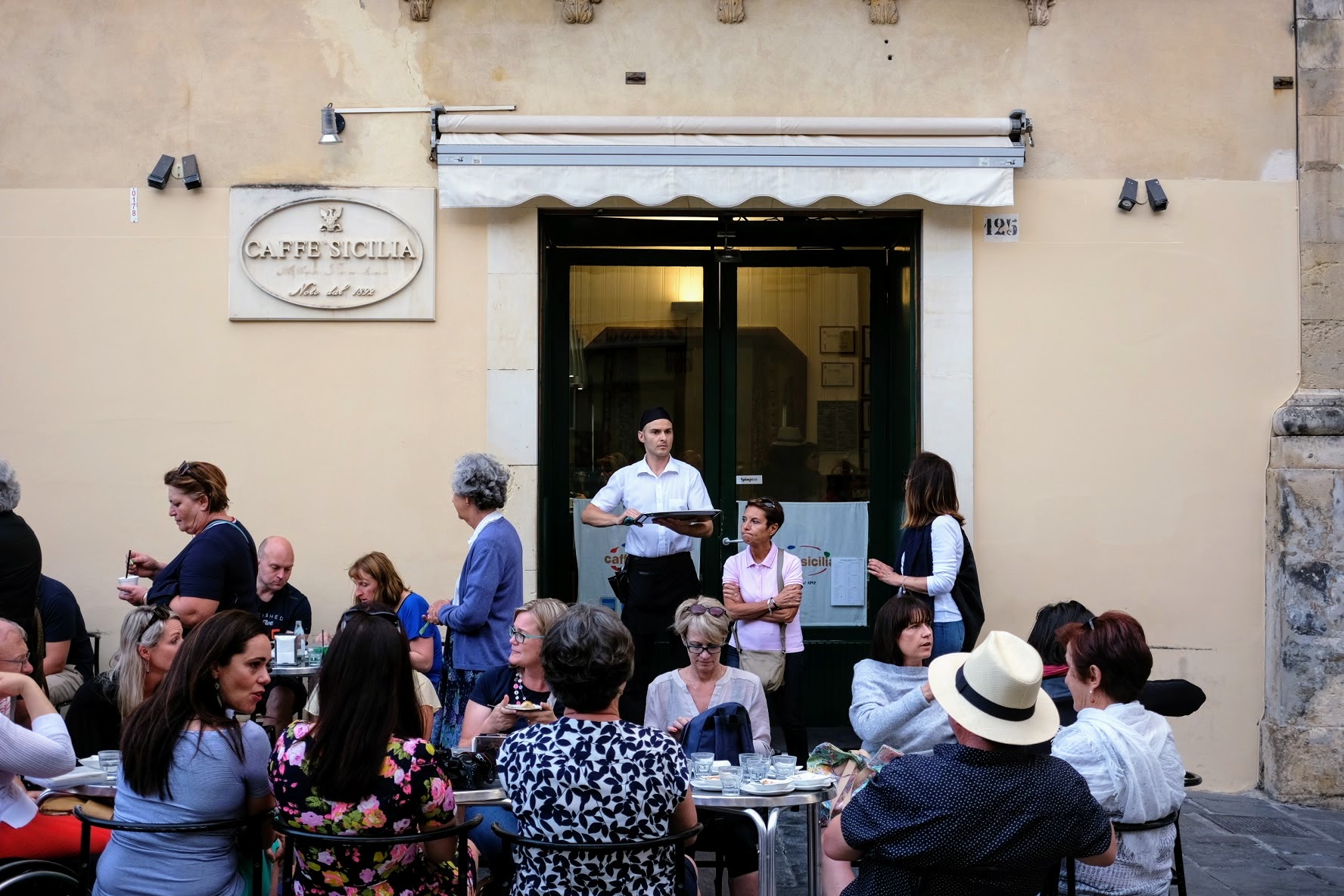 Noto is another famous UNESCO baroque city. Much more touristy than Modica, which we prefer. But if nothing else, at least go to try the granita at Caffé Sicilia, which is extremely good.
Siracusa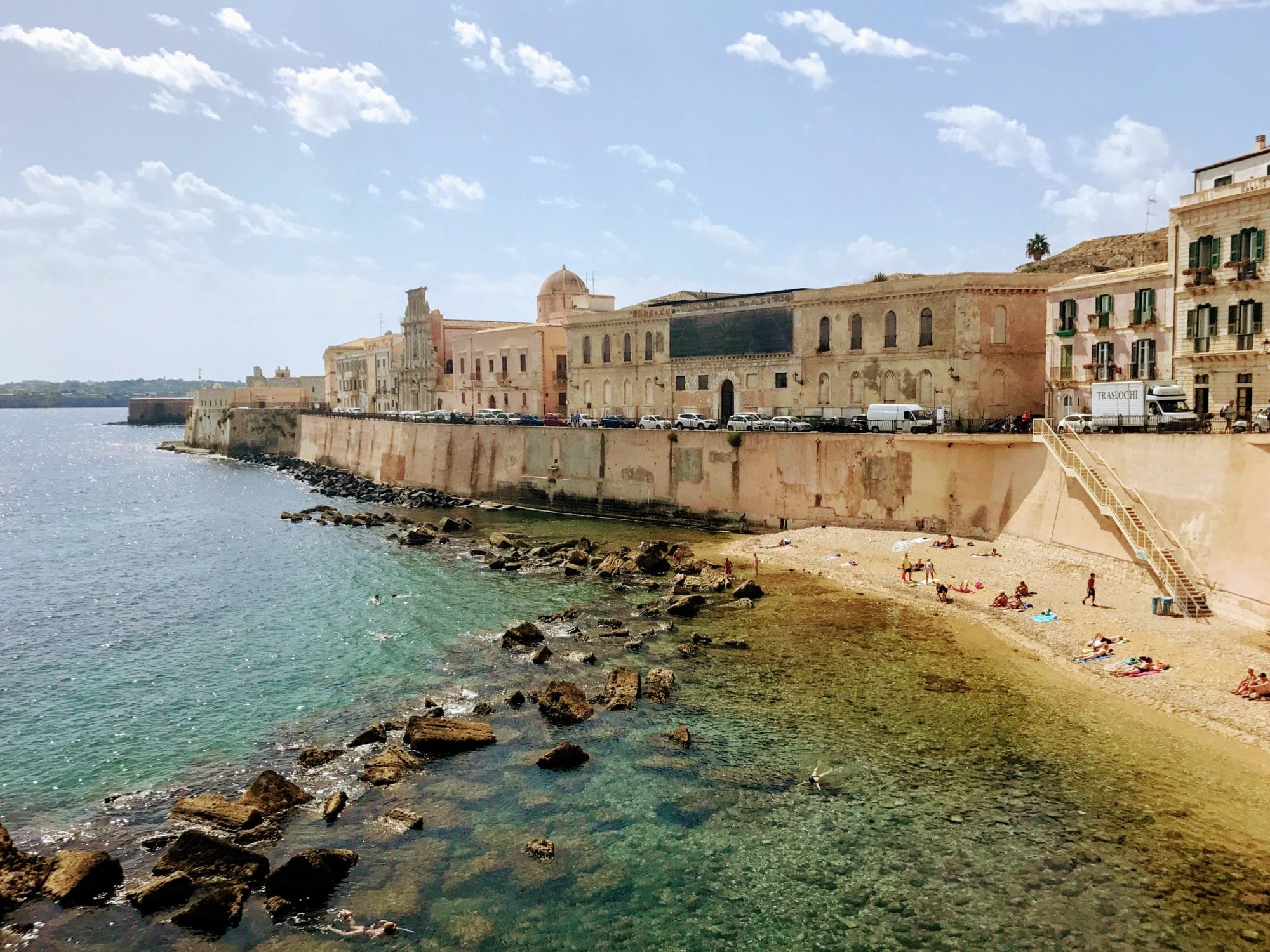 Siracusa is a great day trip destination. The old part of the city is situated on an island called Ortigia. Ortigia is great for a stroll, exploring the market and having a good lunch or dinner in one of the many good restaurants. We liked Carnezzeria a lot.
Marzamemi and Portopalo
Marzamemi is a quite picturesque small town, very popular with Italian tourists in the high season. It's a great place to go for an aperitivo, good granita at Ciclope, or a good meal. There are many restaurants, but we'd go to nearby Portopalo to eat at one of our favorite restaurants, Scala.
Day Trip Chiaramonte Gulfi to Ragusa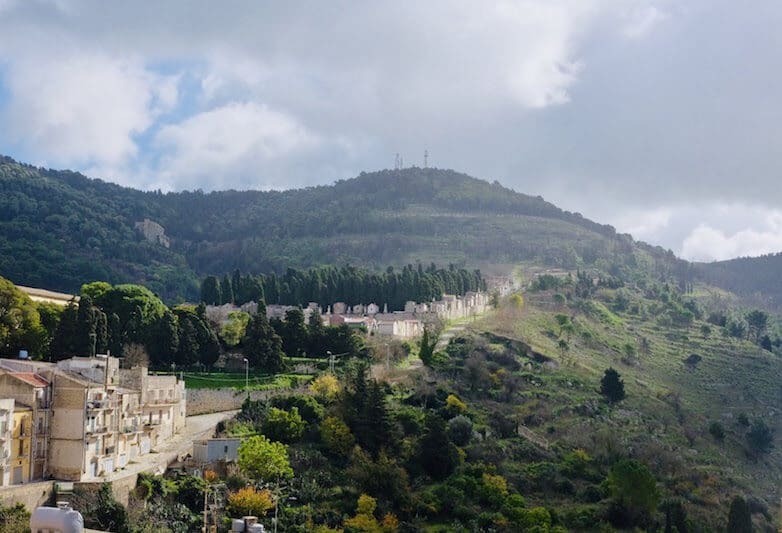 Starting from Comiso, drive through Chiaramonte Gulfi to Ragusa. Chiaramonte Gulfi is a small village on the top of a mountain overlooking the flat valley around Comiso. U' Damassu and Majore are two great restaurants to visit, so it's no problem getting a great lunch here, before moving on.
The drive to Ragusa takes you on mountain roads past superb views and also a super cool abandoned hotel.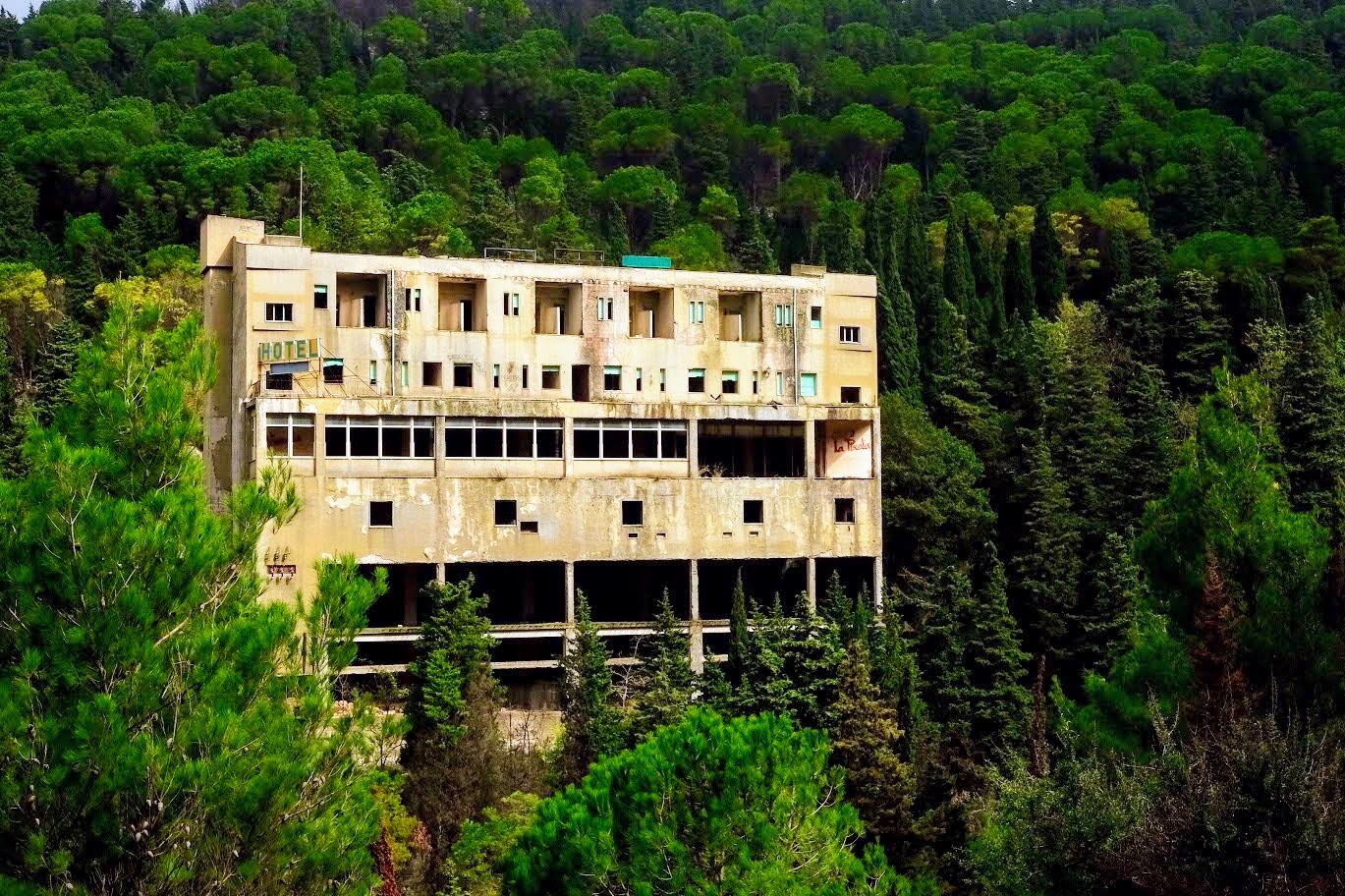 Reach Ragusa to stroll the baroque city and grab dinner at Taverna del Lupo.
Read more about Chiaramonte Gulfi and Ragusa
Beach towns; Scoglitti, Donnalucata and more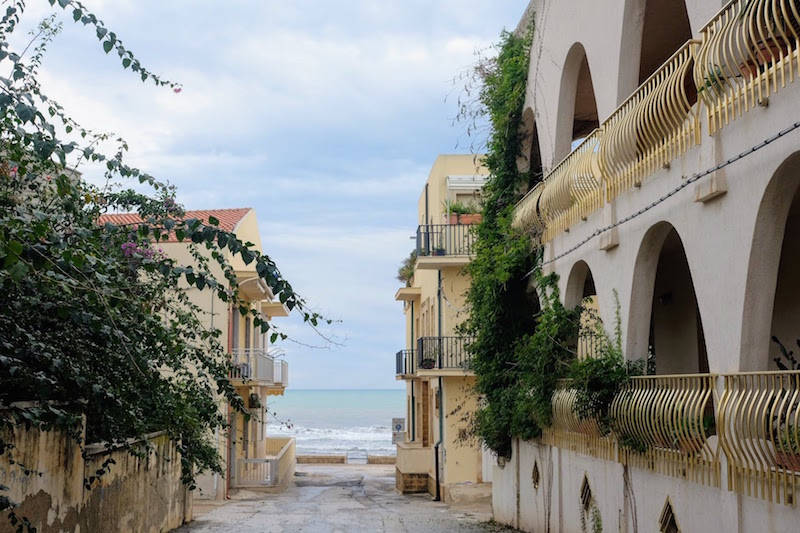 The south coast boasts long, sandy beaches. Like the area of Donnalucata and the two very nice beach towns of Scoglitti and Pozallo. Both have wide and long beaches, which make you think of a postcard from the Caribbeans.
If you go to Donnalucata, you should try out the modern trattoria Trittico,  You'll eat well in Scoglitti at Il Pescatore and Ficheria.
Week 3 – North West of Sicily: Marsala, Trapani, Palermo and more
The drive from the south along the west coast towards the north of the island is super nice. You can pass through Agrigento to see the famous ruins and maybe Scala dei Turchi.
Marsala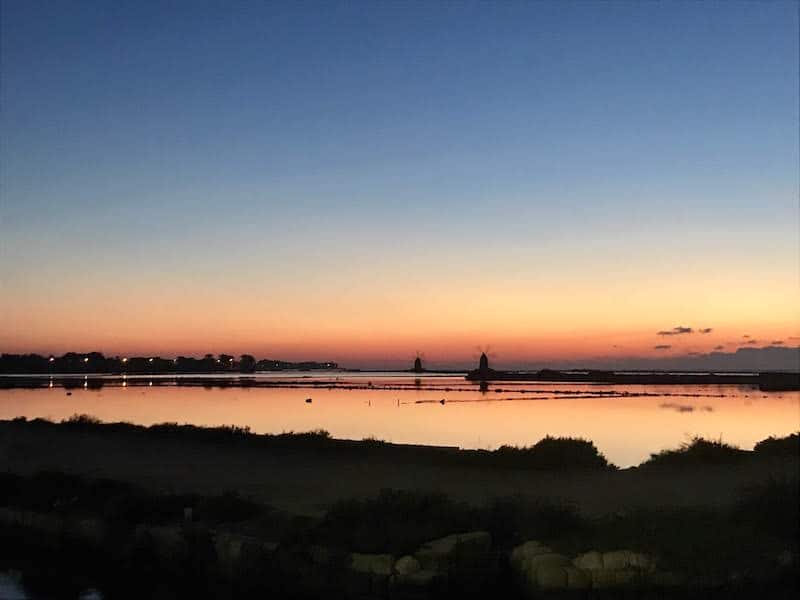 Marsala is known for the wine of the same name, but is also worth a visit for other reasons. We love the old seafood restaurant Da Pino, the amazing – fried to order – arancini at Ragona, and the sun setting over the flat salt production areas.
Trapani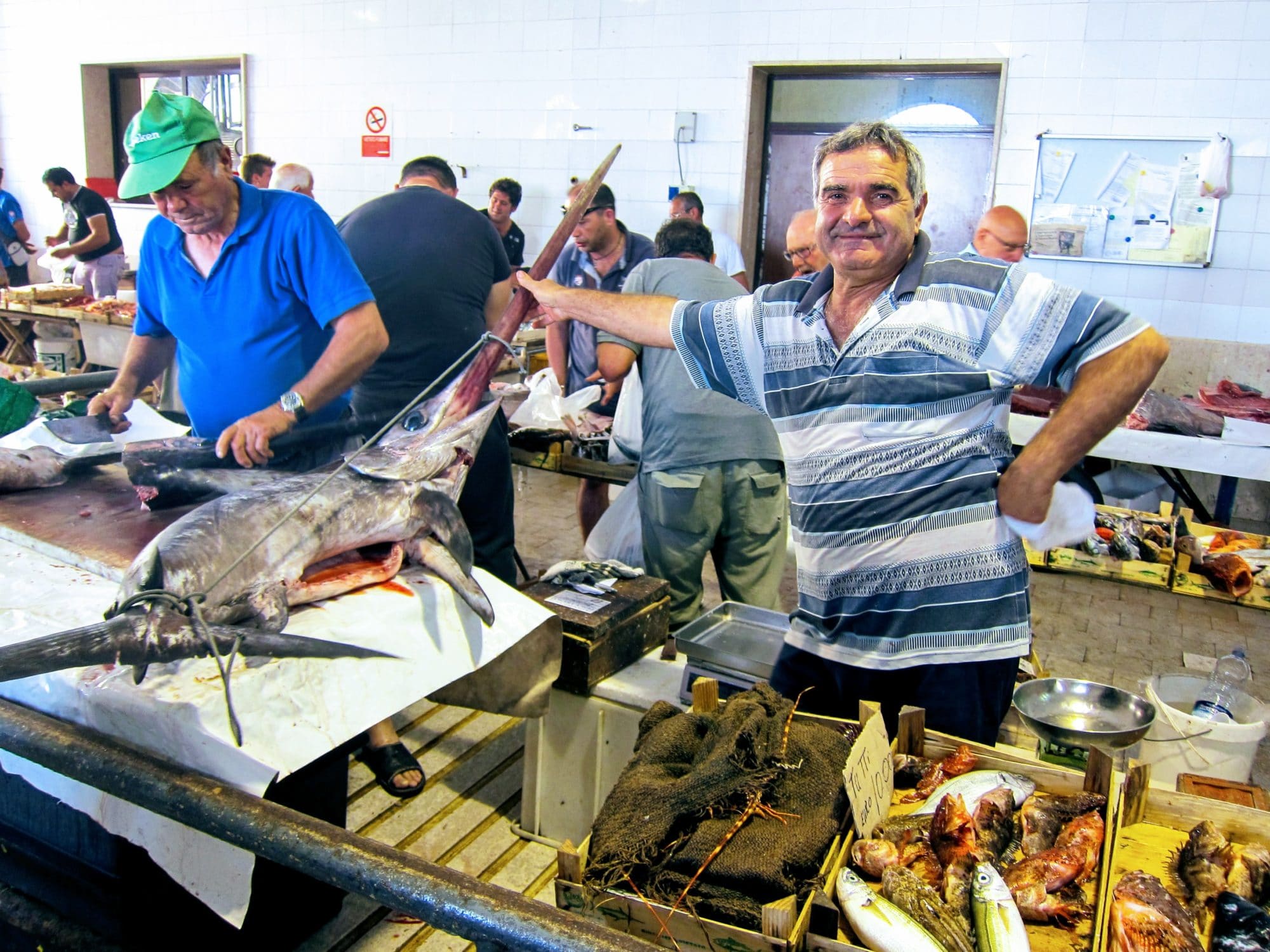 Trapani is a short drive from Marsala, and offers similar good sunsets and a nice small town. Good for an evening stroll, a swim on the local beaches and a great dinner at Cantina Siciliana.
They also have a super nice fish market, so if you stay nearby, make sure to shop seafood and have a great meal at home.
Between Marsala and Trapani you should head for a great Sunday lunch at Agriturismo Vultaggio, where you'll be served a very cheap but high quality menu. All local and organic products, and their wine list is amazing too. Only Sicilian wines and many biodynamic and natural.
Favignana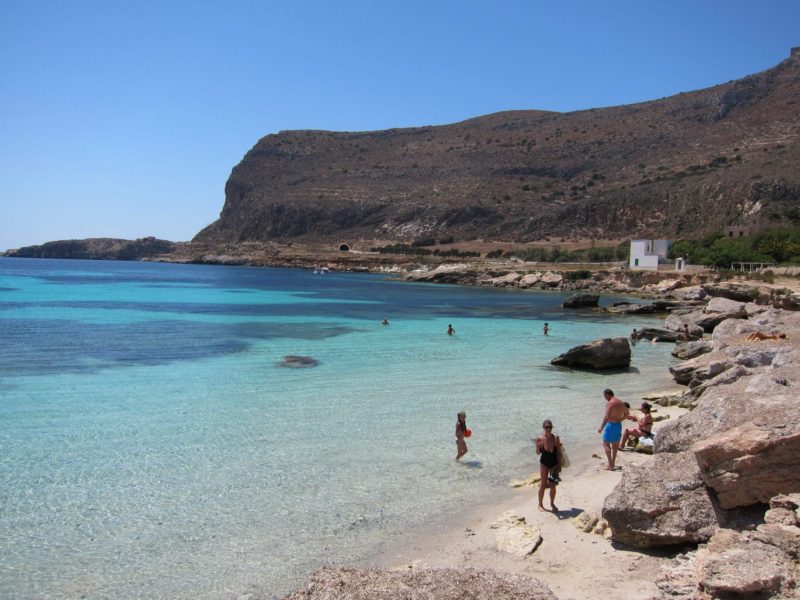 From Trapani, you can take a day trip to Favignana. A small and quiet island, with beautiful turquoise ocean and beaches. You'll calm down immediately.
Castellammare del Golfo and Scopello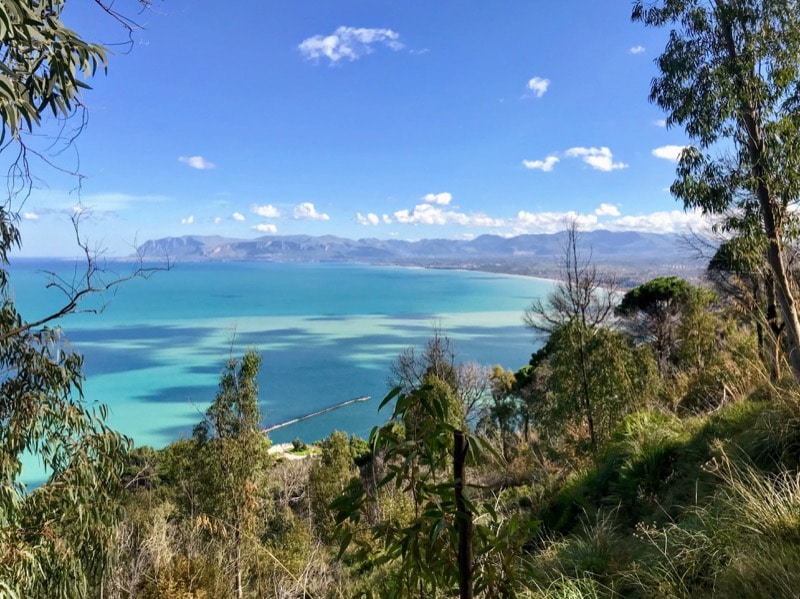 Driving north you'll get through a beautiful landscape of rolling hills around Alcamo, a big wine region. At the coast, the small town of Castellammare del Golfo offers a good chance to pick-up seafood from the local fishermen in the morning at the harbour. From the harbour, you can clearly see the close by mountains, which offer great hikes or mountain bike ride.
Head west to reach Scopello and experience the rocky beaches of the north. It's beautiful here.
Read more about Castellammare and Scopello
Macari and the Zingaro reserve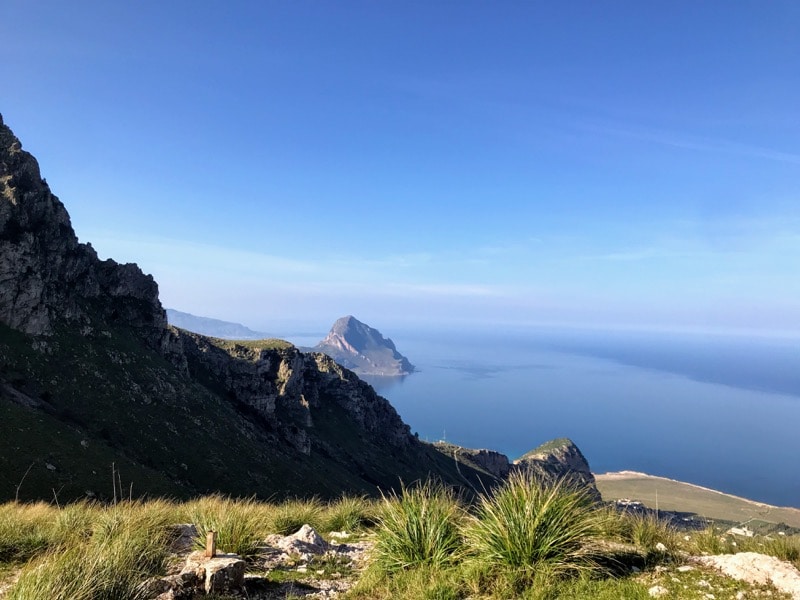 A detour worth making is further towards west to the small village of Macari. Here you can reach a few good beaches and hike directly into the Zingaro nature reserve. Outside peak season many things are closed, but you can always get a great pizza at the local pizzeria, Macari Caffé.
San Vito Lo Capo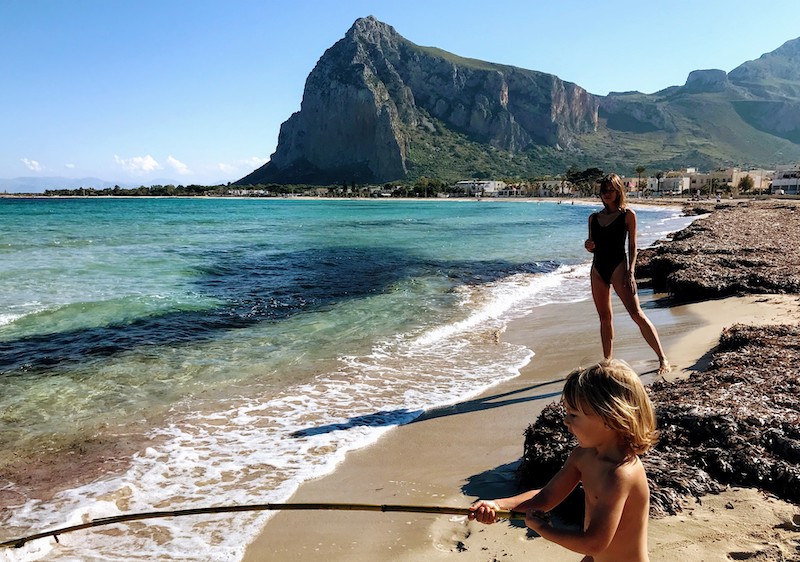 Just a short drive from Macari, you'll find the famous San Vito Lo Capo, which outside peak season is surprisingly quiet and pleasant to visit. The beach is known to be one of the best on the island.
Read more about San Vito Lo Capo here
Mondello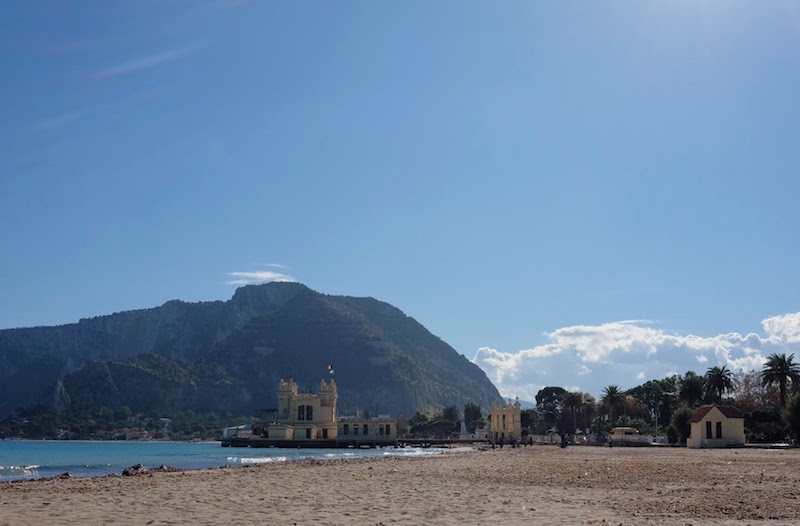 Close to the capital of Palermo, you'll find the holiday town of Mondello. A small but lively town, with a great beach and quick access to some good hikes in the nearby nature reserves. Galatea serves delicious gelato and cakes and is a good spot to hang out. We loved hiking in Capo Gallo nature reserve and visiting Palermo in the day time, but returning in the even to a quiet spot.
Palermo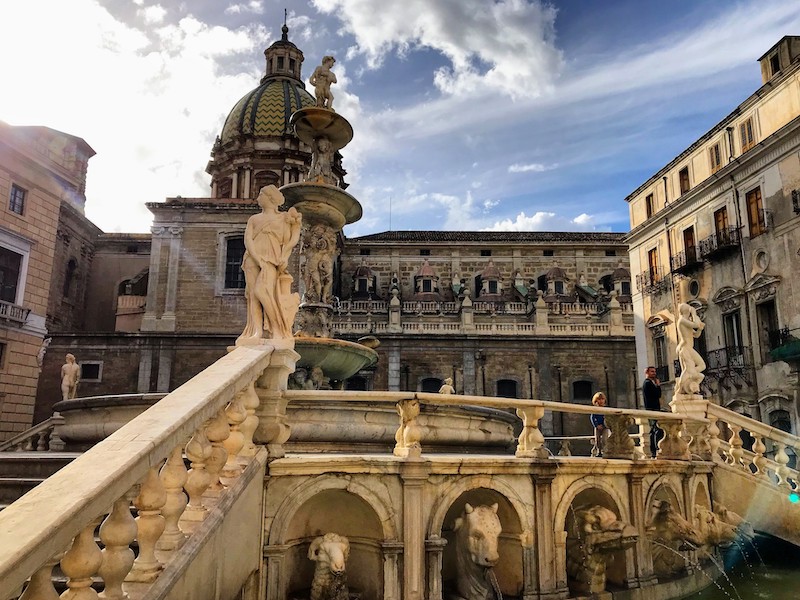 The bustling capital of the island offers great food, beautiful architecture and streets full of life. Brioscià makes probably the best gelato we've had. Quattro Canti and Fontana Pretoria are possibly some of the most beautiful spots we've seen, and so the list goes on. Go and take it all in.
What else?
There's a lot more to do in Sicily. You could definitely explore the mountains of Nebrodi, visit the Aeolian islands like Salina and so much more. But the above is definitely manageable in three weeks and it will let you experience many great sides of this island.
We always recommend getting the Osterie d'Italia app, which will guide you to many great restaurants focused on local cuisine and good quality. It's a must.