Sicily Travel Tips
We got a huge love for Sicily and keep coming back to explore this amazing island.
Whether you're into nature with volcanoes, sandy beaches, rocky beaches, small mountain villages or the bustling city life Sicily has it all. The distances are not big, so even a one or two week holiday can let you experience many different things.
Read through this overview and scroll down to find all our posts about Sicily. 
You can also check out our suggestions for 3 Weeks in Sicily.
The Culture in Sicily
Sicily has a rich culture and a multicultural society. Among others, it has been dominated by Greeks, Arabs, and Romans, that has left amazing things to see and taste. If you are interested in architecture and history, or if you're a foodie this is the place to be.
Visit Sicily with Kids
Sicily is a great place to travel with kids, as there are many things to do, beaches are kid-friendly and the locals generally love children. You'll always find a high chair for the small ones, and kids are welcome at any restaurant.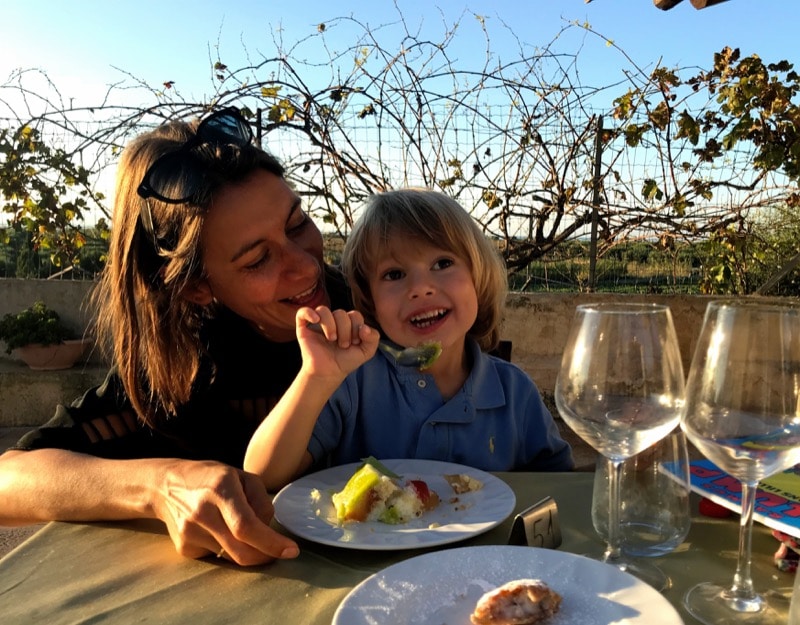 What to do in Sicily
Cultural Attractions
Visit the cultural attractions like the UNESCO baroque cities of Modica, Noto and Caltagirone and of course the big cities Catania and Palermo. Stop in different villages on your routes for espresso and explore a little. There's always a nice piazza, great snack or beautiful buildings.
Beaches
Swim and relax on the amazing beaches. In the south most beaches are wide and sandy, while the north have more rocky beaches. Our favourite sandy beaches in the south area are Donnalucata and Scoglitti, Calamosche on the east coast and in north the amazing sandy beach in San Vito lo Capo, which competes well with more tropical destinations with turquoise water and white sand. 
Rocky beaches are nice as the water is even clearer and you'll get a break from being covered in sand. Tonnara del Secco is one of our favourite spots together with Cala Rossa on the beautiful island Favignana, which you can reach from either Marsala or Trapani. 
Hiking Volcanoes and Biking the Mountains
Tourists don't generally visit Sicily to hike or bike, but it's a fantastic destination for just that. Hike around Castellammare del Golfo and the Zingaro reserve in solitude while enjoying amazing views of the sea. Rent a bike and get your sweat on the mountain roads. Climb the volcano Etna and explore the extinct volcanoes on the Aeolian islands like Salina. 
Use the app Wikiloc to discover hiking trails and Strava to discover bike routes.
Eat and Drink
The food is amazing in Sicily and the prices are fair. Treat yourself visiting local restaurants, try the snacks at bars and street food and indulge in the pasticcerie.
Read more below. 🍝👇
What to Eat in Sicily
Fresh seafood, best tomatoes in the world, great wine, gelato, and sweets at the amazing pastticerie will keep you eating throughout your trip. 
Go inland and the focus is mostly on meat, cured meat and cheeses, while the coast is all about the seafood. Of course with plenty of options of great pasta. And don't forget the cheap and good espresso, the arancini, the couscous (showing we're close to North Africa), the cannoli, the olive oil, and the list just goes on and on.
When to go to Sicily
Best time to go is March through June and September through October. July and August are very hot and August is Italian holidays, so that's where the island gets most busy and prices a lot higher. Sicily has mild winters and with a bit of luck you'll have +20°C on a November day if you're at sea level.
Get There – by Plane or Ferry
The main airports are: 
Mainly via low cost airlines and domestic connections you can also fly to:
By car or bike, you can take ferries from: 
Salerno to Messina 
Naples to Palermo 
Or a quick crossing to Messina from Calabria.
Get Around – Rent a Car
Sicily is by far best experienced with a car. Unless you're just visiting the main cities of Palermo and Catania, where you should just avoid driving. 
Be sure to use a good broker and get full coverage, as some companies are running a dodgy business. We've had incredible deals through autoeurope.com with reputable companies. Use the US site as that's usually a lot cheaper we've found.
Get a small car as many villages have very narrow streets!
Want Travel Advice for Sicily?
Reach out if you'd like more specific advice or a tailored guide.

💬Get in touch
Great Sicily Destinations
Click the pins to read posts about the Sicily destinations we have covered.

Read all our Sicily Posts