From the Sicilian town Trapani, the ferry takes you to the Egadi Islands, an archipelago west of Sicily, and the beautiful island Favignana.
We hadn't done any research at all before going to Favignana. A friend wrote on my Instagram post, from Trapani, where we were staying at the time: "Go to Favignana!". So we looked it up on a map and saw some pictures. The next morning we went to the port in Trapani, close to the old town, and jumped on a ferry to Favignana.
The island is a beautiful escape into nature. Almost car-free, why you are encouraged to take a bike instead around, enjoying the peace and chilled atmosphere.
Getting to Favignana
The hydrofoil ferry to and from Favignana sails every hour and takes 30 min. A return ticket cost about 24 euros a person, about 16 euros for children over 3. You can see timetables here https://eng.libertylines.it and skip the queue at the port by booking your tickets online. I recommend booking tickets ahead in the summertime, especially if you are taking a ferry and bringing a car.
Arriving at Favignana port in the main town called Favignana, we were met by old colorful fisher boats, small talking and laughing between the fishermen. Some of the fishermen standing in the streets and selling their fresh catch from their truck.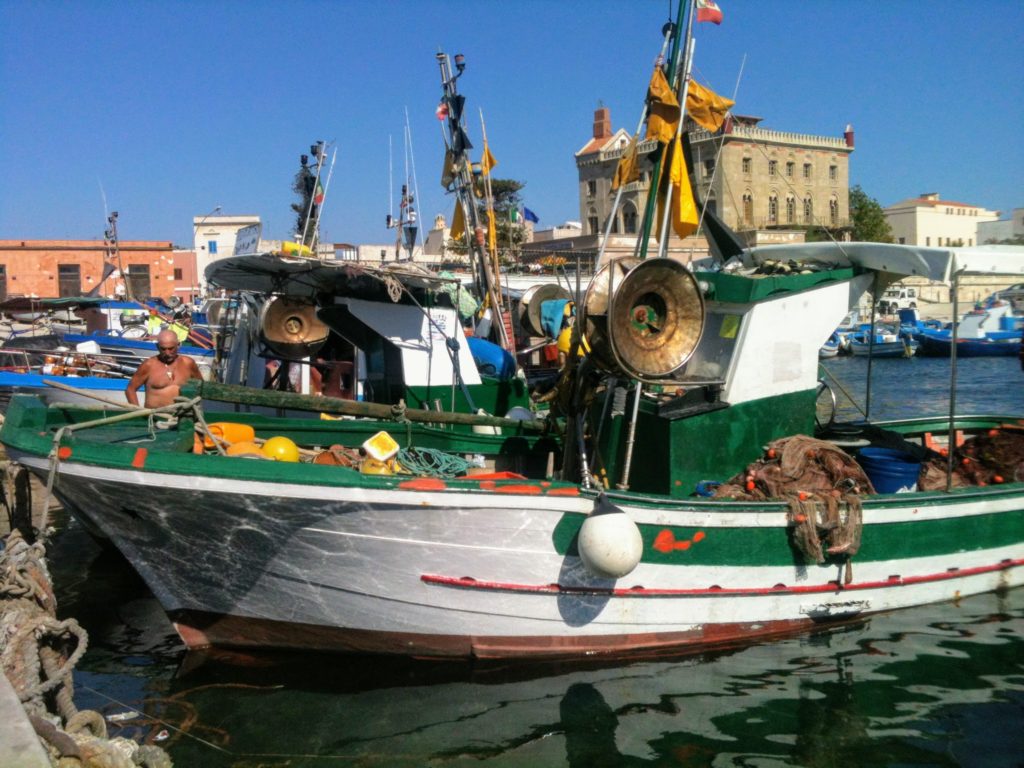 We walked a bit around the town that had a friendly and charming feeling. Before buying lunch and heading to the beach we spoiled our self with a sugary and typical Sicilian breakfast, at a cafe: Granite, brioche, and coffee.
Marasolo Beach
We had started to walk out of town when we realized the beach was a longer walk than we thought. We saw a little tourist train passing by and people on bikes. cars, only a few cars, which made the walking more quiet and relaxed. But after a while, we got too hot and decided to try and hitchhike when meeting a car next time. Luckily the first passing car picked us up.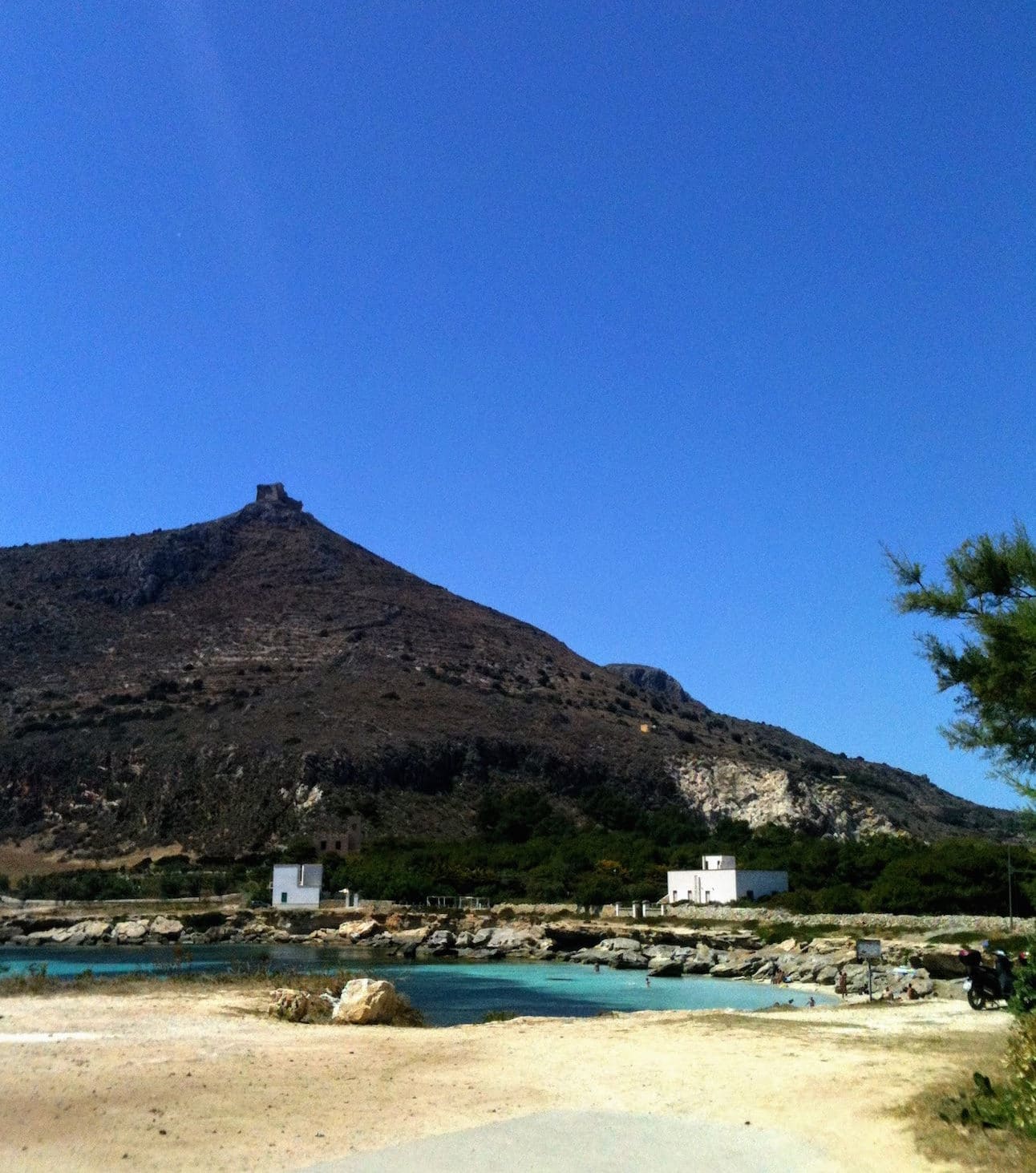 We didn't speak Italian but knew Cala is Beach, which we said to the driver, who laughed and said a lot of things in Italian. Like all Sicilians, he was very happy to help us and dropped us off close to a little cove and beach.
The color of the sea was turquoise, the water the clearest in the Mediterranean, and super clean. The beach was named Marasolo beach and had both sandy and rocky parts. We had brought lunch from Favignana town and stayed for a few hours at this amazing spot.
When getting back to town we hitchhiked again and it was the same thing, a local driver was happy to stop and help us get back to Favignana town. Again we were sad we didn't speak Italian, as he had a lot of things to tell, and we could understand he also wanted to recommend us places to go on the island, as well as places to eat.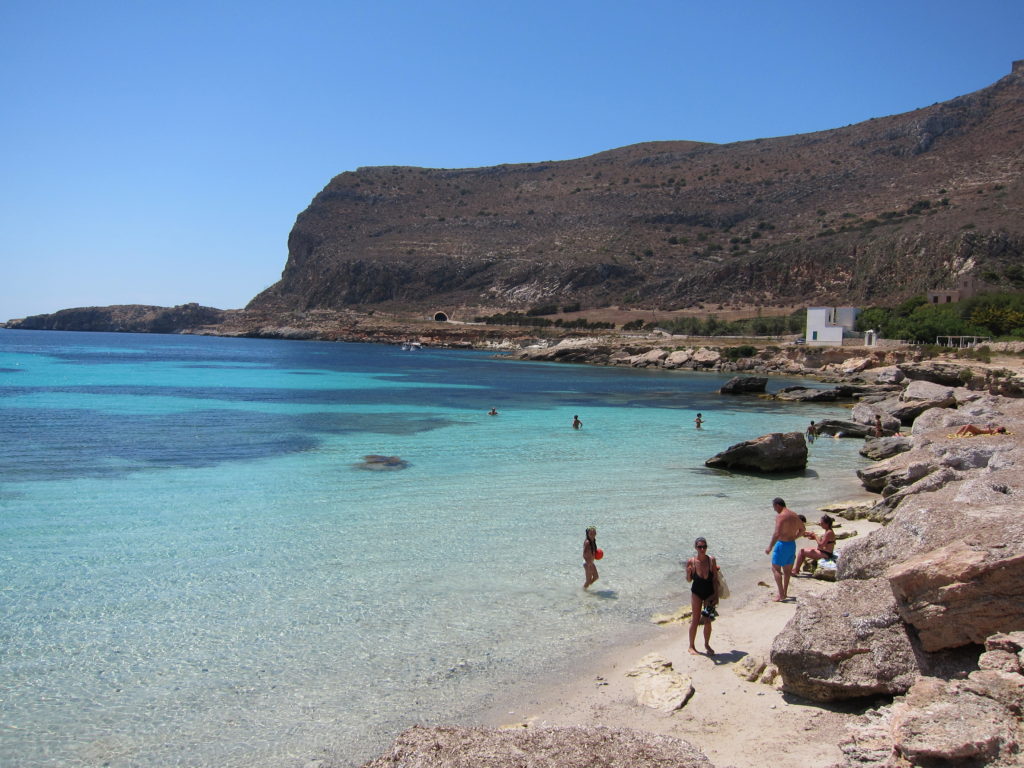 Cala Rossa
The water and the marine life around the Egadi Islands are protected by a marine reserve. It should, therefore, be great for scuba diving and snorkeling. I have also later learned that the beach in Favignana named Cala Rossa is at the top of searches when looking for a beautiful beach. It has no sand, just cliffs to jump from, and a landscaped filled with a large number of former quarries of limestone.
The pistachio ice cream I still dream of
When we came back to Favignana city, we stopped at a little family-run ice cream place, where the parents had gone for their siesta and left the kids to mind the shop. This homemade pistachio ice cream was the best we ever tried. It even beats the almond granita we had in Caffè Sicilia. Good gelato based on nuts is not overly sweet and even has a slightly salty taste. This was salt and sweetness in a perfect meeting.
I still dream of tasting this pistachio ice cream again and would recommend you to try it. The only problem is, that I can't tell you the exact location of the place and the name of it.
I have tried to go through maps to locate it without any luck. It must have to be this spot that you will have to go and search for yourself. I can only tell, it was on a small street away from the more touristic cafes. It's worth to go looking for it.
Getting around Favignana
The best way to enjoy Favignana is to rent a bike. Stay a few days to discover all the amazing little coves and the quiet beaches. The island is about 19 square kilometers and the terrain is mostly flat, which make it great for bicycling.
There are several bike hire places near the port on Favignana, also bikes with kids chairs, and bikes for kids. Prices start on 2 Euro pr. Day. You can even rent electric bicycles, for about 5 Euros pr. day. If you don't like to bike, it's possible to rent a scooter, and there is a bus service.
Stay in Favignana
Next time we will go to Favignana, we want to stay at this eco-friendly B&B Al Gattopardo in the heart of Favignana, https://ecobnb.com/IT-trapani/bed-breakfast/b-b-al-gattopardo/cPK5v. We heard great things about the place from friends.