Castellammare del Golfo boasts great seafood and options for hiking, biking, and beachin.
Castellammare del Golfo is a small fishing- and holiday town in the north-western part of Sicily. In this area, you're surrounded by amazing landscape and plenty of things to do. This is what we spend our four days in November doing.
Hiking Around Castellammare del Golfo
Castellammare town is build up agianst mountains slopes and surrounded by rocky mountains. This makes for quite a spectacular view from the town and adds some nice options for activities.
We used the great app Wikiloc to find some trails starting at the Belvedere viewpoint. The viewpoint is just outside of town and from there we did a few good hikes in total solitude.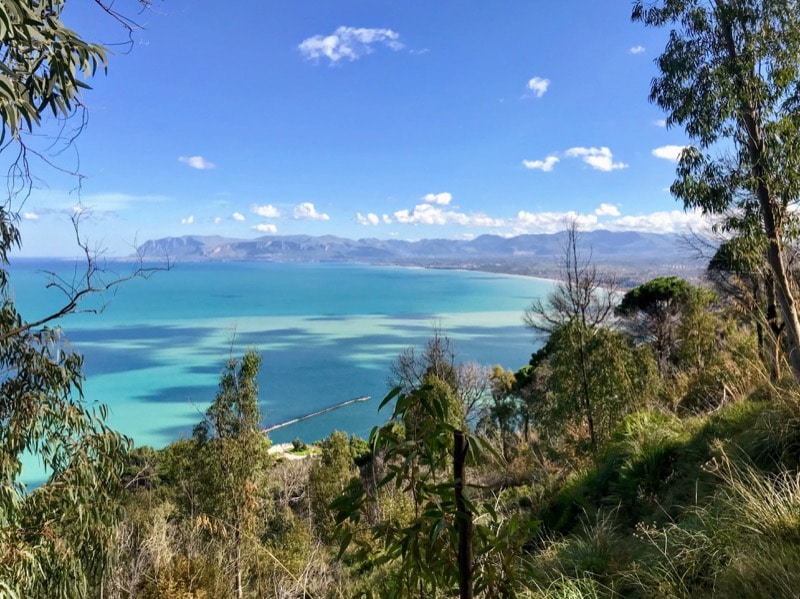 Biking Around Castellammare del Golfo
Spend at least a day on bikes, as there are some pretty epic rides in this area. I rented a decent (but not pro) mountain bike from TourShop located on the main pedestrian street Corso Giuseppe Garibaldi for 10 euros for one day. You can find many biking routes in the area with the Wikiloc app, but I opted for the one they recommended at the shop. It's super steep so you won't go fast, but will have great views and much of the tour I did not meet a single car or another biker.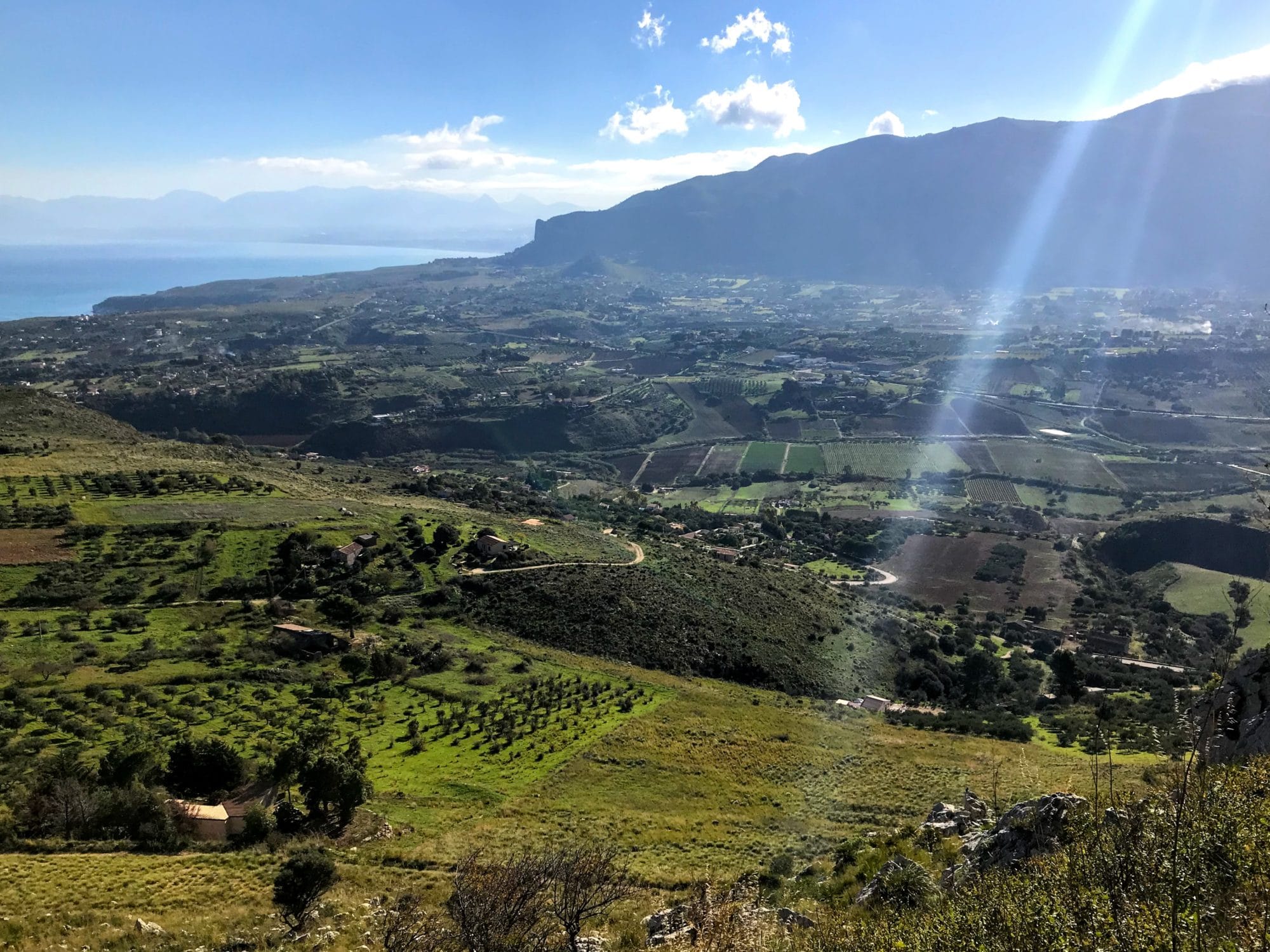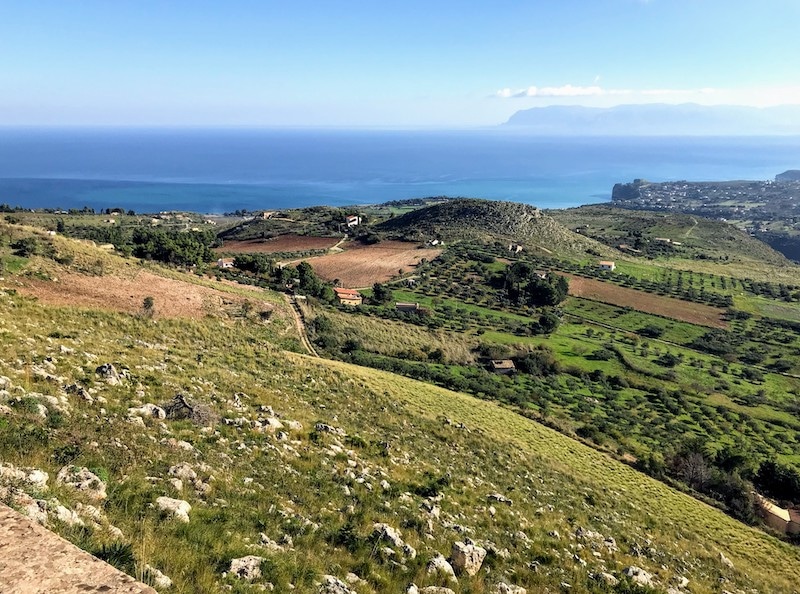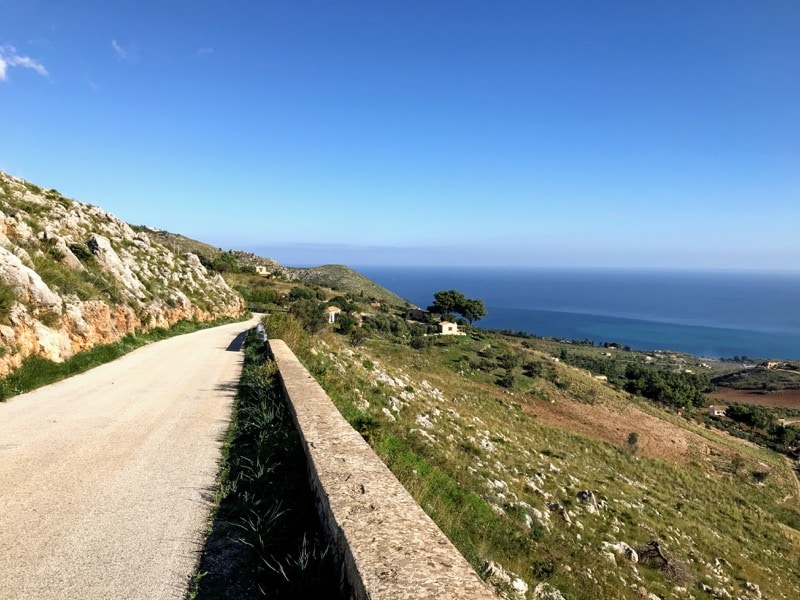 Mountain bike route around Castellammare del Golfo
Beaches Around Castellammare del Golfo
There are many options for beaches in the area, both sandy and rocky. Just outside of the town you'll find Lido Peter Pan which is a long sandy beach. In the summertime, it's a true lido, filled with sunchairs for rent. In November it was totally empty.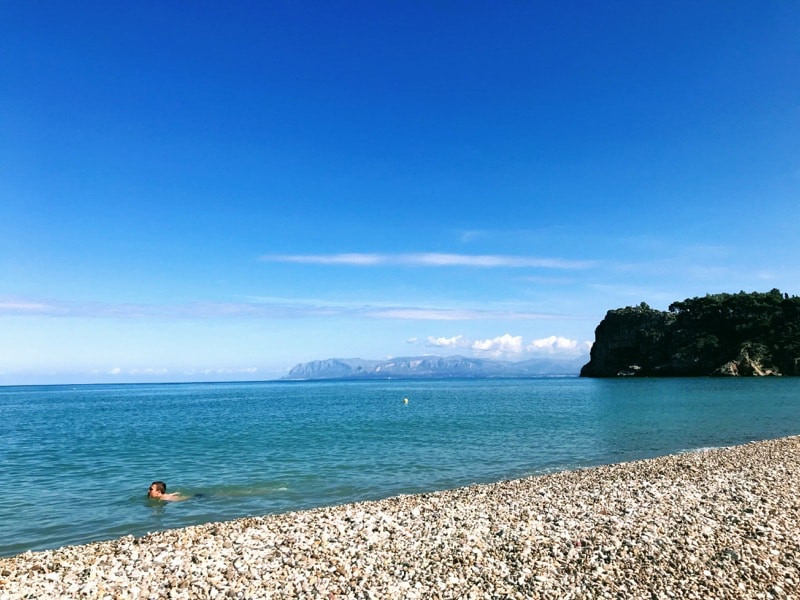 Near Scopello we went to Lido Vida Loca which a stone and pebble beach, with clear turquoise water.  A great place for a 3-year-old stone collector!
Scopello is quite famous for Tonnara di Scopello, which is an old tuna processing area.  The property is private and you'll pay 3 euros to enter. We've gone to the free Tonnara del Secco instead before, which is located on the north side of the Zingaro nature reserve.
In general, it's just nice to drive along the coast and explore whatever little cove or beach you pass by.
Fresh Fish on the Harbor in Castellammare del Golfo
In the port of Castellammare del Golfo, fishermen dock every day to sell the fresh catch from around 9 in the morning. Get yourself accommodation with a kitchen and you can make a delicious seafood meal. You can get all sorts of shellfish, depending on the season and the daily catch, and a wide selection of fish.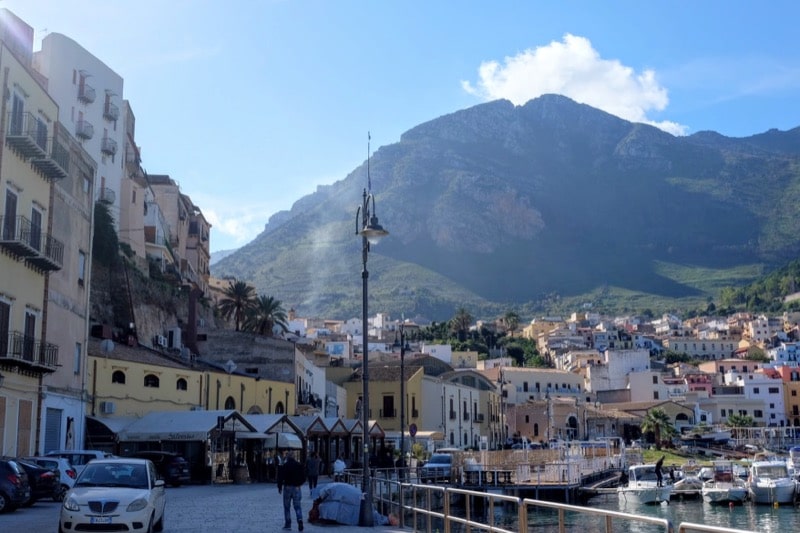 Make sure to try the local species you maybe haven't heard of before. We bought Cannochie, Dorade, Palamita – as well as clams and octopus, and cooked some great dinners at home.
Buy Fresh Food Right on your Doorstep
In the small narrow street we lived in, a food truck of a local farmer, fisherman or baker would come by every day. The driver shouts out loud or uses a speaker to let the residents know what he is selling. Monday bread, Tuesday fish and a few times a week greens, fruits and vegetables. This is something you will find in many Sicilian villages, and in each mountain village for sure.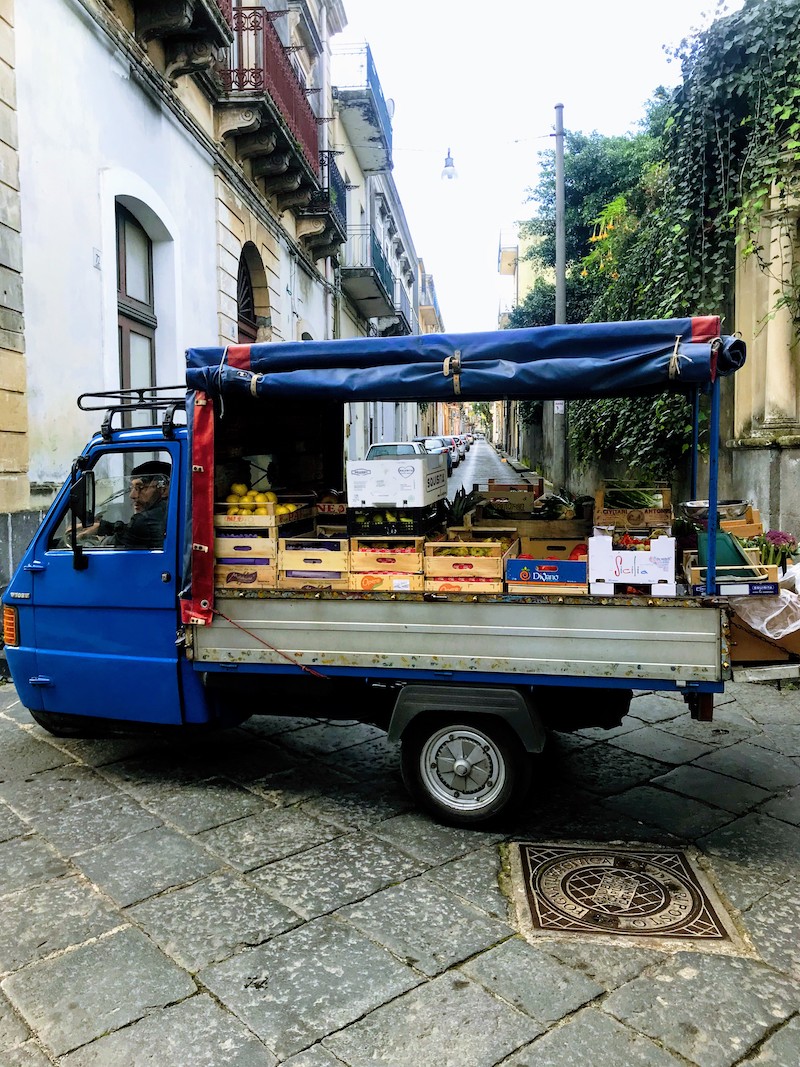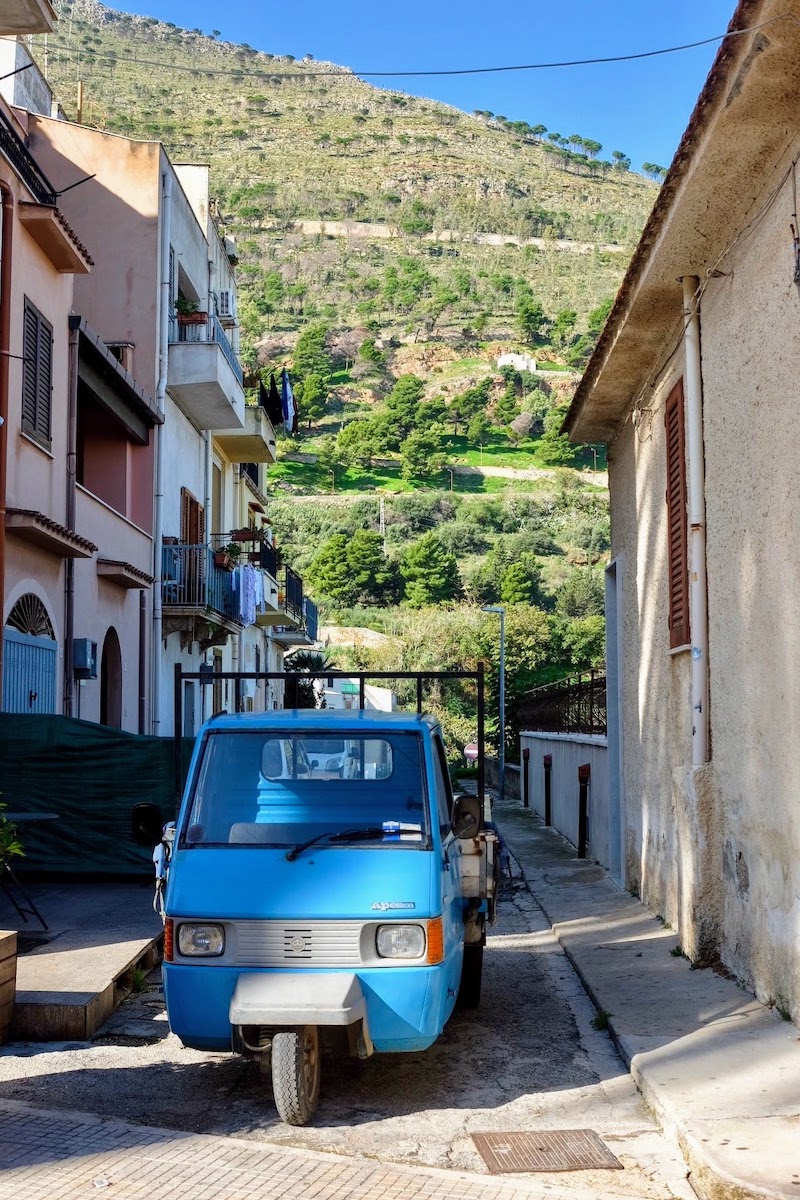 When to Visit
November is off-season so we had the mountain trails and the beach pretty much all to our selves!  When the sun is out the temperature nestled nicely around the 18- 22 degrees and the sea was still warm enough to take a fresh dip in.
Quite a few restaurants were closed for holidays and the town of Castellammare was very quiet – we imagine it's all very different in the summer season, and especially July and August.
Get to Castellammare del Golfo
Castellammare del Golfo is located a 45 minutes drive from Palermo airport and Trapani Birgi airport.
Driving inside the city of Castellammare is a bit tricky. The streets are narrow, one way directed up and down steep slopes and many dead end streets. We were quite happy about having rented a little Fiat Panda at that point!