The first time we went to Sicily, we went to Trapani, a small authentic fishing village in the very northwestern corner of Sicily.
We spent our days exploring the beautiful nature around Trapani, as well as eating, swimming, and just taking in the laid-back lifestyle.
The old town of Trapani
We stayed at an apartment in the old part of town, which is in walking distance to everything. The apartment had a big terrace, with a view over the rooftops. It was perfect for the warm evenings, to enjoy a late meal and cold wine.
In front of the apartment, was the local bakery, which meant waking up to the sweet smell of cornetto, the Sicilian style of a breakfast pastry, similar to a croissant.
The local supermarket had a well-selected deli with good charcuterie, and cheeses, like almost all supermarkets in Sicily, no matter the size. So we found ourselves ordering asiago, burrata, pecorino, bresaola, and prosciutto. Together with jars of anchovies and Mackerel (sgombri), and a cold wine we left the supermarket and had a tasty feast of a lunch on the terrace.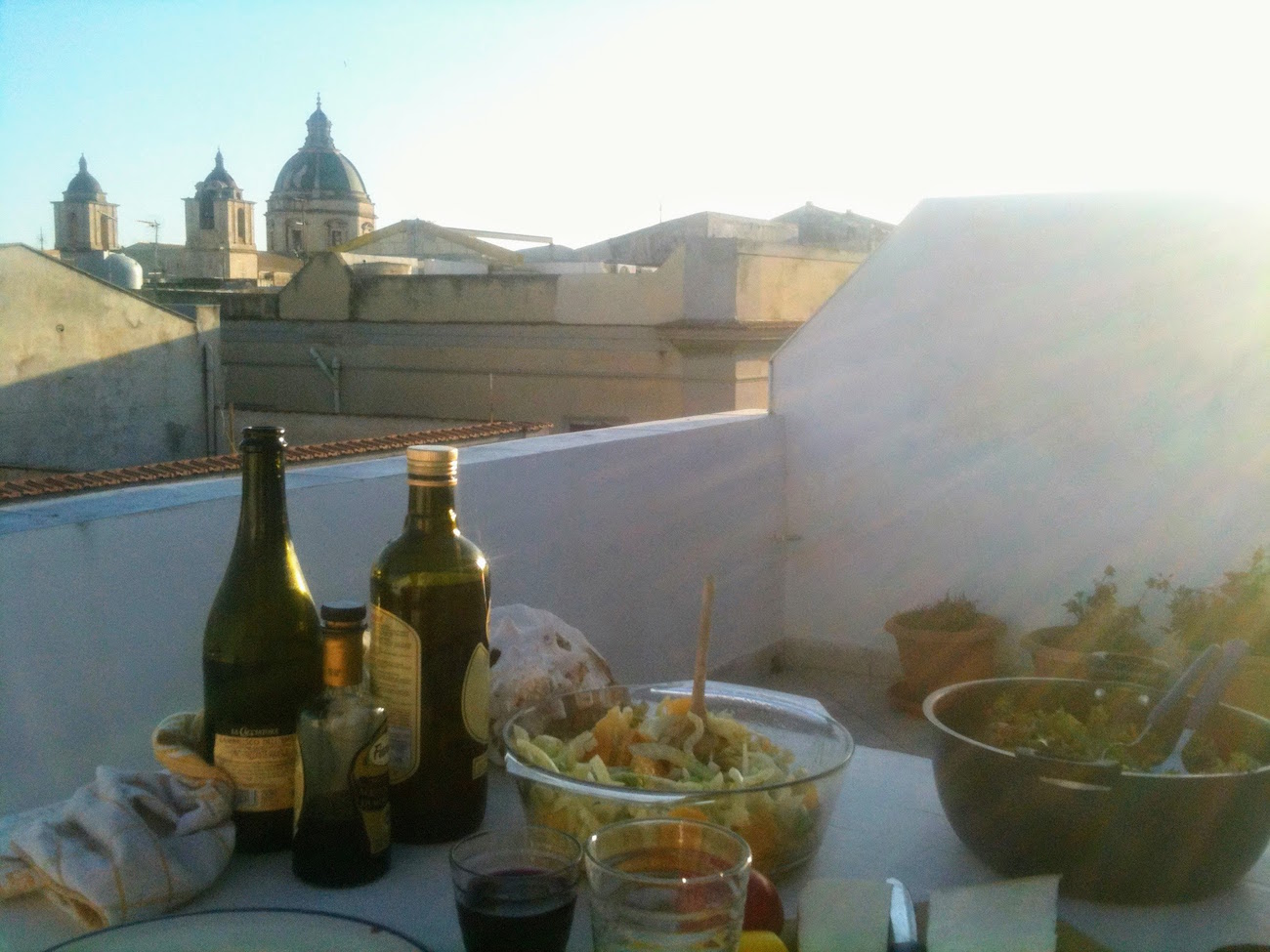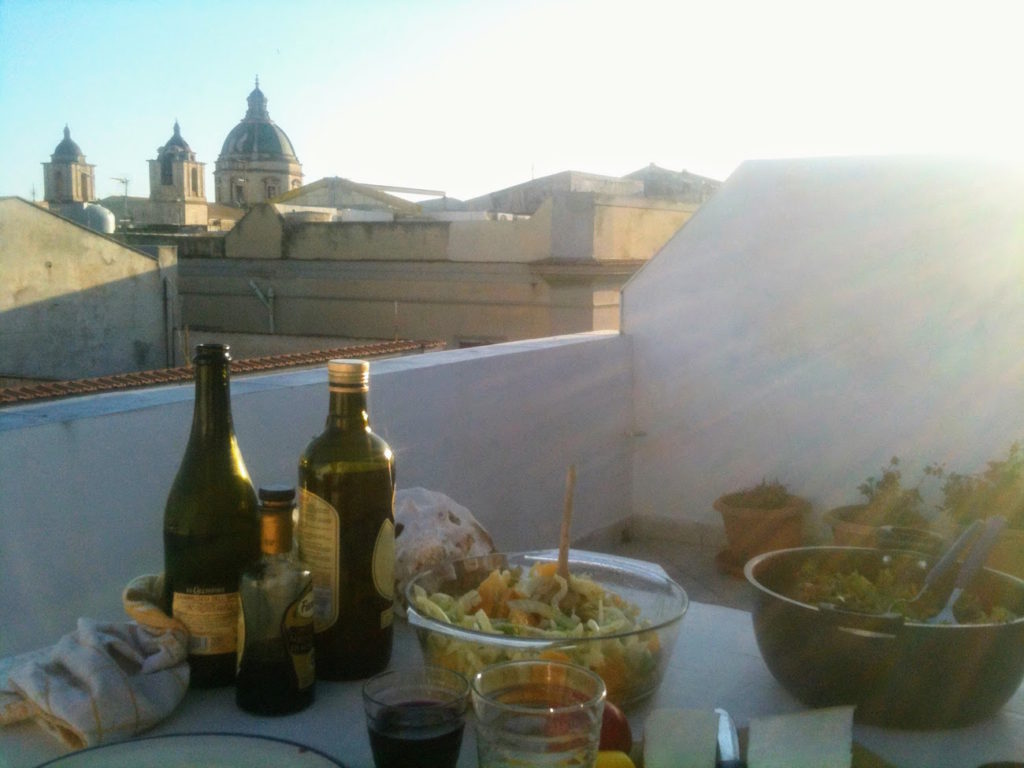 Trapani's great fish market
Trapani's local fish market, Mercato del Pesce opens already around 6 am and runs till about 2 pm where lunch and siesta kicks in many places. The market is not as big and nice as the fish market in Catania, but it has a great local feeling and the fishmongers are super friendly. I'm a big fish and seafood lover so we bought both fresh fish, mussels, and prawns. Matias is a great chef and we had a big feast on the terrace for dinner that day.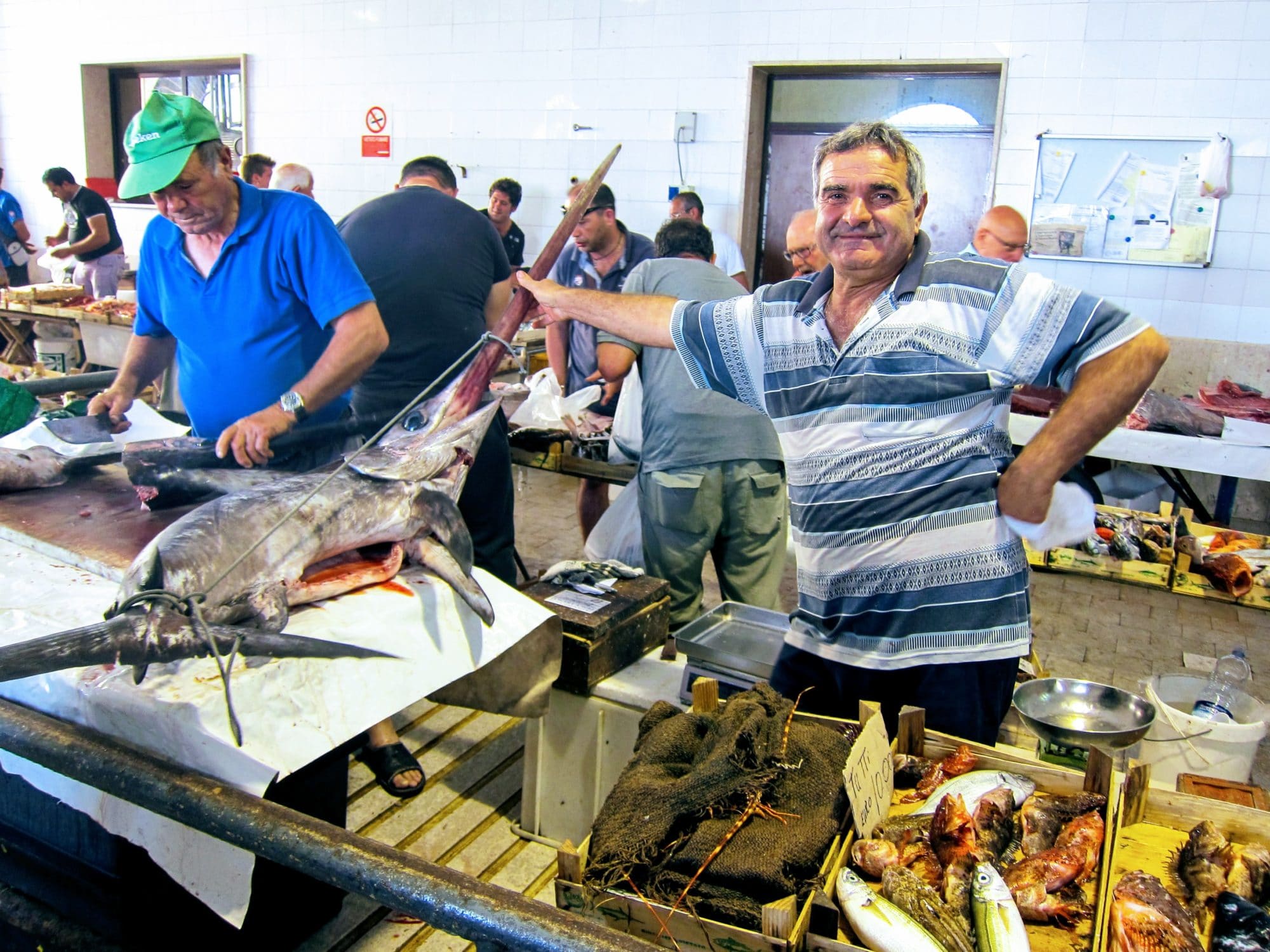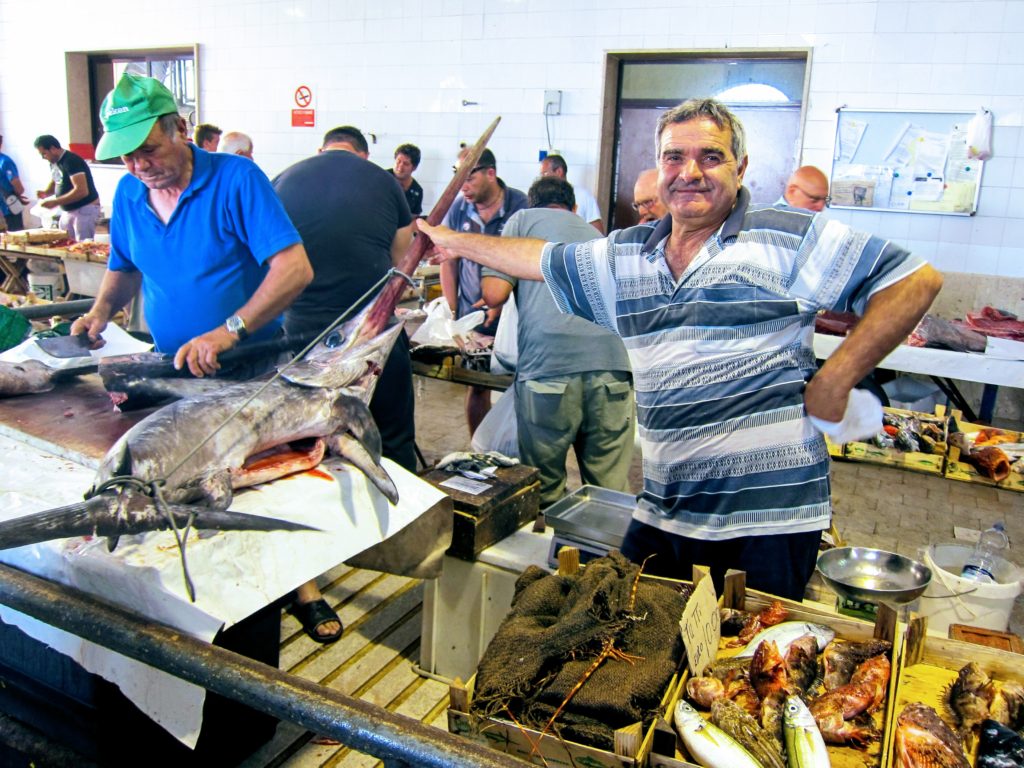 Next, to the fish market, you will find local vegetable producers and farmers selling produce from the back of their trucks. We bought beautiful vegetables and tasty fruits from the vendors (I still remember the taste of the peaches we got).
Find the fish market in Trapani here: Via Cristoforo Colombo 3, Trapani.
Beaches in Trapani
With its location on the west coast of Sicily, Trapani offers several options for going swimming on one of the many beaches.
San Giuliano and Litoranea beach
Our apartment in the old town was right next to the sea, but not the best place to go for a swim, as the water is not the cleanest in this part of town. So we headed to the sandy San Giuliano beach, located in the north part of Trapani – an easy walk through town.
Another option is Litoranea beach which attracts family with kids due to the shallow water. It is located right by the road.
Torre di Ligny and Lido Paradiso
There are also a few private beaches in Trapani, where you have to pay a small fee to enter them, and probably, therefore, they are less busy.
Two of them are Torre di Ligny and Lido Paradiso. For a more quiet beach, you should choose Torre di Ligny, which is mostly visited by the locals and go to Lido Paradiso if you like all the facilities, like a coffee shop, umbrella, and chair rentals.
To the south of Piazza Garibaldi in the old town, you'll find the port, from where you can catch the ferries to the Egadi and Pantelleria islands. Here you'll find some amazing beaches, especially on the island of Favignana.
A drive to San Vito Lo Capo
Driving in Sicily can be a bit hectic as the roads are old and the locals with a bit of a temper. But it is the best way to get around this island and to experience the variety in nature.
On the road from Trapani towards San Vito Lo Capo there are several great stops to be made, to enjoy the scenery of the rugged landscape with crystal blue ocean, clashing with steep hills.
The natural reserve, Riserva Naturale Orientata Monte Cofano is about 30 minutes drive from Trapani. The reserve continues into a long stretch of beaches, with magnificent views of Mount Cofano and the cliffs of San Vito Lo Capo. On our drive to San Vito, we made a stop for lunch at a superb bakery: Pellegrino, in Custonaci. This place is a favorite among many locals and visitors! They make amazing bread, cornettos, and we got some tasty pizza slices straight out of the wood-fired oven.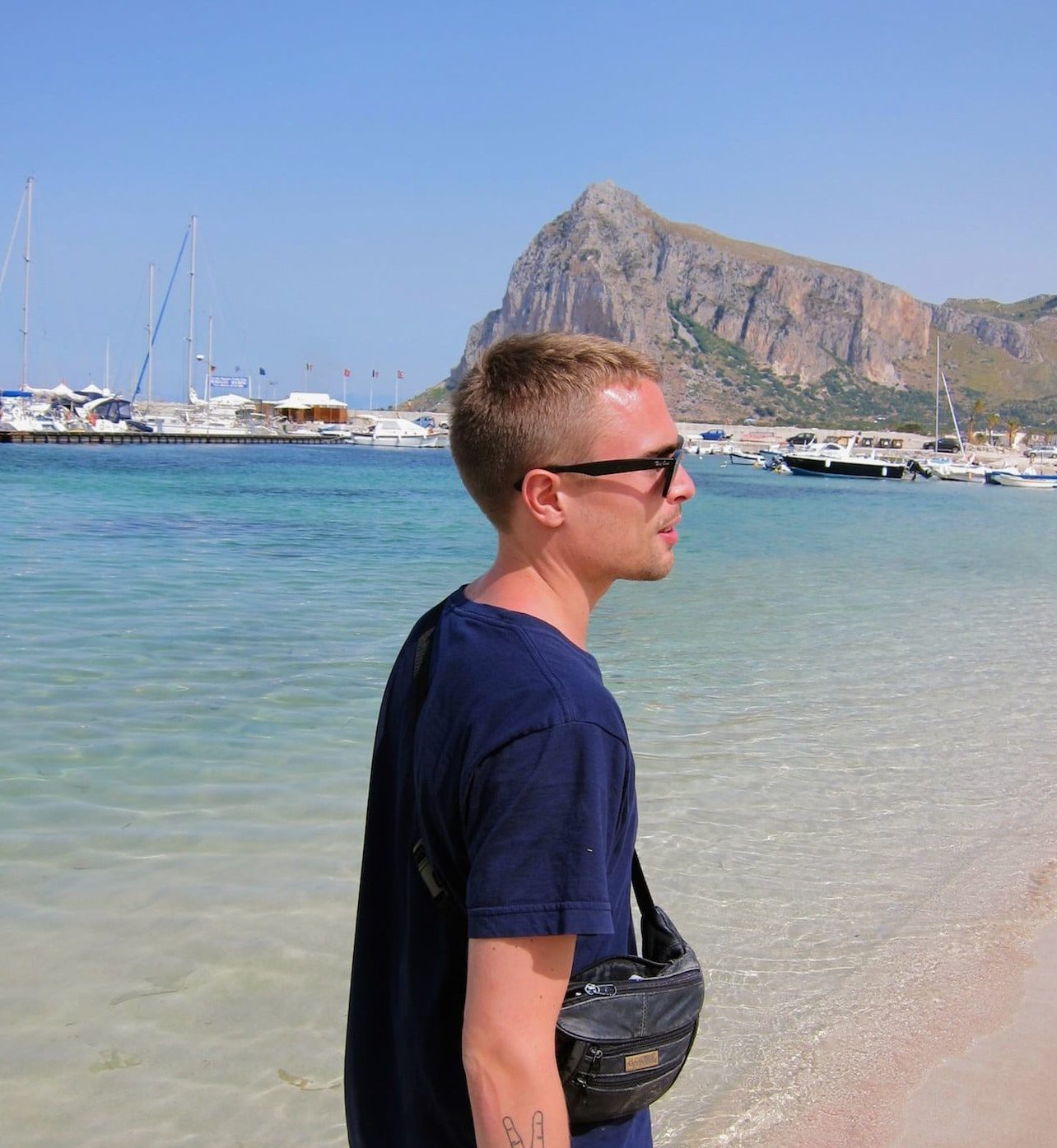 San Vito lo Capo is very popular, because of its white sandy beach, which is as postcard-worthy as any tropical beach. It's always busy with tourists in the summertime, especially on a Sunday when we came. (Sunday is the big beach day for all locals). The city and beach were really crowded and it can be hard to find parking.   You will easy find a place to settle your thirst or hunger though, whether it is granite, ice cream, pasta or a cold drink you are looking for.
A tip, is to search for parking at the harbour area, where you will also find a dive shop and a great fishmarket/ fish shop.
Tonnara Del Secco
After our visit in San Vito lo Capo, we headed south about 4 km and found a small bay, with an old abandoned tuna fishing place.
We parked our car at the side of the gravel road and walked towards the panoramic scenario: clear water, small cliffs, and view towards the Zingaro Nature Reserve.
There were only a few locals snorkeling or lying around sunbathing on the stones left from the old tonarra. It was such a good spot.
If you go, you probably want to stay for a while! Bring gear for snorkeling, water, and lunch, as there's nothing there, other than a few locals and the amazing view. You'll find Tonnara Del Secco here.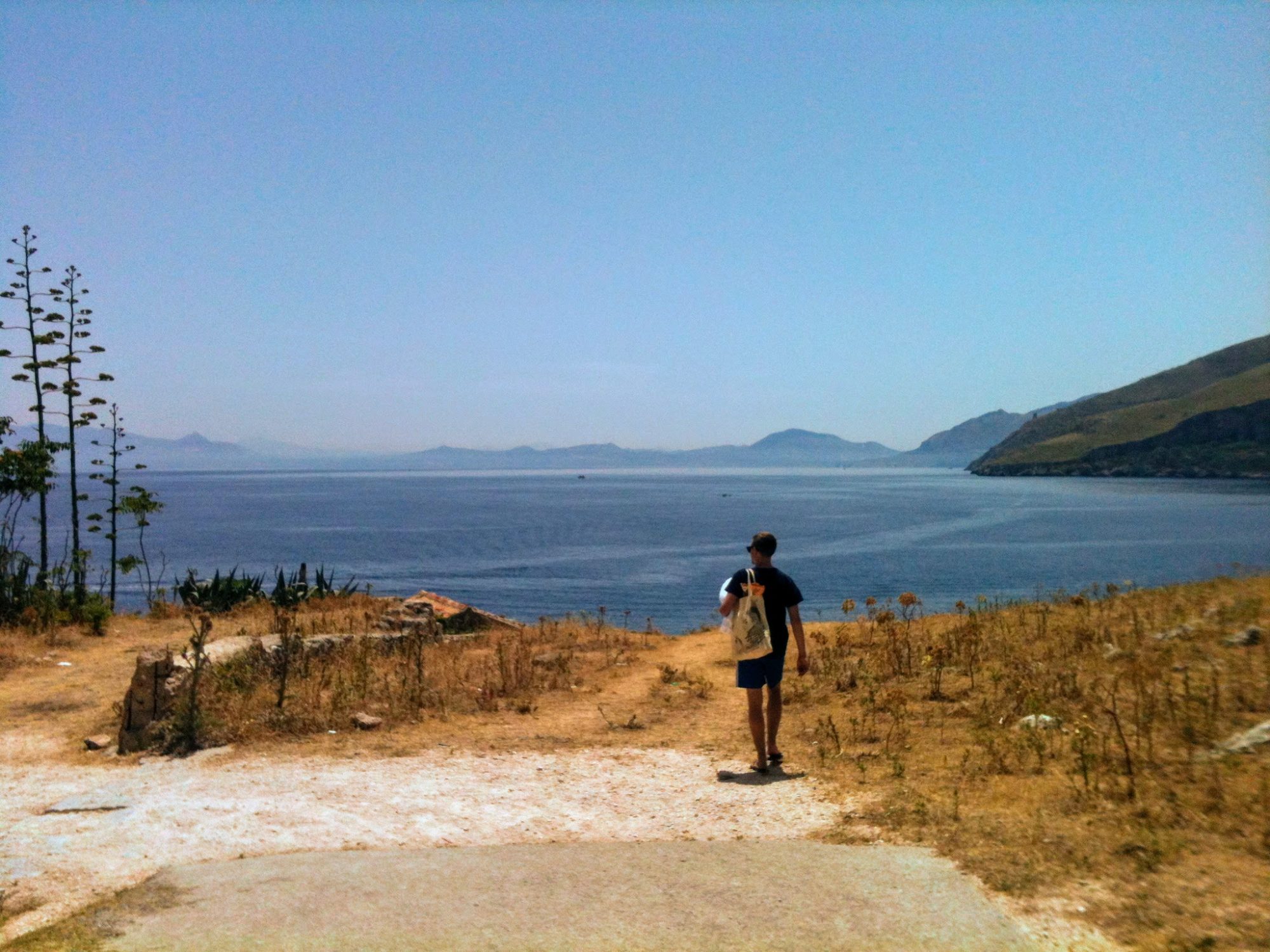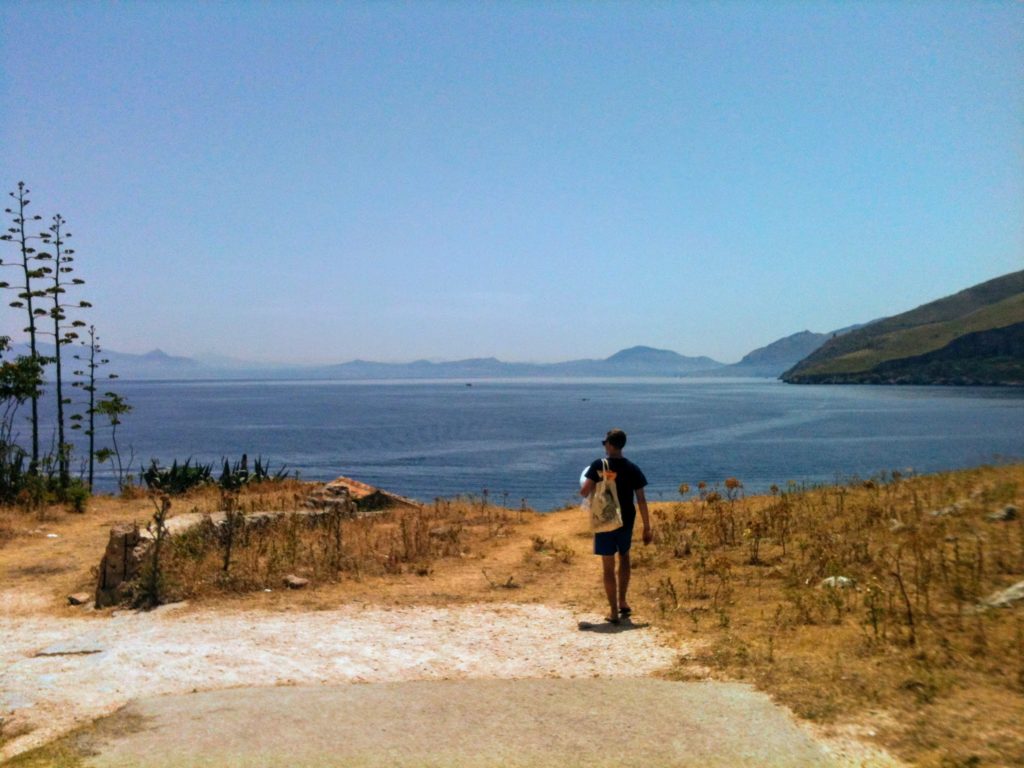 Zingaro Nature Reserve
Close to Tonnara Del Secco, about 8km south is the north entrance to Zingaro Nature Reserve. It has amazing hiking trails winding along the sea and cliffs.  Along the way, you can find small coves to take a swim. Some have limestone caves and stunning views over the turquoise water. There is an entrance fee of 5 € pr. person.  Parking is free, but parking spaces are limited. (There is also access to the reserve in the south, near the village of Scopello).
Authentic dinner at Cantina Siciliana in Trapani
Hungry after a long day we were happy we had booked a table at the trattoria Cantina Siciliana. It's well visited by the locals, that come for example for the couscous alla Trapanese.
In Trapani, the flavors reveal, that you're only 80 km across the water from North Africa. One of the more famous Trapani dishes with an Arab influence is the seafood couscous. Each region in Italy has its own pasta shape, and the one in Trapani is Busiate, a fat hand-rolled pasta. The fresh pasta is served with a pesto alla Trapanese, made out of almonds, cherry tomatoes, garlic, and basil. Cantina Siciliana's take on these two dishes didn't disappoint!
The owner of Cantina Siciliana is friendly and has a good wine selection. Ask for recommendations for local wines. The restaurant is featured in the great slow cook guide Osterie d'Italia which is a good sign of local, quality cooking.  http://www.cantinasiciliana.it.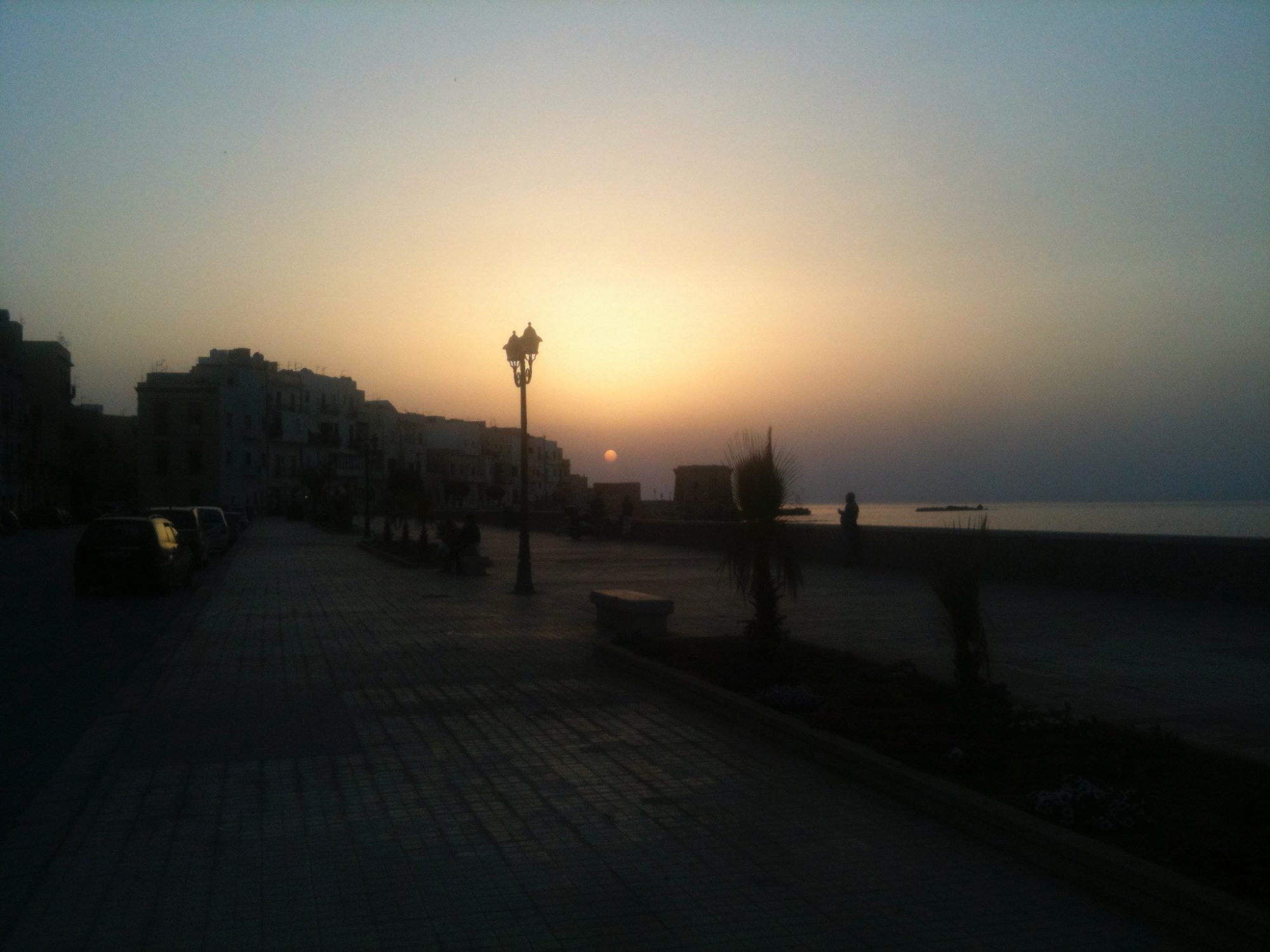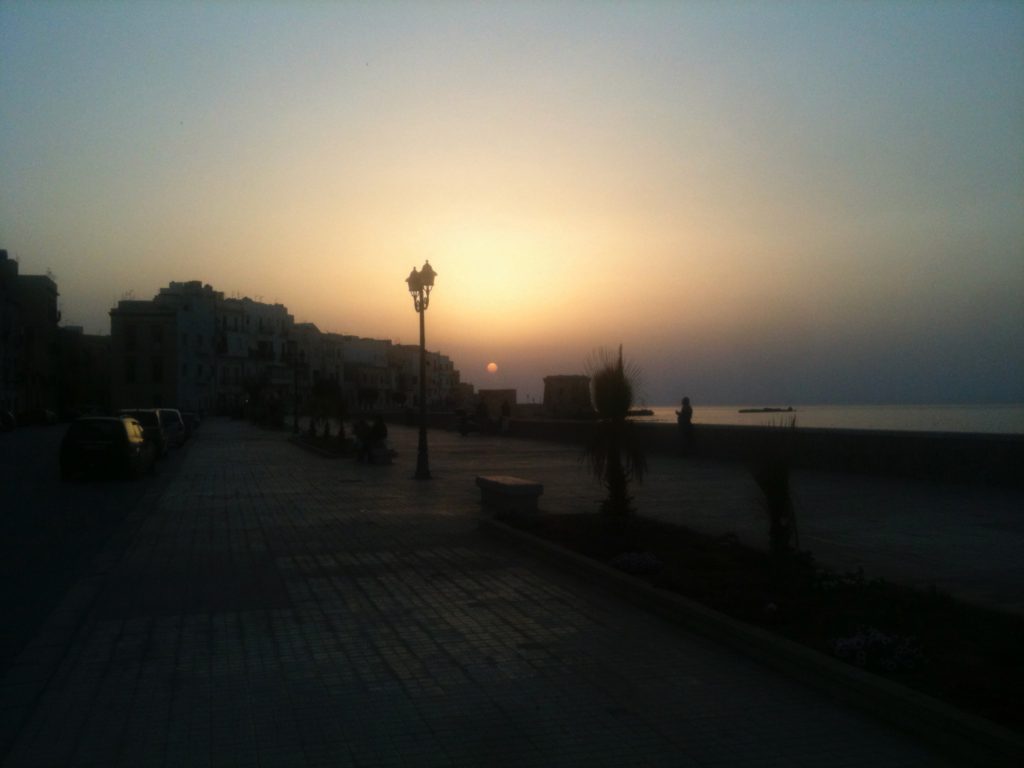 Getting to and from Trapani
Fly directly to Trapani Birgi airport and catch the airport bus to the town. The bus terminates at the port and it takes about 30 min.
Fly to Palermo and rent a car, you can't go there by public transportation, the drive is about 1.30 min.
It's not easy to get to Trapani without a car. The local AST bus only takes you San Vito Lo Capo or Erice.