Sicily's capital – Palermo – is great even for a one-day visit.
Palermo has an incredibly beautiful architecture that testifies of a rich past and foreign rule. It's a city with a sizzling mix of cultures and people, with Byzantine mosaics and domes, grand old baroque buildings, churches, and fountains. Renaissance and Norman palaces, Arabic food and souk-like markets, vivid street life, and many choices of restaurants and bars.
You can easily spend hours just wandering around looking and exploring the city. For the kids, there are great playgrounds, small amusementsparks and offcourse icecream.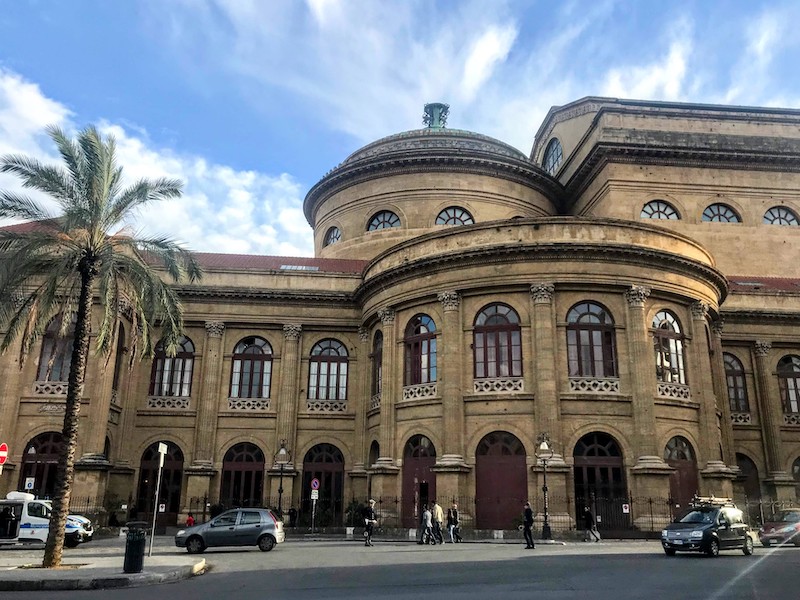 Quattro Canti and Fontana Pretoria in Palermo's Historic Center
South of Teatro Massimo and down south to the train station, you will find Palermo's historic center. Two of the principal streets here are Via Roma and Via Maqueda. The streets in the historic center are often closed off for traffic all the way through Via Maqueda.
Walking south at Via Maqueda you will reach the crossing of Corso Vittorio Emanuele. In this crossing is the Quattro Canti, one of my favorite piazzas in Palermo. (Also called Piazza Vigliena). The piazza has almost four identical facades and fountains representing the four seasons. The piazza is octagonal, with four sides turning to the streets, and four sides of baroque buildings.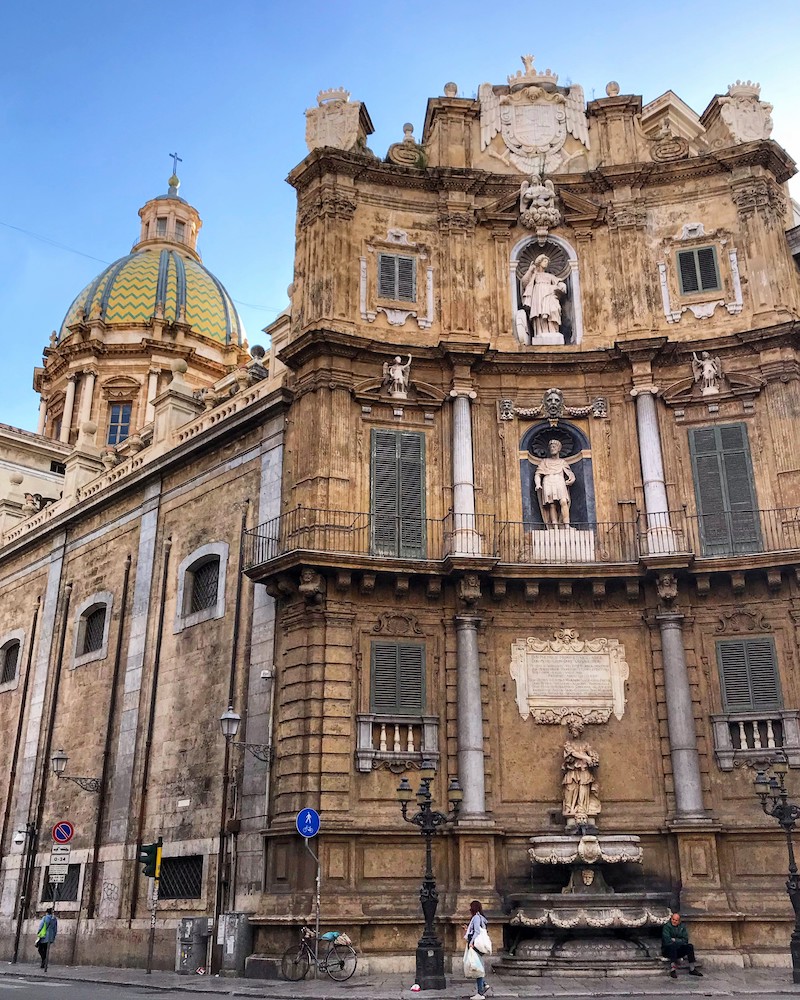 Right behind Quattro Canti is the square Piazza Pretoria with the fountain Fontana Pretoria.  The fountain is an amazing space, and we spend a long time there just looking at the details of the fountain and the sunlight playing on the buildings around the square. It was equally impressive for an adult as for a child. Our son Sixten had a great time climbing up and down the stairs, and looking at the animals, and mythological figures.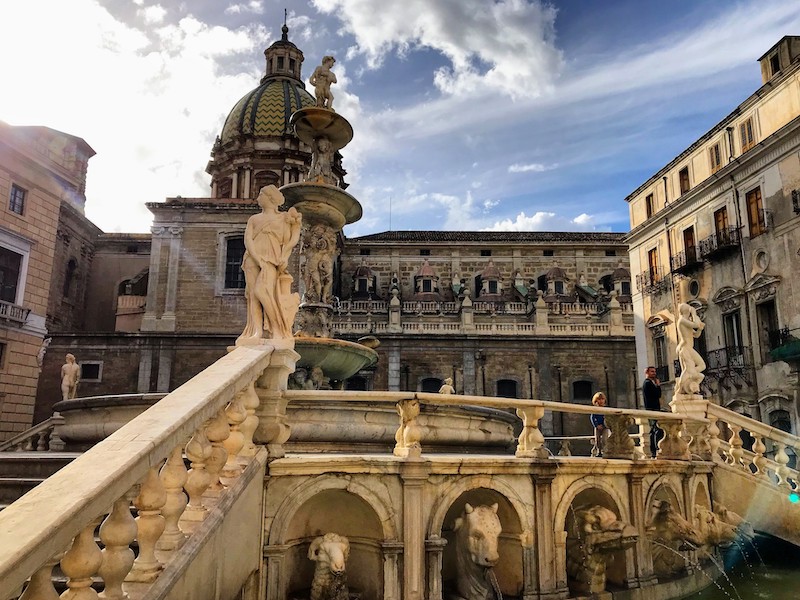 Markets in Palermo
I love the souk alike markets in Palermo. It's a great place for getting all the senses stimulated. Talking, laughter, a smell of spices, fresh fruit, and shouting vendors.
Mercato del Capo starts at Via Volturno and Via Porta Carini and runs all the way of Via Sant'Agostino. The street market is colorful and a mix of fruit, fish, cheese and meat vendors, with some stall with household goods. In Via Sant'Agostino you will find mostly clothes, but nothing interesting  – I thought. (I like to explore for a good find at a flea market, and to find second-hand clothes).
We did a little walk over to the Mercato delle Pulci – the closest you get to a flea market street in Palermo. Here you'll find mostly old antiques and lamps – but it seemed almost to be the "same" lamps in each of the little shops.
For a good second-hand market- with clothes, I recommend the market in Catania, if you get to that area of Sicily. It's on every day and has all sorts of new and used clothes, and of course vegetables, fruits, and fish.
The Ballaro market is the oldest food market of Palermo (it's a thousand years old). Go there in the morning, where the activity is highest and each vendor put on a show to sell his goods.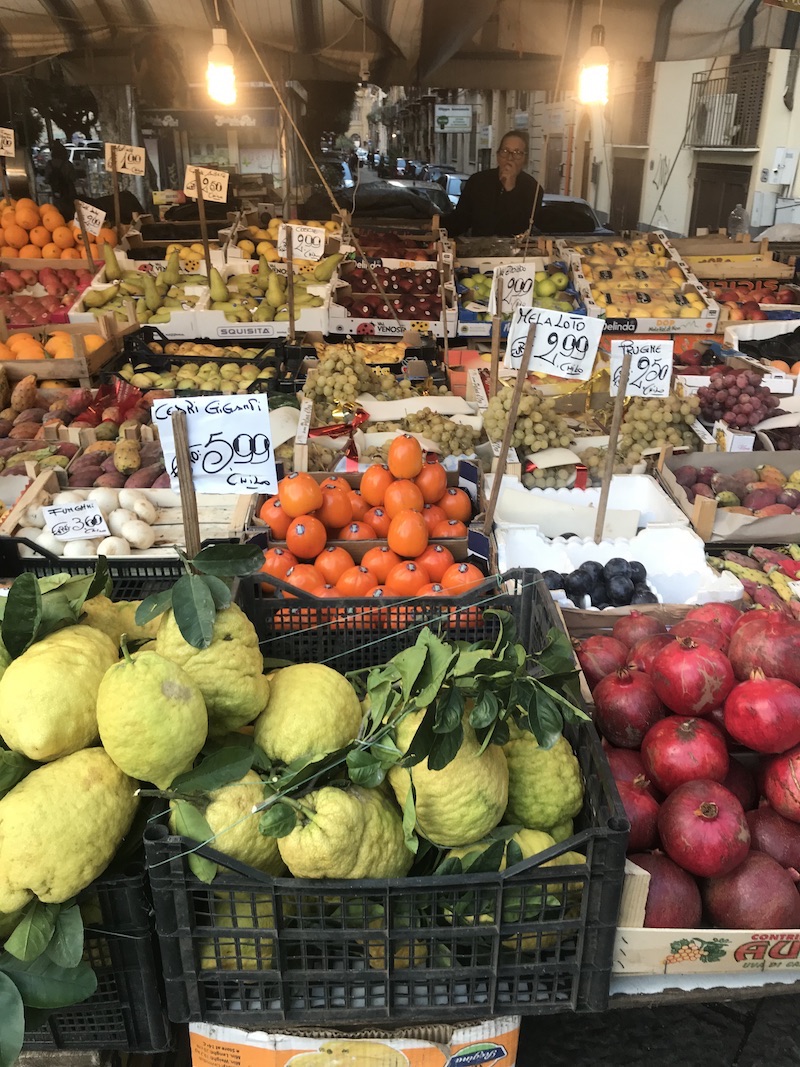 Food in Palermo
Matias loves to try all local food as he is a real foodie. The Palermo specialty is street food. The classics to try are: Panelle, which is fried cheek pea dough, and Pane 'ca meusa, spleen, and lung fried in lard and filled in a roll with pecorino and a bit of lemon, and Sfincione, a focaccia with tomato sauce and breadcrumbs that is referred to as Sicilian pizza, as it originates from Sicily.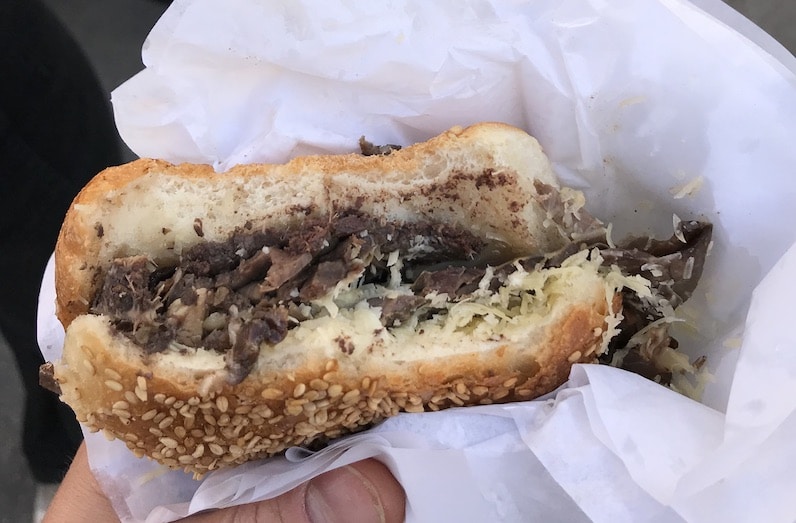 Try all and see how you like it. Pane 'ca meusa was surprisingly good despite the unusual filling, according to Matias.
Palermo Street Food at Friggitoria-Gastronomia da Arianna
You can walk the streets and find the street food vendor you like the best, all found at Mercato del Capo. I had a little mix plate of homemade dishes at a Rosticceria called Friggitoria-Gastronomia da Arianna – also mentioned in the great Osterie guide. The owner Arianna, makes and serves the food herself, for a long queue of people. This is a good place to try Palermo street food.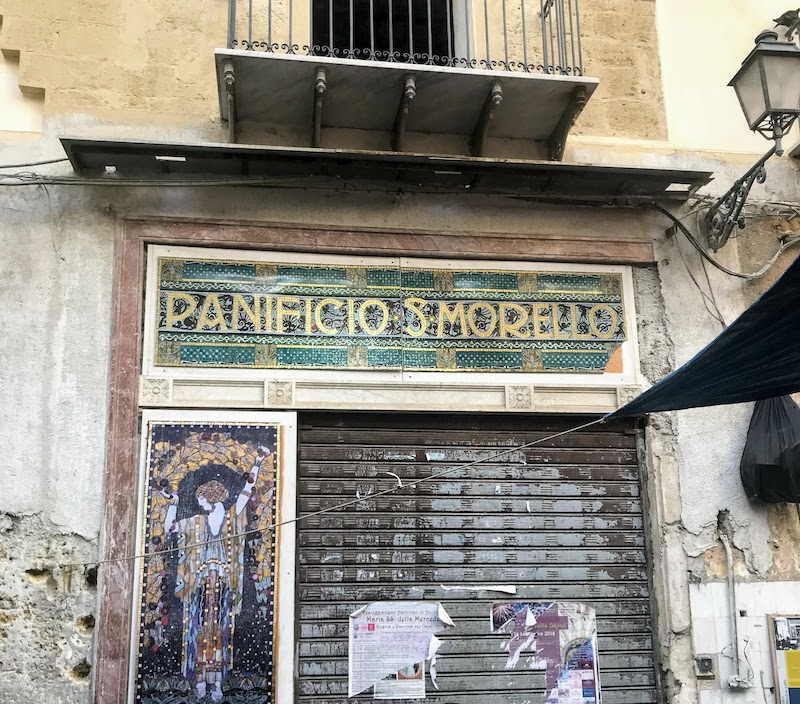 Dinner at Altri Tempi in Palermo
North of Teatro Massimo is the newer part of Palermo, from the 19th-century, and the city's main shopping district, where you will also find the more young restaurants and wine bars.
We had dinner at a local restaurant, Altri Tempi which cannot be categorized as modern or young but is somewhere you should go if you like the Italian traditional food. The place is run by a lovely old man and serves hearty dishes, for very good prices. We went a la carte, but the place offers a menu for just 25 euro.
Great Pizza at Tondo Pizzaria in Palermo
Tondo Pizzeria close to Teatro Politeama Garibaldi makes excellent pizzas of slow rise dough and good, fresh ingredients. The variety of pizzas is wide with both traditional pizzas to more detailed. The staff is very helpful and friendly. A great, child-friendly place, also with a nice space to sit outside.
Natural Wine in Palermo at Enoteca Picone
For a more young experience and natural wines, check out the really nice Enoteca Picone close to Altri Tempi. It opens at 5 pm and serves local and international wines, also a good selection of natural wines.
The Best Gelato in Palermo (and Sicily)
Seriously! This place, called Brioscià, makes the best gelato (ice cream) in all of Sicily, and you get good ice cream many places, so this means, it is amazing! I was very sad that we only spent one day in Palermo this time. I would go there every day if I lived close to Palermo. They make really many variations of taste and make their own flavor called Crema Brioscia. Get chocolate or pistachio sauce on top. They have super good service and I can simply not recommended this place enough.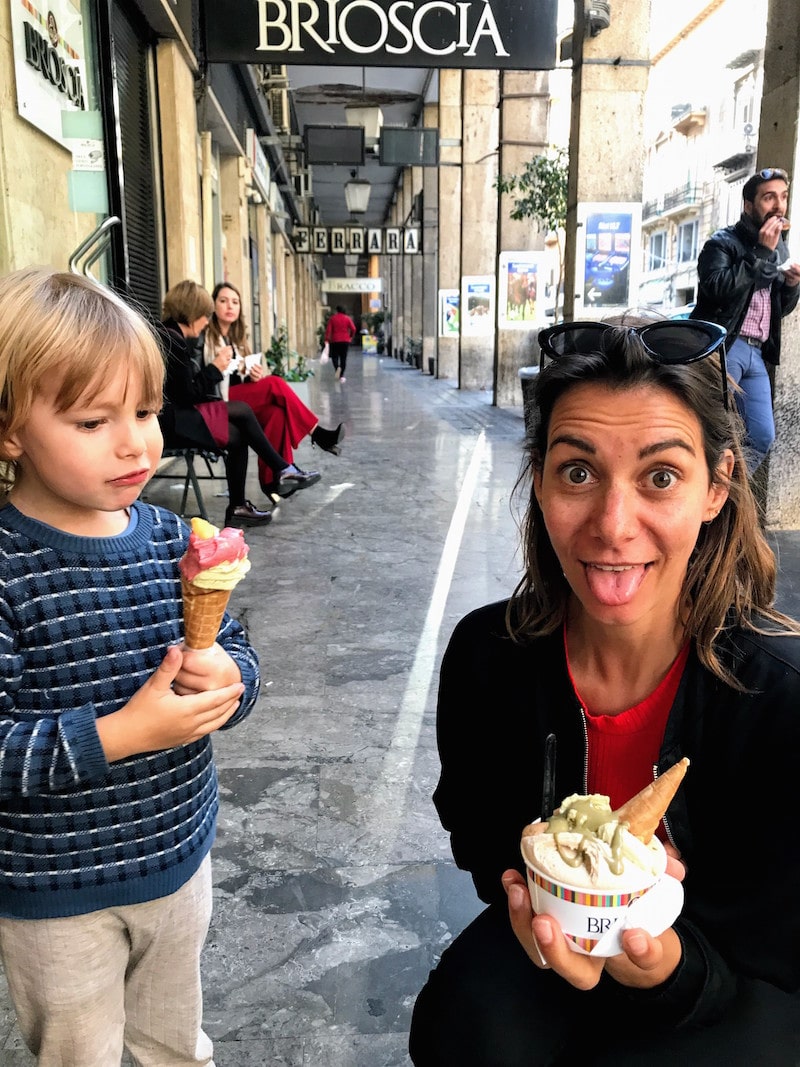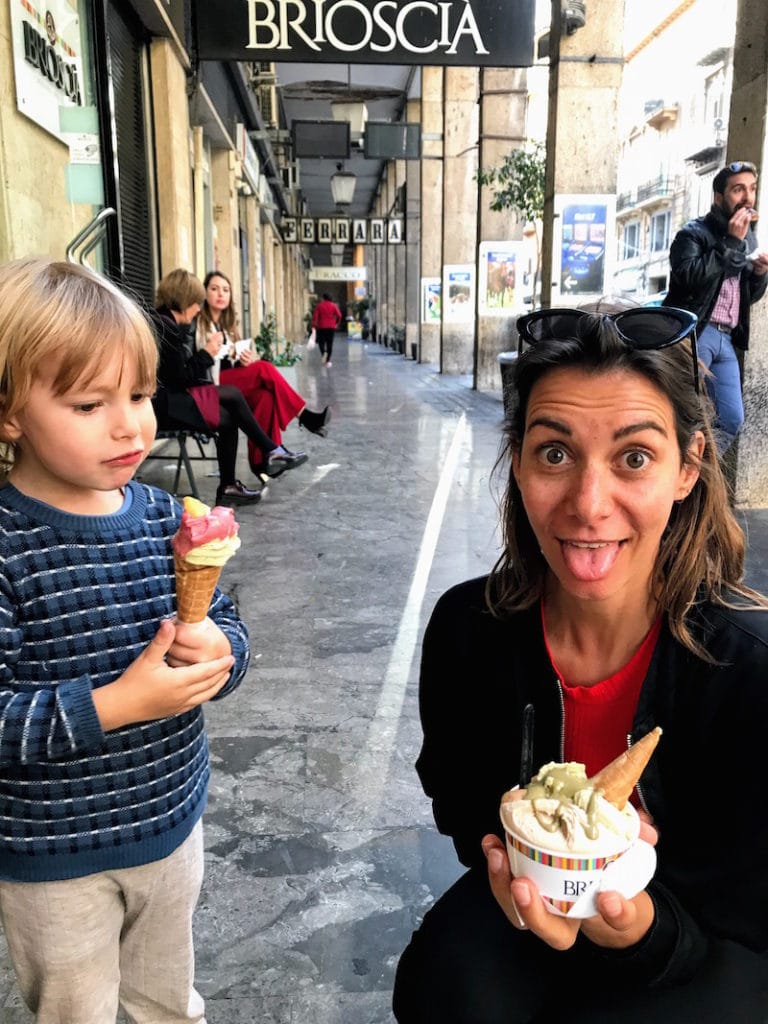 When to go to Palermo
Autumn and early spring is a great time to explore the city. The temperatures are pleasant and the tourists are fewer.
Where to Stay in Palermo
Palermo offers many options, from cheap hostels to exclusive hotels. We have stayed at the great B & B Bquardro, located a little outside the historic center. Great hosts and clean rooms, with a very good typical Sicilian (sweet) breakfast.
Mondello
For another stay, we chose to stay a little outside the city in Mondello, which is a suburb and weekend beach location for the Palermo residents. Mondello is just a short bus ride on 30 min. from Palermo and a great place to stay, also for visiting Monte Pellegrino and hiking in the Capo Gallo nature reserve. More about that in an upcoming post!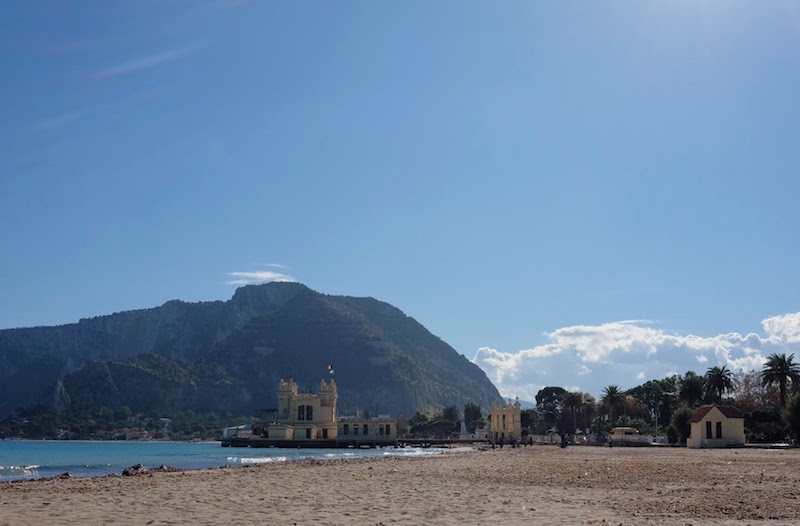 How to Get to Palermo
You can reach Palermo via the international Aeroporto di Palermo Falcone e Borsellino. Catch the Prestia e Comande Bus and arrive in Palermo center in 40-55 minutes, depending on your stop. It leaves every 30 minutes and cost 10€ for a round trip. You can even book tickets online at the Prestia a Comande website.
If you arrive in Catania airport the drive to Palermo is about 2 1/2 hours.