Portopalo di Capo Passero is a small fishing village, in the very southeastern corner of Sicily. Portopalo is facing the Ionian and the Mediterranean sea. It has unspoiled beaches, beautiful sunsets as well as the great seafood restaurant Scala.
Beaches in Portopalo
Portopalo is one of our favorite spots in Sicily. It has both sandy and rocky beaches, it is great for swimming, diving, fishing, and sunbathing. It is perfect to go with kids and for those who are a seafood lover.
The first time we visited the small fishing village we were staying in Marzamemi, about 30 min. drive away.
We parked close to the beach Scalo Mandrie, that both have a sandy stripe of a beach and some rocky areas. The water is shallow and crystal blue. At the rocky area facing the Ionian sea, there used to lie a small harbor with small fishermen houses. Today the houses are turned into charming holiday homes for their families.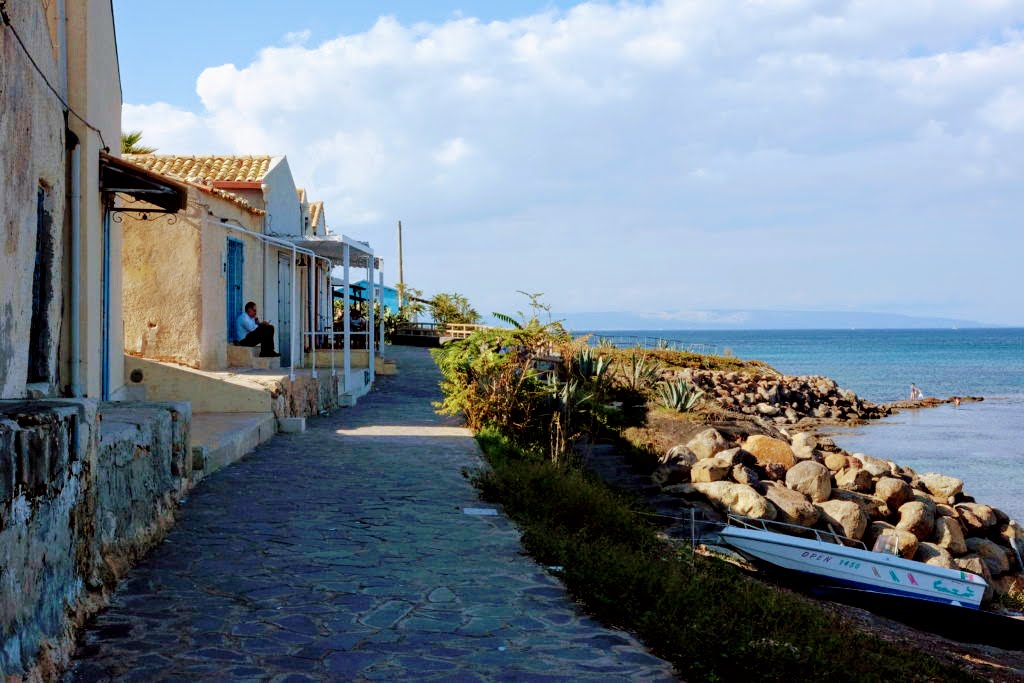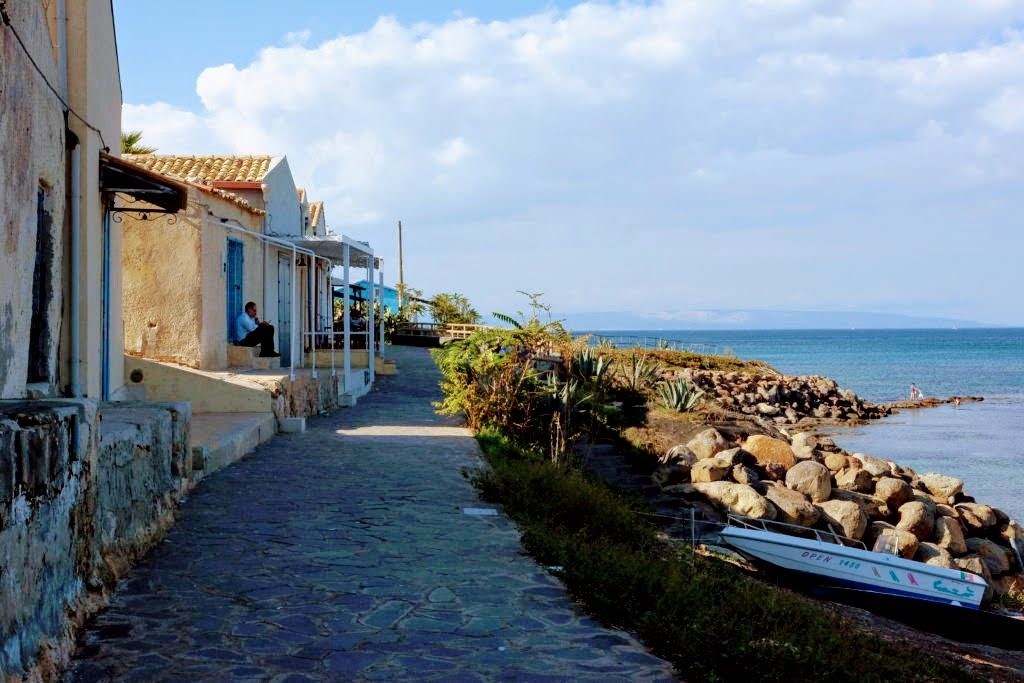 Capo Passero island
Boats come in and take people out to the sandy beach at the small Island of Capo Passero. The island is just in front of Scalo Mandrie, and can also easily be reached on foot, crossing the sea when there is a low tide.
After swimming, and playing with stones at the beach we took a break in the shadow at one of the restaurants/cafes facing the water. They offer simple lunch, drinks, ice cream, and granite. The pistachio granita tasted perfect.
For the kids tired of the beach, there is also a playground right next to the beach and the restaurants.
Reserve a table for a seafood feast at Restaurant Scala
After our swim we took a walk in the little town of Portopalo, easily covered on foot. We walked by the restaurant Scala, that we had been recommended by friends, but the kitchen was closed for lunch (pranzo) at this point.
We were disappointed we had come too late for lunch at Scala, so we decided to call Scala and reserve a table the same evening. 
Local produce and the freshest seafood
Restaurant Scala focuses on using local produce and ingredients especially fresh organic vegetables and freshly caught fish. In 2016, they started their own organic certified agricultural production, both for selling their products and to use them at the restaurant.
Since 2013 restaurant Scala has been present in the Slow Food Osterie d'Italia guide and, from 2016, also in the Michelin guide with a bib gourmand.
There's no written menu. The waiter explains what's on the menu today at the table based on the fresh produce available. They'll happily bring the fish to the table so you can have a look before choosing. It's really nice because a bigger fish will just amount to two or three servings while a small fish is one portion, so you can combine your menu so it fits you.
Crudo – amazing raw seafood plate
We ordered antipasti of their raw seafood plate, Crudo (which means raw in Italian), for two. It was pure bliss. The super fresh seafood is served with cold-pressed extra-virgin olive oil, a bit of lemon, and parsley, which gives a flavourful coat that complements the fish's natural flavor. The taste is sweet and deep and the quality outstanding.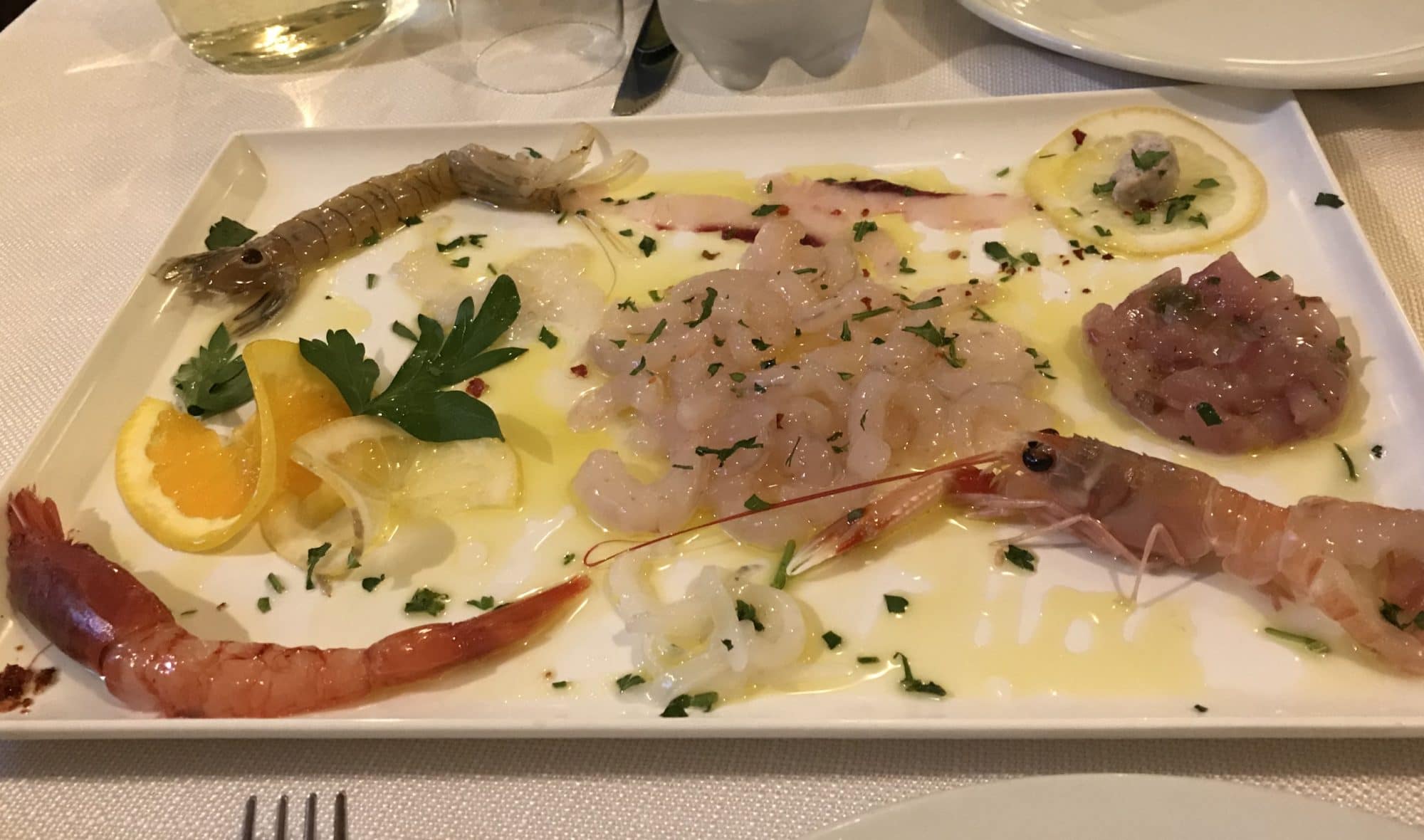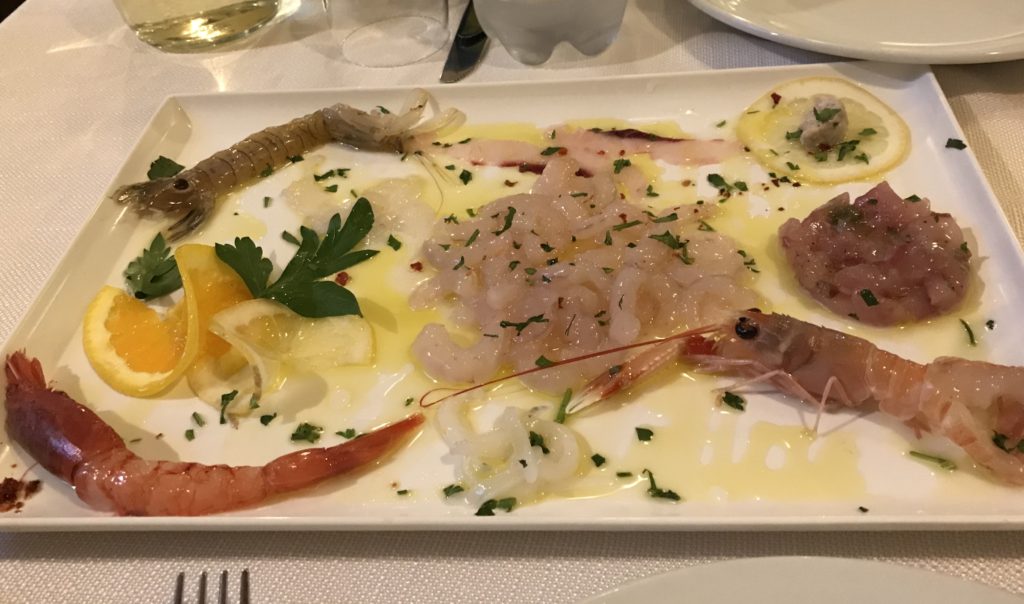 We ordered a bottle of white wine, a local one that was a bit too sweet for me. On our next visit, we found out just to take the house white wine. That one comes, (as is pretty standard in Italy) in carafes of 0,5 or 1,0 l. It costs next to nothing and is dry and goes excellent with the seafood menu.
Seafood pasta as you only get it in Sicily!
After the amazing Crudo, we shared one starter (primi), the spaghetti allo scoglio. It's probably the best pasta dish we've ever had.
A super fresh blend of seafood: mussels, prawns, white fish and squid prepared with white wine, some seafood stock and the excellent and super sweet local ciliegino tomatoes. You'll see tomatoes growing everywhere you drive in that region and no wonder they're known as the best tomatoes in the world. Be sure to eat a lot and notice how much better tomato-based dishes taste here. Extremely simple, but a taste you need the best ingredients to create.
Ciliegino tomatoes and scorpion fish
Then we had two main courses (secondi), two different fishplates. One was a scorpion fish in "soup", which was the same lightly roasted, amazing tomatoes with a bit of liquid served alongside crispy toasted bread, to soak up the liquid like a scarpetta (scarpetta means shoe and is Italian "slang" for that piece of bread, used to soak up remaining sauce in your plate.)
The fish was tender and meaty with a bit of chew a bit like monkfish. It was pretty tricky to eat, so don't be too proud (like Matias,) to say yes, when the waiter offers to prepare the fish for you.
We said thank you, with a bill that amazed us, because it was so cheap compared to the fresh ingredients, service, and experience we've had.
So good we had to go back again
When we came back to Sicily this year for our friends' wedding, we went to Portopalo to stay for a night afterward, because we wanted to eat at restaurant Scala again.
We went by Scala at lunchtime, to book a table for the evening and actually just had a sandwich for lunch. But then we couldn't help ourselves and ordered two of their amazing spaghetti allo Scoglio to share the three of us.
.. And again for dinner
In the evening we returned for our booked table, after a long afternoon in the sun. Sixten was now 3 years old and a much better restaurant guest than the last time. He borrowed a pen from the sweet waitress and painted while waiting with patience for his black pasta.
The pasta was worth the short wait. Perfectly cooked spaghetti with cuttlefish cooked in its own ink, made for a black as night pasta dish, with a rich and deep seafood flavor – classic and super good! The dish was served with fresh and warm and slightly salty ricotta on the side, to mix in. This was such a good addition, and made the pasta even creamier and added just the right amount of salt. Simple perfection!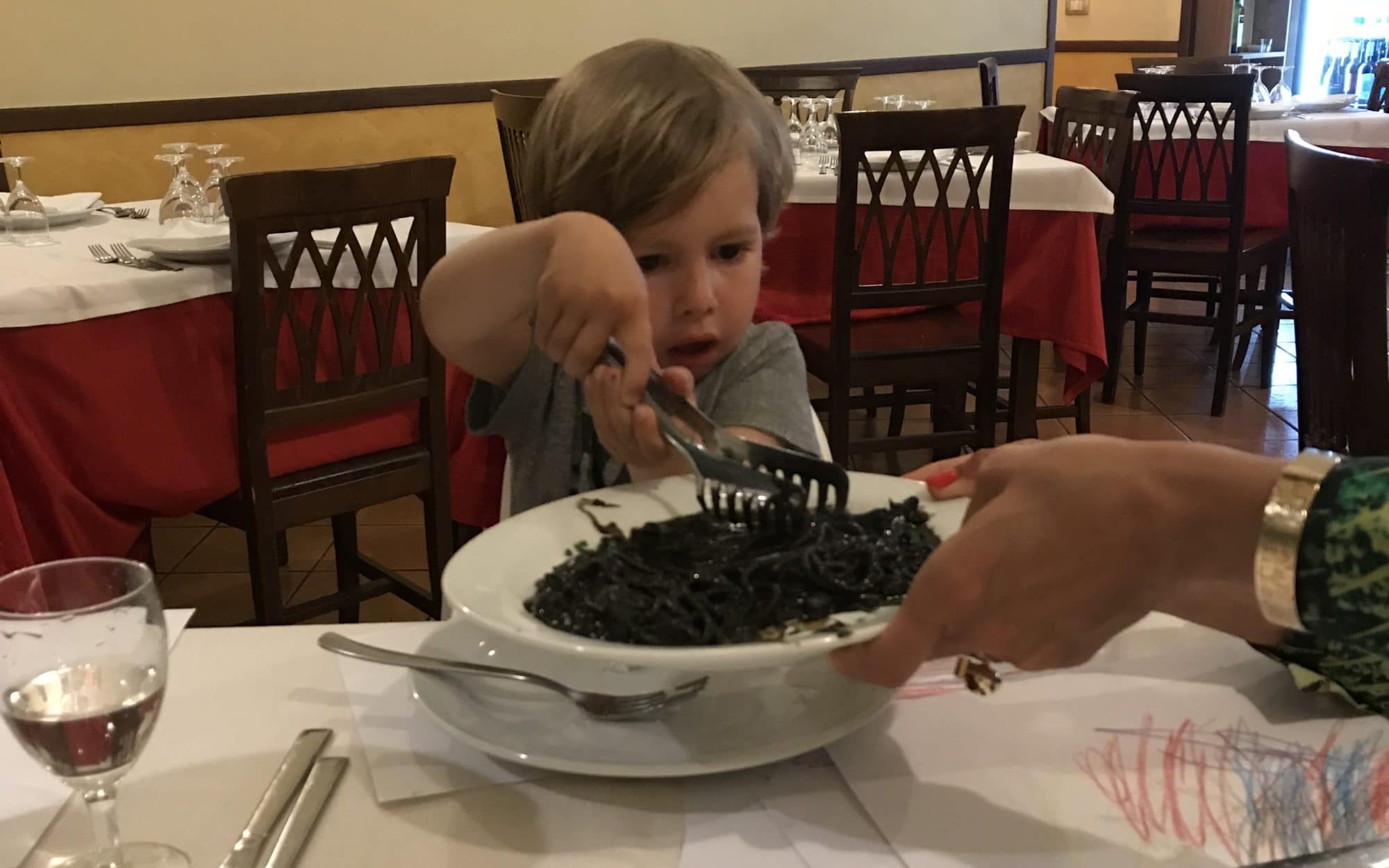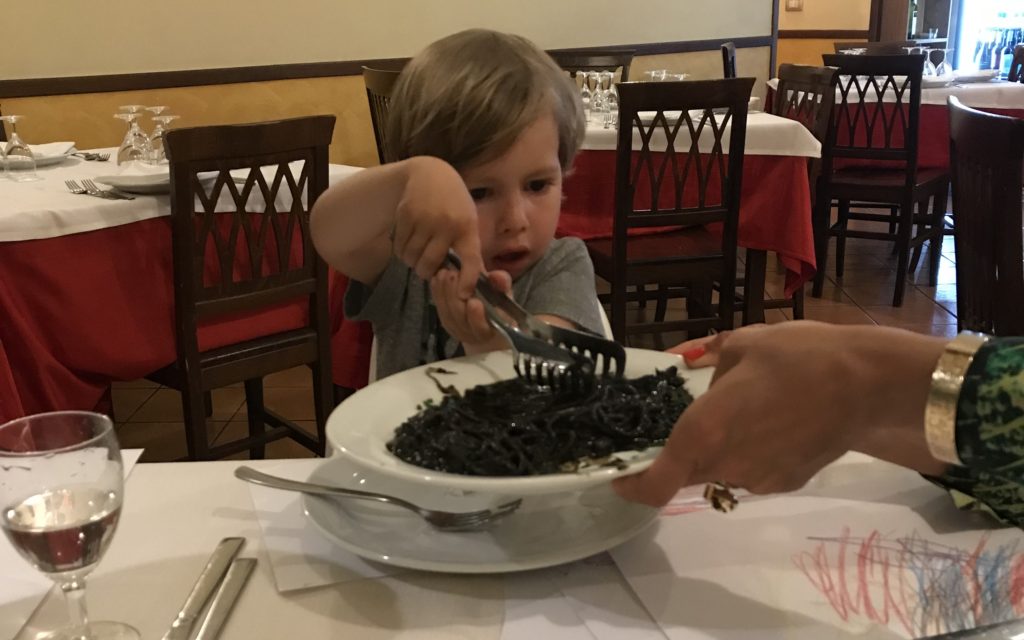 For our main course, we also repeated something from last visit: the scorpion fish in soup. This was just as good, and maybe even better since we ordered a large 2-3 portion fish which – after getting it prepared by the waitress – produced large chunks of delicious fish, and that ciliegino based soup with crispy croutons is just to die for!
In the end, we wrapped it up with simple almond and chocolate semifreddo. A great sweet and fresh end to a simple, but perfect meal!
Address: Restaurant Scala Via Giosuè Carducci, 11, 96010 Portopalo di Capo Passero.
http://www.ristoranteportopaloscala.it
Getting to and from Portopalo
From Catania airport, by car, it takes 1.20h to reach Portopalo. The local bus company AST, leaves from Modica, Ragusa, Marzamemi, and Siracusa. It's like many places in Sicily easiest to go there by car and there is parking close to the beach.