Koh Tao, a small island in the Gulf of Thailand, is a diving and snorkeling mecca for all ages.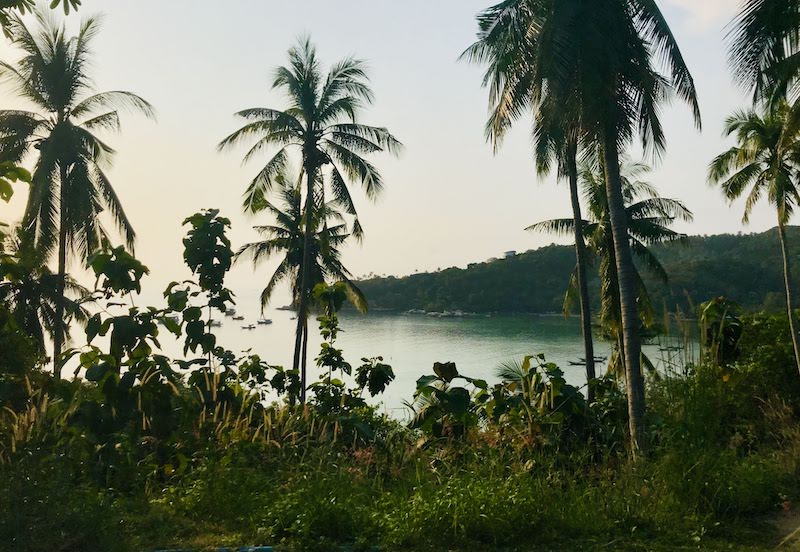 Family Diving Trip to Koh Tao
We decided to go to Koh Tao almost solely because of the diving and snorkeling opportunities there. The island is known more a less as a dive certificate "factory", and you'll sometimes see many boats on the same spots, but this is also a factor if you dive at Koh Lanta and Ao Nang.
Before going to Koh Tao I did some research on the dive schools and on which part of the island to stay at. We wanted to stay in a quiet part of the island and opted for Chalok baan kao bay and New Heaven Dive School.
New Heaven focuses on upholding responsible eco-tourism and besides the diving school, they run a reef and marine conservation program. They also have great accommodation at a discounted price when you dive with them. We paid 600 baht for a hillside room with fan and later transferred to a sea view room with a/c for 1.200 baht.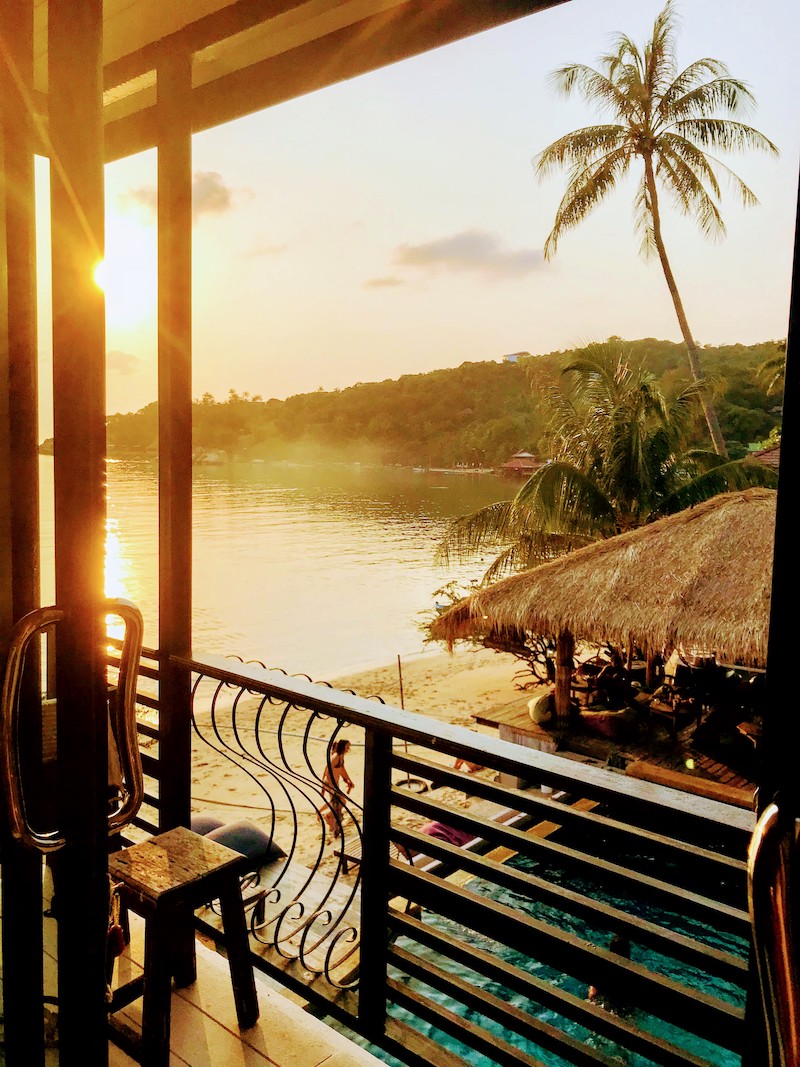 Diving Days with New Heaven Dive School
The Koh Tao dive sites are mostly located just a short boat ride away.  This made our dive trips easy and relaxed, especially as New Heaven leave for the dives a little later than most other schools, which means fewer boats on the dive sites.  You'll go out on a big boat (however not big when compared to some of the other dive schools on the island) but groups are kept to a maximum of 4 people.
Going out on a bigger boat around 10- 11 am and returning in the afternoon around 3 pm. meant it was possible for Matias and me to divide the dive trip which consists of two dives between us and to also bring Sixten on the boat.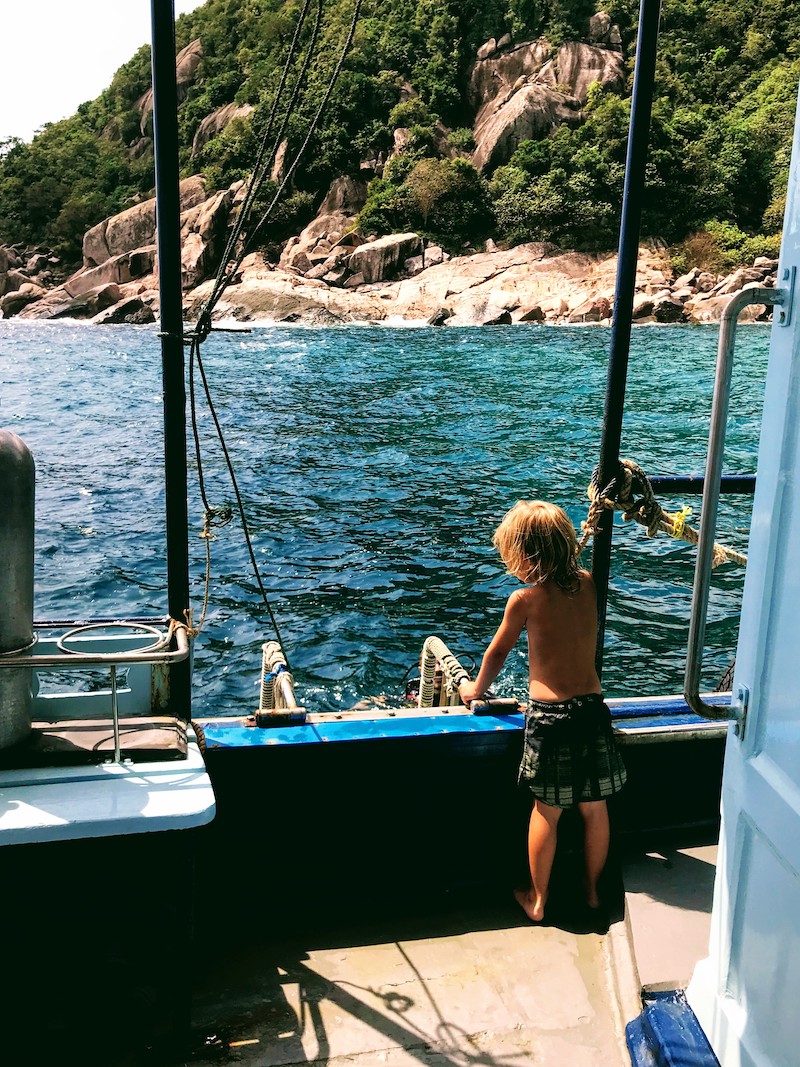 It was just a perfect set-up for us. The first day we went out, Matias did the first dive while I went snorkeling with Sixten. Well, I snorkeled. Sixten can't swim without armbands and he is afraid of getting his head wet, so he was mostly playing around. It was at the dive site called Japanese Garden, located just east of the island Koh Nang Yuan. It is a site that many boats also bring snorkelers too, so it's busy, but also stunningly beautiful and with great visibility. Sixten could even see the fish without putting his head into the water.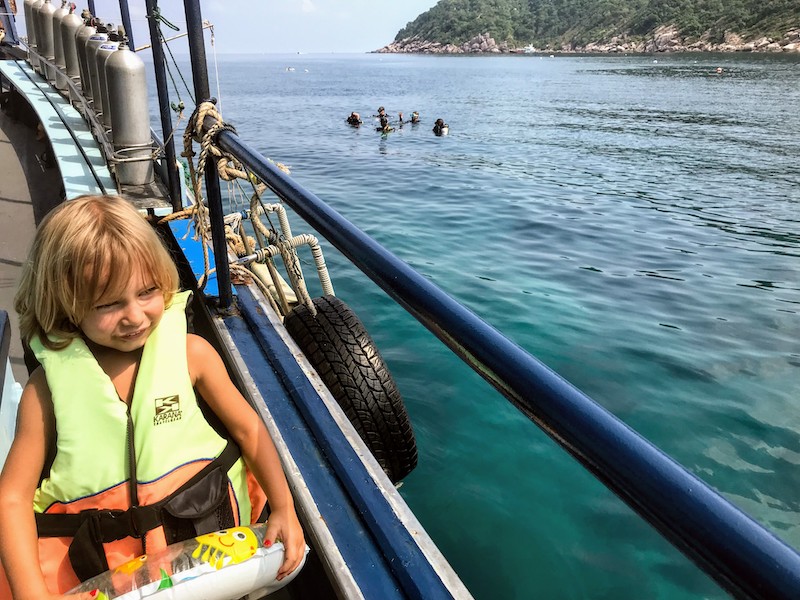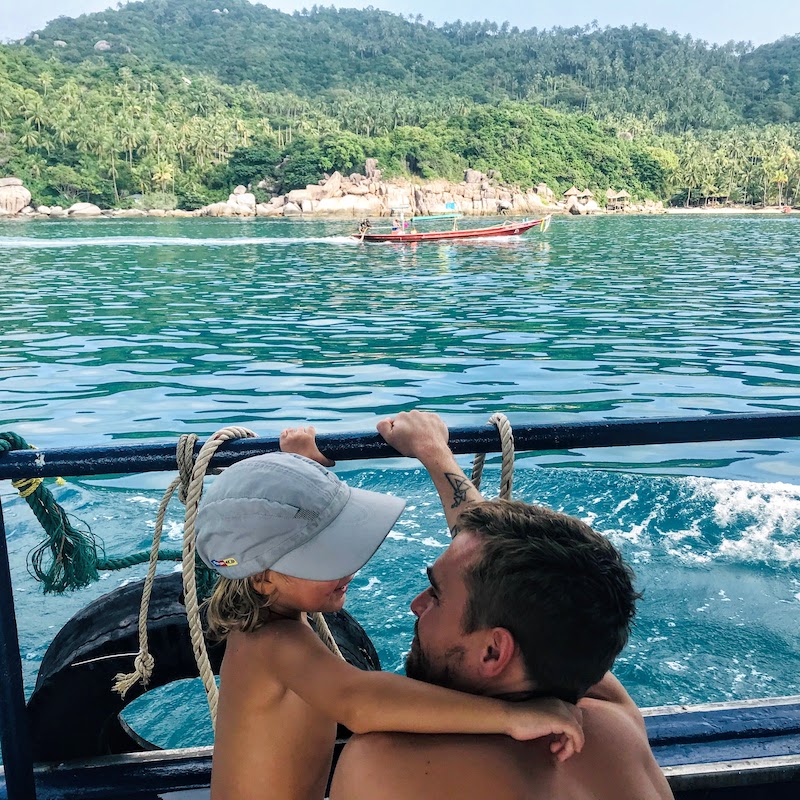 Great Diving Team and Good Prices
Both diving instructors (Matias did a refresher) and dive masters were super cool and friendly. Dive site briefings were thorough and relaxed, and the dives were at a chilled pace with plenty of time to hang around and observe whatever you found interesting.
Some of the days we dived we met other families with bigger kids that were doing their first dive. Kids can start scuba diving when there are 7- 8 years old, by doing the SSI Scuba Rangers program or Padi's Bubblemaker program. For diving interested parents, this is the perfect introduction to the beautiful world beneath the surface of the ocean.
We hope that our fascination for the sea is going to affect Sixten and will get him hooked on the water life eventually. We could see that his fright of water slowly decreased just by coming along on these dive trips.
Bringing your Kid on a Diving Trip
The three of us had the best days on the diving boat and for Sixten the day was full of new and big experiences.
To begin with, it was fun for Sixten just to observe and watch all that is going on on a big dive boat. He had heard us talk a lot about our diving and seen pictures from it. So he was excited to go with us and to see for himself how it works.  He thought it was a lot of fun to see us put on the equipment and jump into the water, as well as to welcome us and the other divers back on the boat.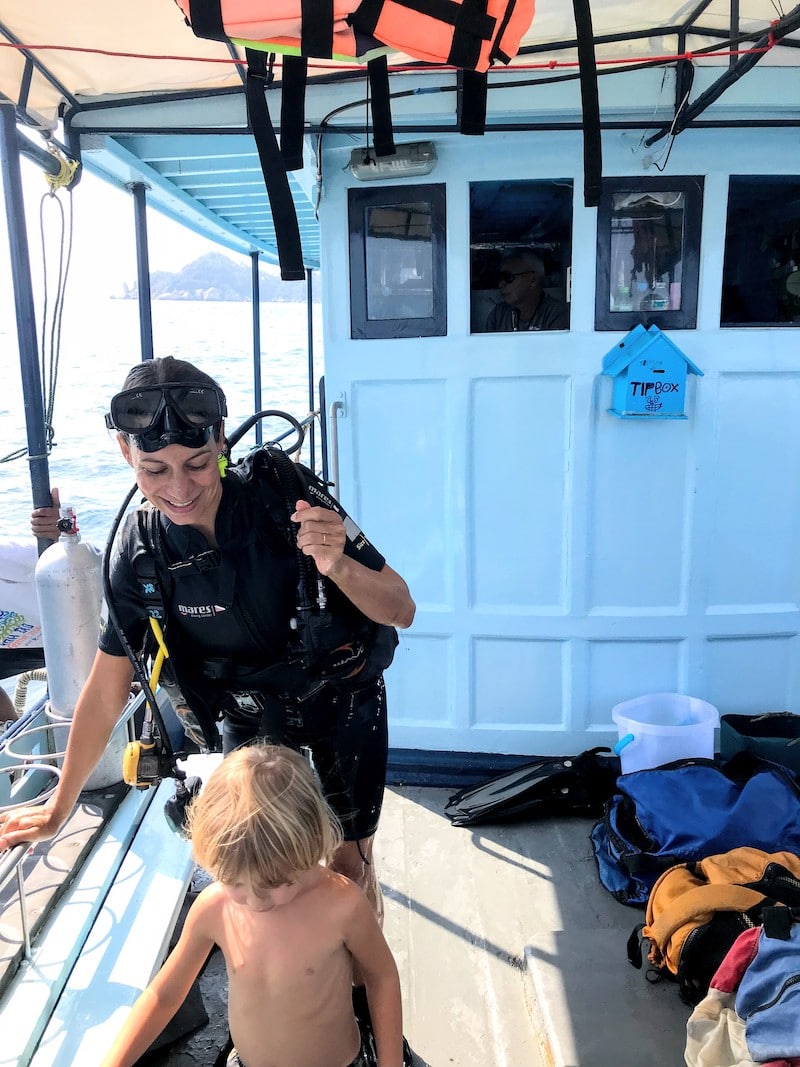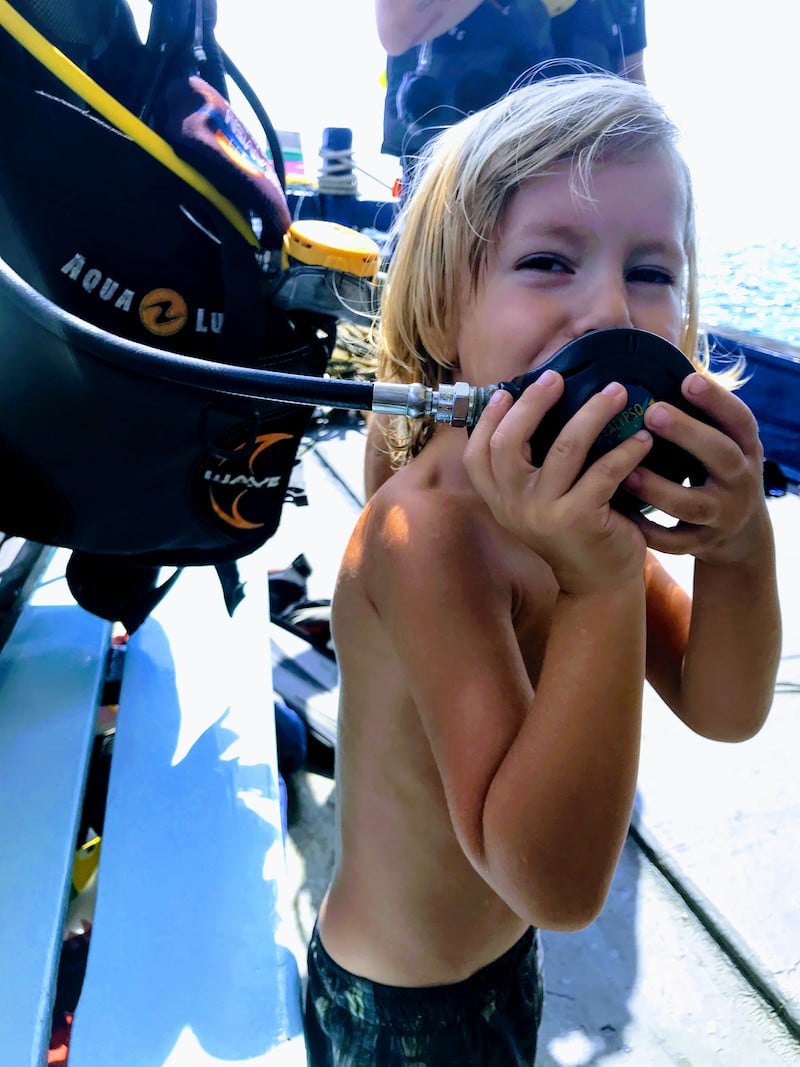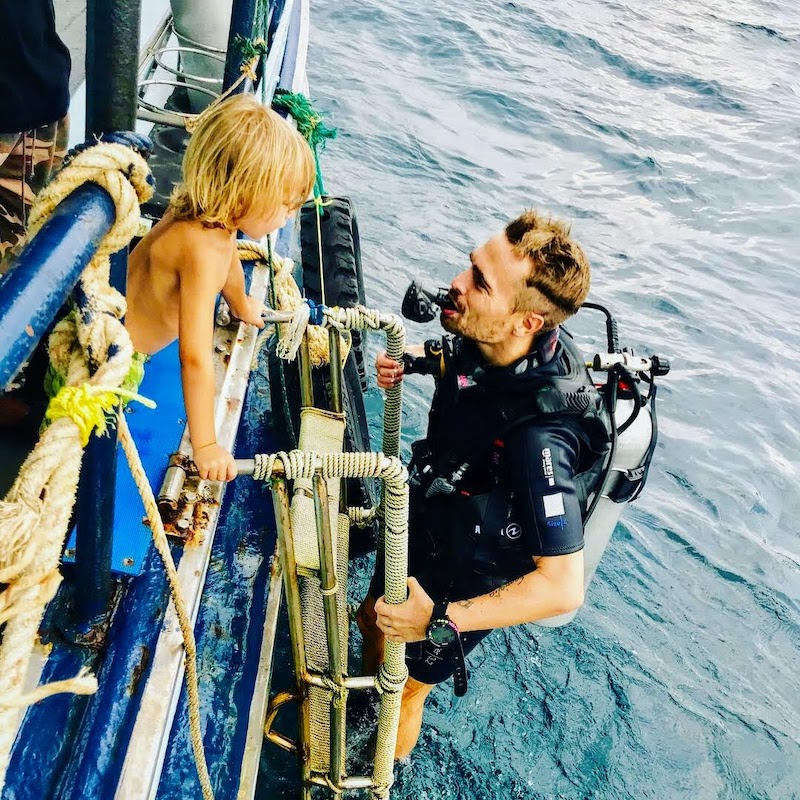 A small boat took us from the dive shop to the dive boat itself. The cool young captain who took us out and back, noticed how Sixten took interest in his steering and it then became a little ritual that he would have Sixten sitting next to him, so Sixten could help him steer the boast. This was super cool for Sixten and another reason for why he wanted to go with us diving again the next day.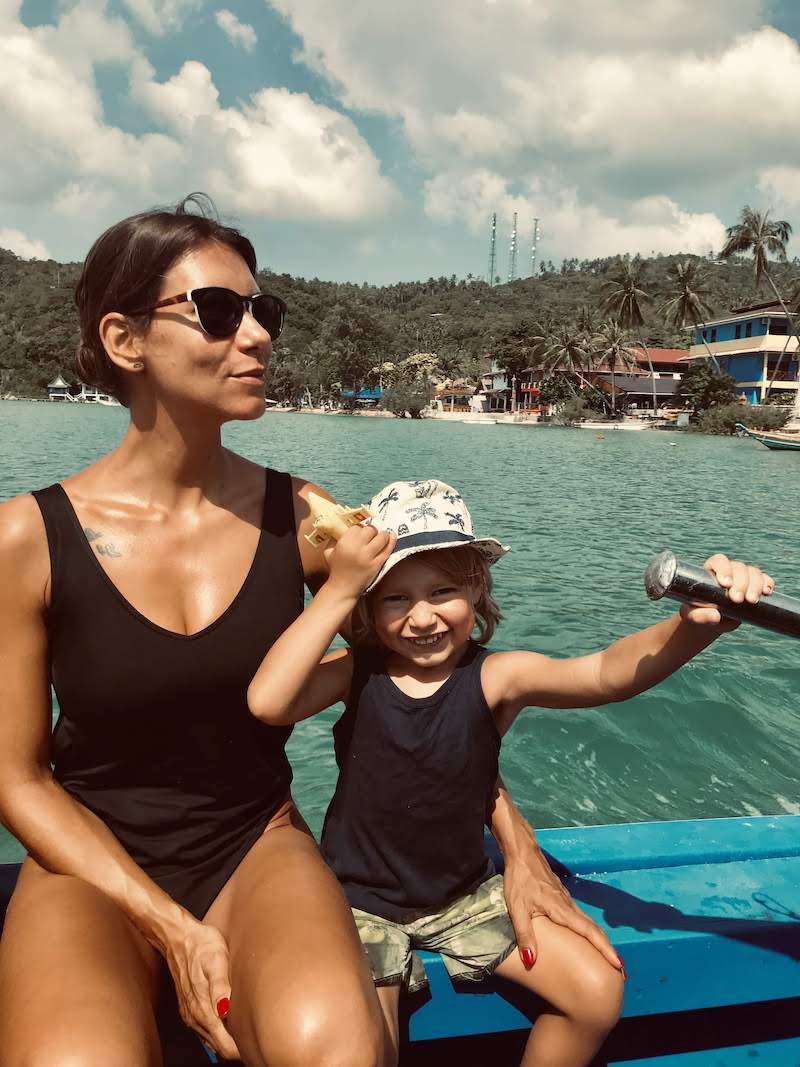 For Matias and I, it was great to be out on the ocean together and share the experiences as much as possible without diving together.
The Dive sites on Koh Tao
We shared dive trips on three days and Matias also had a day on his own, so we got to go to many of the same dive sites. We both dived at White Rock, Japanese Garden and Aow Leuk. I also dived at Shark Island and Matias at Tanote Bay. All great and pretty easy dives, with lots of life although the corals had a bit of a hard time after a big storm had just hit the island at the end of January. Some of the sites also had quite a bit of rubbish, so there was a bit of extra challenge to the dives, picking up rubbish along the way.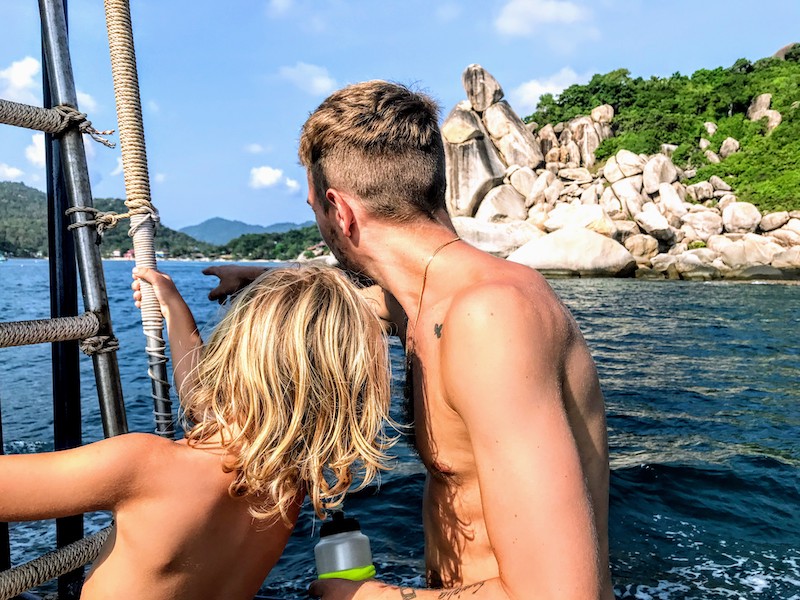 Snorkeling Around Koh Tao
We planned to stay on Koh Tao for a week but ended up staying for two. We stayed Chalok Baan Kao Bay for all of the two weeks.
Snorkeling around here is best at June Juea Beach and Shark Bay, where you can snorkel from the shore. You can reach Shark bay, by walking south from Chalok and after 5-10 minutes there's a gate to a small trail on your left side that takes you to a tiny beach, from where you can easily swim to the reef. Tons of fish and a good chance of spotting Black Tip Reef Sharks.
We also rented a Kayak from Carabao Dive Resort (100 baht 2 hours) and went to the western tip of Chalok Baan Kao Bay, where the snorkeling next to big rock formations was great.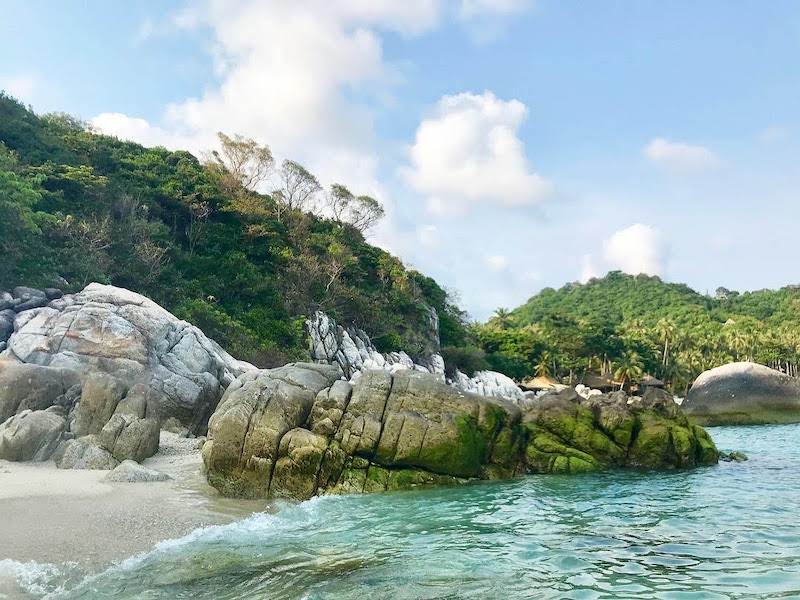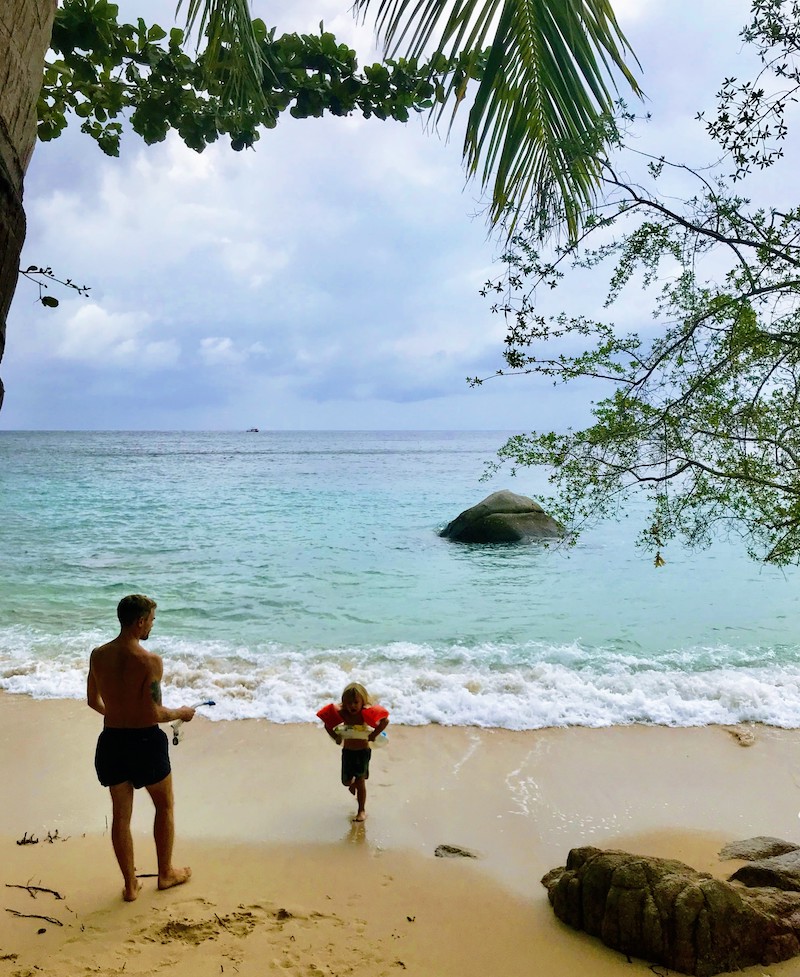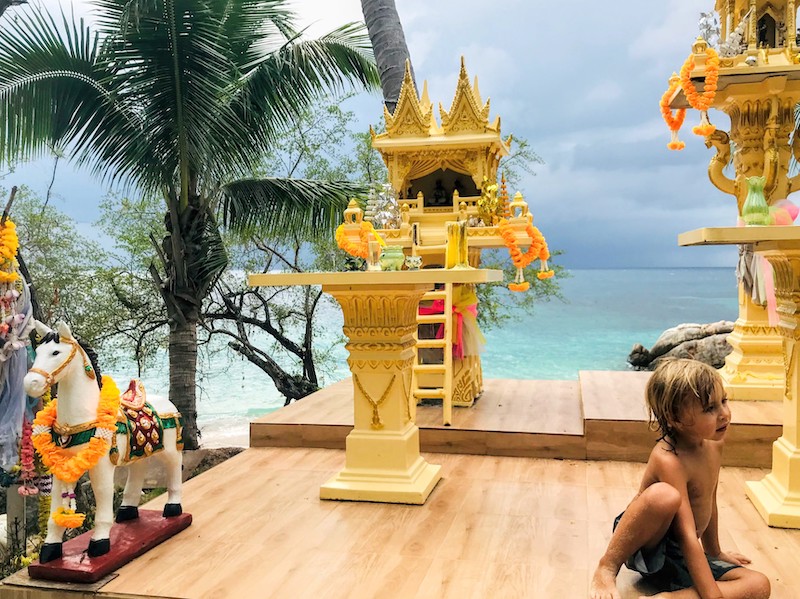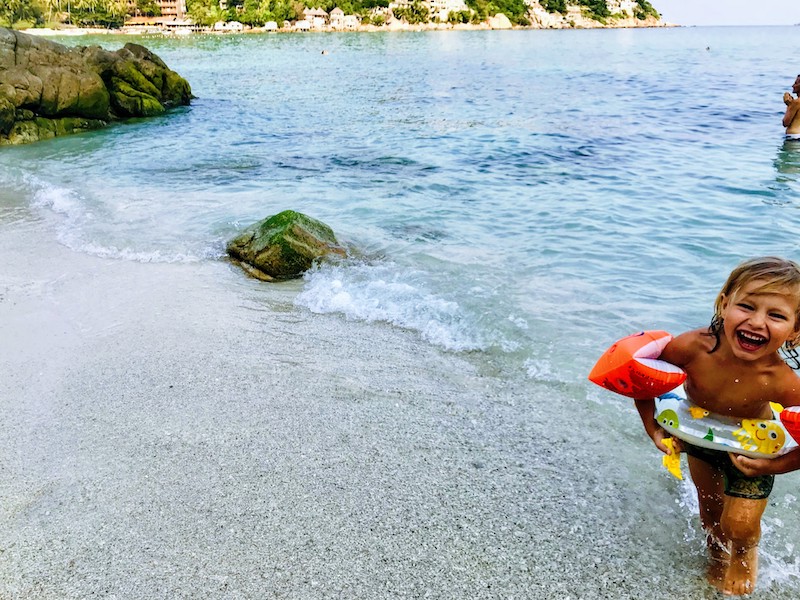 Koh Tao Boat Snorkel Tour
There are plenty of other snorkeling spots around the island. There's an official Koh Tao tourist guide, which has a map of them. Most hotels etc. have the guide which is free. Many places also arrange snorkel tours. We personally didn't go on a tour as we got to go snorkeling when we went with the diving boat. We saw many of the snorkel tour boats at various sites, many of them are HUUGE. Not something that appealed to us. You'll probably be better of renting a private longtail for a day. Just go to the beach in the morning and find a captain you like. It seemed like the price for a private tour is more or less settled on 2.500 baht for a day trip.
Marine Conservation at Koh Tao
A cool activity is to go visit New Heaven Dive school in the morning (around 10:00) where they feed the baby sea turtles at the nursery. As we stayed there, it became a daily ritual for us, and something Sixten loved. Especially helping to fill the tanks for the turtles with a water hose. Good fun for him, and a bit less manual labor for the marine conservation people. Read more about the sea turtles nursery and the marine and reef conservation projects here.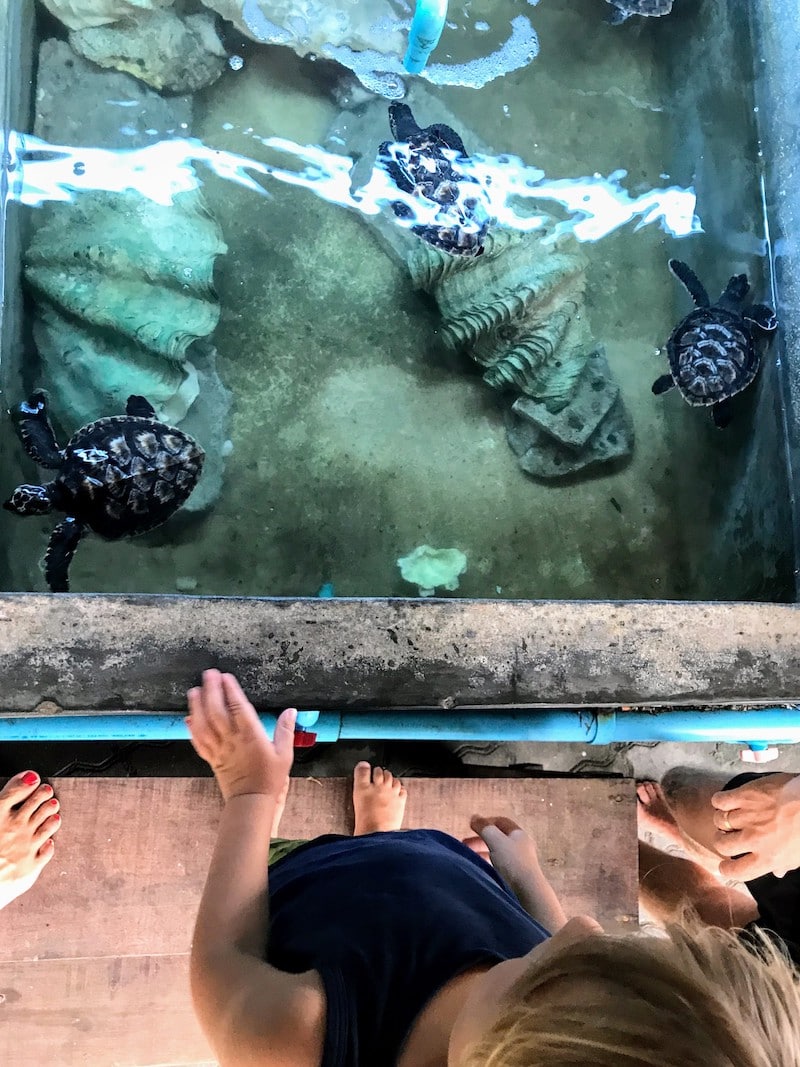 Local Food on Koh Tao
Even though Koh Tao is small there are plenty of good options of both Thai, Western and other food like Japanese and Korean. We had all our meals in the Baan Chalok area and had some great food.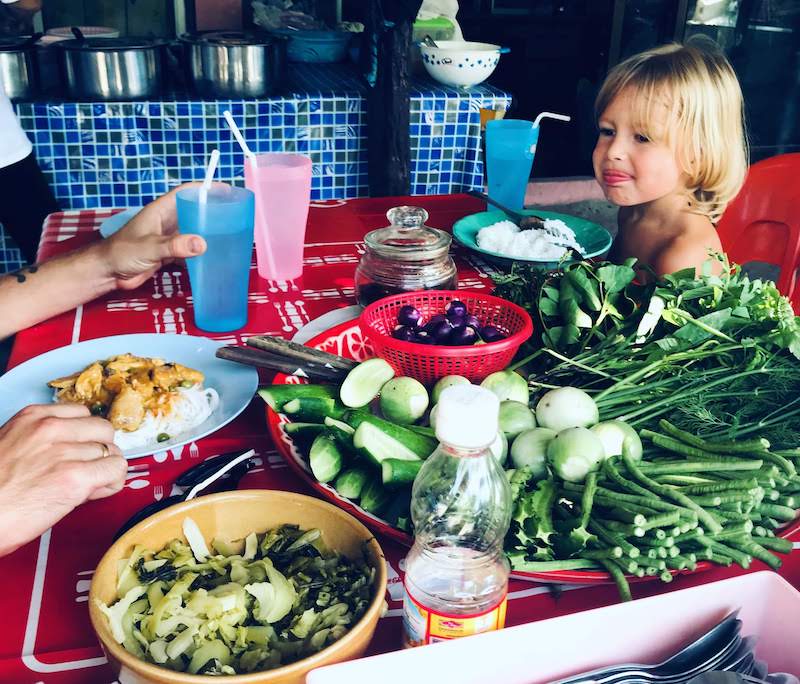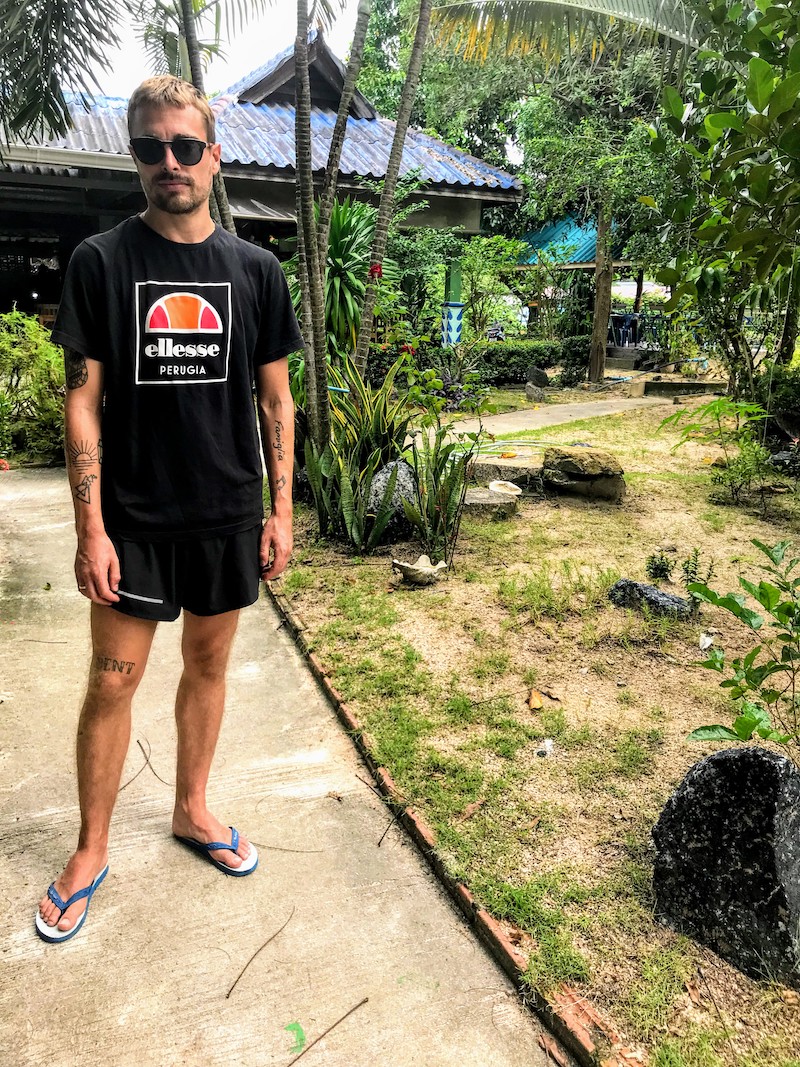 If you feel like western food a good option is KoPPee, which is owned by the same family that owns New heaven dive school and is located right next to it, They make good espresso, cakes, healthy salads, and have a nice selection of green and fresh juices. You can relax in the bean bags and use the pool while taking in the sunset.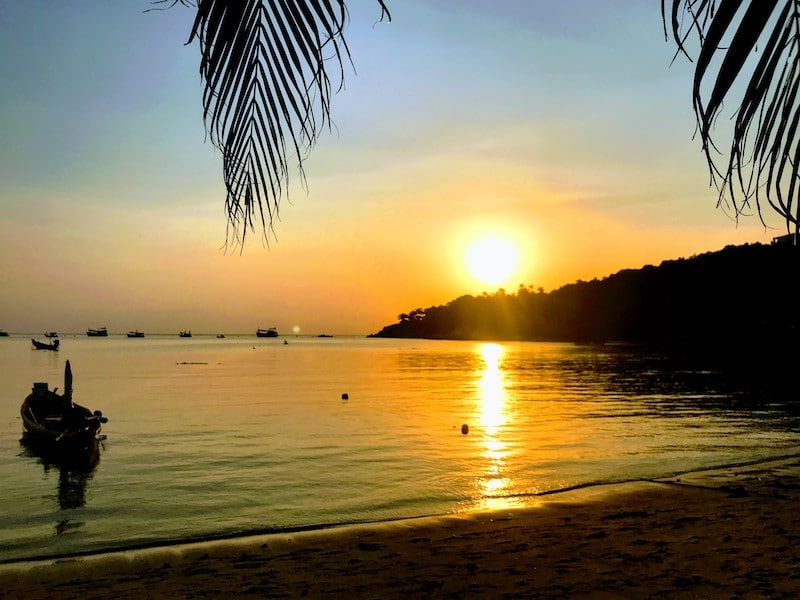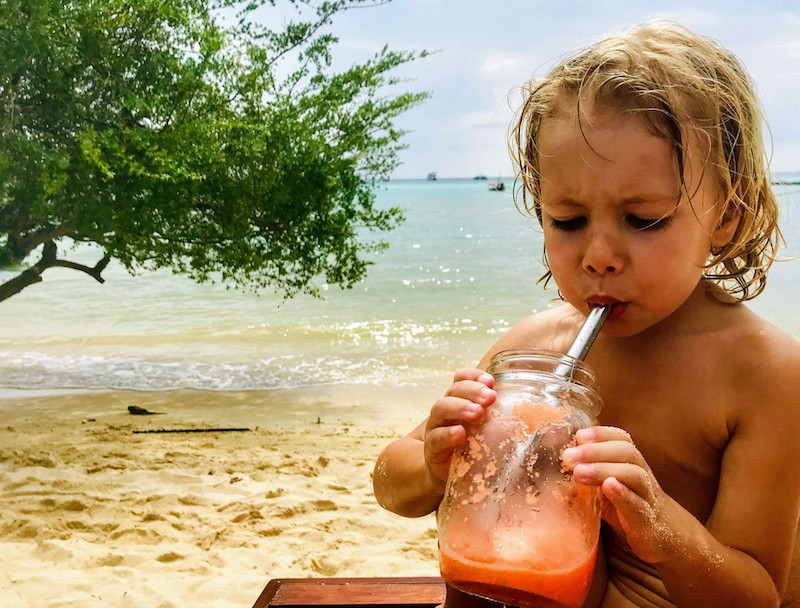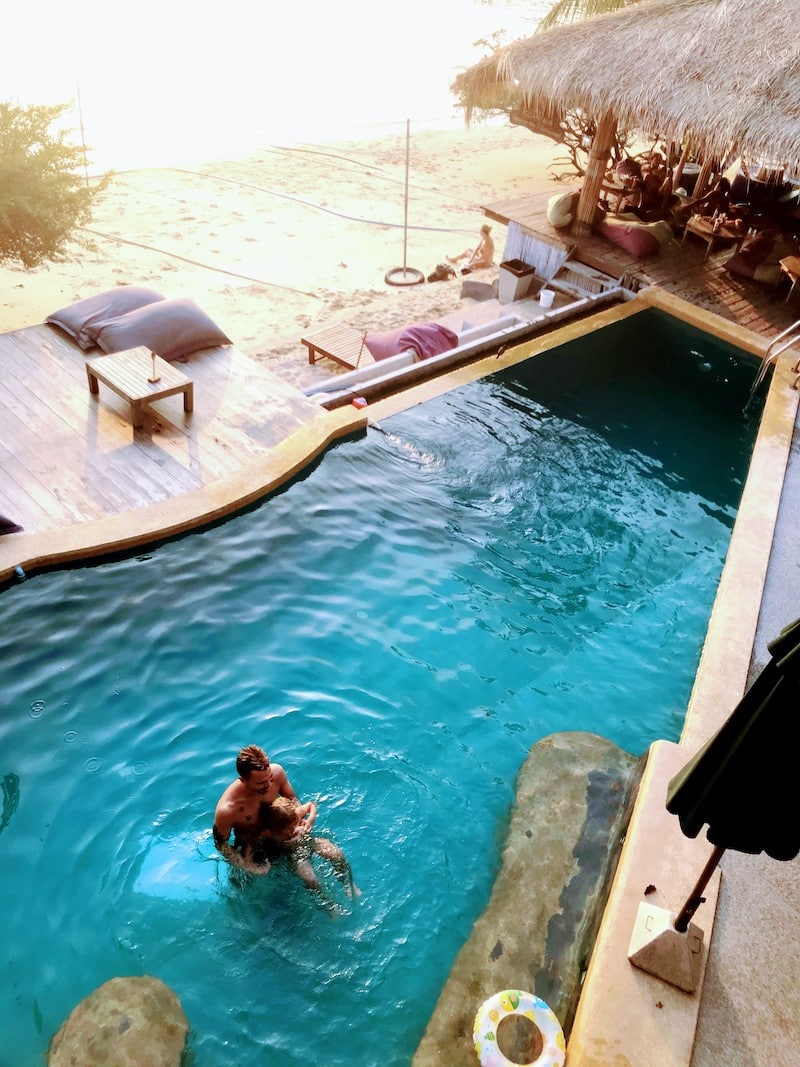 Other good places were Your Place and a local (and very inexpensive) Thai sharu BBQ buffet Restaurant.
Getting to Koh Tao
There are plenty of ferry routes to Koh Tao. Slow overnight options or high-speed catamarans. The high-speed options are operated by Lomprayah, Seatran, and Songserm and take from around 3 to 5 hours depending on your departure location. Boats leave from Donsak, Tapee Pier (Surat Thani) and Chumpon meaning you'll have many options of getting to the island.
We took the trip from Hat Yai, with a minivan to Donsak and then Seatran ferry. On the way back we took Lomprayah (via Koh Samui) to Tapee Pier with a transfer to Surat Thani train station, as we needed to catch the overnight train to Bangkok.
Check with travel agencies at your location or book tickets yourself, it's all fairly easy although the trip is quite long.
Koh Tao with kids
We had a great time on Koh Tao. The beaches are super child-friendly, and you will find a swimming pool in many places. Good snorkeling, very nice diving and fairly quiet in the south means this is a place we see ourselves going back to.