Touchdown Thailand!
Bangkok with a kid – is it gonna be fun or just too much? We were not sure before we landed but after just a few hours we knew the answer.
How Long to Stay in Bangkok with Kids
We had only booked one night in Bangkok as we had thought it might be nice to hit a peaceful beach pretty fast, also before the peak December season really kicked in. Therefore we had also booked train tickets ahead, to make sure we could get the beds/seats we wanted. It turned out that there was no need to stress and that we would have liked to stay a few more nights in Bangkok, which has a lot to offer, also when you are traveling with kids.
Sixten was super excited about the big city that is so different from everything he has seen before. The huge buildings, sky trains, tuk-tuks, temples, new kind of food and drinks, lots of lights and colors to look at. There are many parks with huge playgrounds,  and it's also an experience to take a boat ride with the local boat buses on the river.
We will probably stay 3- 4 nights the next time we visit Bangkok as it boasts many options for great food and activities for all ages.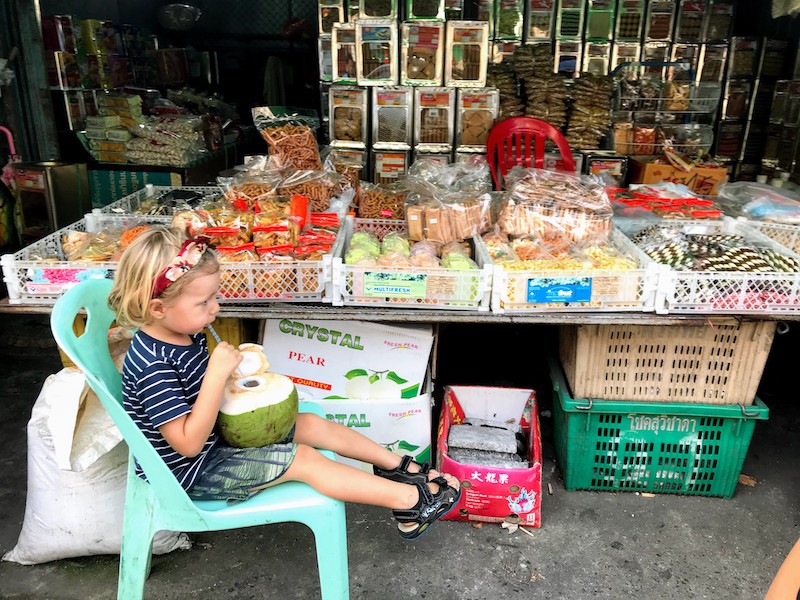 Look – a Baby Dinosaur
We walked a lot in Bangkok and liked it. When we were walking along the river, Sixten suddenly said very calmly and without pointing anywhere "look there's a baby dinosaur" and I thought he was playing something, so I just played along.  But then he said it again a bit more excited and looking over the river and I looked at how he had a big grin on his face. Then I realized there was a giant lizard lying next to the river. It's funny to witness how he reacts when seeing a new thing, and something that is very exotic for us. He laughs but takes it super laidback. This is what is so amazing about traveling with your kid(s). I'm enjoying so much to be there every day and be a part of his new experiences and see him learn and develop.
Bangkok to Trang by Overnight Train
After enjoying Bangkok for two days, we took a Grab, (private taxi) to the train station in the early evening and jumped on the train towards Trang.
We love to travel by train – especially in Thailand. You get from north to south in a comfortable and eco-friendly way, while you also have a great sleep.
The train staff was very attentive and helpful. They made the seats into beds for us, as soon as Sixten fell asleep, already around 7pm. We had booked three beds, but the lower bed is so big, that one of us could easily have slept there with Sixten. We enjoyed the train ride so much and had a really good sleep before arriving in Trang around 9 am.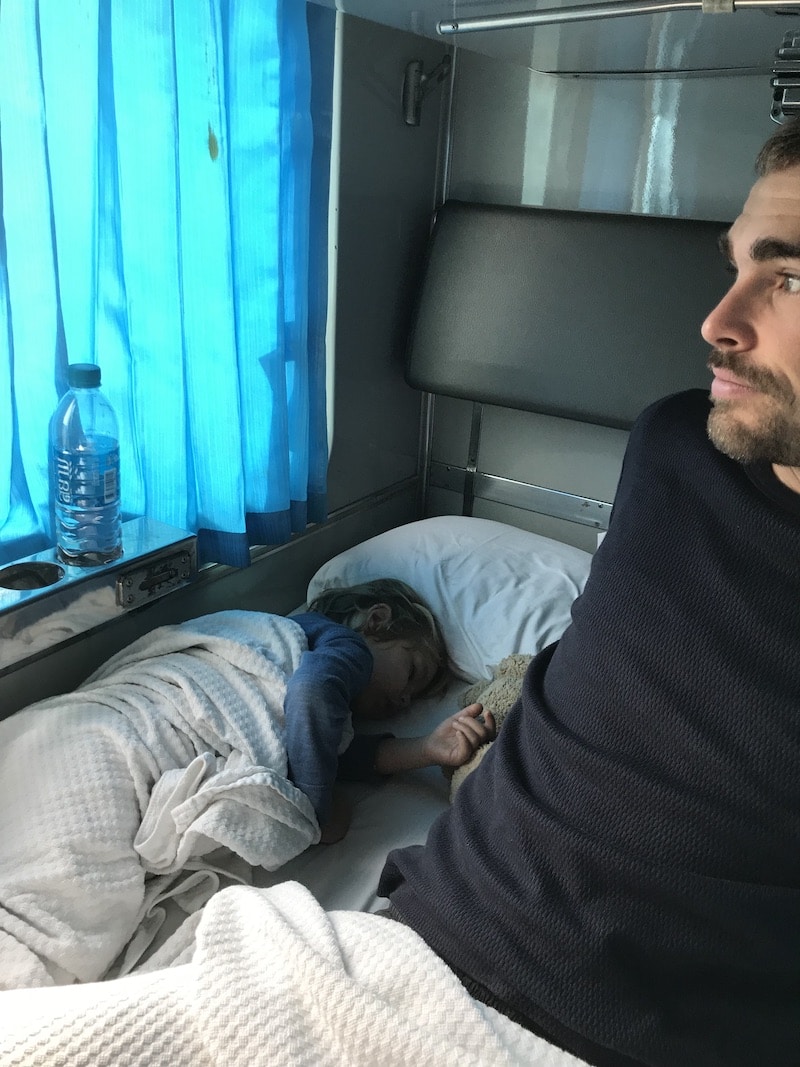 From Trang, there are so many possibilities for transfers to the island in the Andaman ocean and south of Thailand. Just explore the travel agencies around the train station area and find the place you feel like going with. It's easy and inexpensive.
/Tabita