Initially, Koh Samui was not on our list of places we wanted to visit in Thailand…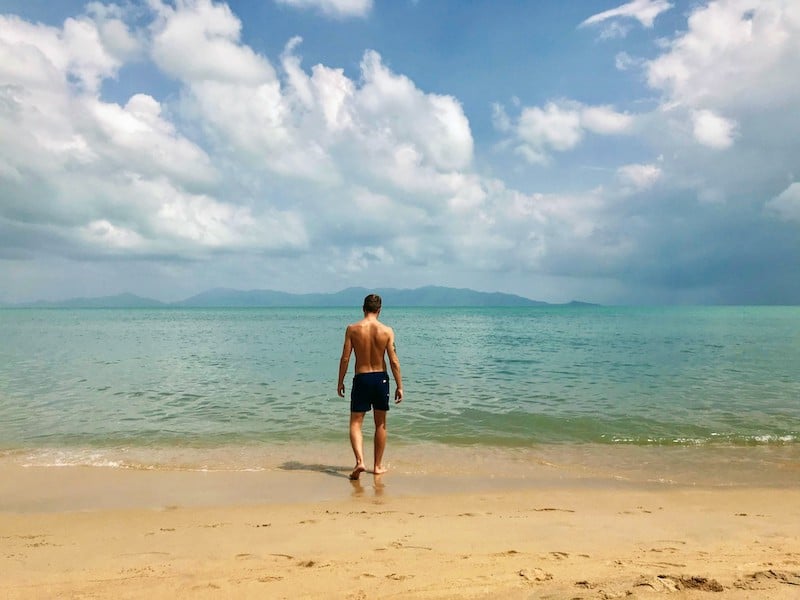 Koh Samui Island
As the second biggest island in Thailand, Koh Samui is one of the most developed and visited holiday destinations of the country. The island has its own airport and is quite busy. Initially, it was not on our list of places to visit in Thailand. But after two relaxed and laid back weeks on Koh Tao, we headed to Mae Nam Beach on Koh Samui, to meet up with our good friends to celebrate Sixten's and my birthday.
We were staying with our friends at their house, that had space enough for 10 persons. The house was located in the quiet and relaxed back streets of Mae Nam, next to local houses and other villas rented out to foreigners.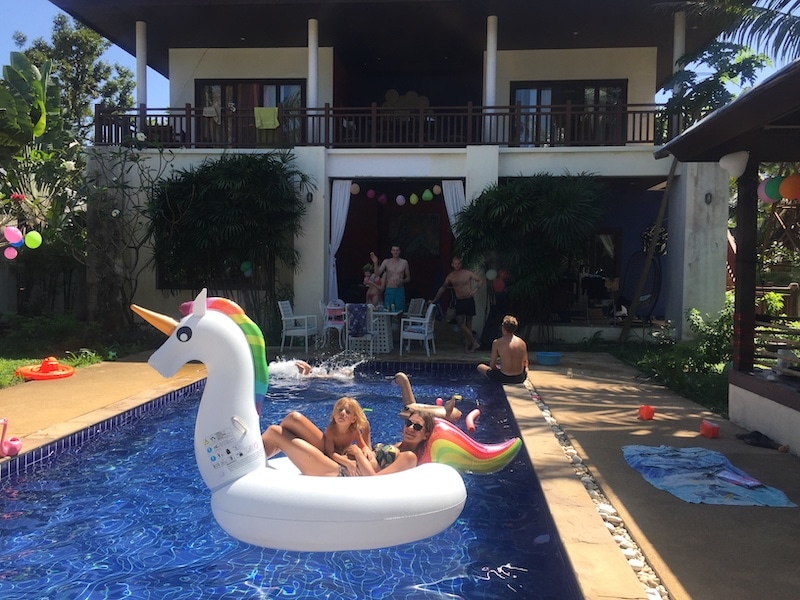 Staying at a house with good friends, made the trip to Koh Samui really nice. So my first tip about Koh Samui will be to find a house in the quiet backstreets of Mae Nam.
From our friends' house, it was 10 minutes walk to the busy main road of Mae Nam and all kinds of good restaurants, street food possibilities and shopping. We loved the local street food places, with dumpling soup and the food stand just outside Tesco express, where we tried different chicken sticks, fresh papaya salad,sticky rice, and Grilled Catfish.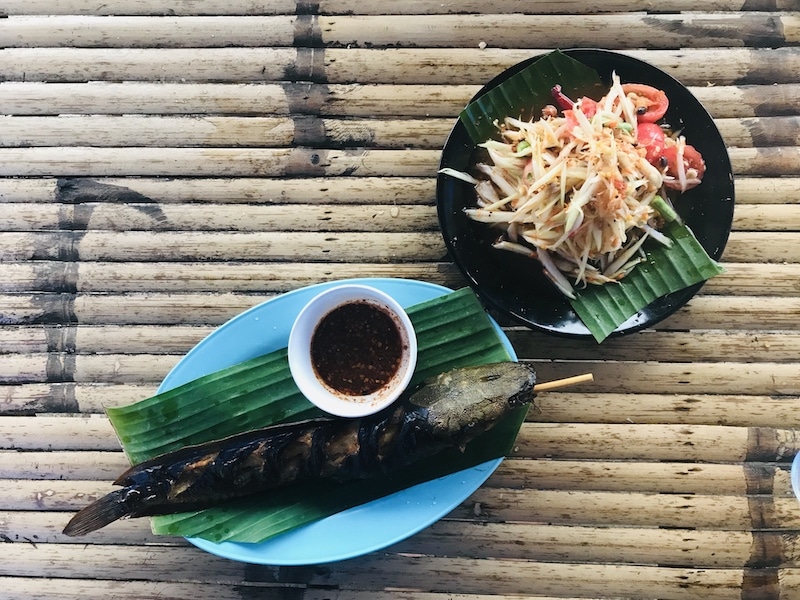 One of the best restaurants in Koh Samui is located in Mae Nam, the place called Jano Restaurant. It is very popular, so book ahead, or order take away as we did many times that week. We can recommend the grilled Saba.
On Soi 4 in Mae Nam, just across from China town is a good curry lunch spot. The lady serves traditional local style curries on rice noodles, with a free buffet of greens on the table to add on. Find the place here.
Best Quiet Spots in Koh Samui
From Mae Nam, we did small excursions around Koh Samui and found the island to be much nicer than many give it credit for. We were surprised to find many quiet beaches and small oases.
Mae Nam beach was reached in 5 minutes on a scooter from our house and surprised us by being really pretty, clean and fairly quiet.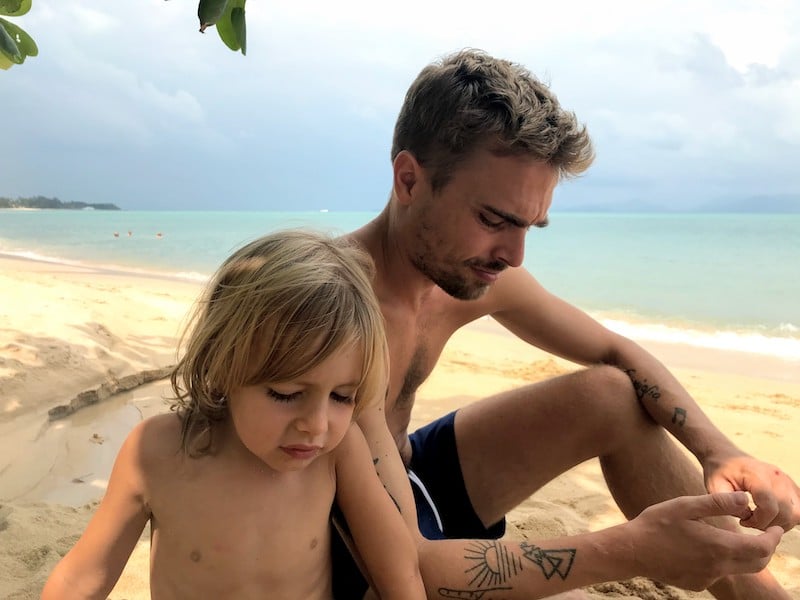 Bang Por Beach
To the west of Mae Nam is another great beach, Bang Por Beach, located in a small secluded bay. It has fine white sand and nice view to Koh Phangan.
Nathon Town
On the west coast Nathon town is located, once the main city of Koh Samui. (Today's main city is Chaeweng Beach, a super busy town with shopping, bars, and restaurants catering to every taste).
Nathon town is really nice, and the opposite of Chaeweng, as it remains true Thai, with typical small woodhouses. It offers good local food places and a nice night market.
Tong Yang Beach
From Nathon, we headed down to Tong Yang beach and stopped on the way at a temple with a playground, right next to a beach.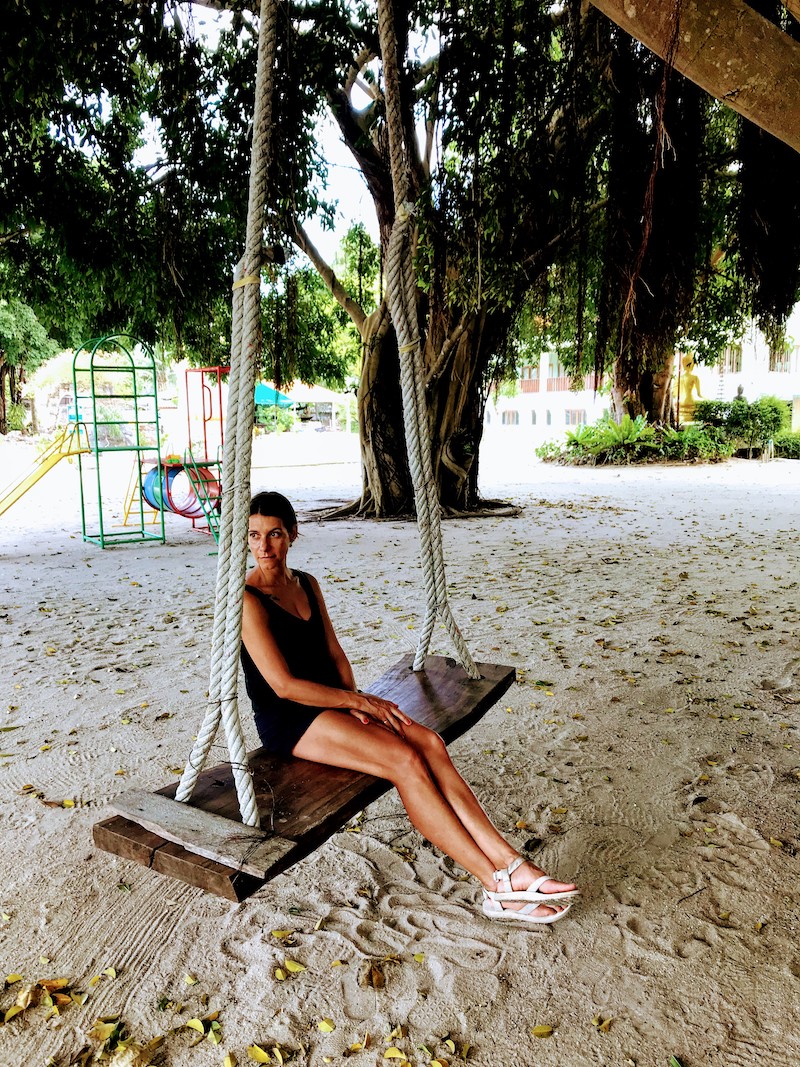 Snorkeling at Coral Cove Beach
We didn't have a chance to visit the east coast, but here you can find good snorkeling at the small Coral Cove Beach, located on the southeast side of Koh Samui.
The Green Backland of Koh Samui and Tan Rua Waterfall
We can also recommend doing a trip up to Tan Rua Waterfall. It's a nice ride through peaceful back roads of Mae Nam. You will find local restaurants and get a glimpse of everyday life, on the way up the mountain and into the green jungle.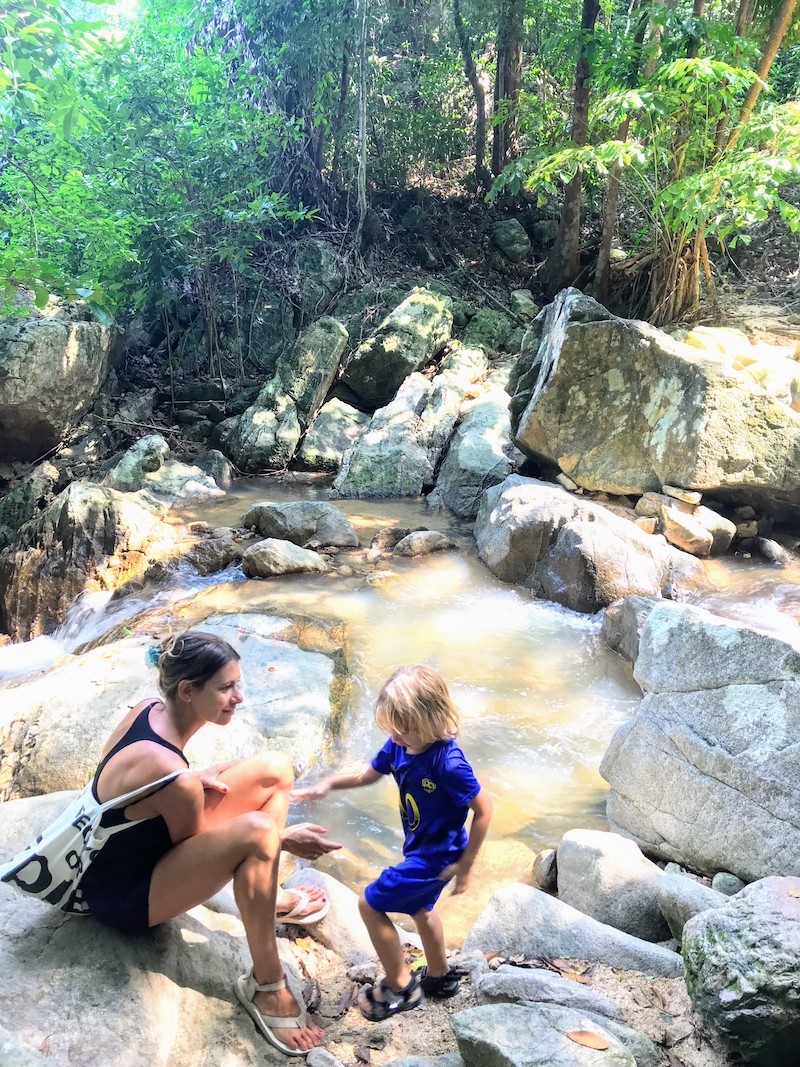 Where to Stay on Koh Samui
If you can't get a house in the lovely backstreets of Mae Nam, then I will recommend you to stay at Treehouse Silent beach, 2 km east of Mae Nam. Treehouse offers beach bungalows with sea view and has a great restaurant. They also have plenty of beach toys and snorkeling equipment to use free of charge.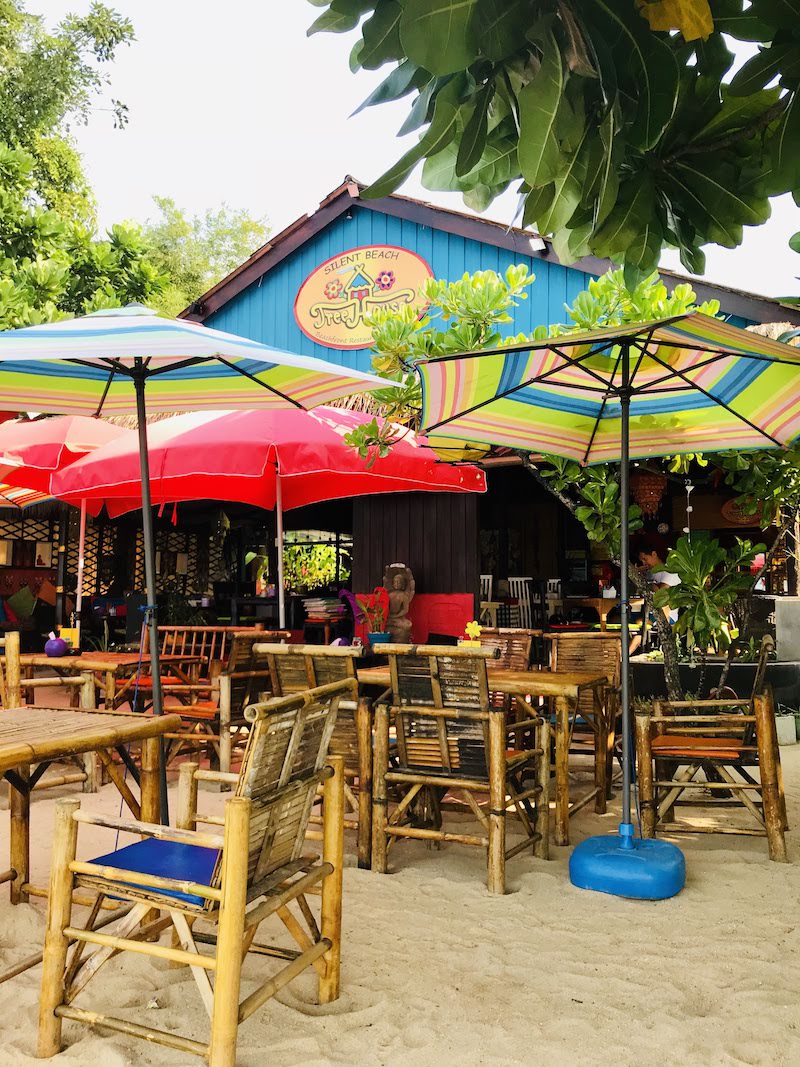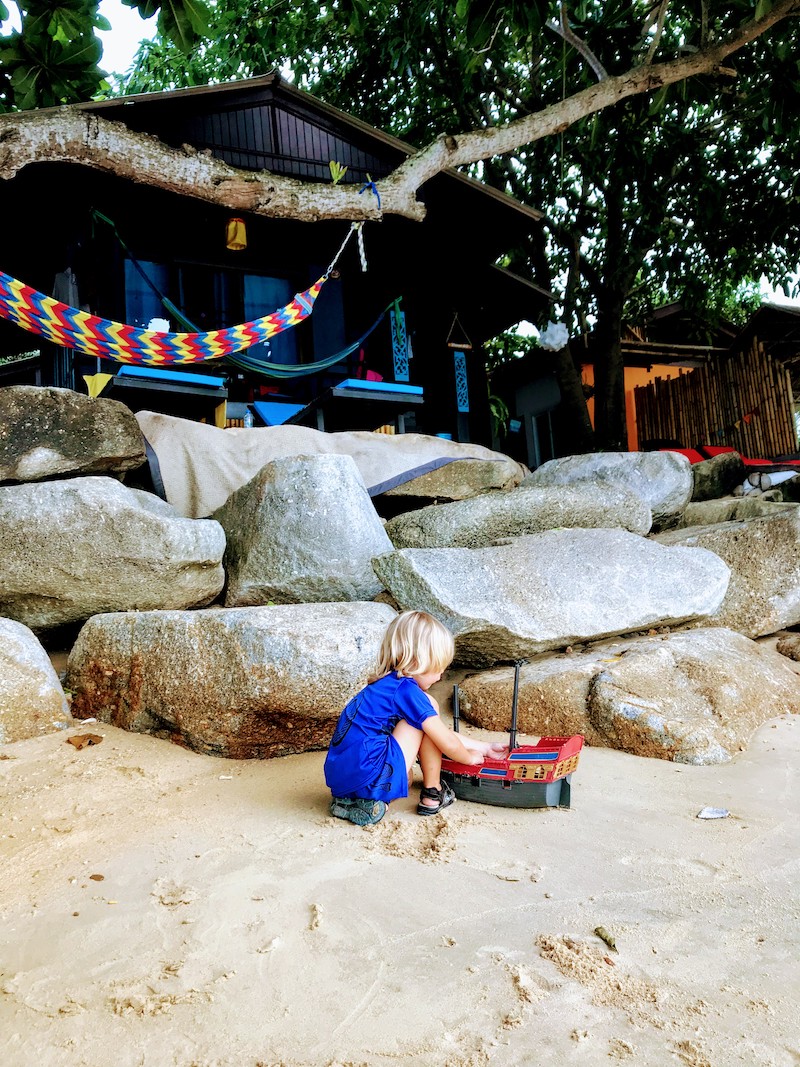 Should you Visit Koh Samui?
Samui is easy to get to by train from Bangkok and catching the ferry in Surat Thani. If you know where to go, you can find beautiful beaches, peaceful places and have a relaxed holiday like on many other Thai islands.
Because of its size, you'll also find many food options (fairly priced), big supermarkets etc. We like to go explore on bikes, but on Samui, you should definitely rent a scooter, as getting around otherwise is cumbersome.
We had a great time there!