We took a trip to the Malaysian island Penang to get a break from the bungalow lifestyle in Thailand and to extend our Thai visa.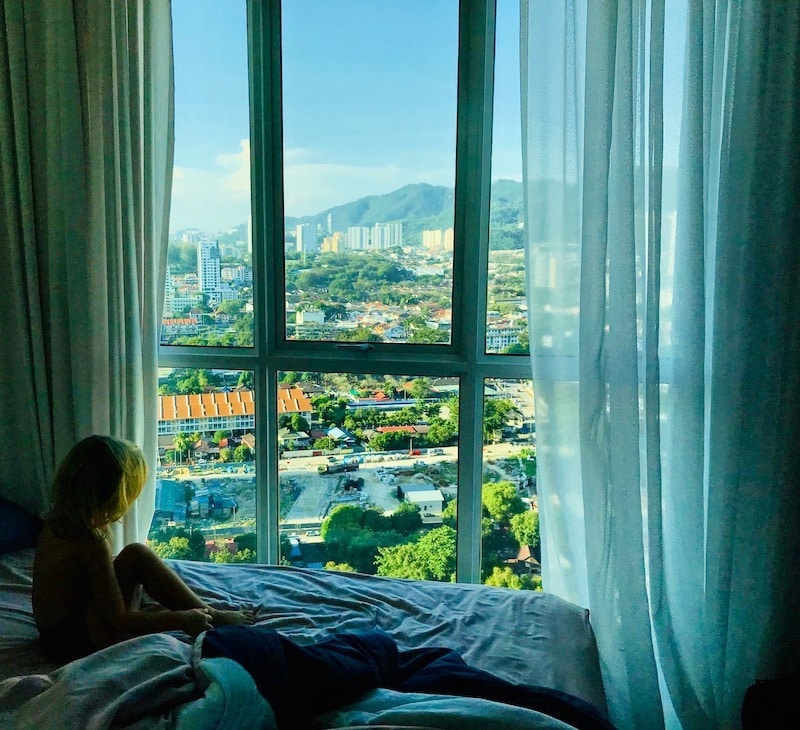 Penang Island
Penang island is a multicultural island in northwest Malaysia, just 3 hours travel from the Thai/Malaysian border. It's inhabited by Chinese, Indians, and Malaysians, who seems to live in harmony and their religion and culture are well represented right next to each other.
Exploring George Town, Penang
Georgetown's (main city on Penang) old center is a UNESCO world heritage site. The old streets are covered by arches in many places, and the mix of colors and different tiles are quite unique. The high diversity of ethnicity, culture, language, and religion makes it a very interesting and inspiring place to visit, and just to stroll around and take in the different sights.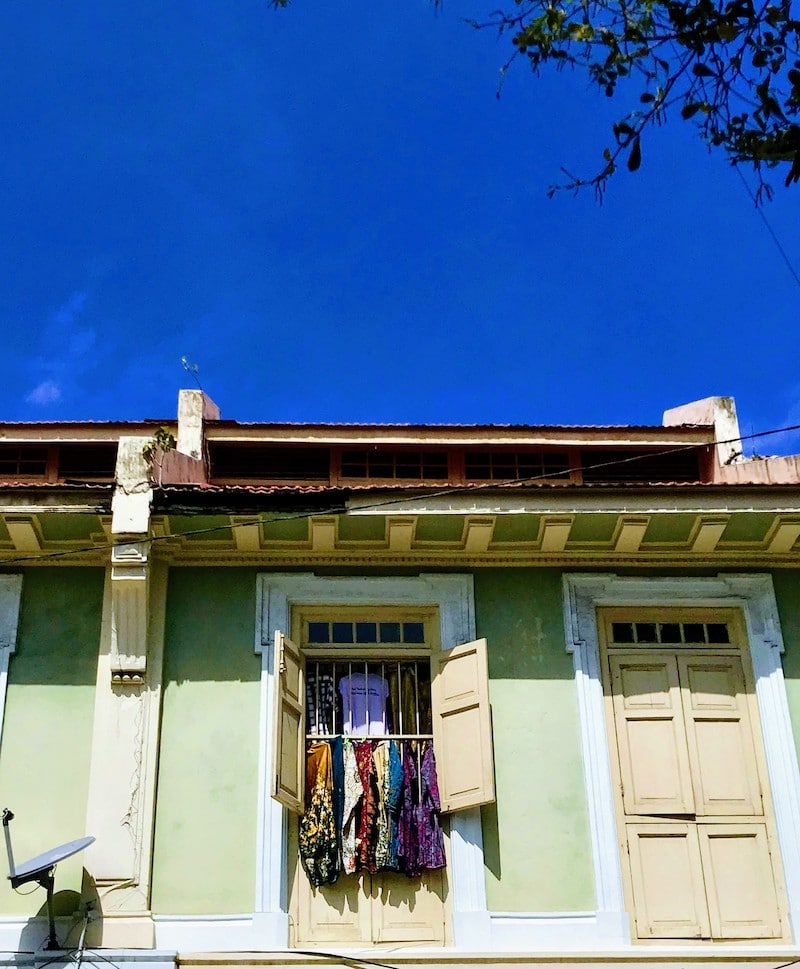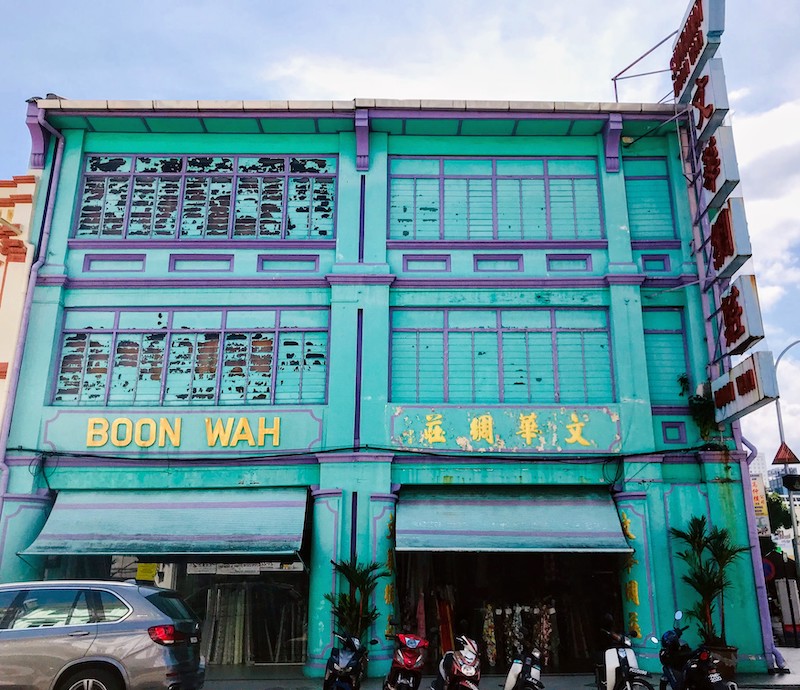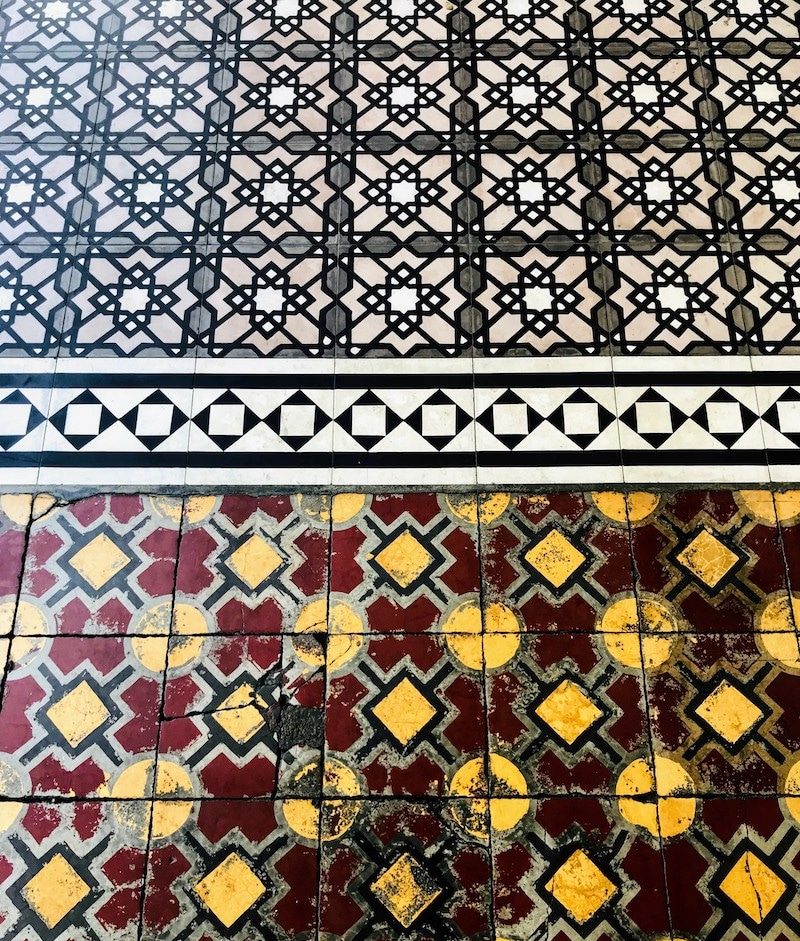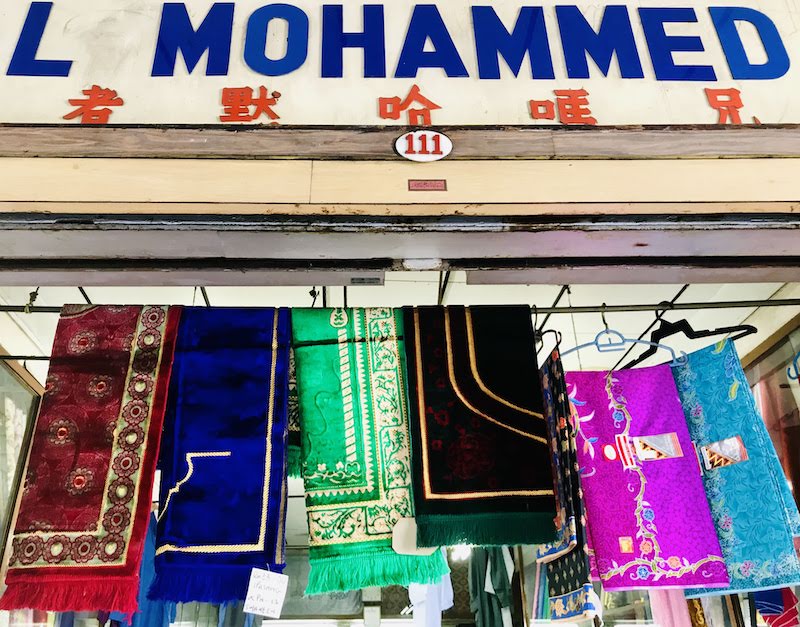 Get around Georgetown
Georgetown is really easy to get around in, by local buses or Grab (which is like Uber). You can also easily explore on bicycles using the bicycling sharing service LinkBike.
To experience Georgetown, we simply took a Grab car, to Chulia Street, on the edge of both Little India and Chinatown and went exploring by foot. The old center is not particularly big, so it was fine to walk around without a specific plan and without a map.
We stayed a bit out of the center and only had super expensive roaming with our Danish mobile subscriptions, so we asked in hotels and cafes to use the wi-fi, when we needed to book a Grab to take us home. All places we asked let us use their wi-fi with a smile.
If it gets too hot, and the shadow in the arches is not enough cooling for you, take a break in any of the big malls, which you'll easily spot. Plenty of shopping and eating to do there as well.
Multi-Cultural Street Food in Penang
As Penang (and Malaysia in general) is a cultural melting pot, that means a great selection of food from the various cultures. Those are primarily Malay, Chinese and Indian. But since Georgetown is an international-minded city, you'll also find great options for Japanese, Korean, Arabic and various Western food.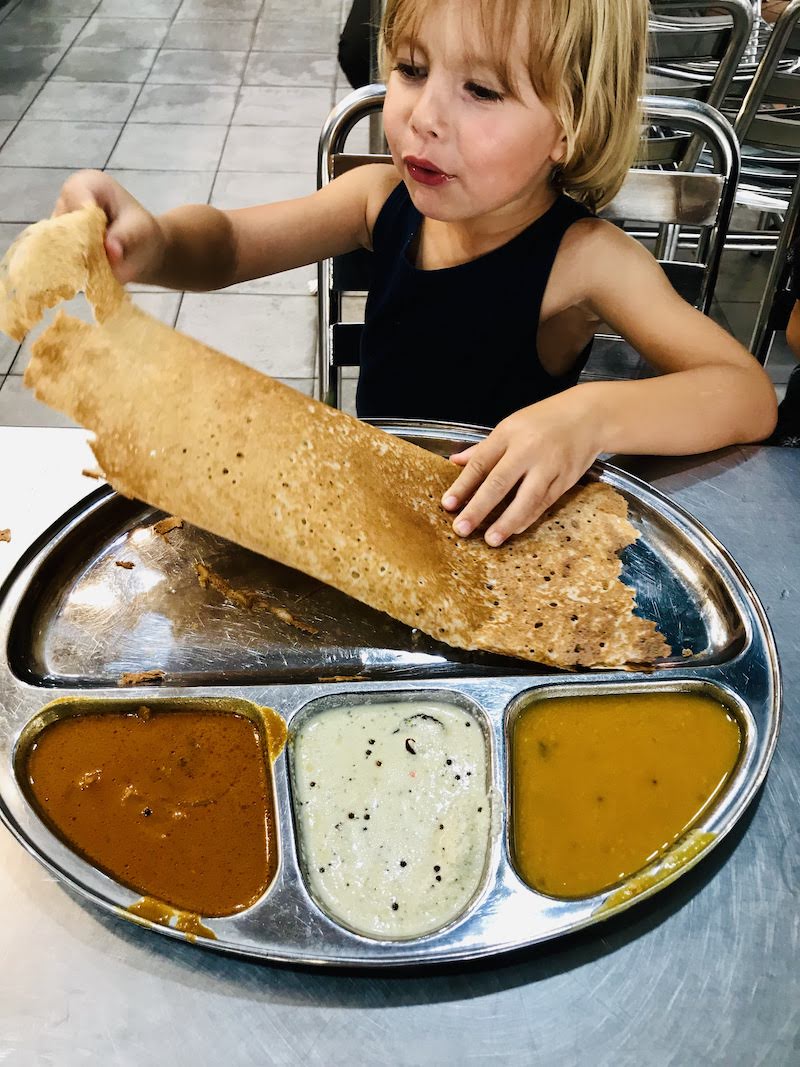 Start your day with roti or Thosai/Dosa with curries for breakfast. Grab a Chinese noodle soup for lunch and enjoy Malay beef rendang for dinner.
There's food literally everywhere. Humble food carts, roadside food stalls, and restaurants. You'll find it all. Even the many air-conditioned malls, providing a break from the heat have plenty of good food options, at street food prices.
If you explore Georgetown on foot, start in Chulia Street and you'll be sure to find an overload of good food options.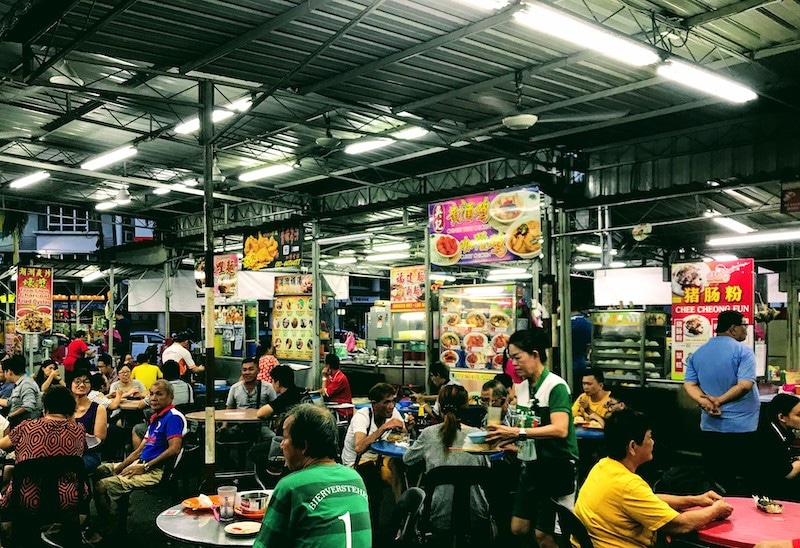 Beautiful Temples
The mix of cultures in Penang means the option to check out many different temples all within close range. Hindu, Muslim, and Chinese are all represented. Even for the ones with little religious interest, it's fun to check out the colorful temples with many details. Like when we visited the Fontana Pretoria in Palermo, Sixten had fun looking at the different figures and we did as well.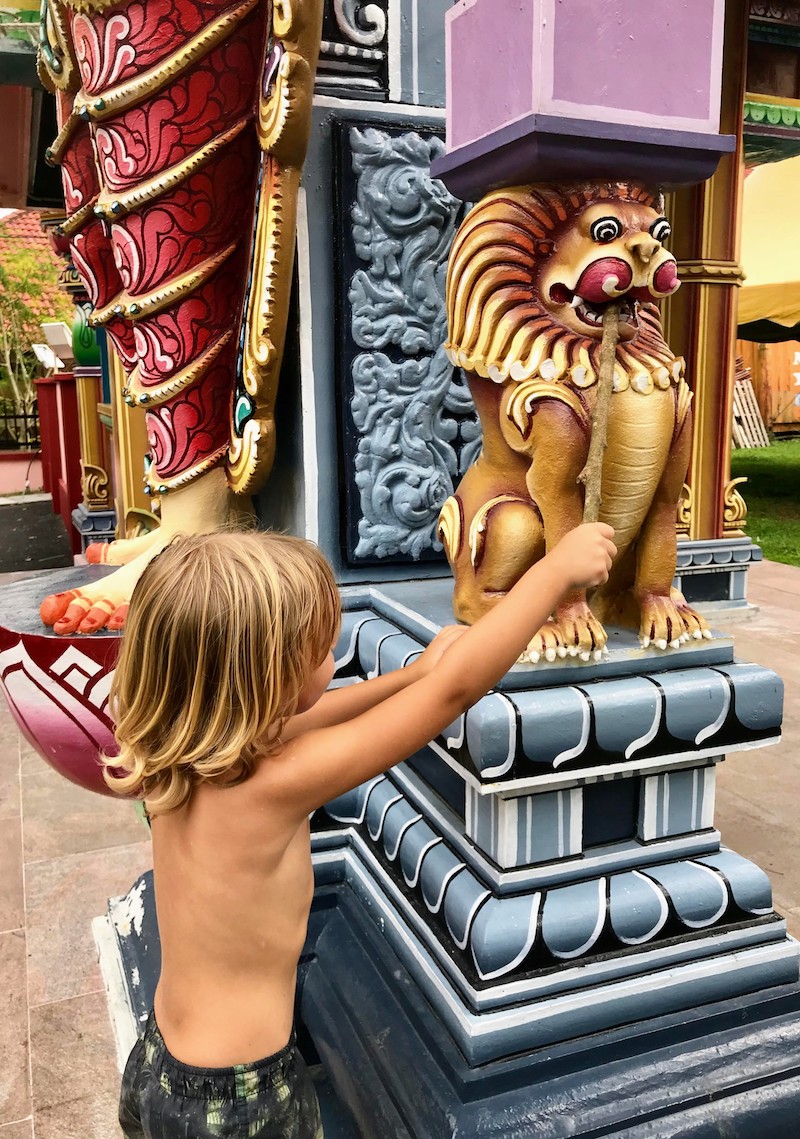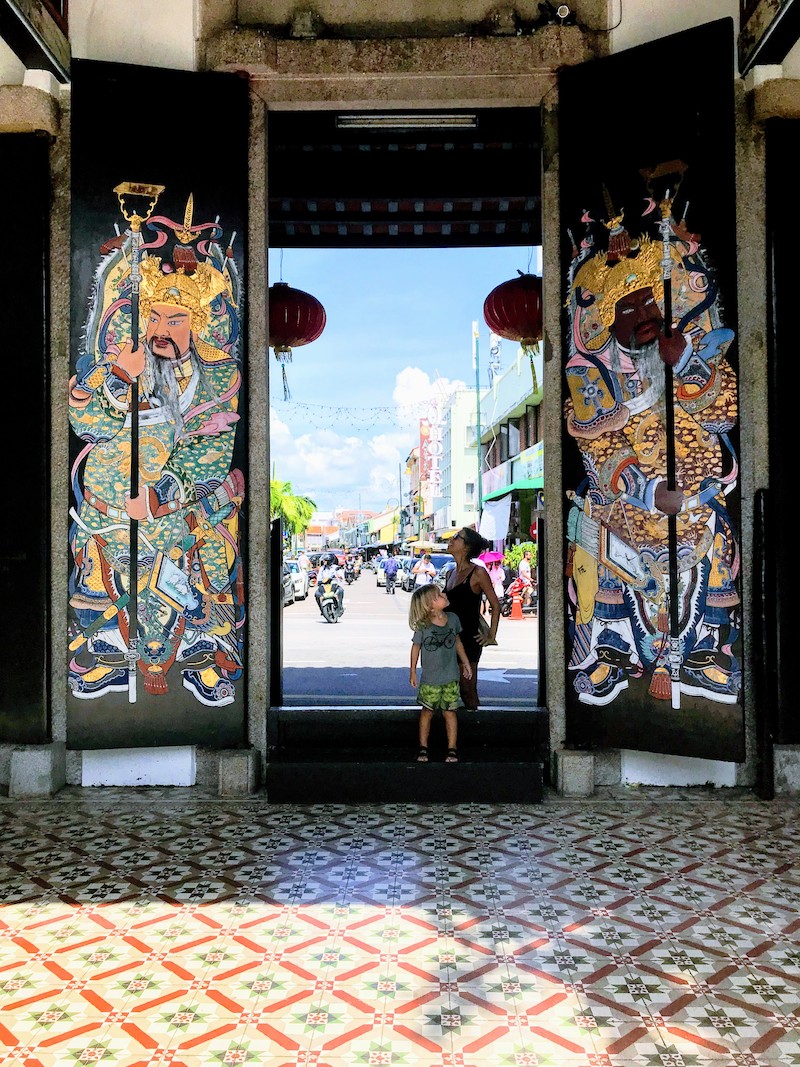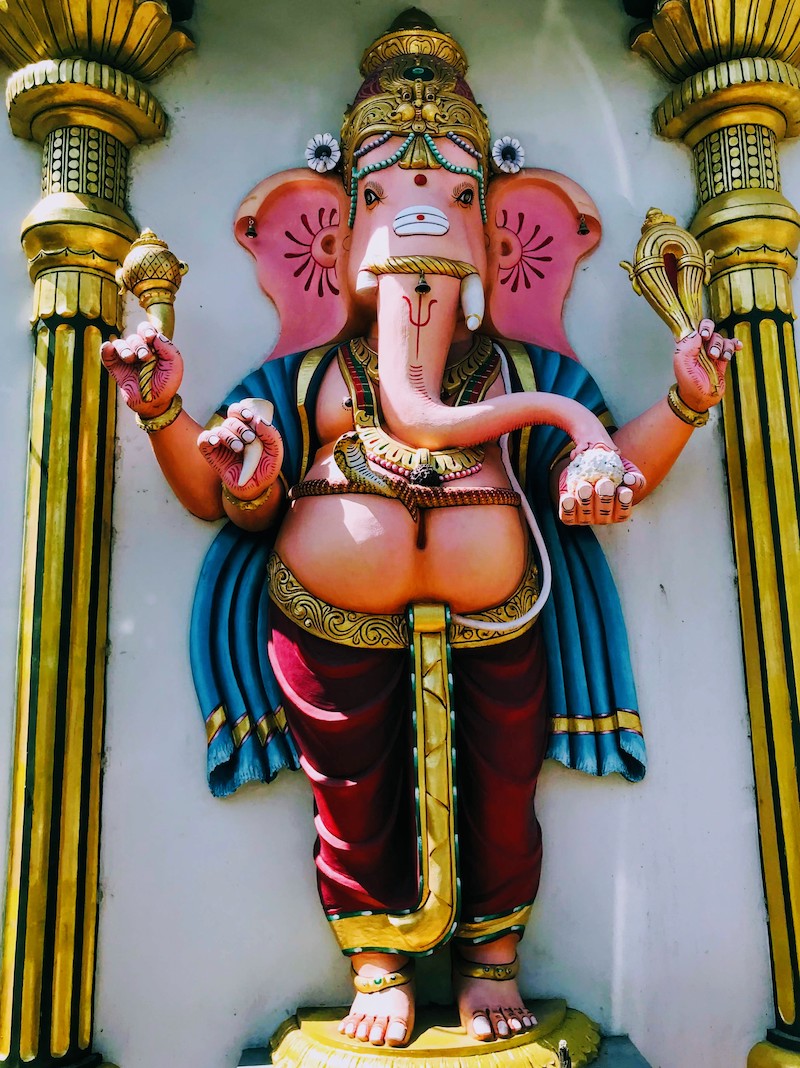 Georgetown for Kids
For some quality play-time, we took a trip to Penang Youth Park, which is admission free. The park is clean and well kept, and it has swimming pools and huge playgrounds. a skatepark, basket court, and a graffiti wall. There are also hiking trails, picnic areas, and spaces for jogging and working out.
You'll see plenty of monkeys having fun in the park as well, so good entertainment is secured.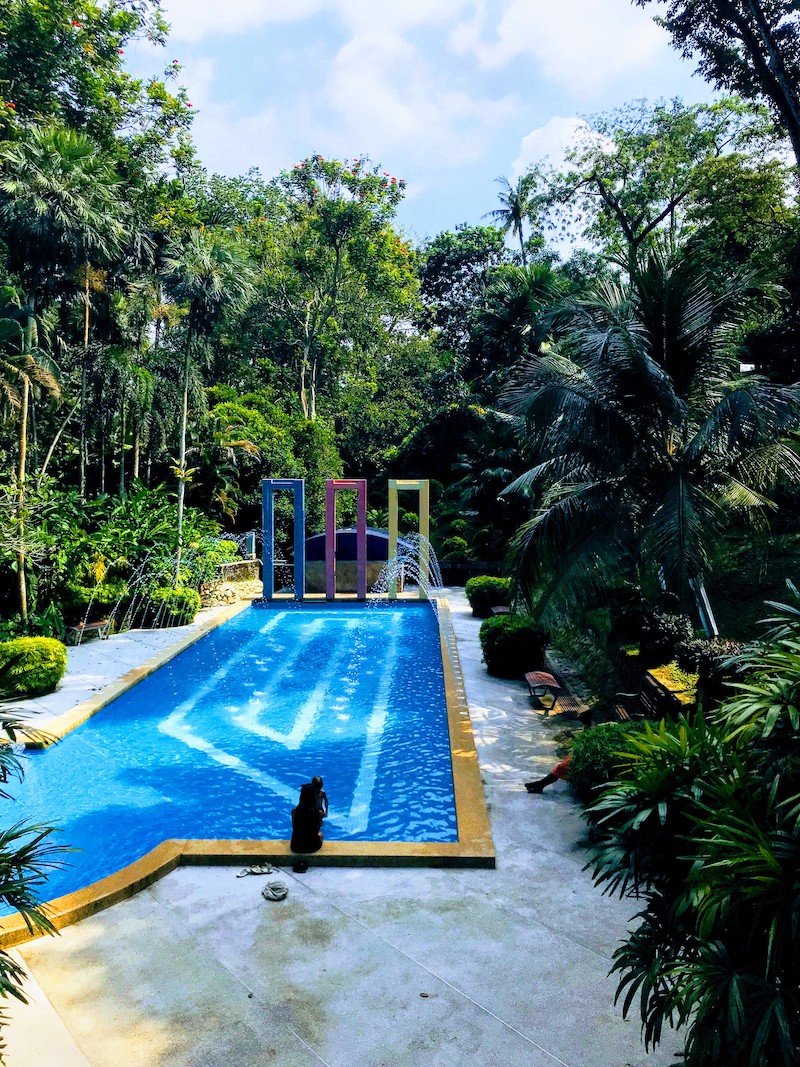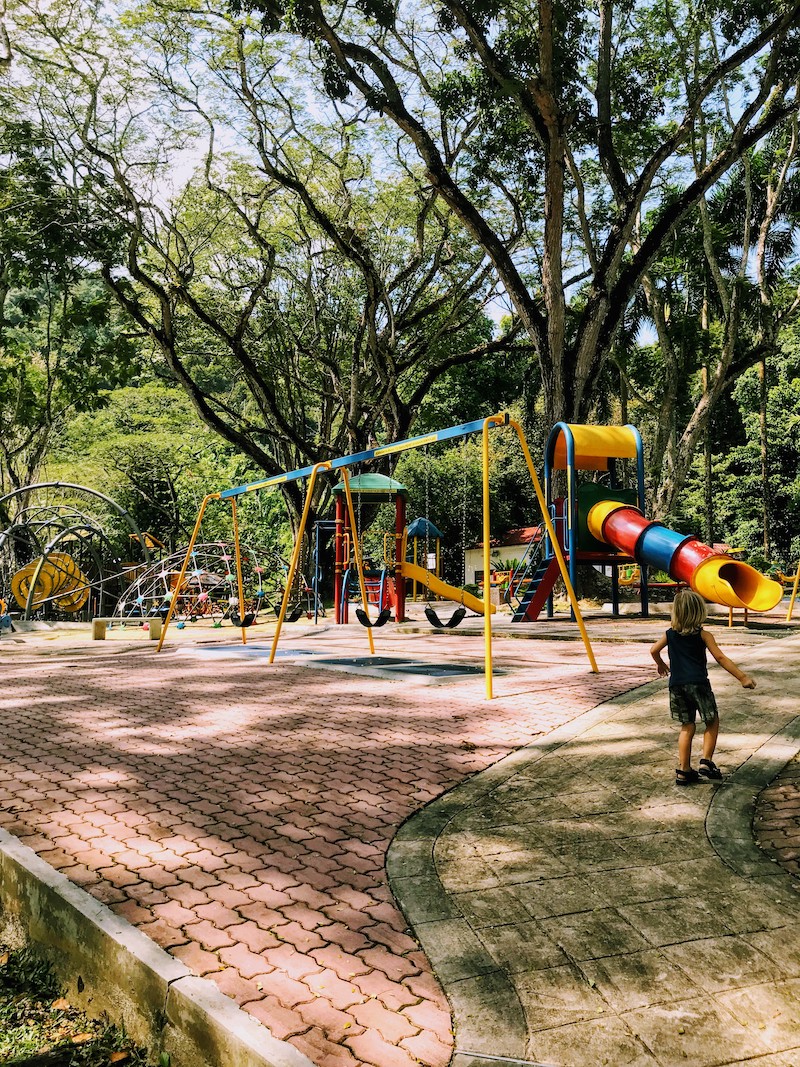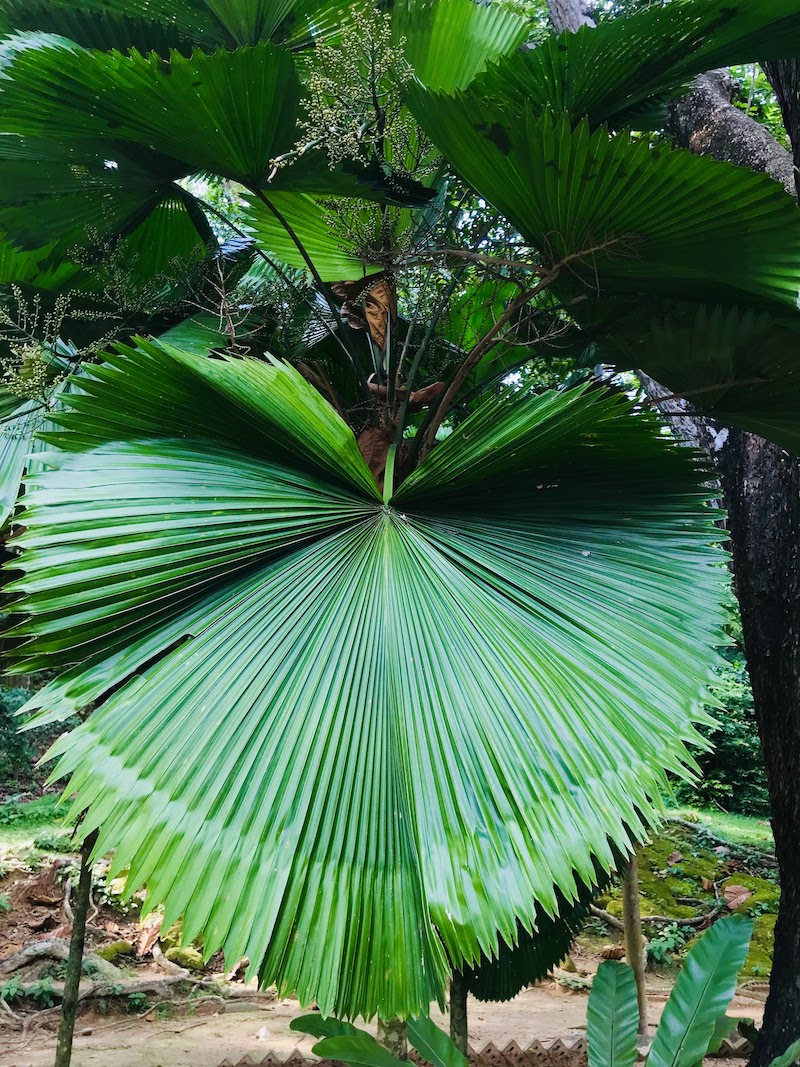 Stay in Cheap and Luxurious Accommodation on Penang
It's nice to wake up in a bamboo hut, directly on the beach in Thailand. But after a while, a little break from the sand, salt, and limited space, can be good too. Penang is a great place to go, as there are many brand new buildings with apartments rented out on Airbnb etc. We got a comfortable two bedroom apartment with a full kitchen, and the setting was great on the 28th floor with a view of the Penang island and the mountains.
To relax we just needed to catch the elevator to the 9th floor which featured a big swimming pool, (as well as a kids pool and a jacuzzi pool), a good gym with aircon, and a small playground. Not bad, as we paid just around 30 euros/ night.
If you want specific tips on where to stay, feel free to reach out.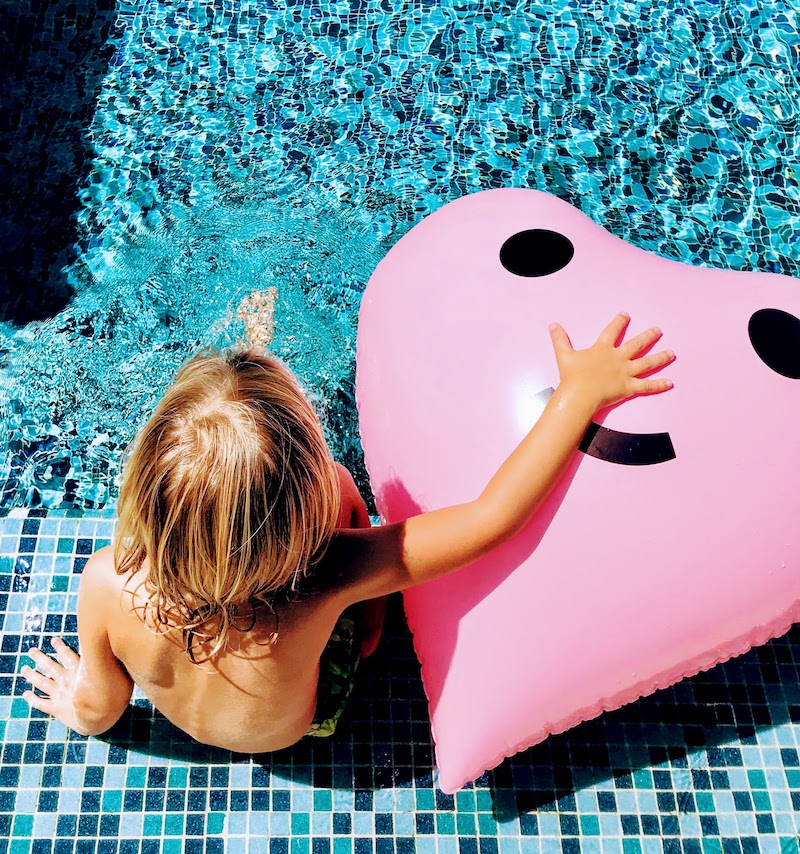 We only stayed in Penang four nights, but it's definitely a place we'd like to return to. It had a great relaxing atmosphere and there is a lot to discover and see with kids – the beaches should be great and also the Entopia and Penang bird park a super place to visit with kids. If you want even more inspiration on Penang this blog has an extensive list you can check out.
Getting to Penang
Penang has an international airport, and train connections from e.g. Kuala Lumpur and Padang Besar, which is a border town between Malaysia and Thailand.
We went there from Hat Yai in Thailand,  via mini-van (leaving from the main bus station) to Padang Besar. Here we crossed the border on foot to Padang Besar train station. From there you can catch the KTM Kommuter train to Butterworth, and from Butterworth, you need to take a ferry to Penang. Ferry service takes around 20 minutes, and there's a ferry leaving about every 20 minutes during the day. That trip is less than 200 baht per person.
There are also trains connecting Padang Besar to Hat Yai twice daily, and if you don't want to deal with the connections, you can book a mini-van transfer (approx 500 baht) from all travel agencies in Hat Yai to Penang and vice versa.