Bologna is off Italy's well-beaten tourist track. It's an underrated city you want to visit if you are into Italian culture, architecture, and especially food.
A Weekend Getaway to Bologna
The north Italian city Bologna, is a perfect city for a weekend getaway.  In the late autumn last year, we decided to take a spontaneous and extended weekend to Bologna, just the two of us. Traveling without a baby, (and much much stuff and gear), it was So easy and relaxed, and as we had just carry-on luggage there was no need to worry about forgetting our bags as we did in Morocco!
The flight from Copenhagen is just about 2,5 hours and the airport is located super close to the city. So in about 3,5 hours you can be in Bologna city.
Wander Around Bologna's Beautiful Porticoes
Bologna is home to the oldest university in Europe, and while it's historically old, it has a young and energetic feeling. The streets, cafes, and piazzas are filled with a lively vibe from people enjoying their time outside. You'll easily cover the center by foot and Will find many cozy places to sit down and indulge the italian food and drinks.
Every street, square and building is elegant to look at, and reflects the history of the city. For us, it was wonderful to have endless time to eat good food and relax, and just wander around, watching the architecture and the italian life.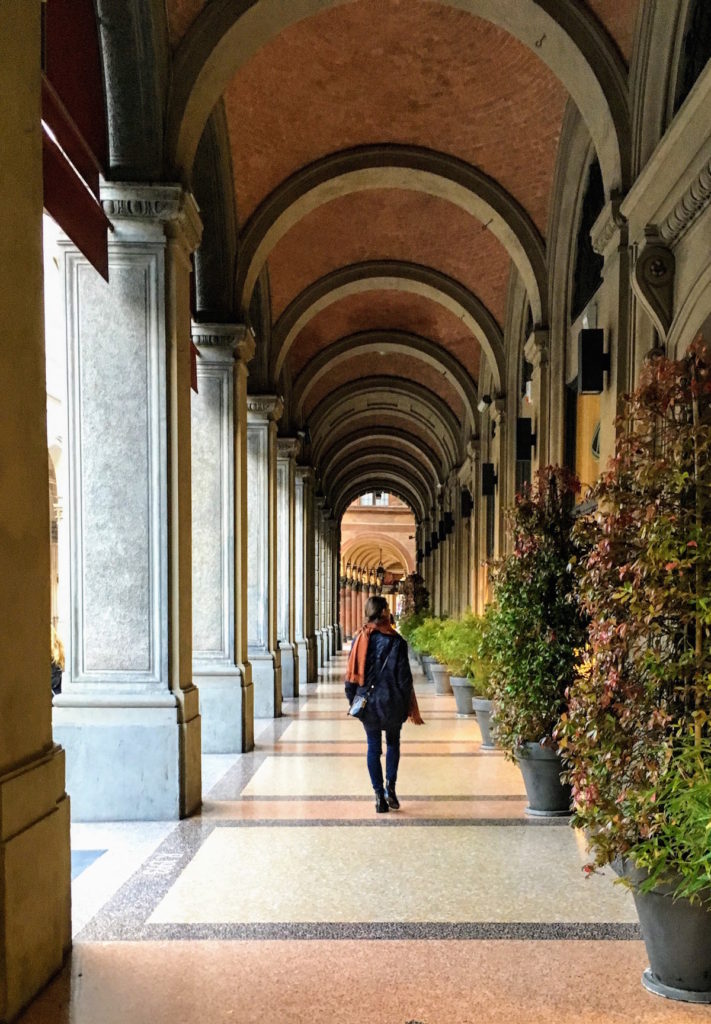 One of our days in Bologna it rained the whole time, but the city's architecture and design are perfect for that as it consists of long beautiful porticoes (covered walkways). Most of Bologna city is covered with Porticoes, and some date back to the 13th-century and are nominated as a Unesco world heritage site.
On a rainy day in November, we were able to walk around the whole inner city and sit down "outdoor", even though it poured down, because of these grand porticoes, that make the city very unique.
Where to eat in Bologna
If you like italian food, Bologna is a great city to visit! Bologna and the Emilia-Romagna region, of which it's the capital, are home to many of the most famous Italian products like Mortadella, Prosciutto di Parma, Culatello, Bresaola, and Balsamico.
Lunch at Salumeria Simoni
I the middle of the really nice Quadrilatero market you will find a great lunch spot, the Salumeria Simoni's deli and restaurant, which has been around since the 1960's and has a great selection of the regions best products. You'll be seated at bar stools at high tables, next to a wall decorated with wheels of whole Parmeggiano cheeses. Pretty impressive view.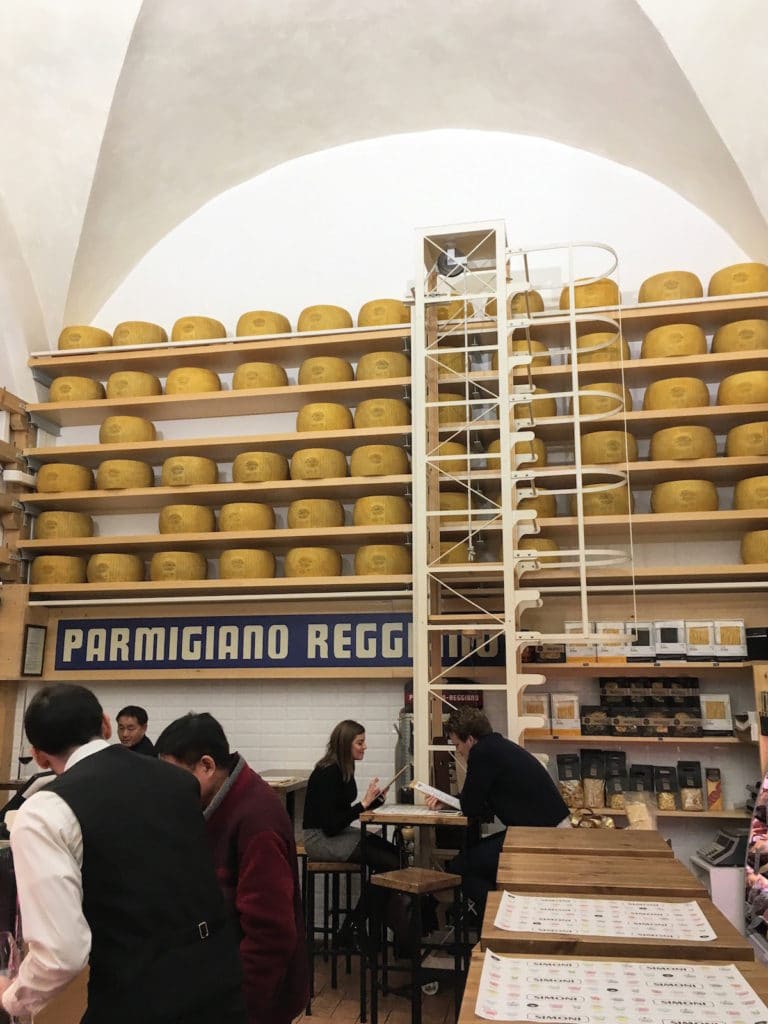 We had a tasting board of Parmesan cheeses, aged at 18, 24 and 36 months, paired with 3 types of balsamic vinegar, and a board of cold cuts and cheeses, served with pickled vegetables, homemade bread, and olive oil. All was great quality products, delicious taste and very fulfilling.
The waiters are super friendly and informative about the products. They also have a good selection of wine.
Address: Via Pescherie Vecchie 3/B, Bologna. Open every day from 1 am to 11 pm. Except for Sundays.
Slow Food at Trattoria di Via Serra
This trattoria is located in a multi-cultural worker's district behind the train station, about 20 min. walk from Piazza Maggiore. It's worth the walk out of the center, but book ahead.
The small trattoria is focused on slow food, and they make excellent dishes. The place is run by Flavio and Tommaso, that used to have a restaurant in the Appenini mountains. They decided to move the restaurant to Bologna and continue to work with the same small producers from the mountains,  with the idea of bringing local food from the country to the city.
The food and wine are all organic and the dishes traditional and wholesome, typical of the Apennines. They offer a small menu and daily specials announced at the tables.
(The place is featured in the Michelin guide).
Address: Via Luigi Serra, 9/b. Reservations by phone: 051 631 2330. Open Wed-Sun. 7 pm – 10 pm Weekend also for lunch 12 am-2 pm.
Superb Natural Winebar in Bologna
If you are into good wines and service, you should visit Enoteca Storica Faccioli. 
The place is run by a very dedicated couple who offer an impressive selection of natural wine by the bottle and a changing selection of wine by the glass. (From 4 to 10€ pr. glass, which is cheap compared to prices for natural wine in Denmark). Besides many Italian wines, including their own production, they also serve interesting wines from Georgia and Slovenia.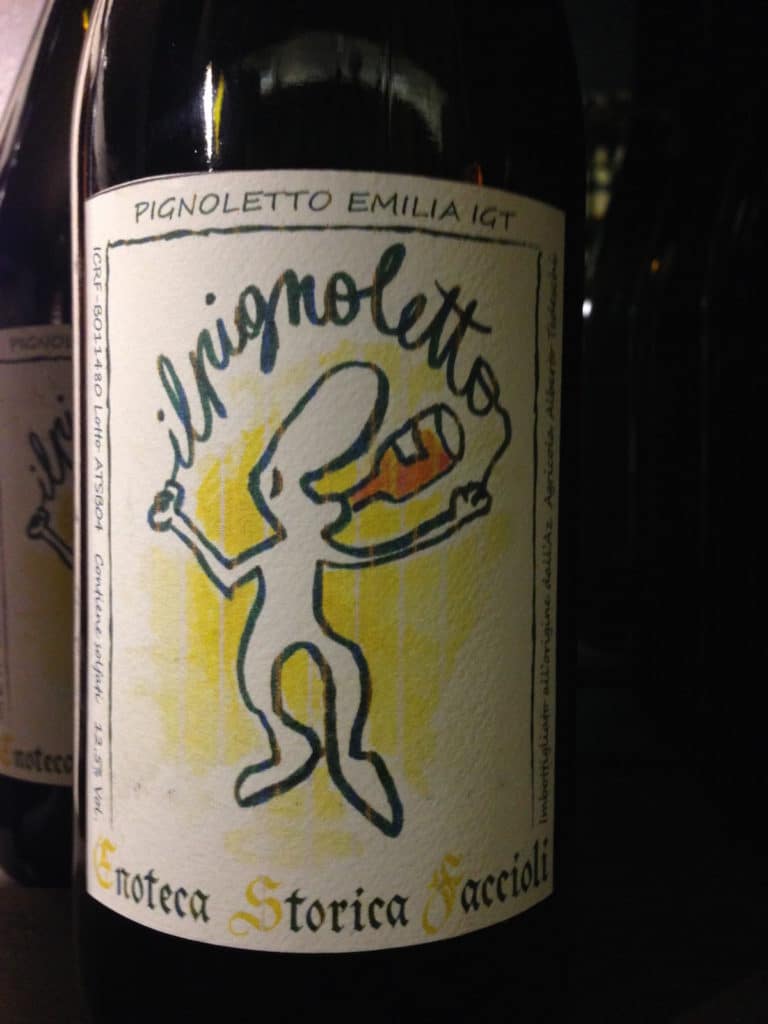 Food wise Enoteca Storica Faccioli has a small simple menu, with a few warm dishes as well as antipasti boards, with local delicacies such as Mortadella and Culatello, which was especially good.
When we came on a Sunday evening it was busy and we got the last two seats available. The place had a warm and lively atmosphere and we returned again the next evening for pre-dinner wine and snacks.
Address: Altabella, 15/b40125 Bologna. Open: Sun-Fri: 17- 21.30. Sat: 11- 22.
Other places to eat in Bologna
Osteria Zerocinquantino
Great for sitting outside and have aperitivo right on the busy pedestrian street Piazza del Gigante. Many people come to enjoy a platter of antipasti along with a few glasses of the local wine. They also offer nice vegetable antipasti. The tortellini is also supposed to be good if you have a bigger hunger.
Address: Via Pescherie Vecchie3/e. Open: Everyday. From 12.30 am – 11.30 pm.
La Prosciutteria
This place is always filled and very lively. Food is served on wooden boards and the place has an atmospheric decor, with cured meats hanging down from the ceiling. It was busy, with as many people just drinking wine as having dinner. Go there if you like a young crowd and a bit of a party vibe.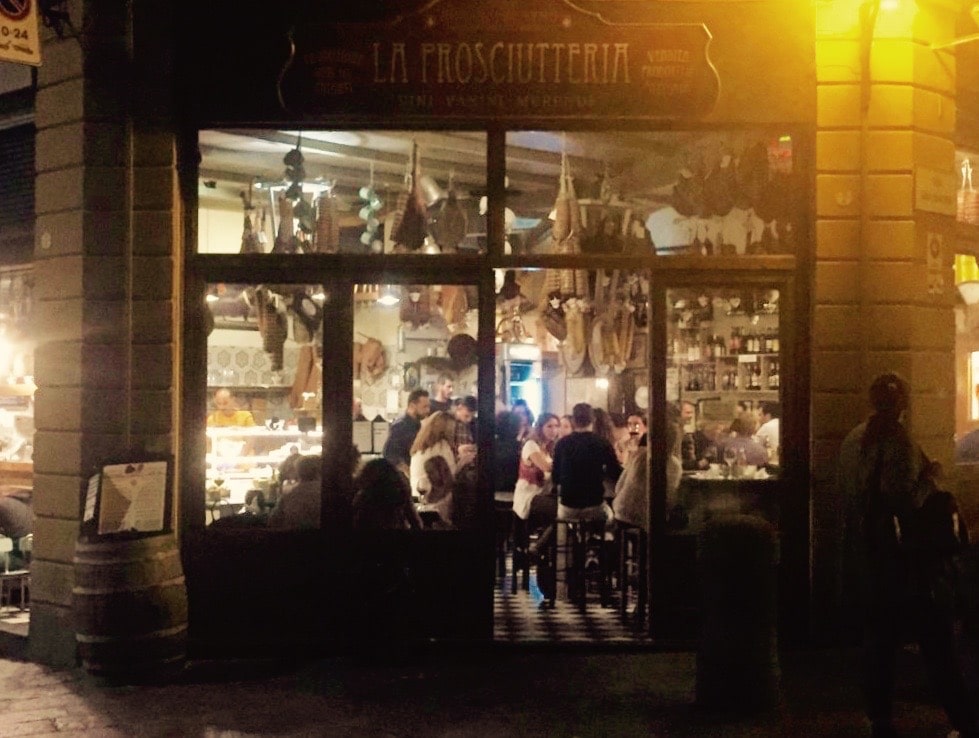 Address: Via Guglielmo Oberdan, 19/a.  Open: Mon-Sun. 11 am – 11.30 pm.
Bologna Bolognese
If you are looking for a very local and down to earth Osteria, you should head for the very popular and old-school Osteria dell'Orsa.
We both had their Bologna specialty tagliatelle with ragu bolognese, it came in generous portions and was very tasty. The place is amazing value for money, even with a cover charge. It is also a favorite among the university crowd and it was packed when we came, but they have a nice and quick service.
Address:  Via Mentana 1. Open: 12 am- 11pm.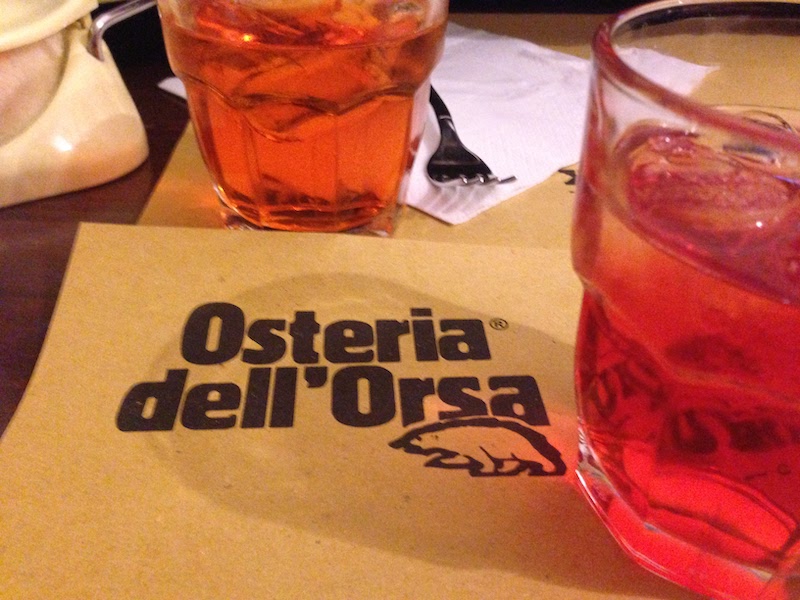 What to see in Bologna
Piazza Maggiore is the lively heart and center of Bologna. It's surrounded by 13th-century buildings and the unfinished Gotic style basilica San Petronio.  On the stairs in front of the basilica groups of youths hang out and the square is lively most hours of the day.
Quadrilatero market a colorful open-air market located off the Piazza Maggiore around Via Pescherie Vecchie. Narrow streets with specialty foods, fruit and cheese vendors and wine and pasta shops.
Mercato delle Erbe – an indoor Bologna farmers market located in the historic central district. This market has a more local feeling, is less touristy and cheaper than the Quadrilatero market. The market boasts great looking vegetable stalls but also has meat and poultry vendors, along with an area for fresh seafood.
MAMbo Museo d'Arte Moderna di Bologna. A modern and contemporary art museum. Well planned, with interesting collections, especially the temporary one. Also has a nice cafe that serves lunch, aperitivo, and brunch on Sundays. If you visit MAMbo during the summer check what's going on in the near park of Cavaticcio,  as there are free concerts between June and September.
Address: Via Don Minzoni, 14. Open Tue-Sun. 10 am – 6.30pm. Thursday 10 am – 10 pm. Students free admission. adults 6€.
Aperitivo Time in Bologna
Aperitivo is an Italian pre-dinner concept where people meet and socialize while having finger food together with a drink, and stimulate the appetite for dinner. Italian dinners normally start around 9 pm and the hours for aperitivo usually start around 6 pm and runs until 8.30pm.
We stopped by the bar Le Stanze, for an aperitivo. A lively place (even on a Sunday) serving drinks and cocktails along with a good aperitivo buffet. The bar is located in a former chapel with grand vaulted ceilings and walls showcasing original frescoes paintings. The drinks looked good so after a glass of Prosecco, we also had a Negroni, while really enjoying our time without a kid, and getting ready for some more food.
Address: Via del Borgo di San Pietro 1. Open from 1 pm to 1 am except for Monday.
You will also find many bars serving aperitivo in the city center, around Piazza Maggiore. It's a great way to start your evening in Bologna, or to take in the italian vibe and have a little selection of the local food.
Enjoy Bologna!