It was February when we set out to Morrocco for a break from the darkness in Denmark. On a cold winter morning, we jumped on a direct flight from Copenhagen to Marrakech. It was amazing to walk out in the sun and 20 degrees, 5 hours later.

Stay at a traditional riad in the Medina
We had booked a room in a riad in Marrakech's Medina. A traditional Moroccan guesthouse, with an inner garden/courtyard, open to the sky, as the center of the building. Centered around the inner garden are the rooms located and most often there is a terrace on the rooftop.
Our riad was, like most others, hidden behind a wooden door in one of the medina's small back streets.  At our arrival, we were greeted with fresh mint tea and oranges, which we enjoyed on the rooftop terrace.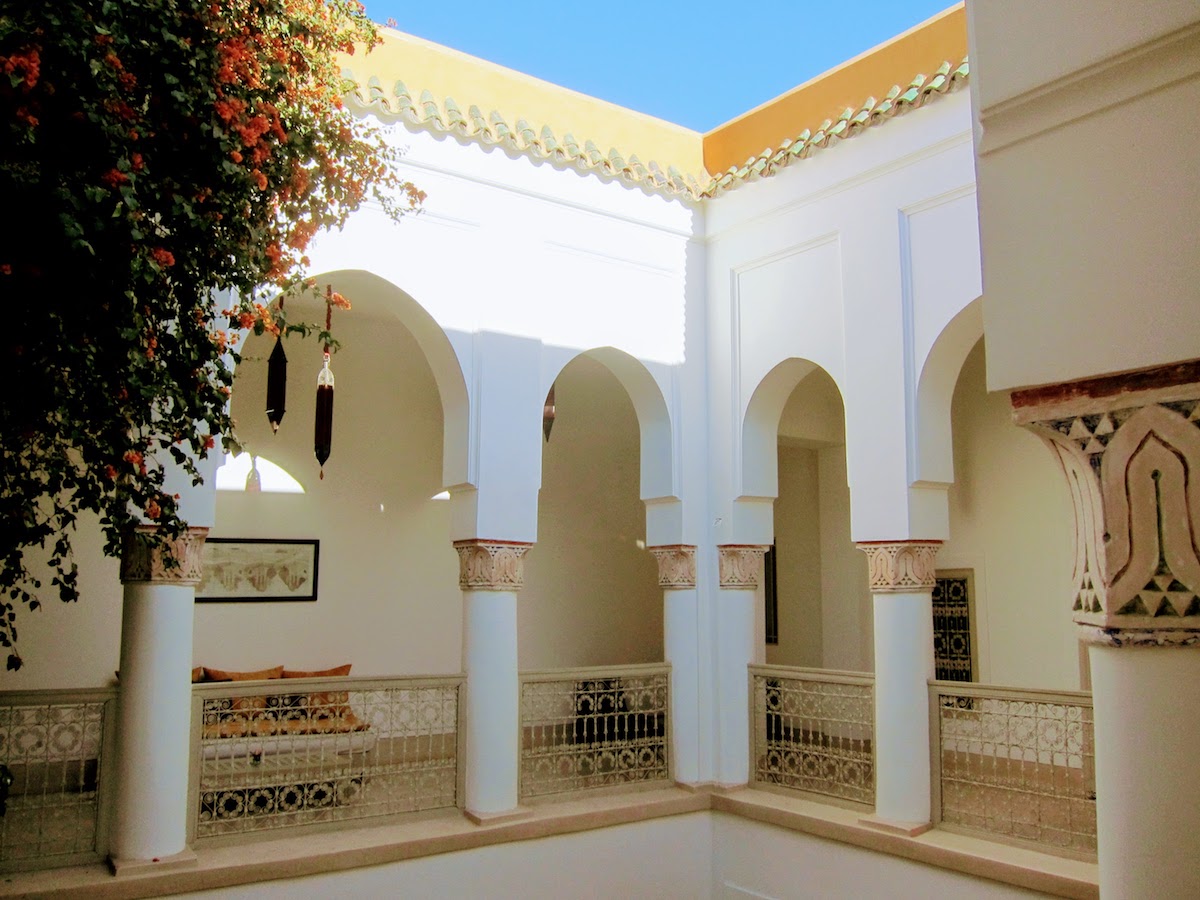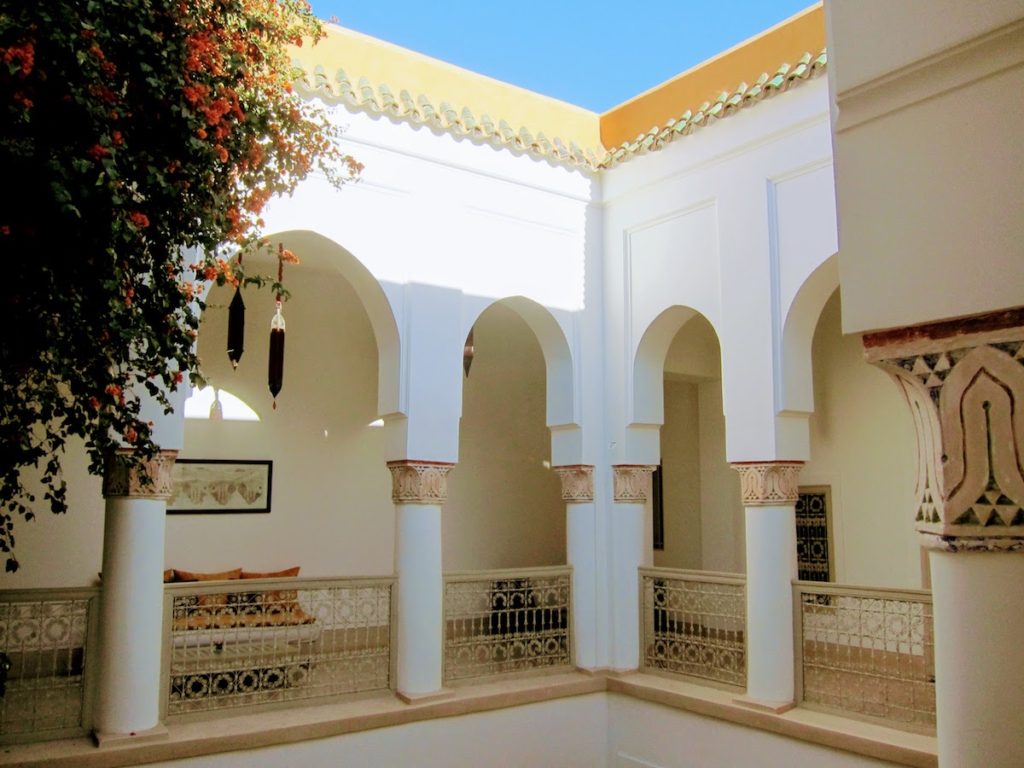 We were all happy and chilled. Took our time enjoying the peace at the Riad and consuming the sunstrokes before exploring the city.
When we finally felt to leave our riad,  we could meanwhile only find our kids luggage… Matias shouted out rather loud, cause he then realised we had forgotten our suitcases at the airport.  We had gone to the baggage belt, but only picked up the bag for our kid and his stroller, and then left without picking up our own bags!
Ever wondered, who are these people who manage to forget their luggage on the belt – well us.
After a taxi ride back to the airport again to collect the bags,  we were finally ready to check out Marrakesh!
Marrakesh medina – a chaotic mildew
Marrakech is a buzzing city with about 800,000 inhabitants, red-colored houses and the medina as the pondering heart. The city is equal parts lively and charming and chaotic and overwhelming.
Throughout the medina, there are almost three thousands stalls, in different souks (markets), each street with its own selling point.
The Djemaa el Fna is the big main square and marketplace in the medina, with lot's of food and juice stalls. It was too much and too noisy for me.  Especially as there can be a lot of approaching boys, that hands you (tourists) snakes and chained apes. But it should be a great place for inexpensive Moroccan traditional dishes in the evening!
The farther away, you move from Djemaa El-Fna, the more local the feeling is. Still, it's crowded and easy to get lost and that's the feeling you need to embrace to enjoy Marrakech and especially the Medina.
Peace and space – Parc Lalla Hasna
It was not that easy to walk around with a stroller in the labyrinthine streets of the medina and to get a break from the crowds, we headed to the Parc Lalla Hasna just outside the medina and next to the big mosque Koutoubia. The Parc is peaceful and quite big, with tall palm trees and relaxing spots in the shade. (A good space for smaller kids to run around and play).
Museums in Marrakech' medina
I had a wish to see the quranic college, Ben Youssef Madrasa, founded in the 14th century, for its architecture and mosaics. I also wanted to visit the art foundation Dar Bellarj. Both are located in the central medina and right next to each other.
When we got to Ben Youssef there was a long queue to get in, so we went straight to Dar Bellarj. At the moment (Sep. 2018) Ben Youssef is also closed for renovations.
Art Foundation Dar Bellarj in Marrakech
The Dar Bellarj is an old riad that's been converted into an art space, with four main rooms and an underground passageway. At the time there was a photography and video exhibition on, with English translations.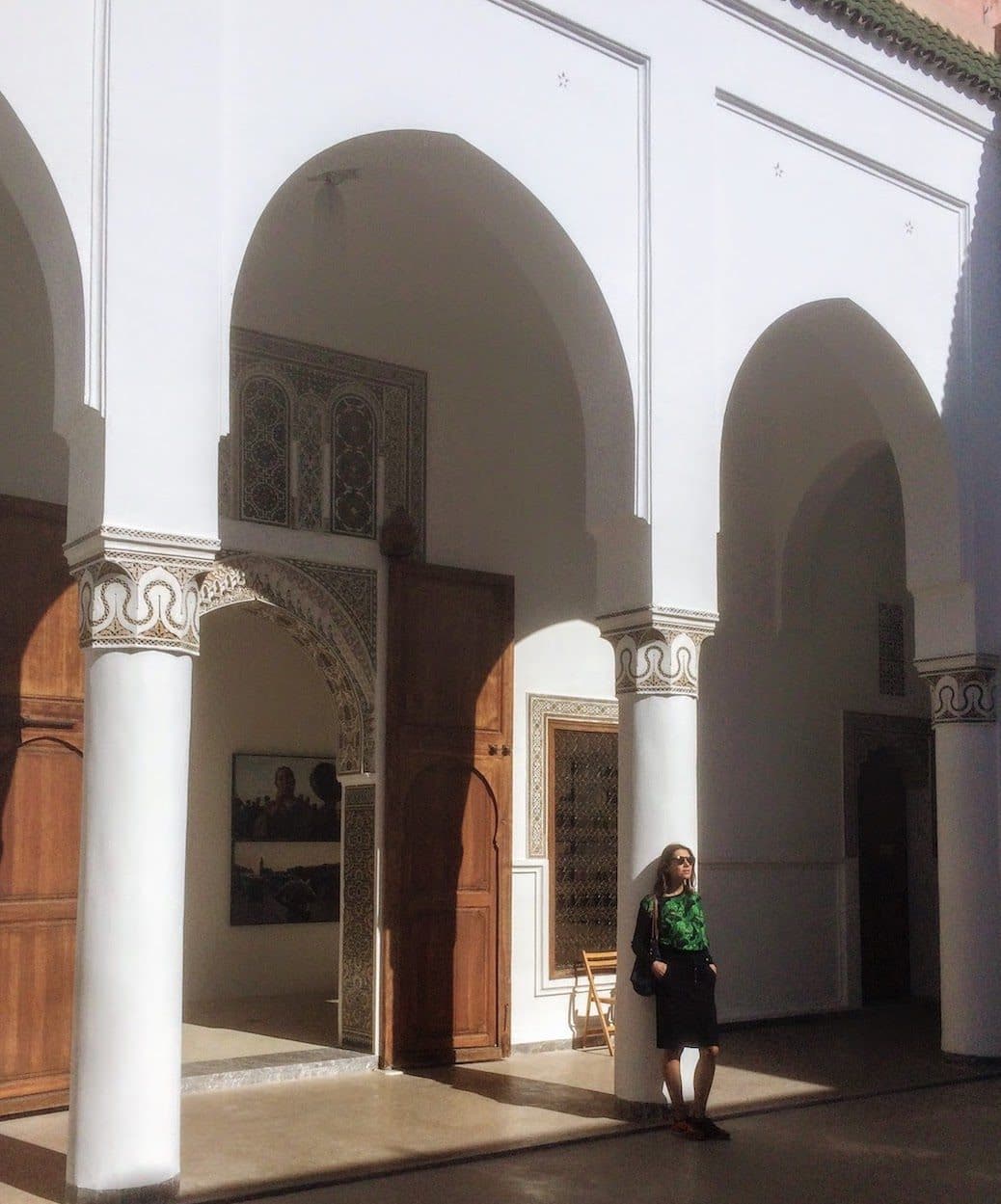 The exhibitions are changing and are dedicated to promoting Moroccan culture, often focused on temporary artworks. You can easily spend an hour here, its so peaceful, and the architecture of the building itself is beautiful. It was my favorite place in Marrakech. There is no entrance fee but you are welcome to give a donation.
Adresse: 7-9, Toualat Zaouiate Lahdar. Open Daily 9.30 to 5.30pm except Sundays (during the Ramadan month: from 9.30 to 3.00pm, annual closure in August).
Chill in the garden of Restaurant Le Jardin
If you, like us, find your self in need of some peace, the answer is Le Jardin. An open aired restaurant with a spacious courtyard, tucked away from the busy streets. The interior is really nice, with floors, stairs, and walls made of beautiful green tiles. Tables and couches are placed underneath bamboos, banana- and palm trees. The atmosphere is chilled and a great place to relax, after an intense day strolling around in Marrakesh' souk.
Address: 32 Rue El Jeld, Souk Sidi Abdelaziz. Open Daily, 10am-12 midnight.
Café Des Épices
Our mornings in Marrakech started out with breakfast in the sun, on the rooftop at our riad. A traditional breakfast is often included as a part of the stay at a riad in Morocco. Breakfast includes fresh fruits, orange juice, eggs, and the traditional Morrocan flatbread. Another good place to go for a break and to eat is Café Des Épices.
The cafe is placed in the middle of the spice souk and we went for a break on their spacious rooftop terrace, where Sixten could also play around a bit. Even in the middle of the souk, it seemed relaxed and quiet.
In the evening Café Des Épices is a good spot to watch the sunset over Marrakech while hearing the prayer call from the many surrounding minarets.
Address: 75 Rahba Lakdima. Open: Daily, 9am-11pm.
Lunch in Marrakech – and view to the Atlas Mountains
Another good place is of the same owners of Café des Épices, restaurant Nomad. Nomad has two level of terraces with a superb view and an indoor area with a very nice interior.
We went there for lunch, all the way up with a stroller to the second rooftop terrace. The waiters were super helpful with this. Children are in general welcome everywhere.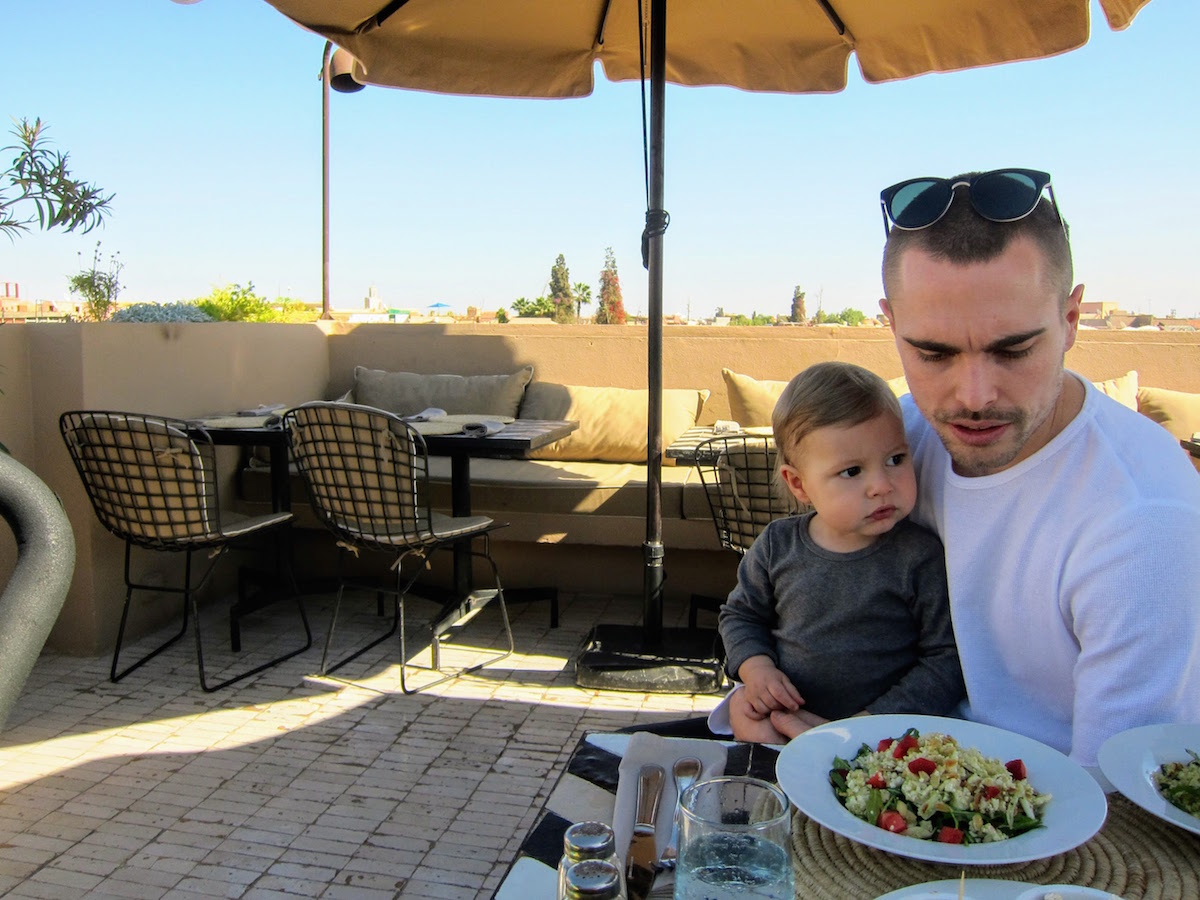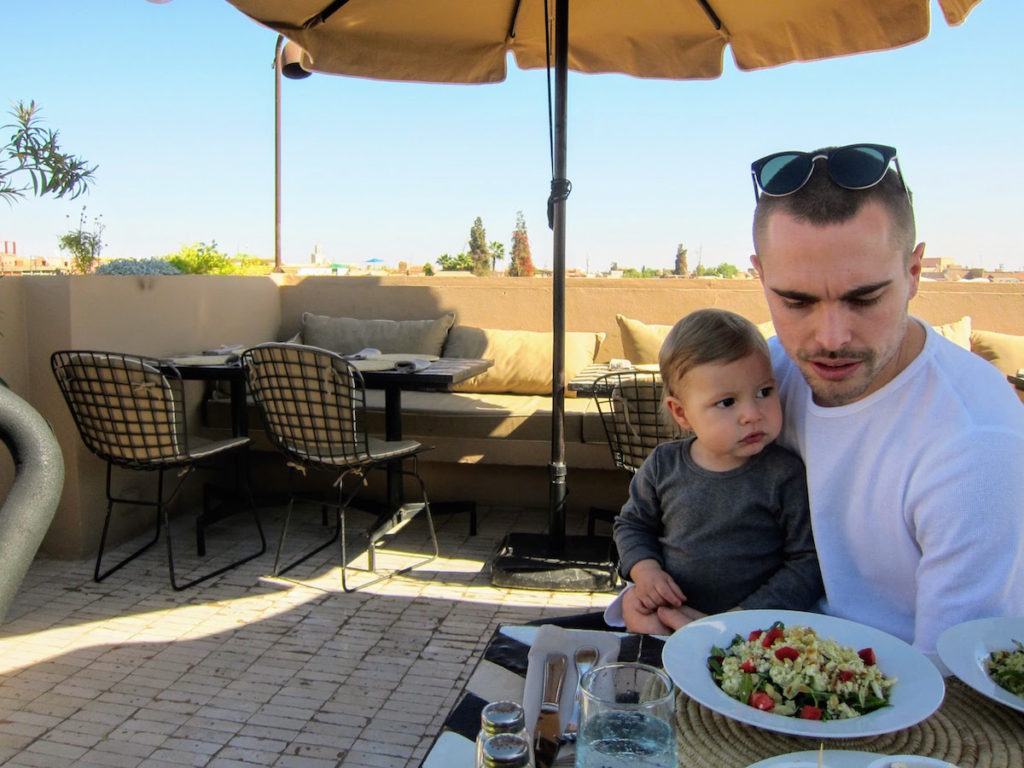 Nomad serves nice pescetarian and vegetarian dishes in their modern take on Moroccan dishes. I recommend their calamari marinated in cumin and spicy harissa, with fennel. As well as their couscous and vegetarian pastilla.
The place gets busy in the evenings, where people come for their cocktails while enjoying the view of the Atlas mountains.
Address: 1 Derb Aarjane. Open: Daily, 11am-11pm.
Jardin Majorelle
The Majorelle garden is half a botanical garden and half an artistic landscape. It is owned by Yves Saint Laurent.  The garden is a piece of art itself, with its blue house and consisting of exotic plants and rare cacti, yuccas, lilies, lily, jasmines etc. The garden is not very big and therefore has a limited number of visitors at a time. Maybe it's too much to call it peaceful as it's one of the most visited places in Morocco, but it's beautiful and a great place to get a break from the Medina.