The southern coast of Sri Lanka is full of amazing golden beaches and it can be difficult to decide where to go.
What Beaches in Sri Lanka Generally offer
These are our picks of the most relaxed and family-friendly beaches. Note that waves are generally quite strong in Sri Lanka (why it's popular for surfers), so you'll need to look a bit if you're not all that comfortable with "wild waters".
Besides the mentioned beaches, we also visited some that we didn't like that much. Like Bentota, where the beach itself was good enough, but we found the area quite awful. We also stayed in Mount-Lavinia just south of Colombo, and again the beach was indeed decent, but the area and vibe, was not as nice as on the mentioned beaches.  Finally, the south coast of Sri Lanka offers much more beach options, and we didn't visit them all. Take the train or a car along the coast, and look for your favorite spot as well. We've heard many a good thing about Talpe and the area around Weligama.
Quiet and Beautiful Talalla Beach
Talalla beach is located between the cities of Matara and Dikwella. It is a beautiful beach, wide and long, with tall palm trees and big waves, great for playing and bodysurfing. The beach has a very laid-back vibe, only a few places to eat and a handful of hotels and we really liked that it was so spacious and quiet.
Where to Stay in Talalla Beach
Behind the hotels on the beach, you can find many homestays in the small streets. We chose Talalla BnB which has a garden and a balcony attached to the rooms, only 5 minutes walk from the beach. We loved the homemade and very filling breakfast that was served on our huge balcony. While having breakfast we could watch the monkeys jumping around from the roof to the trees in the garden. Our friends (who were there at the same time) stayed at the big Talalla Retreat next to the beach. The place has a great pool and garden. On the beach in Talalla, you can rent bodyboards and arrange surf lessons. For a surf lesson, you go to one of the beaches next to Talalla beach, as the waves are great for playing in, but not for starting to learn how to surf.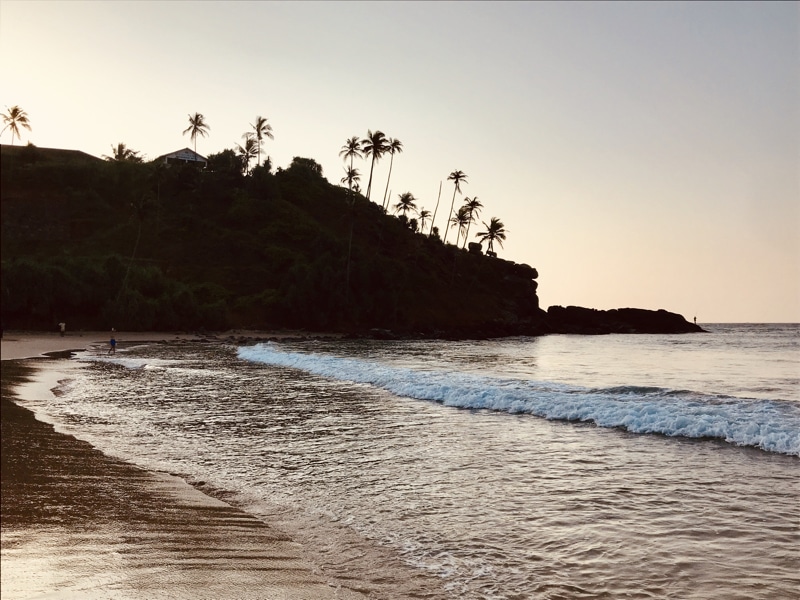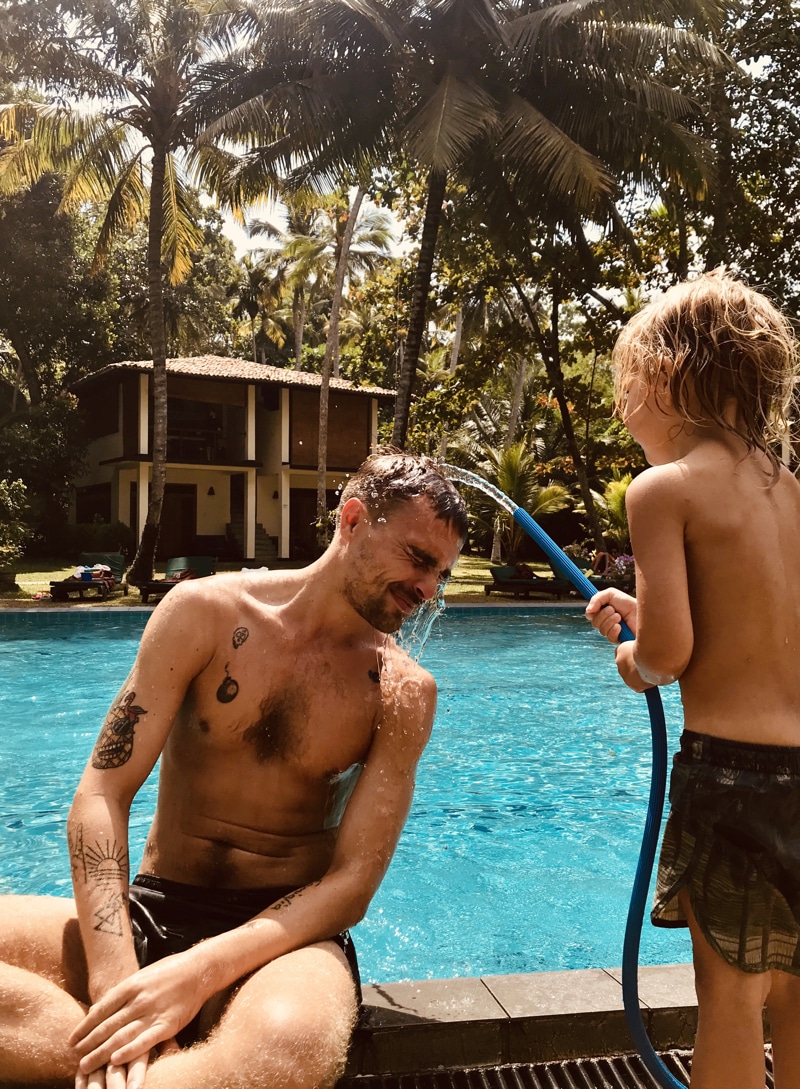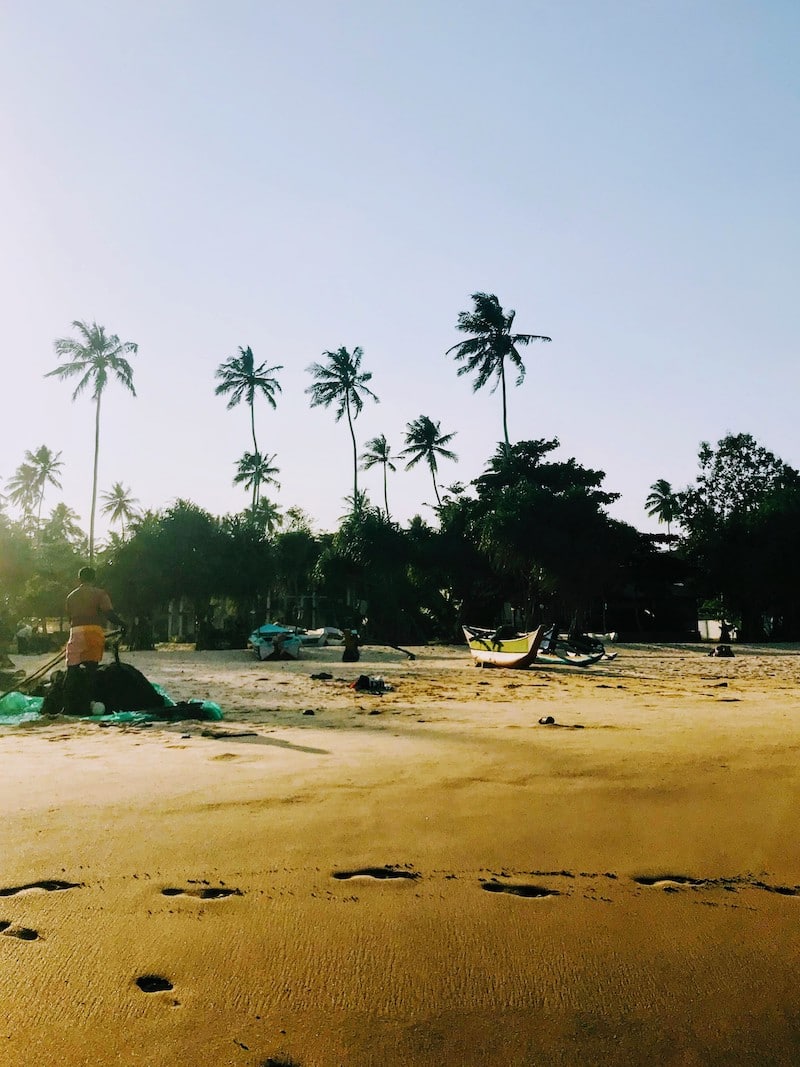 Kid-Friendly Dikwella Beach
Matias booked a surf lesson at Talalla beach and was taken for the first lesson at Dikwella Beach. Sixten and I tagged along to check the beach out.
"Wauw!" This beach is so long, and the water so clear and beautiful. This is the beach to find peace and space to practice surfing! Some guys on the beach offer surf lessons for around 4000 LKR. For 1,5 hour.  Dikwella beach is also very child-friendly as the waves break and become small before hitting the shore.  The beach stretches all the way into Dikwella town, which has many small shops, a bigger supermarket, an old playground, and local eateries. Dikwella is also a transport hub, where you can easily find a bus to the very popular places like Udawalawe National Park and Ella.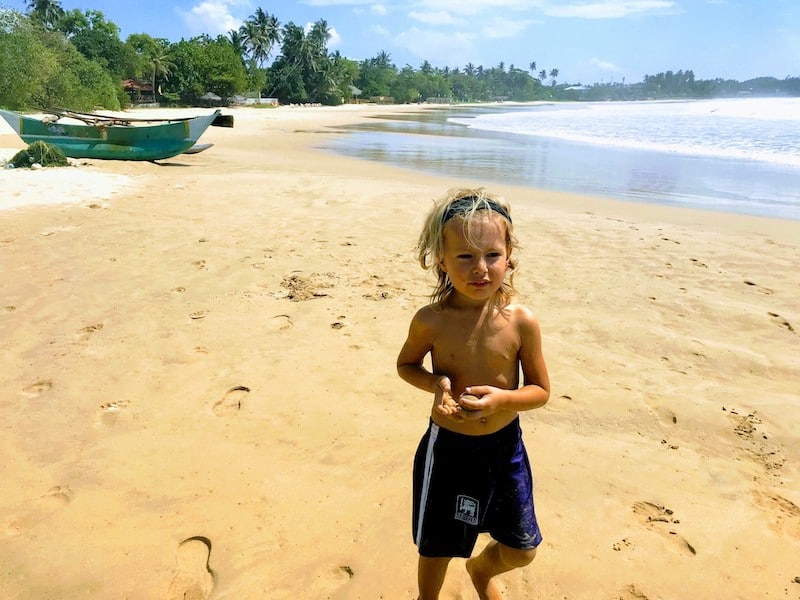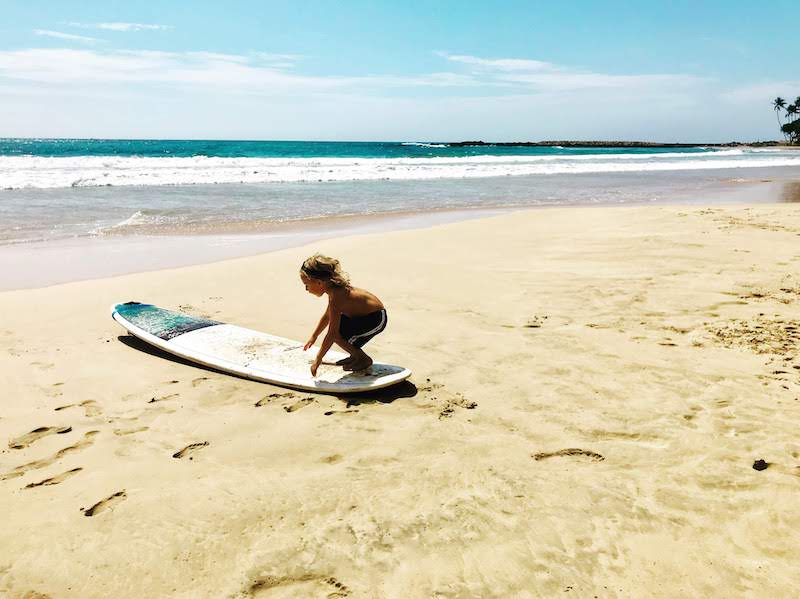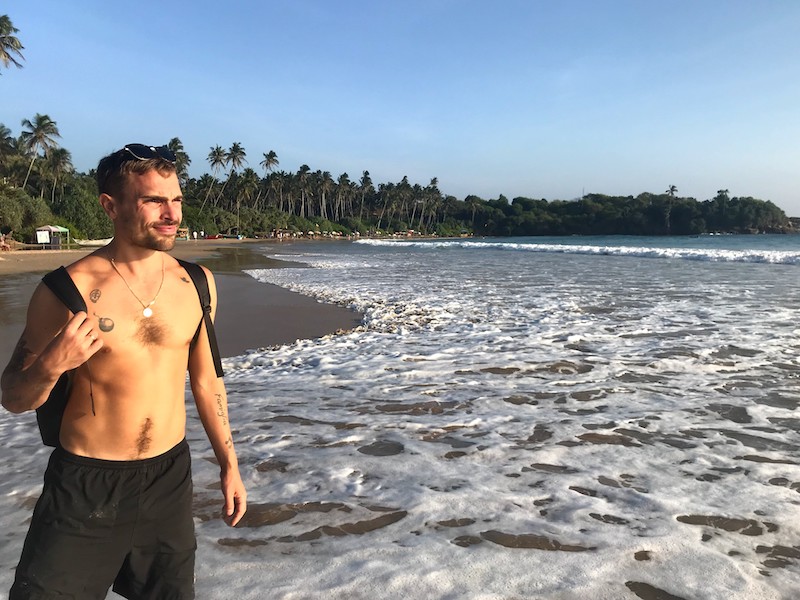 Hiriketiya Beach
Hiriketiya beach is located in a little horseshoe shaped bay next to Dikwella and has become really popular, especially for families and surfers. We understand why. Besides the great waves, it has a nice laid back vibe and many options for good local as well as western food. The waves hitting the shore are not as big as in Talalla, why it's also good for families with kids. But still, it has waves that are great for surfers, beginners in one side of the bay and advanced to the left side of the bay, why it's visited by many surfers or those seeking to try it out.
Both Matias and I got to rent a surfboard and try out the wawes there. It was great. Matias was also lucky to have a few encounters with some big sea turtles popping up to the surface for air, while he was waiting for the next wave.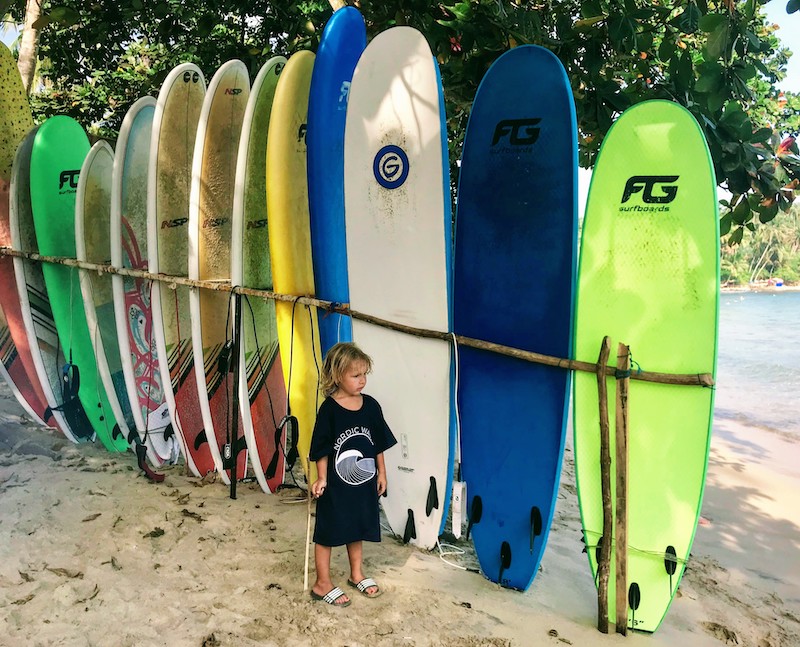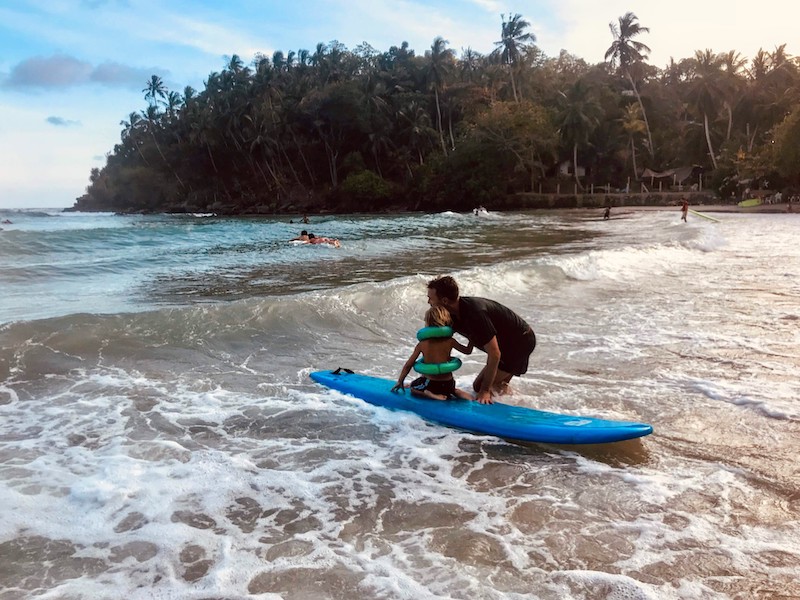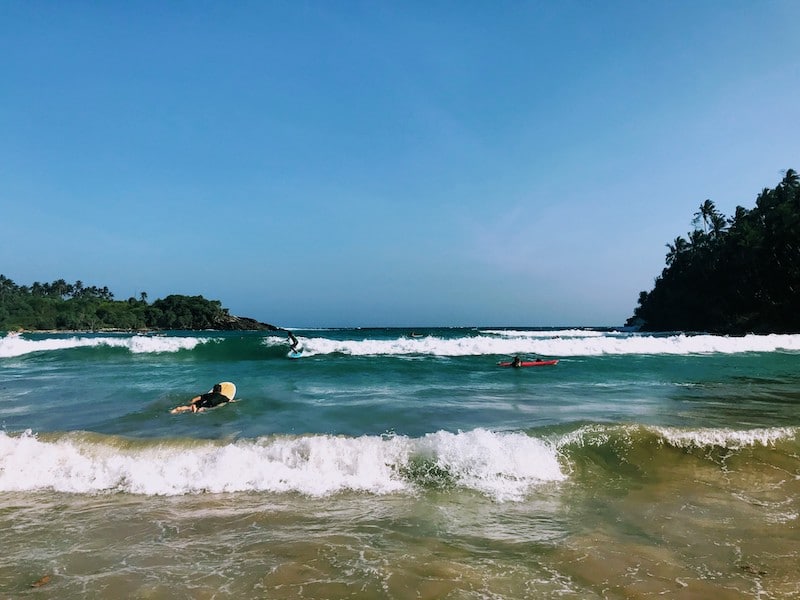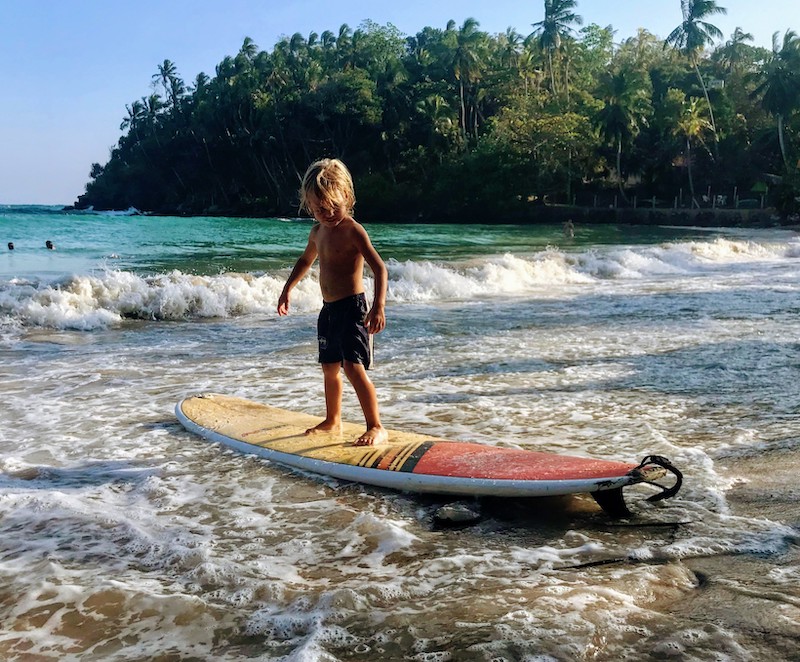 Where to Stay in Hiriketiya
We wanted to stay at the place called Salt Guesthouse, but it was fully booked all the time we were in Sri Lanka. This guesthouse is surrounded by an aesthetic, peaceful garden with shaded cozy areas and a little pool. In the garden, you will find a restaurant, a good coffee bar, and various seating areas, great for both working, reading and relaxing. The restaurant offers fresh salads, snacks, and shakes.  We loved hanging out in the shade at this place, and to cool down in the little pool. Upstairs is also an open-air yoga shala with daily classes, open for all levels.
Blue Beach – Between Niwella and Hiriketiya Beach
From Hiriketiya you can do a little tour through backroads with local houses to the small beach Blue Beach. The beach was totally empty and can be nice as a break from the crowded Hiriketiya beach. There is also a little island you can walk over to, it has a beautiful natural pool on the top.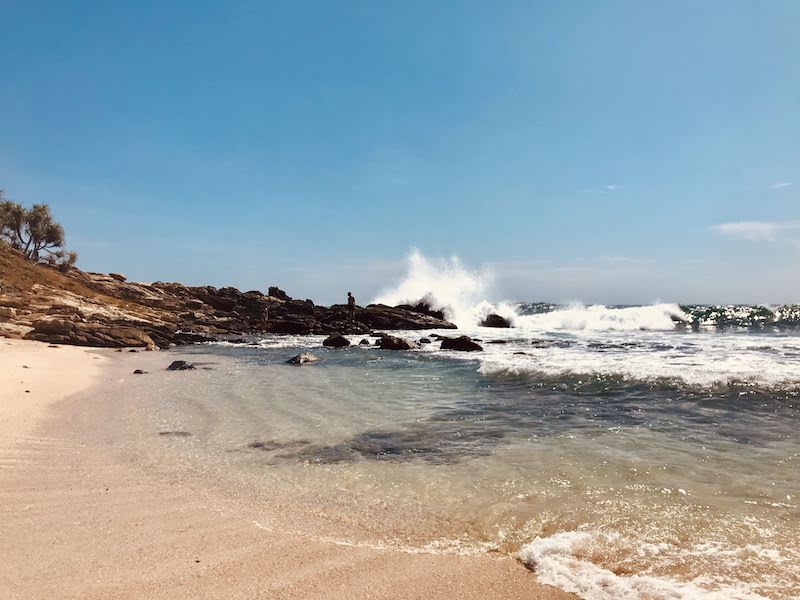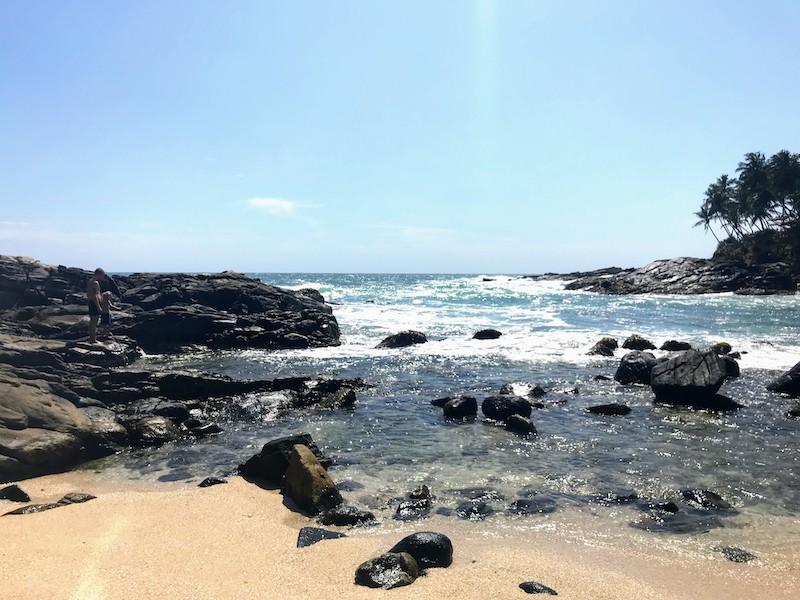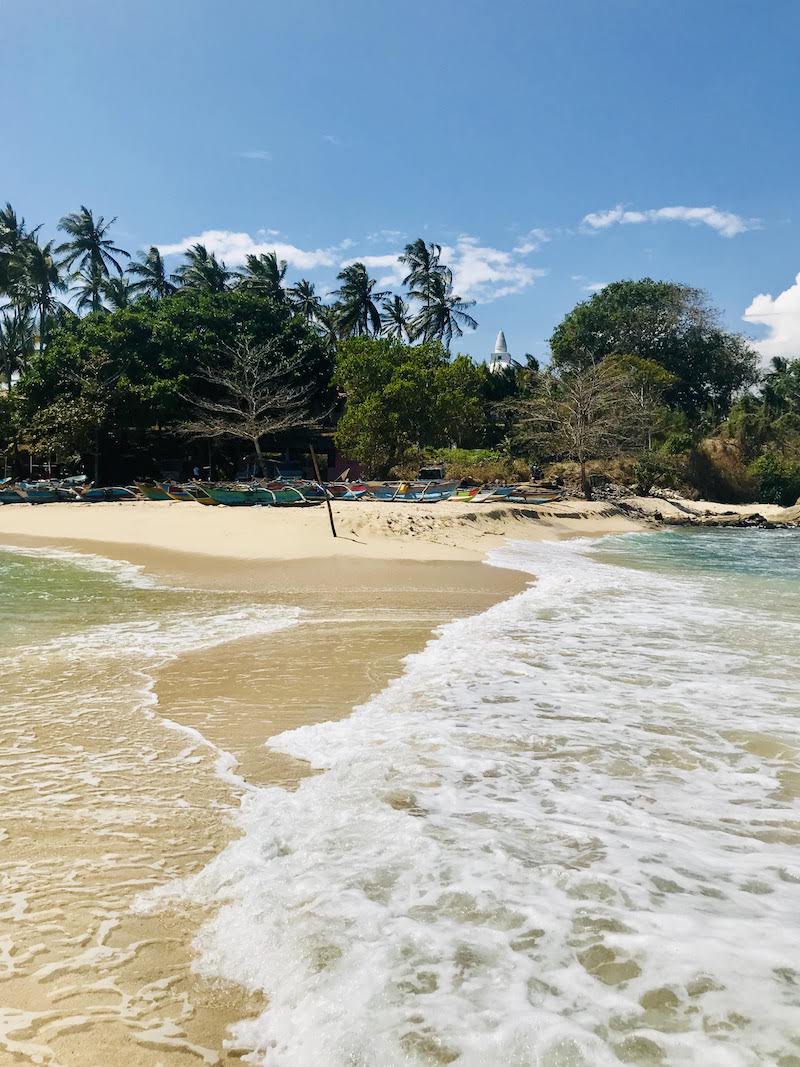 Snorkeling at Polhena Beach
Polhena Beach is relatively more famous among Sri Lankans than the tourists. It's located two km from Matara town and is popular with local Sri Lankans, especially on the weekends and on Poya days. Polhena beach has a natural coral reef where it's possible to spot big sea turtles and you for sure will meet lots of fish. Visibility is not that great though, maybe just around five meters. Due to the coral reef, the high tides and waves as we met on the other beaches are blocked. The water is thus calmer and great for smaller kids. We went on a Sunday where the beach was packed with locals, and there was a good weekend vibe. In the eastern corner where the snorkeling is best, it was relatively quiet though.
No matter which beach will be your favorite, all the beaches are easy to visit by train, bus, and tuk-tuk. You can easily stay at one beach and do day trips to any of them.
Enjoy!