Kuala Lumpur is an amazing destination in itself as well as the perfect gateway to explore Asia.
We've had a handful of stays in Kuala Lumpur (KL) during our recent and past travels. Sometimes it has been a quick layover, on the way to the next place but we've also stayed for longer times exploring the city as a destination itself.
Here are a few things we love about KL.
Kuala Lumpur is a Great Big City Destination with Kids
KL is very green and it has great parks with lots of spaces for kids. The big playgrounds at KLCC and Perdana Botanical Gardens are a hit. KLCC also has a children's pool and is the perfect place to cool down.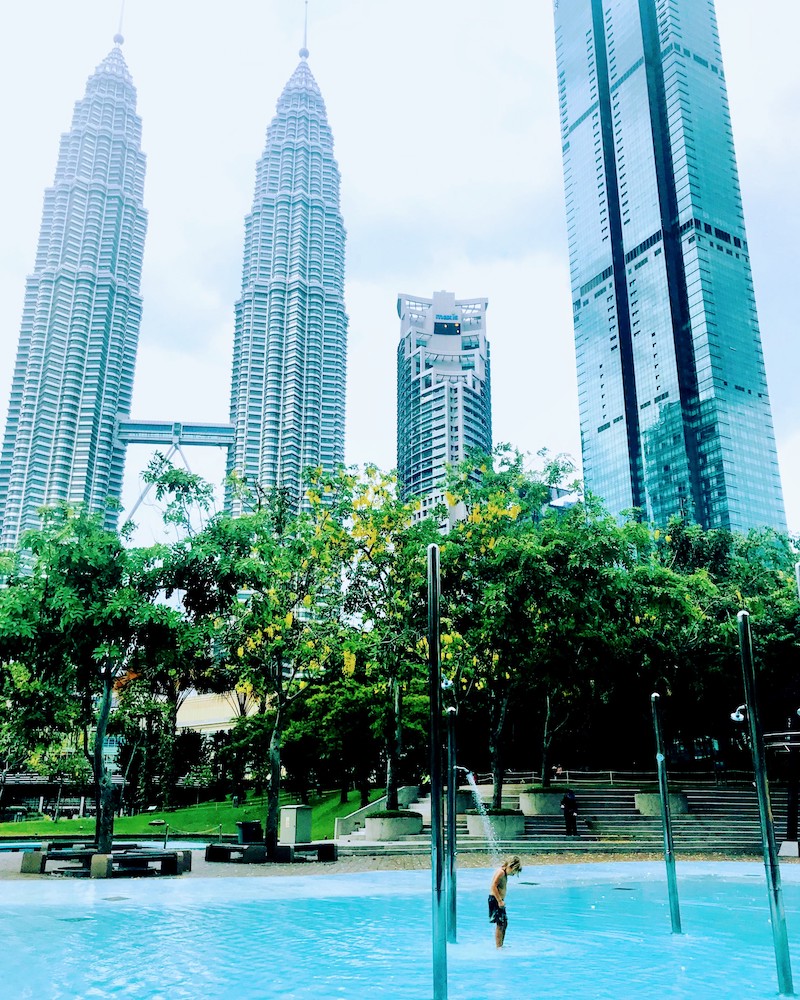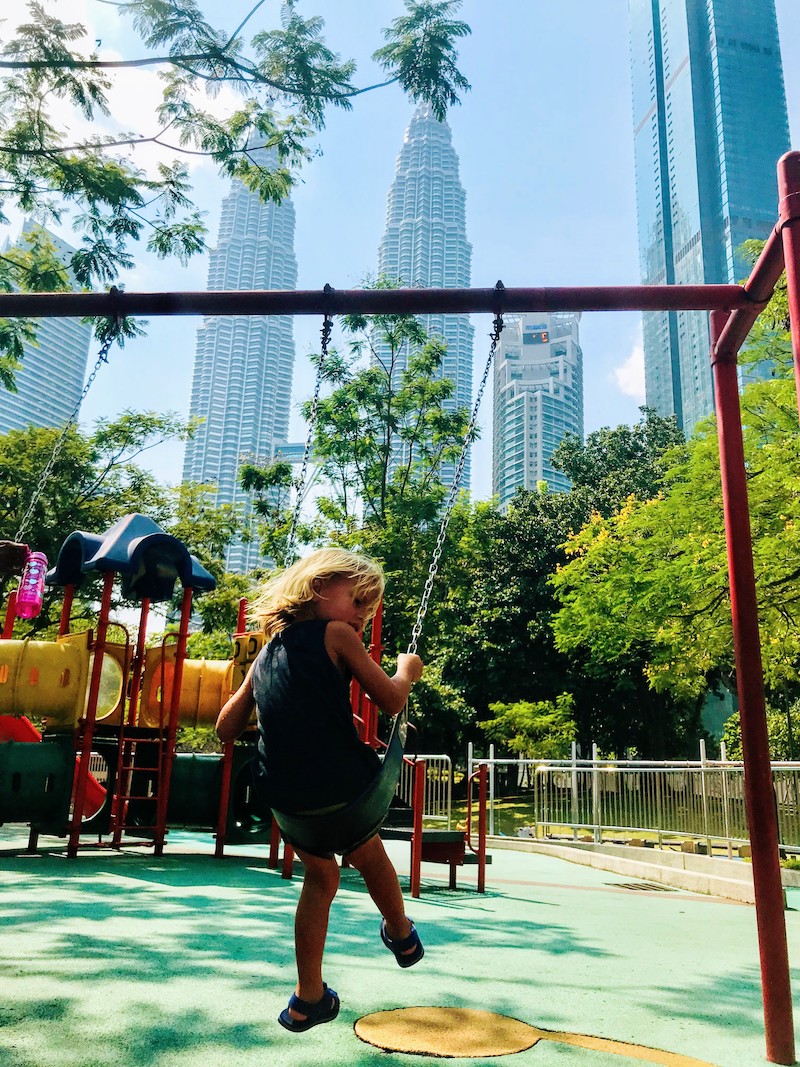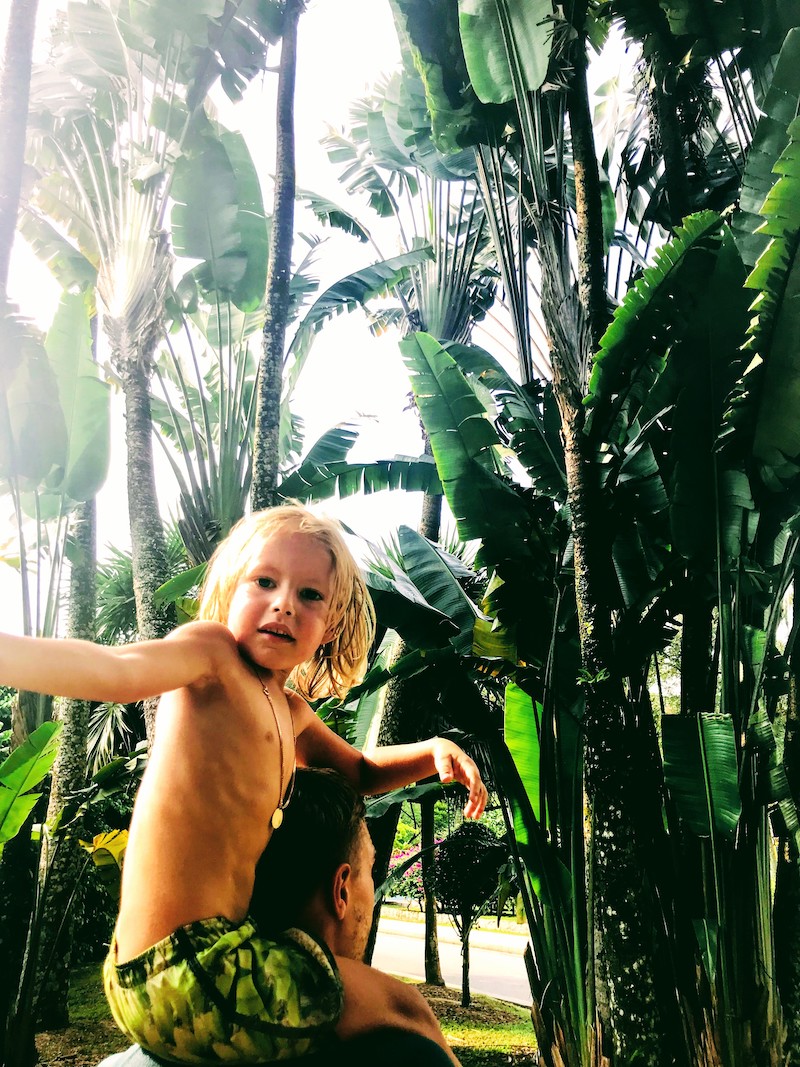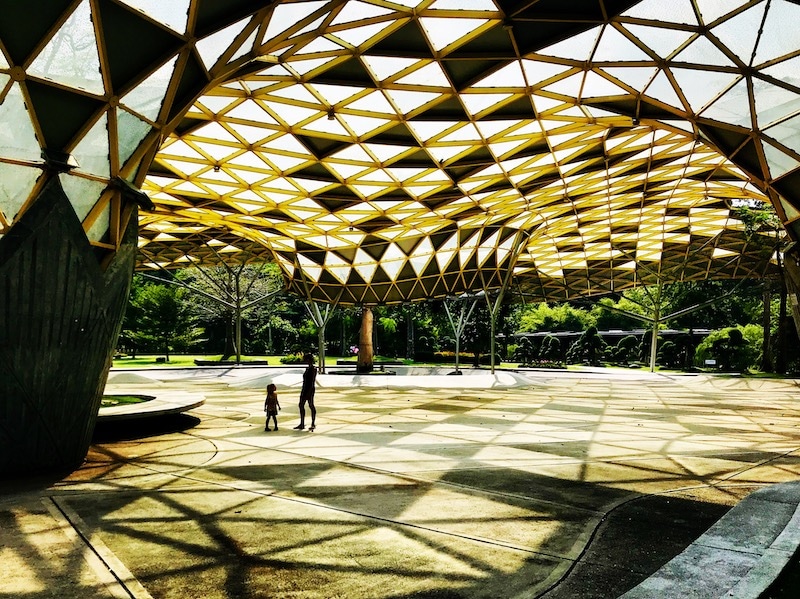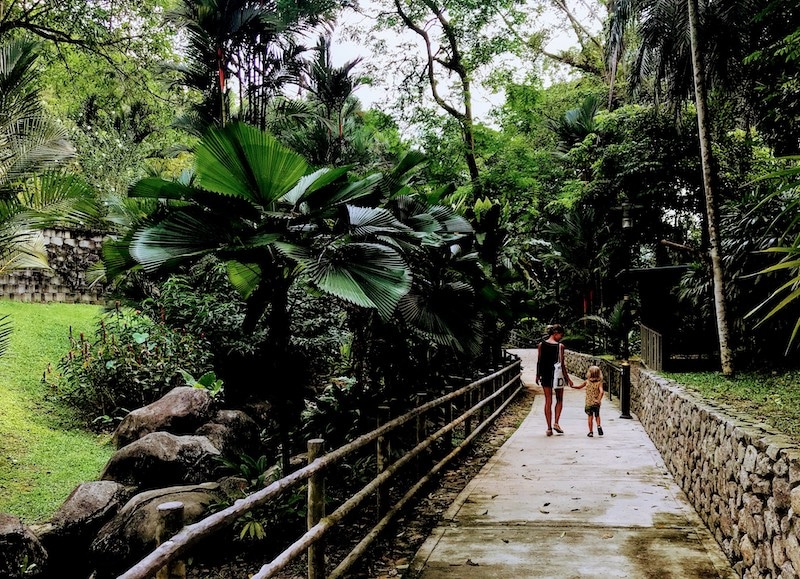 The KL Forest ECO Park has a fun canopy walk and offers a small jungle get away from the busy city.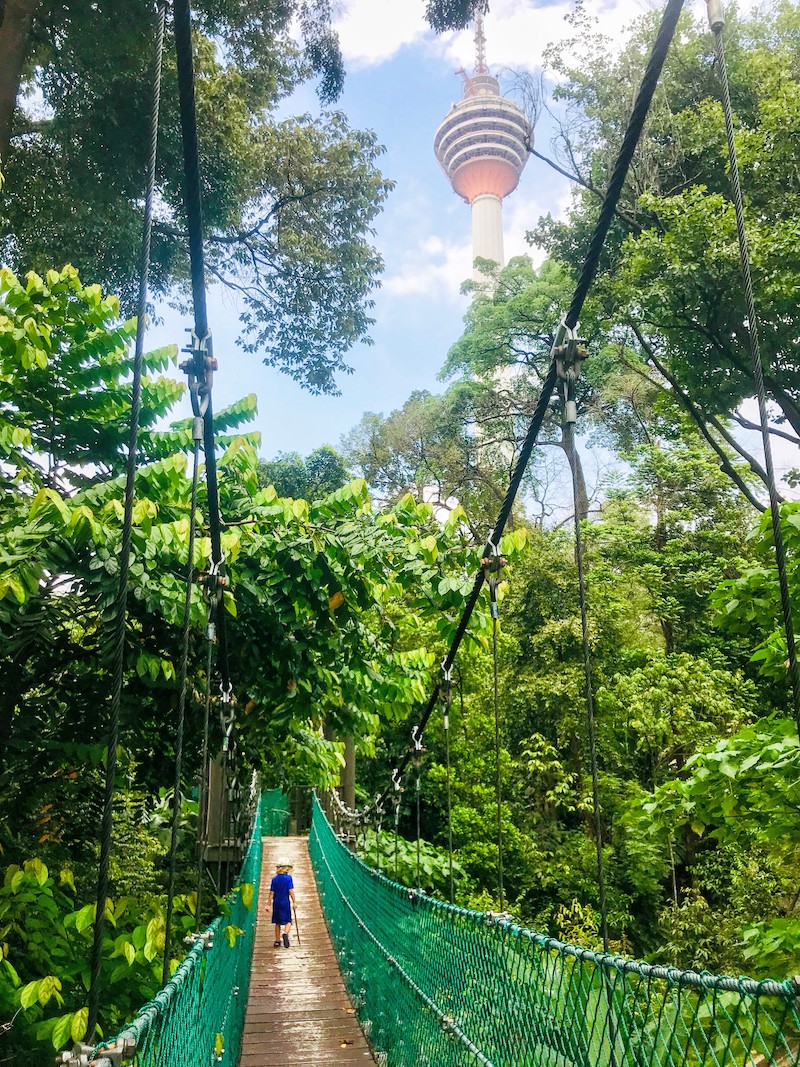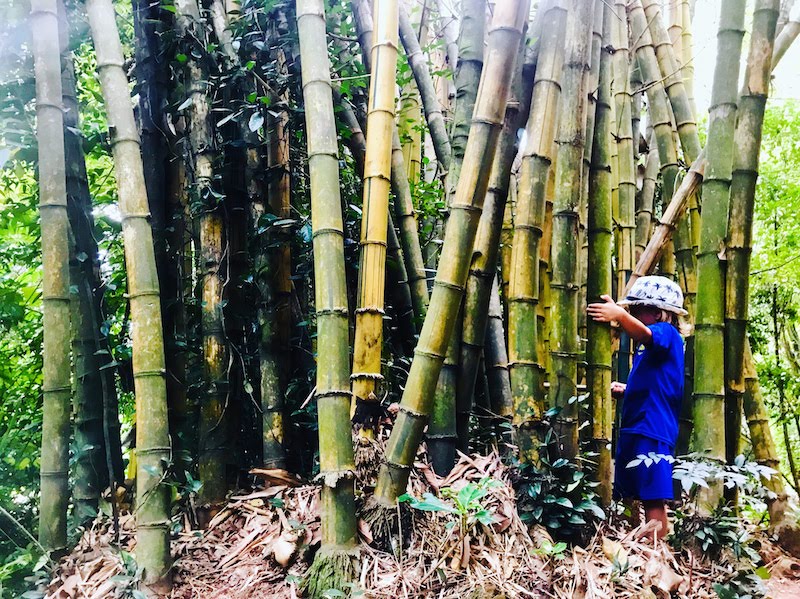 Kuala Lumpur Aquarium –  Aquaria KLCC
Next to the KLCC park, there is a great Oceanarium/ Aquarium with over 250 different species of aquatic animals. We enjoyed watching the turtles and the shark feeding by Scuba divers and to get a break from the heat for a few hours.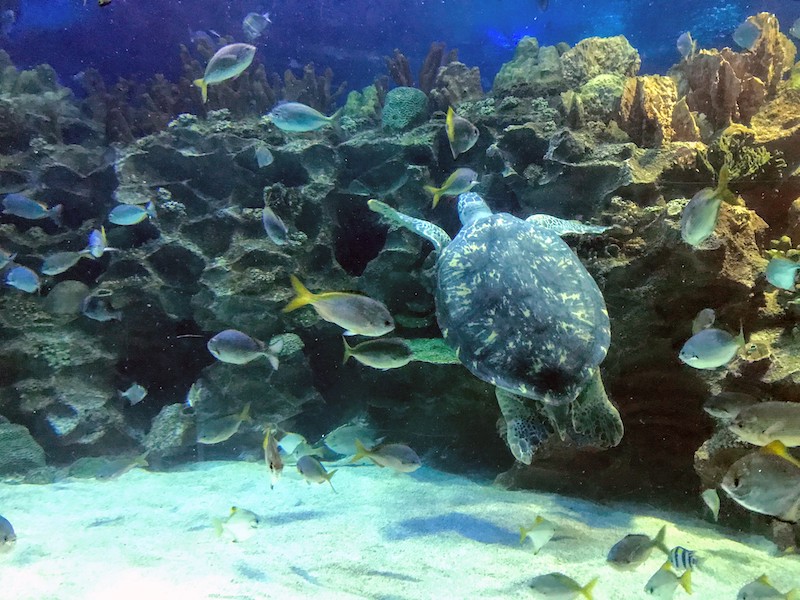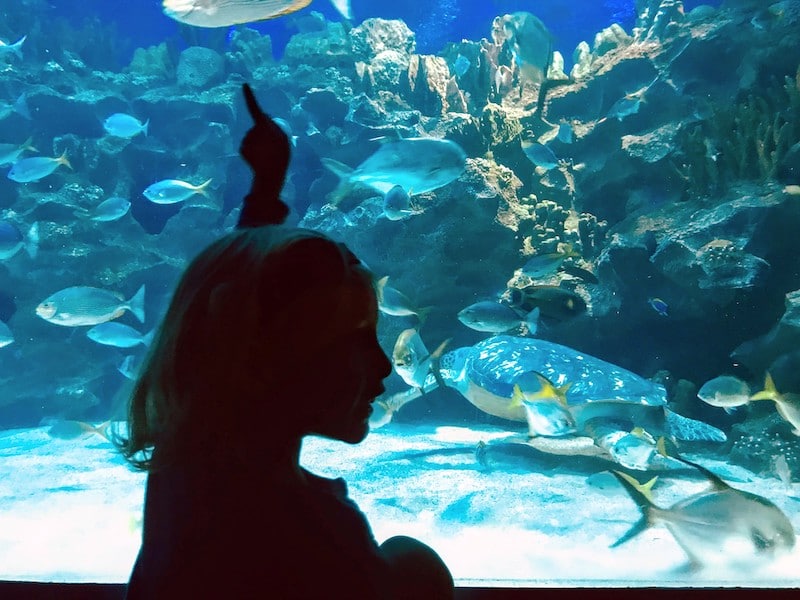 Great Accommodation at Good Rates
KL also has plenty of very affordable holiday apartments with pools – and gyms for the parents. Just check out AirBnB to find a bunch of places.
Kuala Lumpur has Amazing Food!
Whether hitting any of the famous street food areas like Jalan Alor or Jalan Sultan in China Town, or any of the malls, you'll have endless choices of food. Malay, Chinese, Indian, Korean, Middle-Eastern and Japanese are all very well represented in both cheap and less cheap options.
We especially like the Roti Canai, a delicious fluffy bread made on a pan, typically served with dahl and curry. Ikan Bakar Pari (grilled stingray) is another favorite. But also all the different curries typically enjoyed best at one of the many self-service "restoran's" you'll find all over the city. Typically self-service places with very reasonable prices – don't be scared off by the food "sitting-out", if you want to be sure everything is fresh, just come around midday.
As KL is a big city, you'll find all that your tastebud pleases, which make it a great destination to add to your Asia trip.
Here are a few places we really like.
Chocha Foodstore (modern Malay)
Mama Hot Green Corner (self-service curry + roti)
Suki-Ya (Japanse Sukiyaki chain. Great if you feel like a lot of greens!)
Sarang Cookery
Kar Tasty Asia Food Stall (This guy served the best roti and thosai we had in KL)
Street food stalls outside Ramada Suites (Look for grilled fish – we had the best stingray here).
Kampung Baru (Tons of different restaurants and food stalls).
But honestly, there are so many places, just look at what looks good.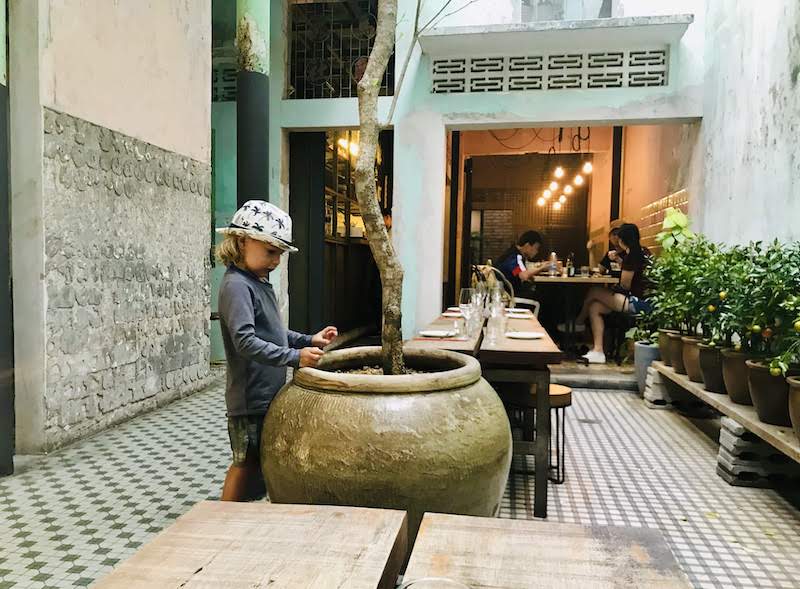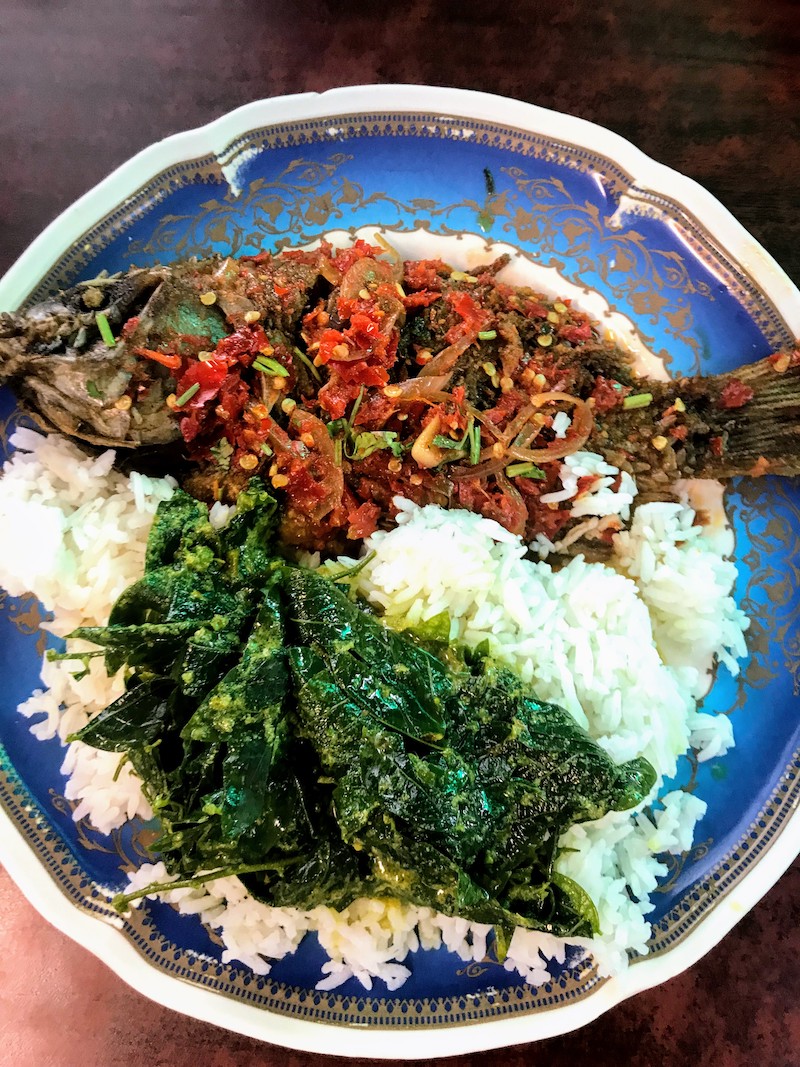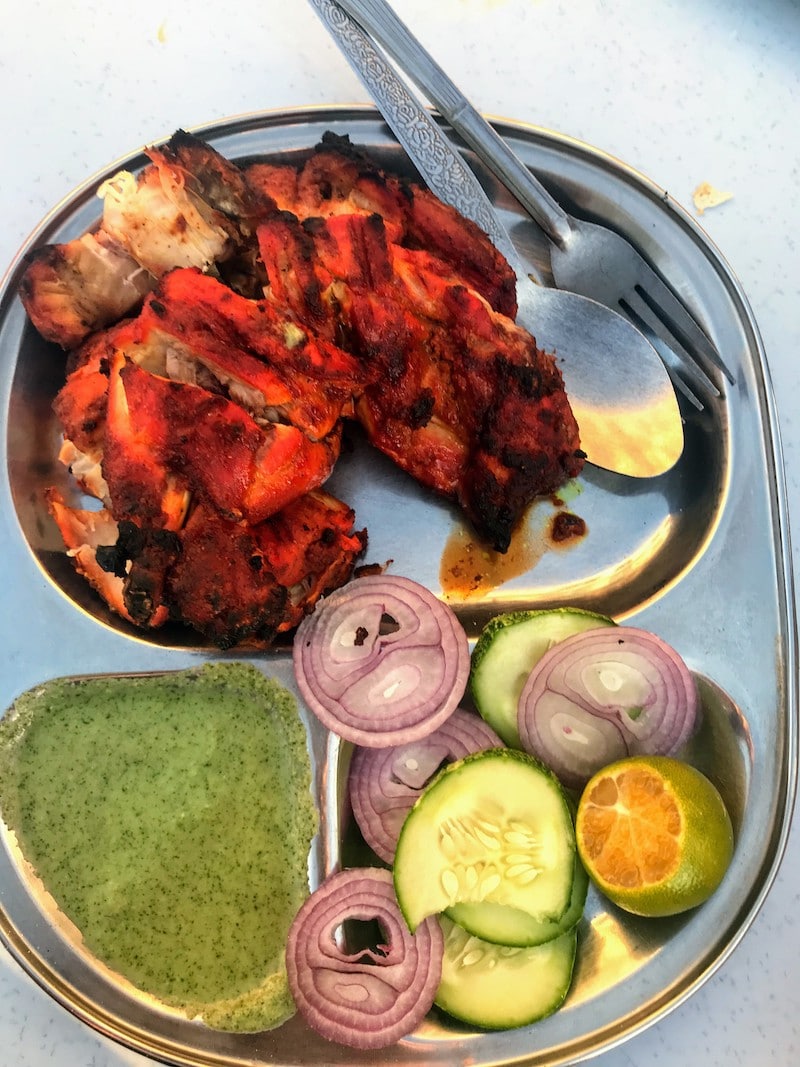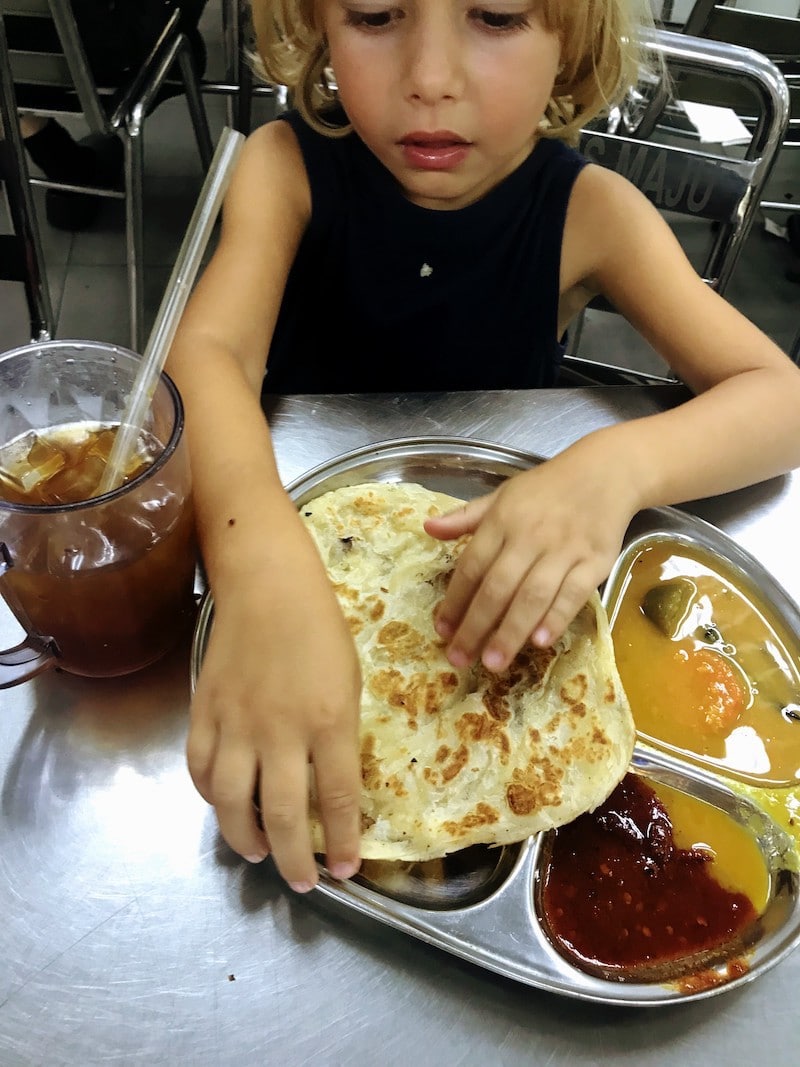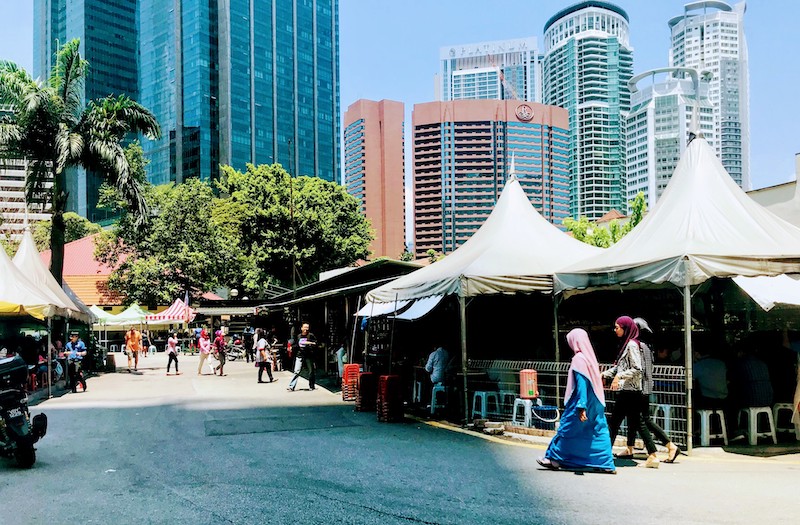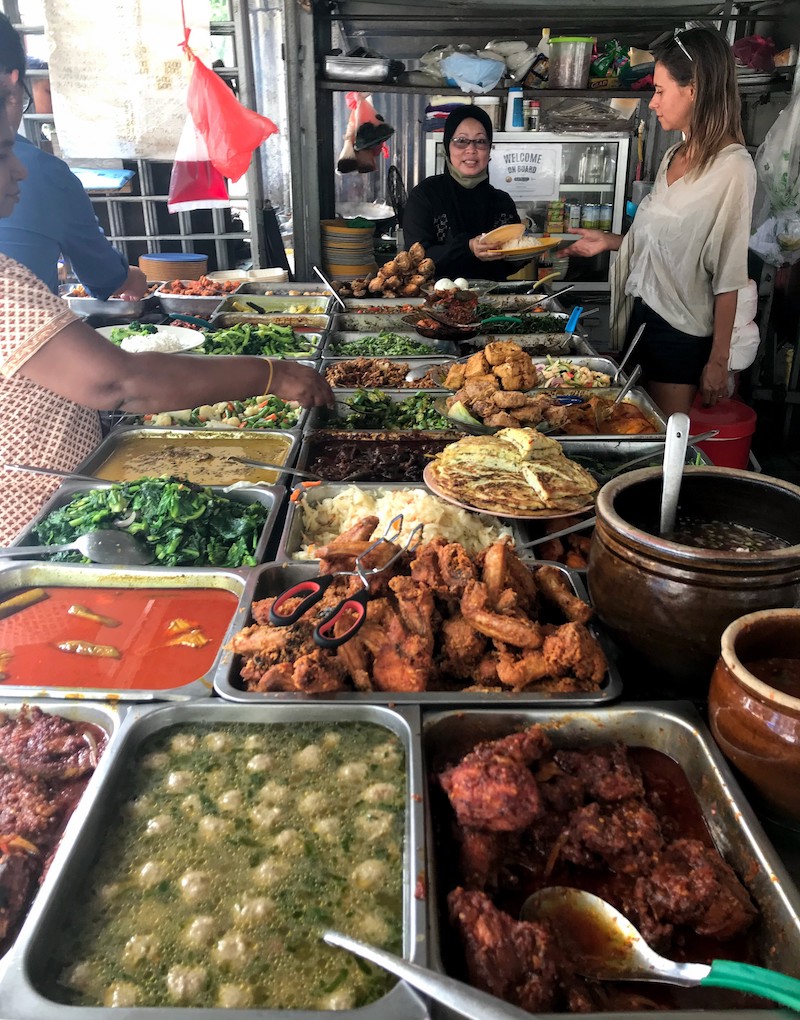 Kuala Lumpur is The Place to get Your Shopping On
Be it cheap electronics at Low Yat, upscale design at Pavilion or Suriya KLCC or street vendor "Louis Vuitton" at Petaling Street, KL has it all. Chances are it  even has a mall or mall section dedicated to just what you look for.
Like "Little Tokyo" in Pavilion, where you'll find a bunch of Japanese food options as well as a selection of stores dedicated to Japanese goods.
We're actually not the big shoppers, but after some time island hopping it can be nice with a change of scenery and some big city offerings.
We preferred Suriya KLCC, Pavilion and the Isetan section of Lot 10. But we definitely haven't seen all KL has to offer, so go check out for yourselves.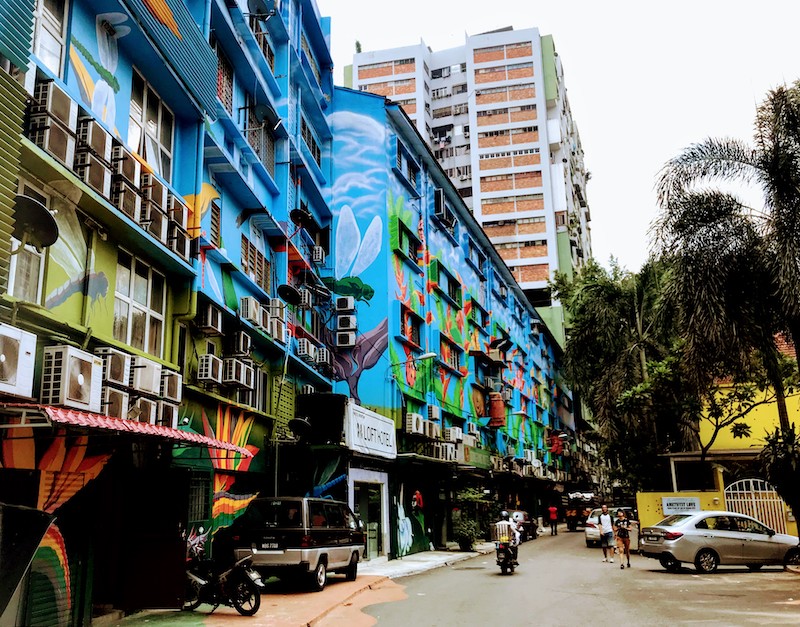 KL is Multi-Cultural
Malaysia is made up of many ethnic groups and you'll encounter all of them in KL. Visit a Chinese temple, continue to a Hindu version and end up in one of the massive Mosques, like Masjid Negara.
From what we can tell this blend of cultures seems to work really well, and it honestly gives food for thought when it comes to various integration policy challenges in a small country as Denmark as an example. People in Malaysia seem to have just figured it out, embracing their different backgrounds. At least that's the impression you get.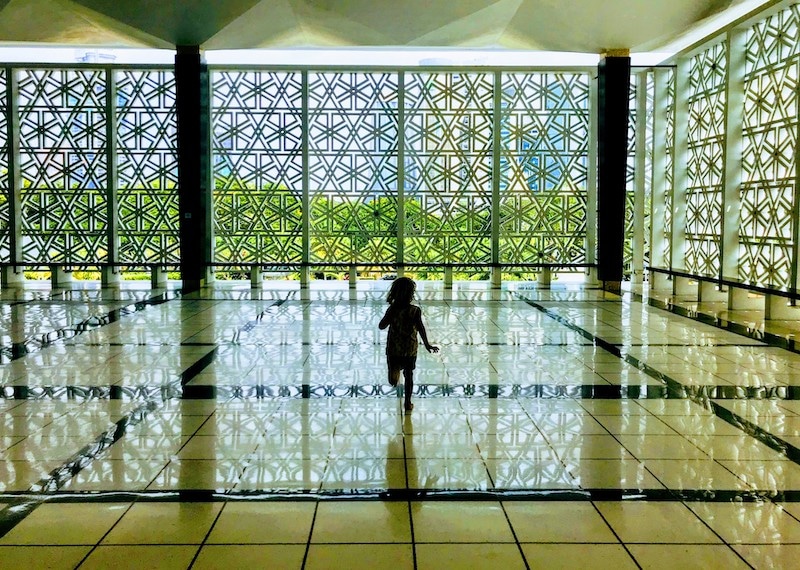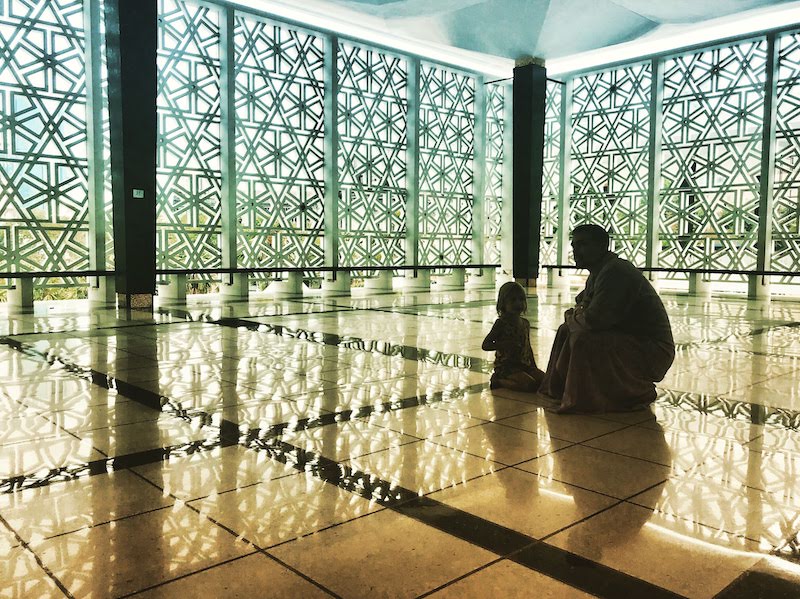 Getting around KL is a Breeze
Get Grab and you'll be easily exploring the city in no time. It's quick and cheap and we've had many fun conversations and had much good advice from Grab drivers. Being in Malaysia most people speak quite good English, so don't hesitate to ask for advice on food etc. from your driver.
You can also catch trains and hop on the free GO KL bus, which circles the city center. Pretty cool.
You can go Almost Anywhere from KL
If you're traveling for a longer time without a specific plan, KL is a great hub to add to your itinerary, as there flights to so many places, often quite inexpensive. Connect to e.g Sri Lanka, Thailand, Philippines, Japan or even Australia easily as well as many other destinations.