The small mountain town of Ella in Sri Lanka is well known for its green hillsides and mountains, especially Little Adam's Peak. But also for the impressive, 30 meters high train bridge Nine Arches Bridge.
Two days in Ella
To get some fresh mountain air and do a bit of hiking in Sri Lanka's beautiful green highland we did a two day – and one night – trip to Ella. This was the perfect amount of time for us, as Ella is small and one of the most touristed towns in Sri Lanka.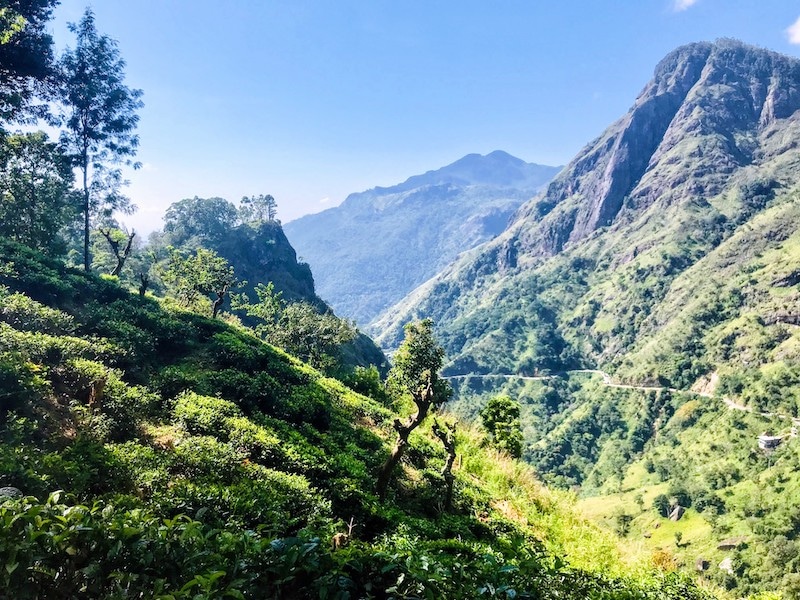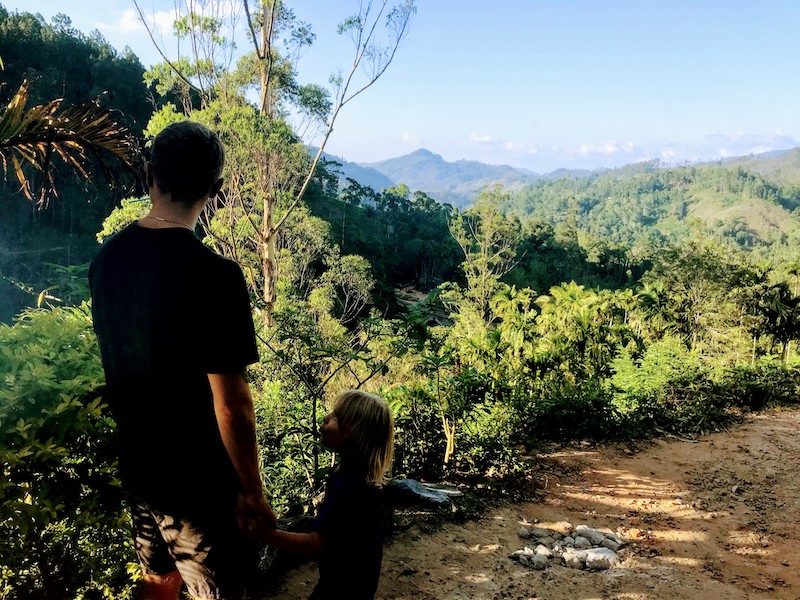 Walking and Hiking with Children in Ella
Sixten climbed his first mountain when we did the famous "hike" up Little Adam's Peak and he was so proud.  It was an easy and very child-friendly hike,  with stairs a lot of the way actually. But it sounds better to tell him: "You climbed your first mountain!".
We tried to make the walk fun, talking about the amazing views, how far we could see and helped him find a great stick for his hike – that gives the power to walk a lot longer.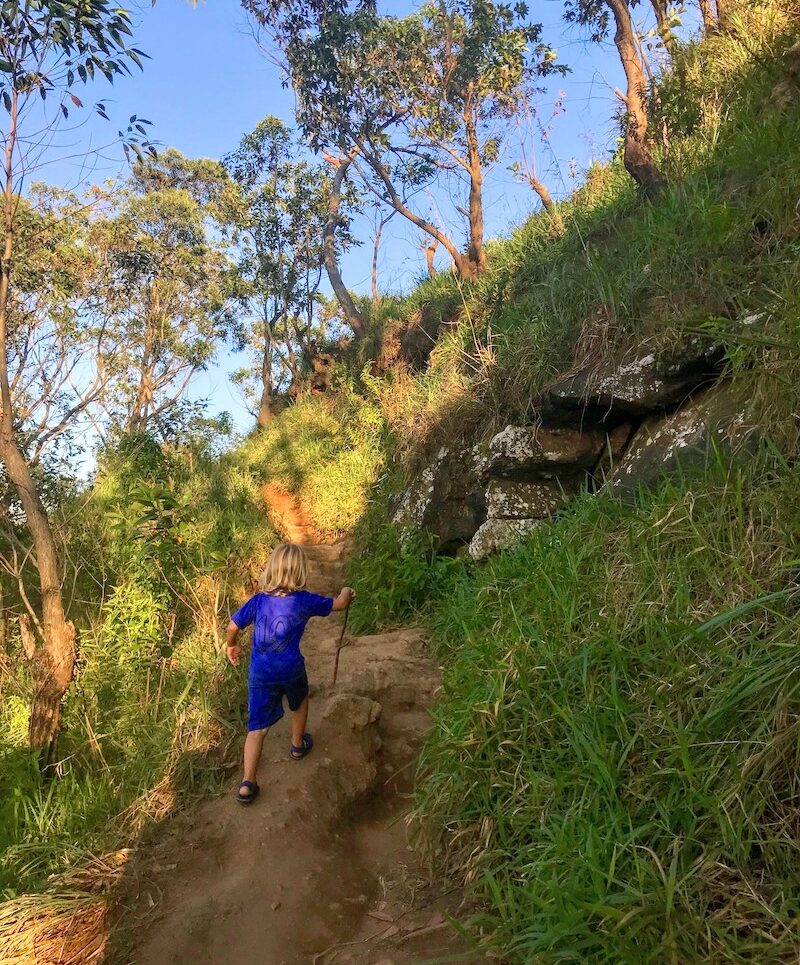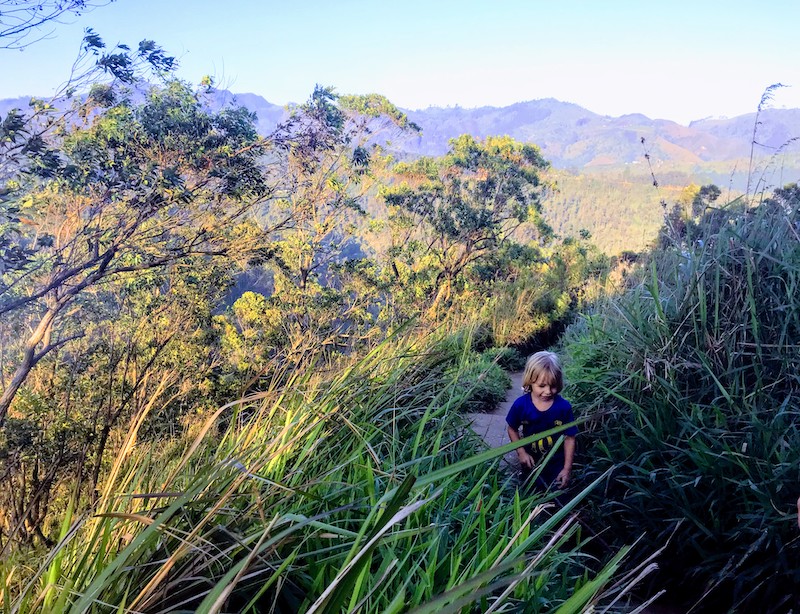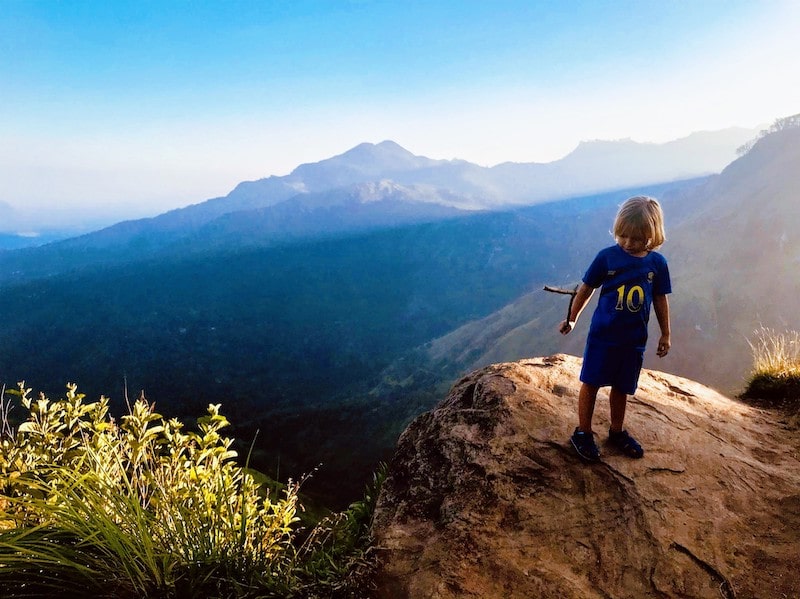 We walked/hiked up to Mini Adam's peak late afternoon after we had walked to Nine Arches Bridge (another famous spot in Ella). The light was amazing as the sun was slowly setting behind the mountains. As we reached the top the sun cast stripes of light through the landscape.
The walk to Nine Arches Bridge was also very beautiful, through the forest.  Some trees had fallen on the path, and we had fun crawling under or over them.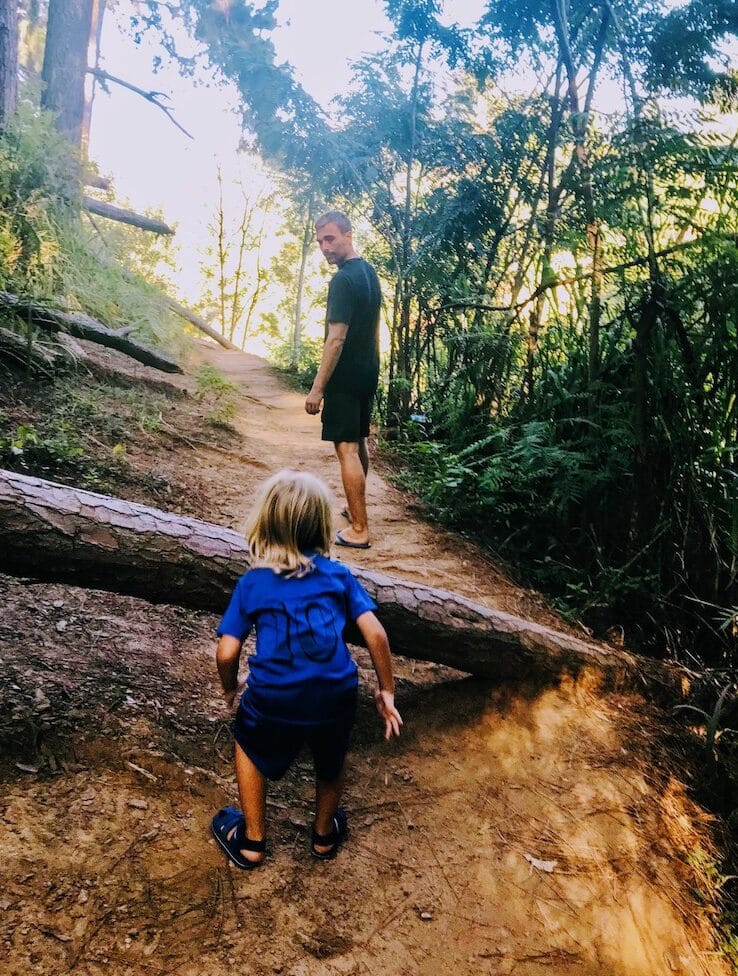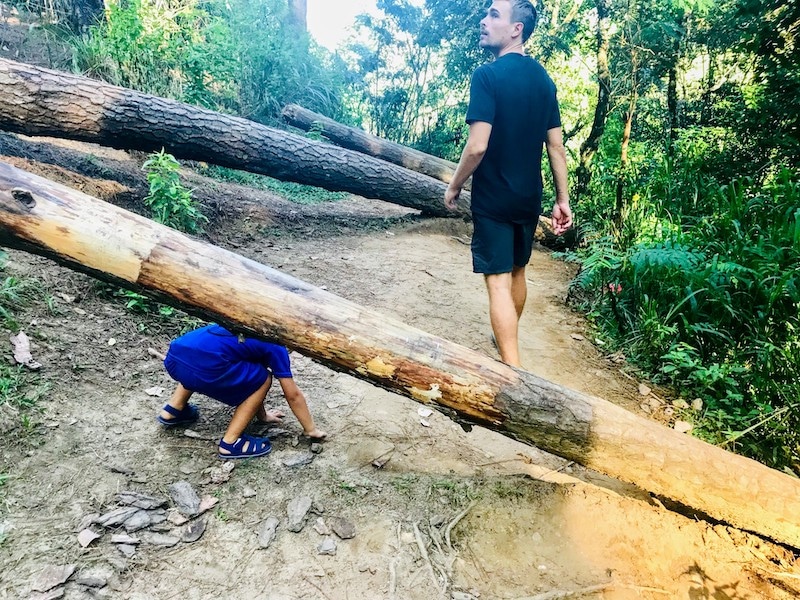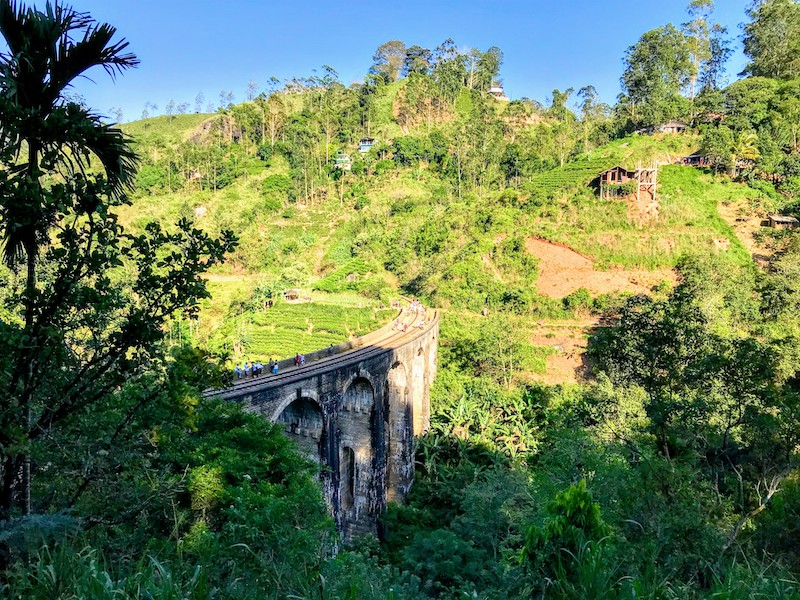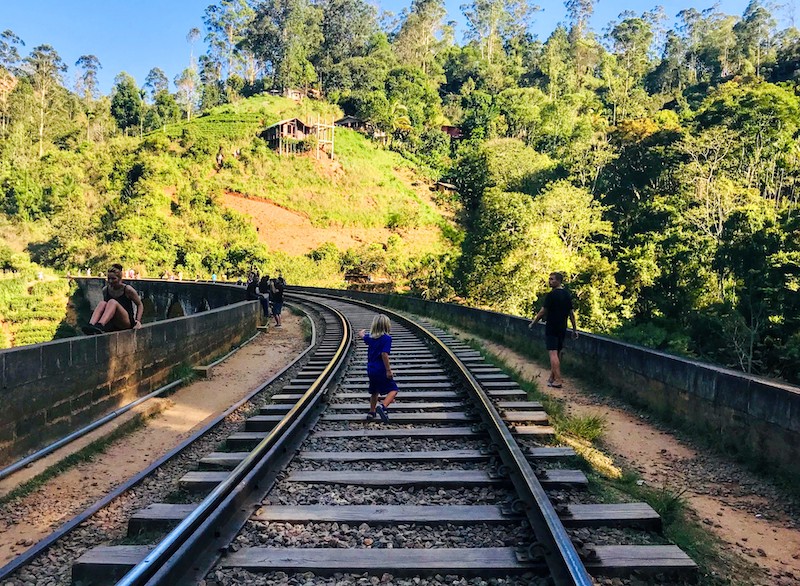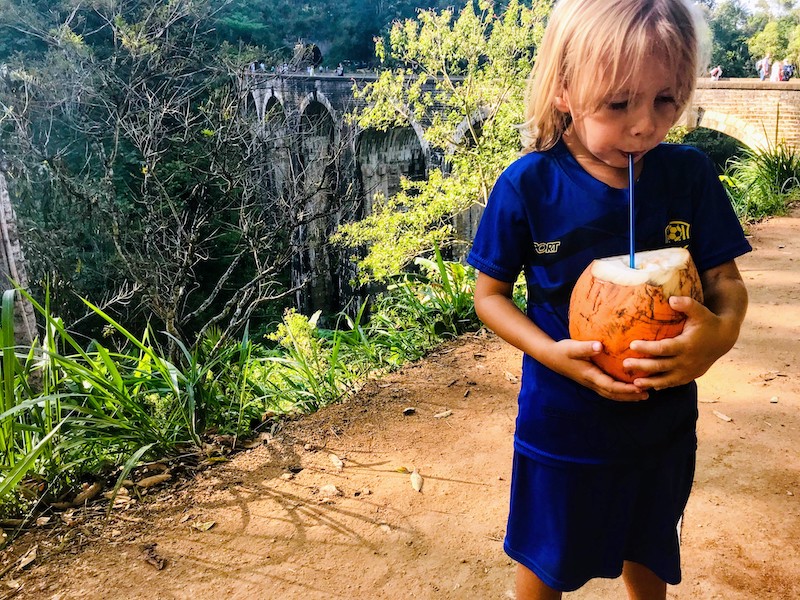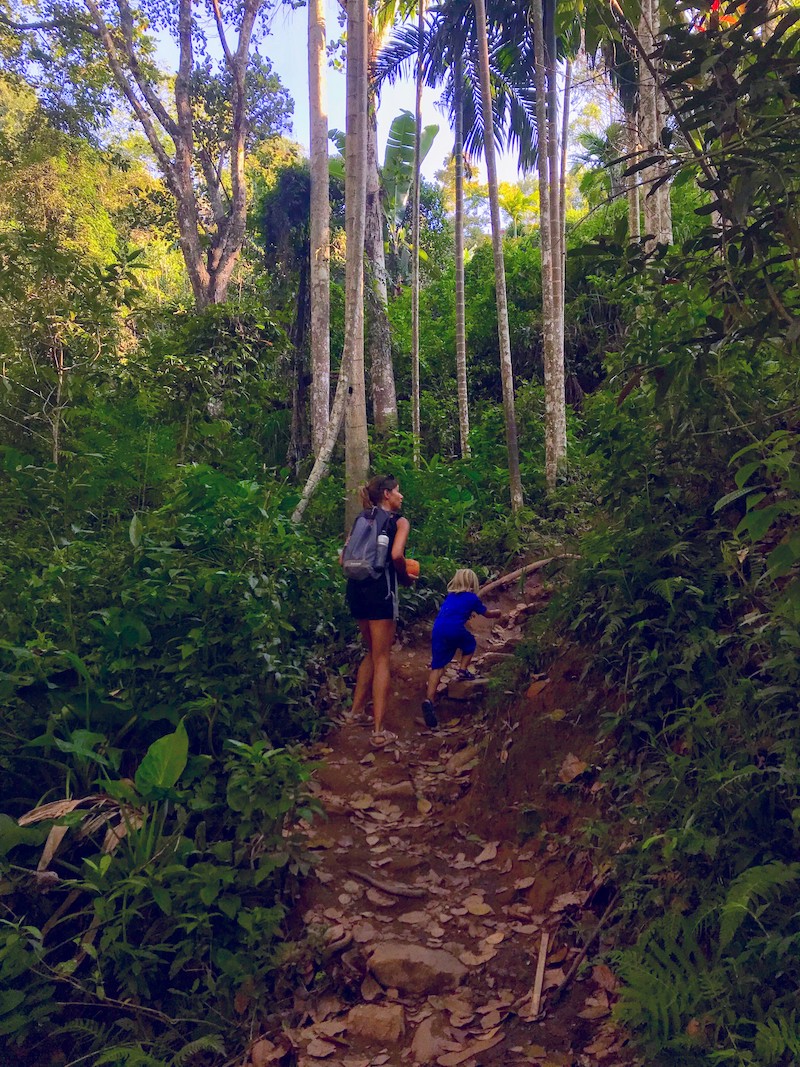 We only spent one night in Ella, and the following morning we walked up to Little Adam's Peak again, to see the landscape in another light and just cause we enjoyed the walk so much. There were a bit more people in the morning and it was crowded on the top. Sixten thought it was fun to do the hike up and down again and to be the one that could walk in front and lead us.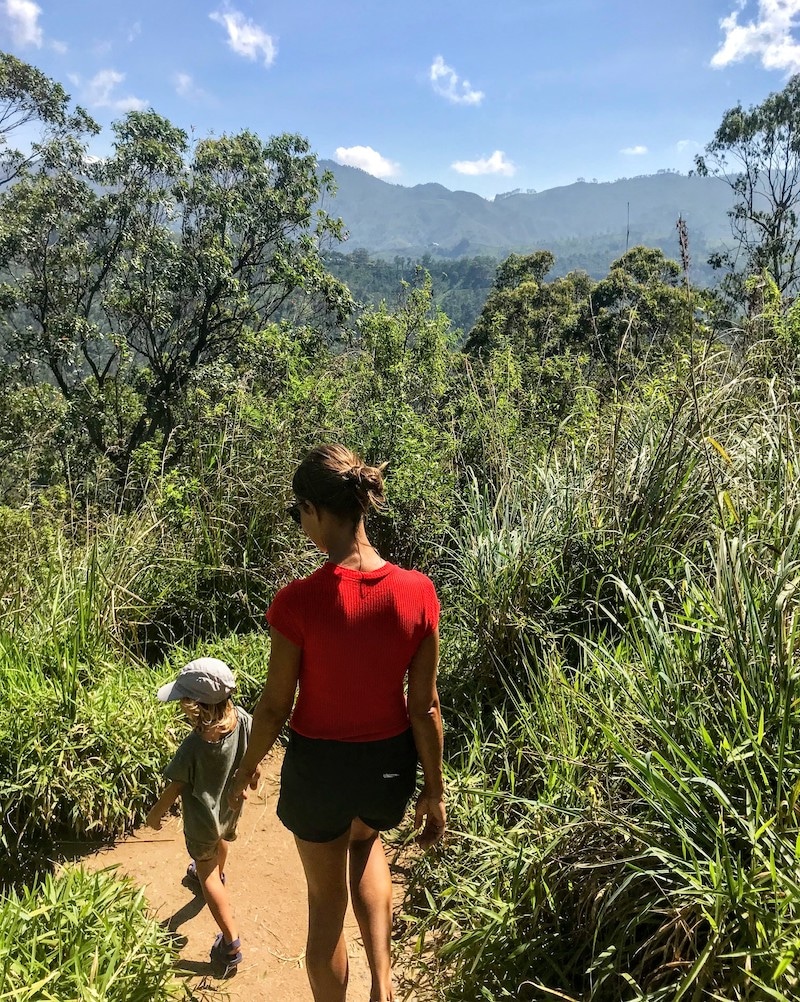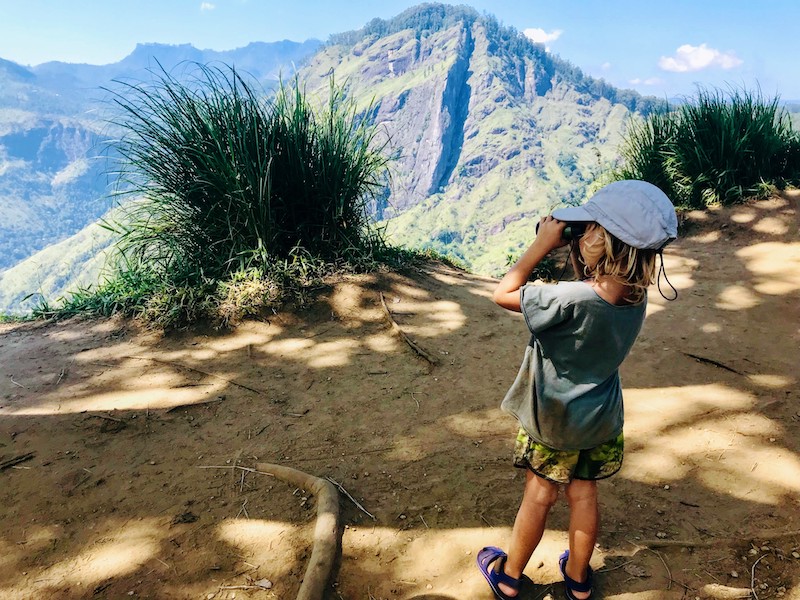 Traveling to Ella by Local Buses
I have always liked traveling with local transportation, as it's usually a great way to experience the culture and meet local people.
In Sri Lanka, it's cheap and nice to take the train or bus, but it can also be exhausting, as the buses especially can be jammed packed and the trains get delayed and stop in the burning sun for one hour.
If you are thinking of going inland and thinking of taking the bus, I would still recommend you to do it, though. Taking the bus in Sri Lanka is an experience!  Most buses have a television up in the front by the driver where they show Sri Lankan movies or loud Sri Lankan music videos – with what we thought was great music.  The busses are super colorful both inside and outside and full of decorations. But be prepared – they drive pretty fast.
Bus from Udawalawe to Ella and Return from Ella to Udawalawe
The trip includes two shifts and is pretty easy. It Takes about 2,5- 3 hours in total including the waiting time. Here is info for the different buses.
Bus from Udawalawe to Wellawaya
Express bus 998 from Udawalawe Junction to Wellawaya.
Cost: 150LKR
Time: 1,5 hour
From Udawalawe the bus can be pretty packed though as it comes from Colombo and already has a lot of people on it.
When traveling with a kid, people on the buses are always super helpful and a local got up and gave his seat to Sixten. Matias and I were standing much of the way to Wellawaya, enjoying the breeze and the loud music.
We got off in Wellawaya and smiled and say no thank you at the Tuk-tuk drivers that told us the bus to Ella takes 2 hours etc.
Bus from Wellawaya to Ella
Local Bus from Wellawaya station.
Cost: 75LKR
Time: 40 minutes
I didn't catch a number but the buses leave about every 30 minutes, I asked the different bus drivers at Wellawaya station, and they pointed us to the Ella bus.
At this part of the bus journey, it's easy to get a seat, as the buses leave more frequently. Get a window seat, the trip to Ella is beautiful!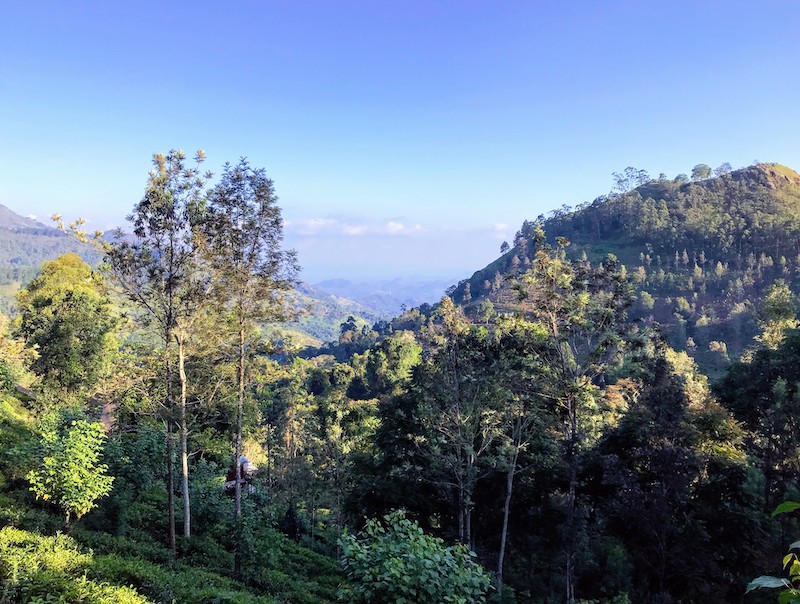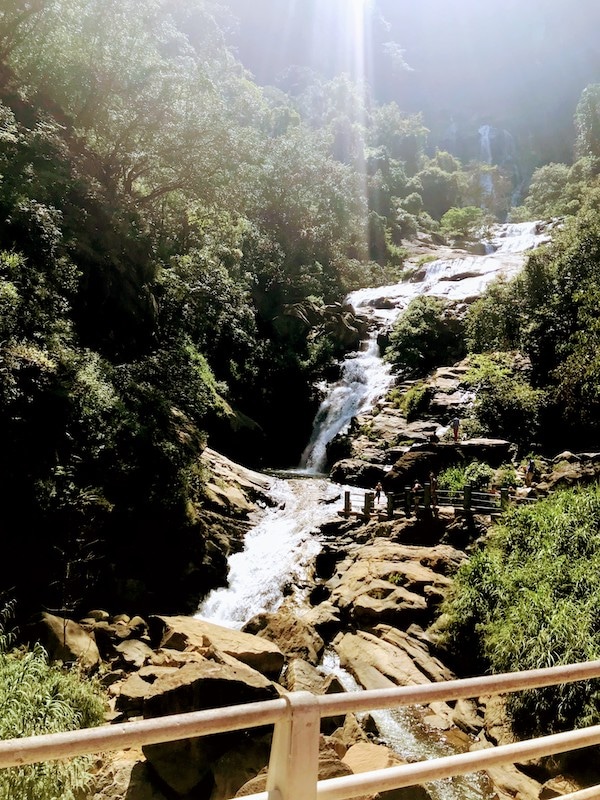 Bus from Ella to Wellawaya
Cost: 75LKR
Time: 40 minutes
The bus leaves from the main road in Ella town and is already a bit full, so it's not sure you will get a seat – so be prepared to stand up on your journey.
Bus from Wellawaya to Udawalawe
Express bus leaving Wellawaya station to Matara.
Cost: 100LKR
Time: 1,5 hour
Arriving from Ella to Wellawaya we got a connection after very little waiting time. The express bus leaves once an hour and starts from Wellawaya, so it was easy to get a seat for all of us.
The bus drivers and attendants are (usually) good at helping people with where to get off and to help us and other travelers with our backpacks. Often they were very attentive towards Sixten and helped lifting him up and down from the bus.