Tioman is a small island in the South China Sea, a paradise if you like quiet beaches, a laidback atmosphere, snorkeling or scuba diving.
Arriving at Tioman island you are met by the sight of more or less empty beaches framed by swaying palm trees, and the view of green hills rising up to a huge lush jungle.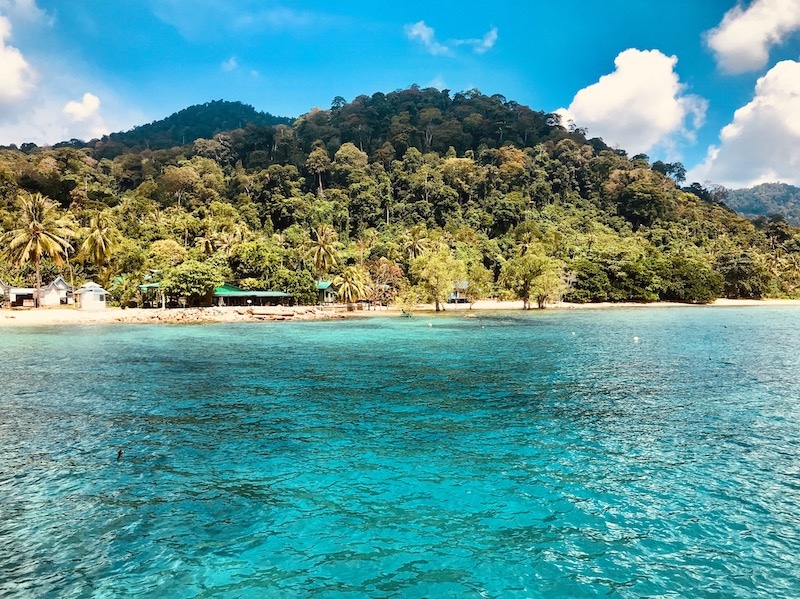 The small island is surrounded by turquoise colored and crystal clear ocean, which is home to a healthy and beautiful coral reef.
Diving With Blue Heaven Divers  at Tioman
I couldn't wait to dive into that ocean and see the marine life underneath, so as soon as we arrived I went to the dive shops close to our hotel. The dive shop called Blue Heaven Divers appealed more to me than the others, and they had space on an afternoon dive the same day – success!
The dive shop also offered to have Matias and Sixten come along to go snorkeling during my dive, so we were all three excited.
This first dive was at the local dive spot Renggis island, and it was great. Healthy beautiful corals and we met a couple of white tip sharks about three times, as well as two turtles, who swam along with us. Wonderful.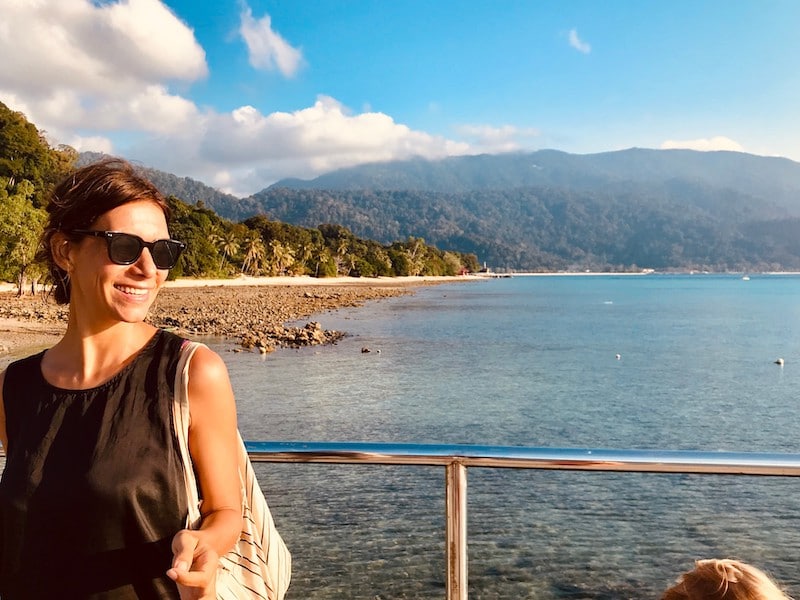 We have been diving many good places in Indonesia, Thailand, and Malaysia. I have also dived in Honduras, Egypt, and the Philippines, and I was really impressed by the marine life and the coral reef around Tioman Island.
One of my favorite dive sites there was La Bas. An amazing spot, with many swim-throughs and caverns full of nudibranches and juvenile fish.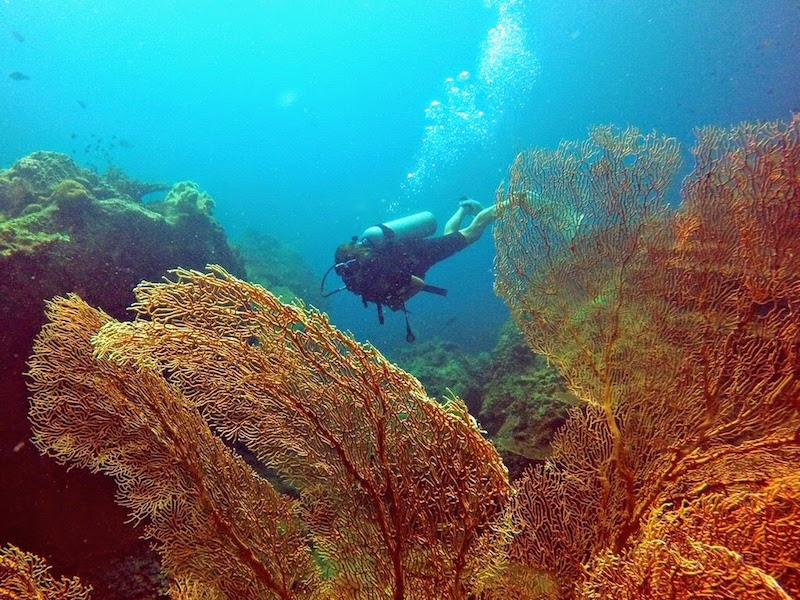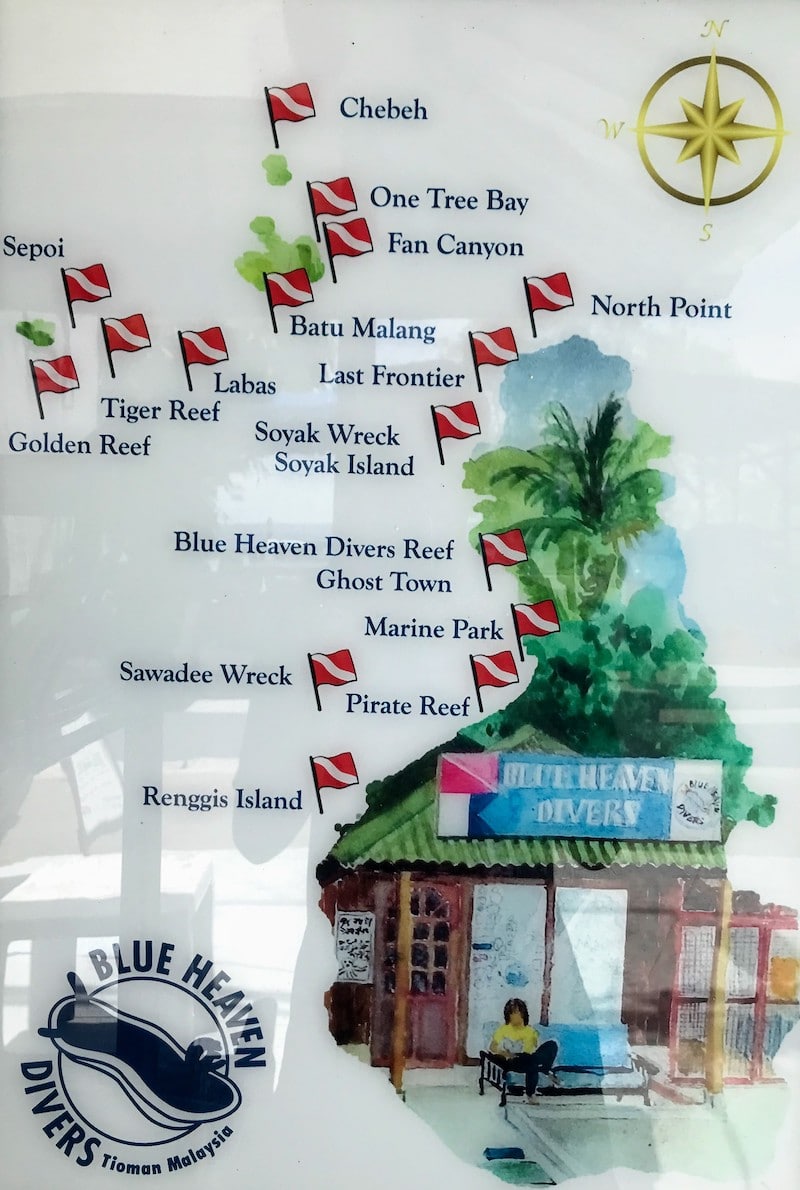 Staying at Air Batang – ABC Tioman
One of the quietest spots on the west of Tioman island must be at Air Batang located at the end of the beach road at the beach also called ABC.
Air Batang is a great place to stay if you are looking for a kid-friendly environment, a hammock to chill in and quiet surroundings. The location at the end of the road (no cars, only a few motorbikes) makes it quiet and relaxed.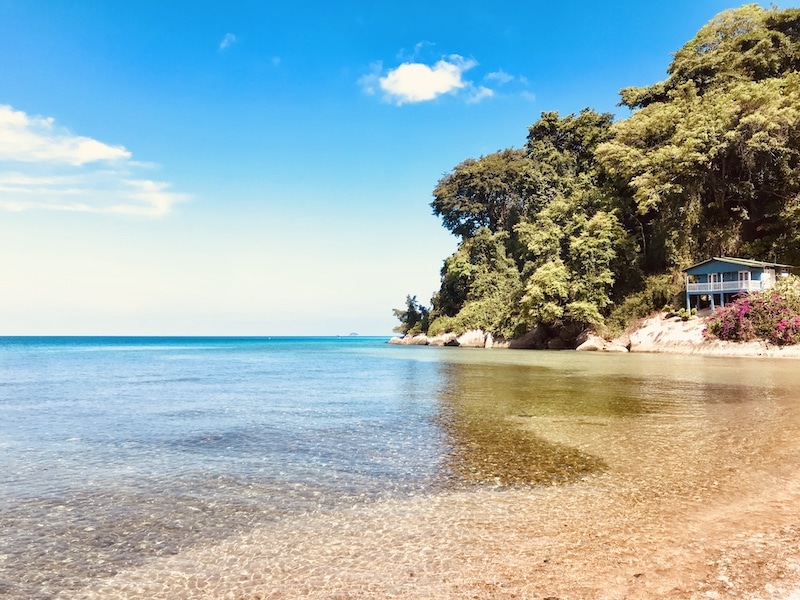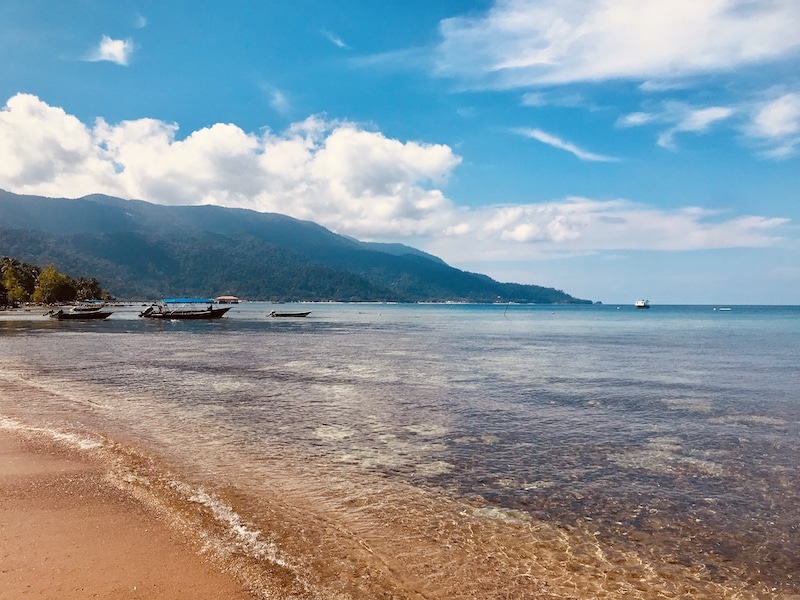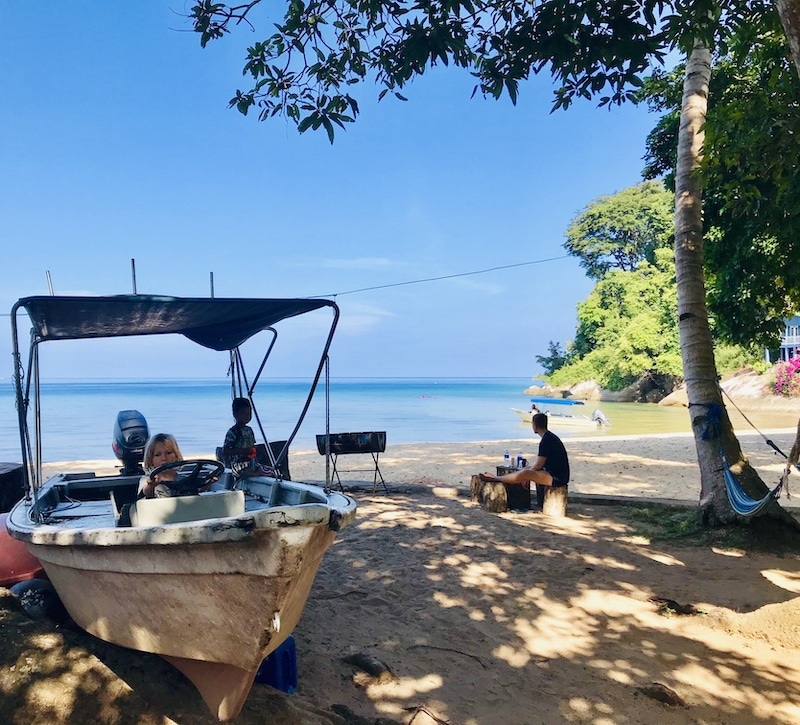 We stayed at the family owned place called ABC Chalet and restaurant. The place is run by a super friendly family, who make an effort to keep the island calm and clean. The family also runs the restaurant in front of the beach and make really nice simple food.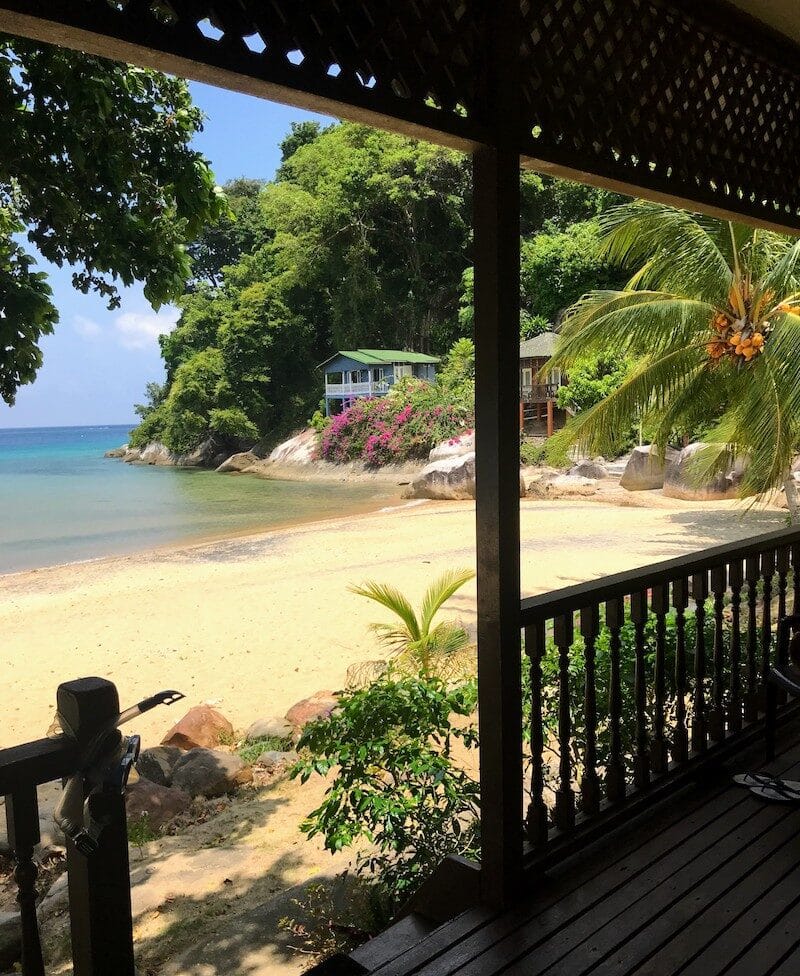 The hotel has different bungalow options. We can recommend both the simple bungalows in the back (100 ringgits) and the beachfront bungalows (220 ringgits).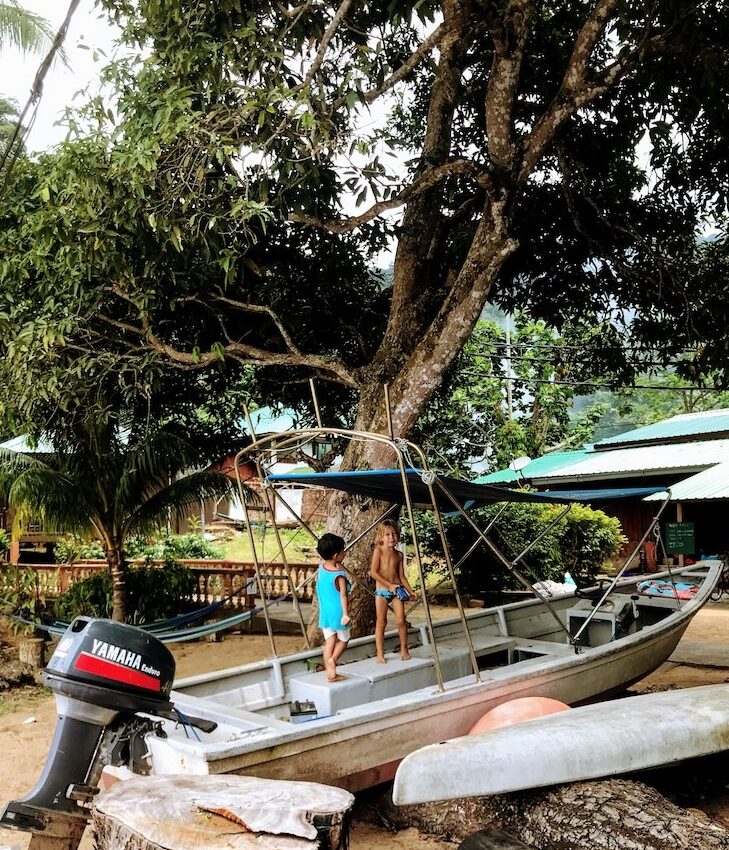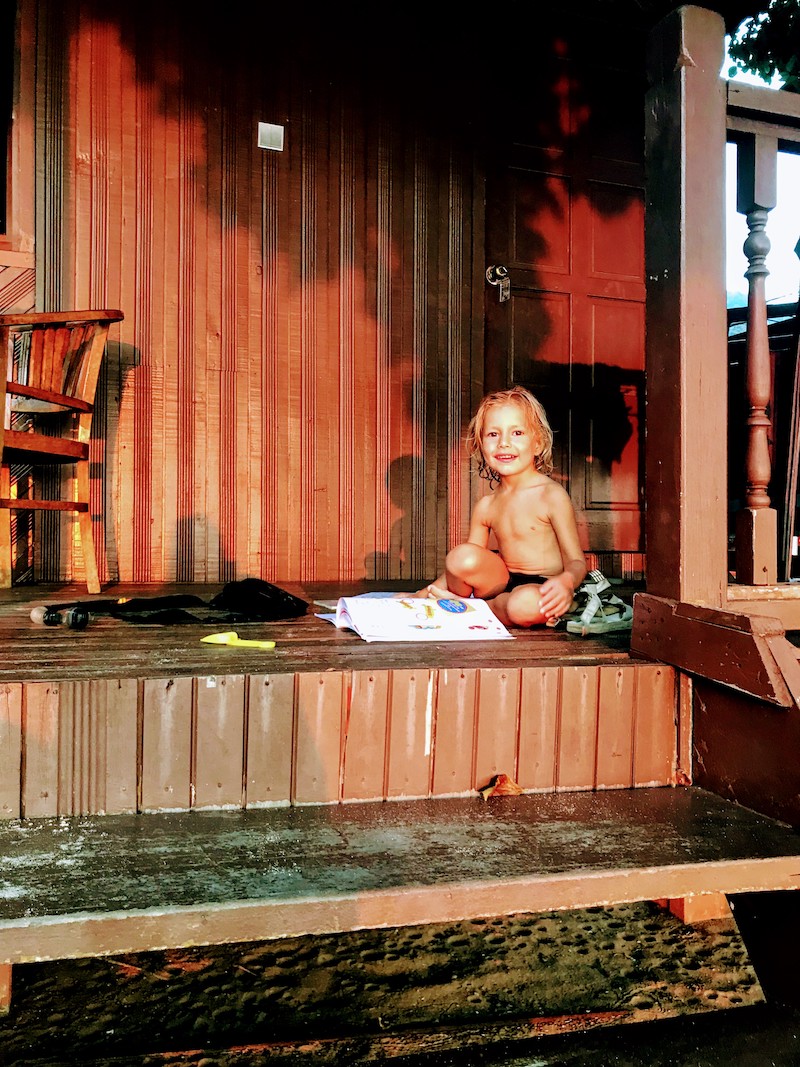 Snorkeling at Tioman Island
The sea is just a few meters away from the beach bungalows of ABC and is the beach here is quite rocky and filled with stone. But that is only good as it makes it a good snorkeling spot.
From Blue Heaven Divers, the dive shop we used, towards the jetty of ABC, the reef is beautiful and you can spot a lot of fish, just by snorkeling.
The hotels can help you arrange boat day trips to the surrounding islands, as well as fishing and snorkeling trips and many places rent out bicycles and snorkeling gear as well.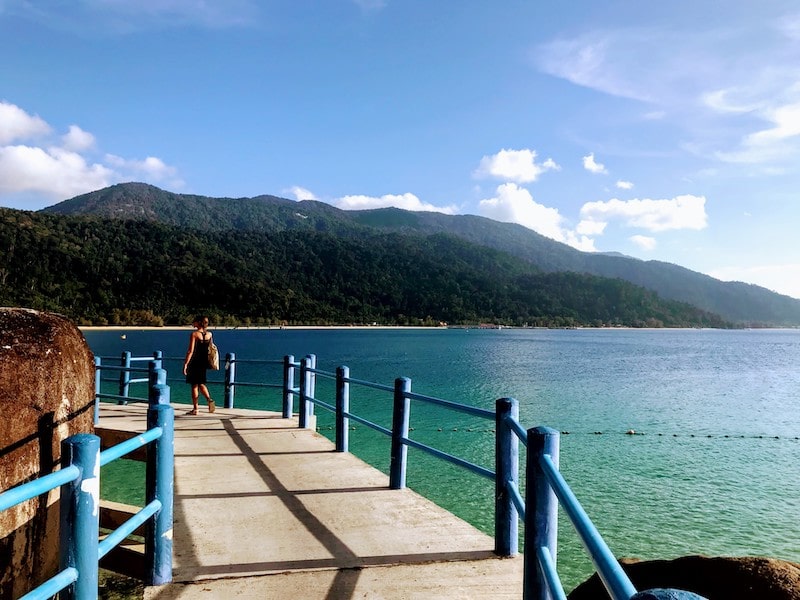 Bus from Kuala Lumpur to Tioman – With a Stopover in Mersing
To get from KL to Tioman, You can catch the bus from Tasik Selatan to the port city Mersing, where you catch the ferry straight to Tioman. The bus ride is 6 hours and the ferry is about 2,5 hour, so we did a stopover in Mersing, both on our way to and from Tioman. We used the company Transnasional, which operates luxury style busses with huge seats for around 33 ringgit each way.
In Mersing, we borrowed some bikes, but the town is small enough to be covered by foot.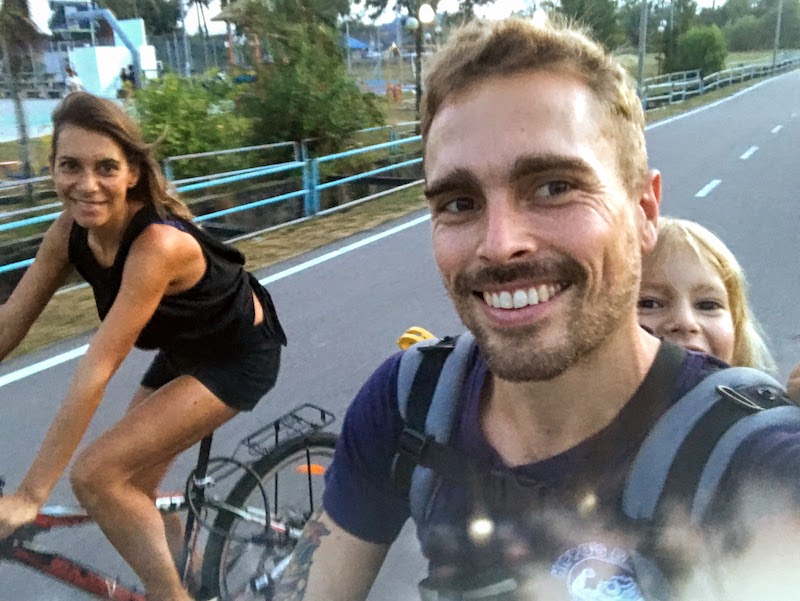 There are not that many eating options, but we found two great local spots. For dinner (and Lunch) Restaurant Syed Ali Mersing is a great choice. The three of us had a carb feast, with naan bread, roti's and tosai, accompanied by some tasty fresh tandoori chicken.
For breakfast, we went to a place, where we had probably the best roti of our stay in Malaysia. The place is called Kz Fani Cafe and is only open in the morning. The Saturday morning we stopped by, it was packed with locals out for their breakfast. We were welcomed and serviced by a sweet waitress very fast.  We liked the friendly and nice atmosphere, with huge families, friends, and singles, who all greeted each other and had small talks before having their tea tarik and roti. I noticed how a few locals smiled at me when I was using a spoon to eat my curry, instead of using the Roti or my right hand, as is the custom in Malaysia.
It was the most local eating experience we had in Malaysia, and I would recommend you to go to this place if you also decide to do a stopover in Mersing.