Sicily has some amazing beaches, that varies a lot from south to north, from sea to sea. Along Sicily's eastern coast, we found a secret gem.

Beaches in Sicily
The North side of Sicily gives you rocky beaches with cliffs to jump into the turquoise ocean and it's great for snorkeling and diving. The south and eastern side of Sicily offers sandy, long and children friendly beaches. The water is a little colder here, as the Ionian Sea is slightly colder than the Tyrrhenian Sea and the Mediterranean Sea.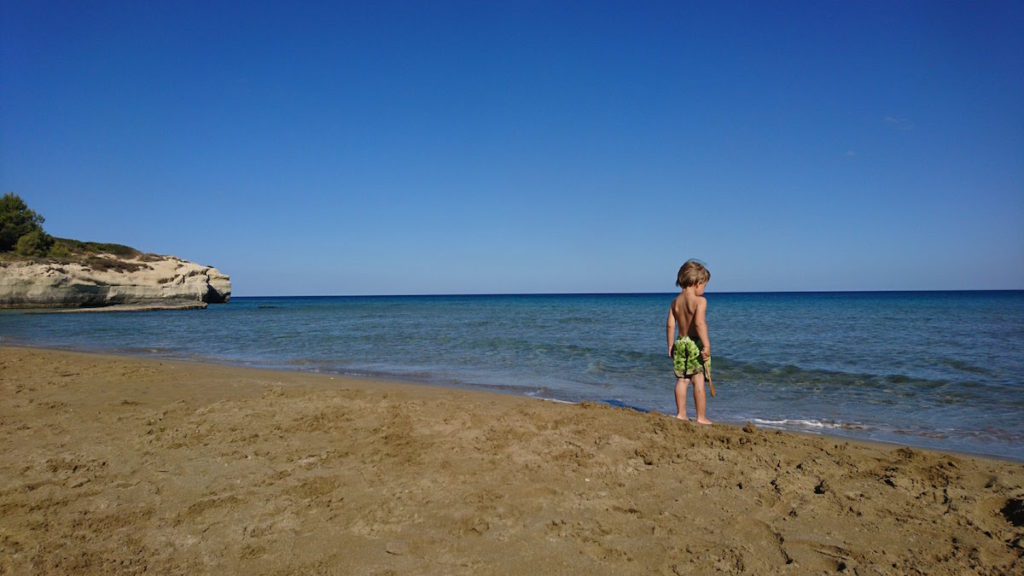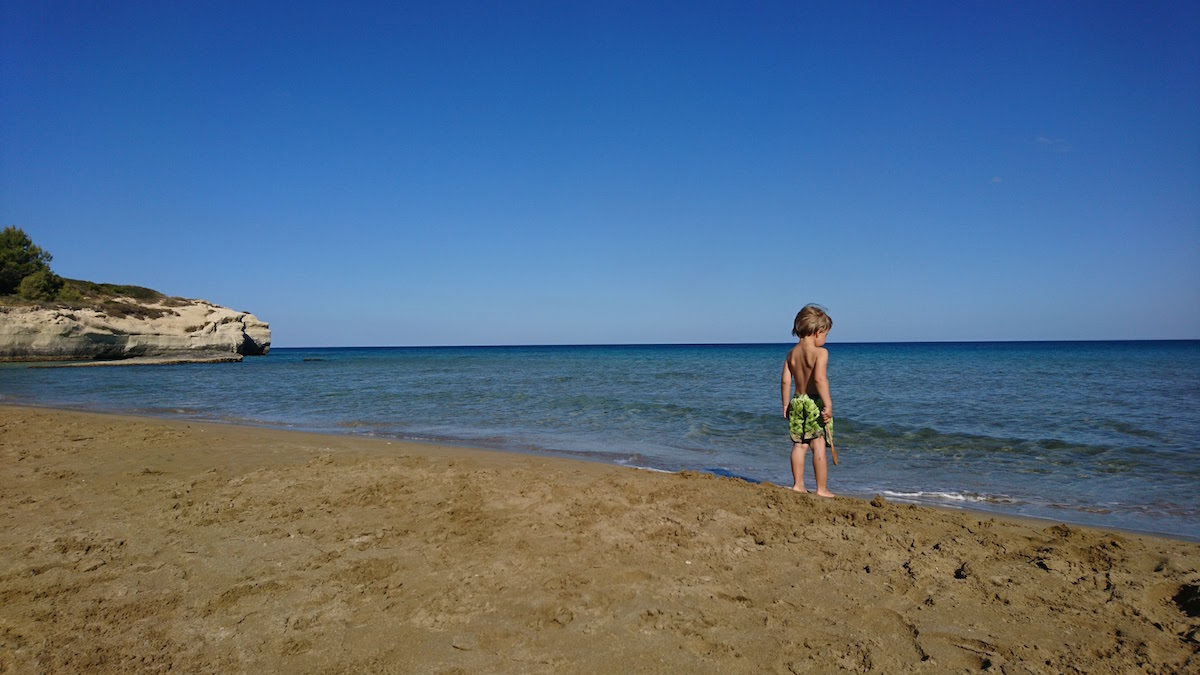 A private beach and view to Mt. Etna
I had done a lot of research to find a place close to the sea, but away from the busy beaches. Finally, I found this great house in Costa Saracena-Castellucio, on Sicily's eastern coast.
Castellucio is a hidden gem for many tourists, it has rocky beaches and is mostly visited by locals. It's also just 25 min. by car to the south from Catania airport. As we were arriving on a late flight, this place looked perfect.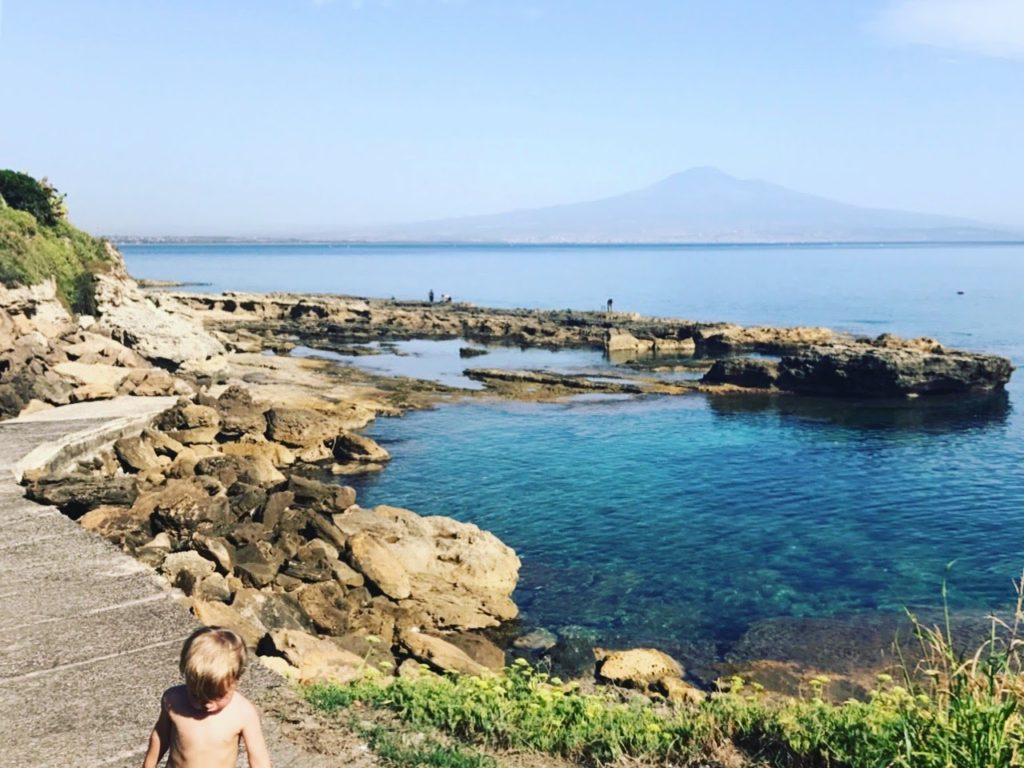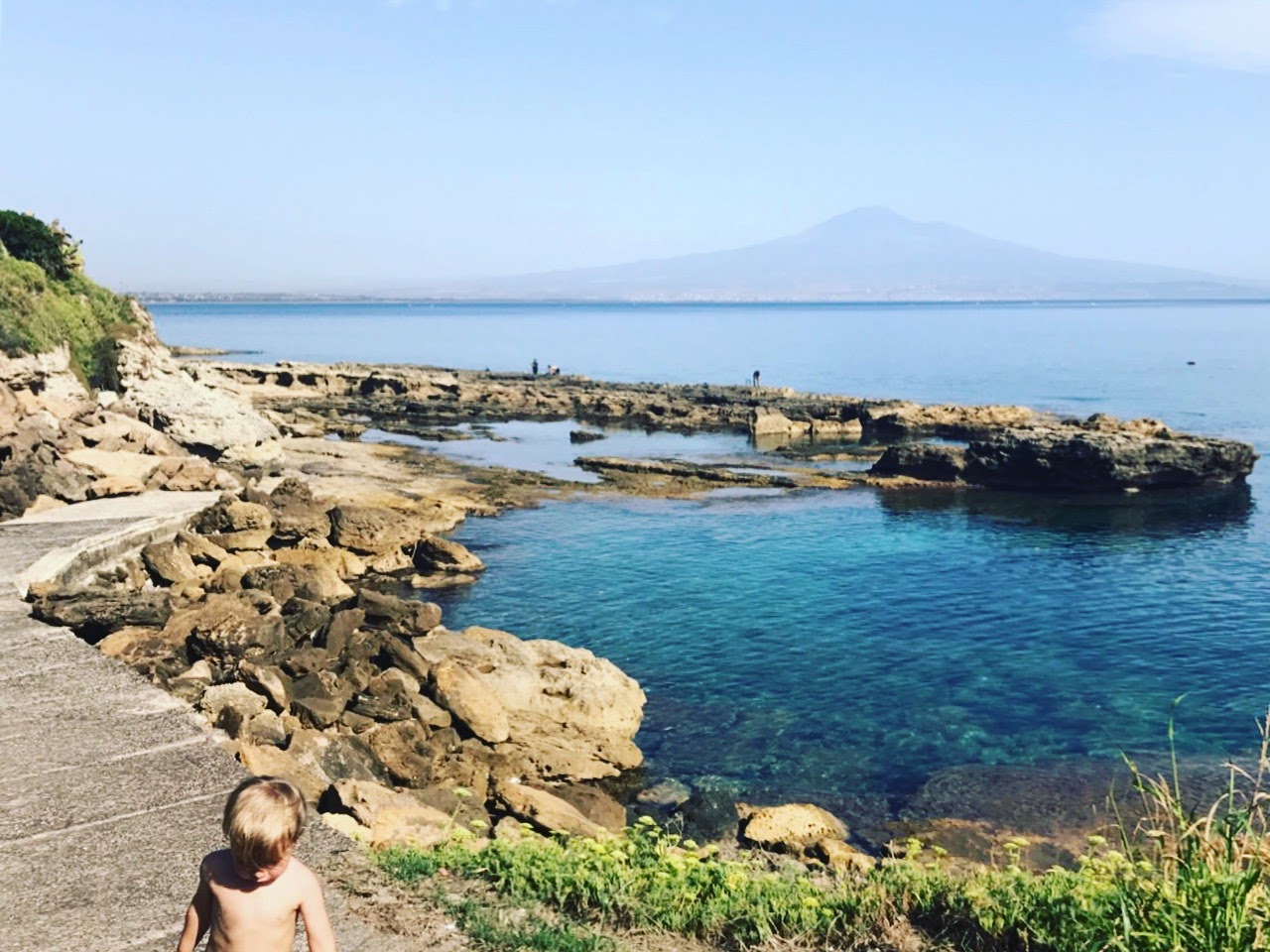 The house was placed on a hill in a private summer estate area, right next to a private rocky beach; a long stretch with clean water and view of Mt. Etna. It was often only us there, or just a few people fishing or a local elderly couple taking a swim.
We were pretty satisfied with staying at the house and ended up spending a week there. We had a huge terrace, with the view of the sea, and a spacious garden with a pool, so we really kicked backed and relaxed while staying here.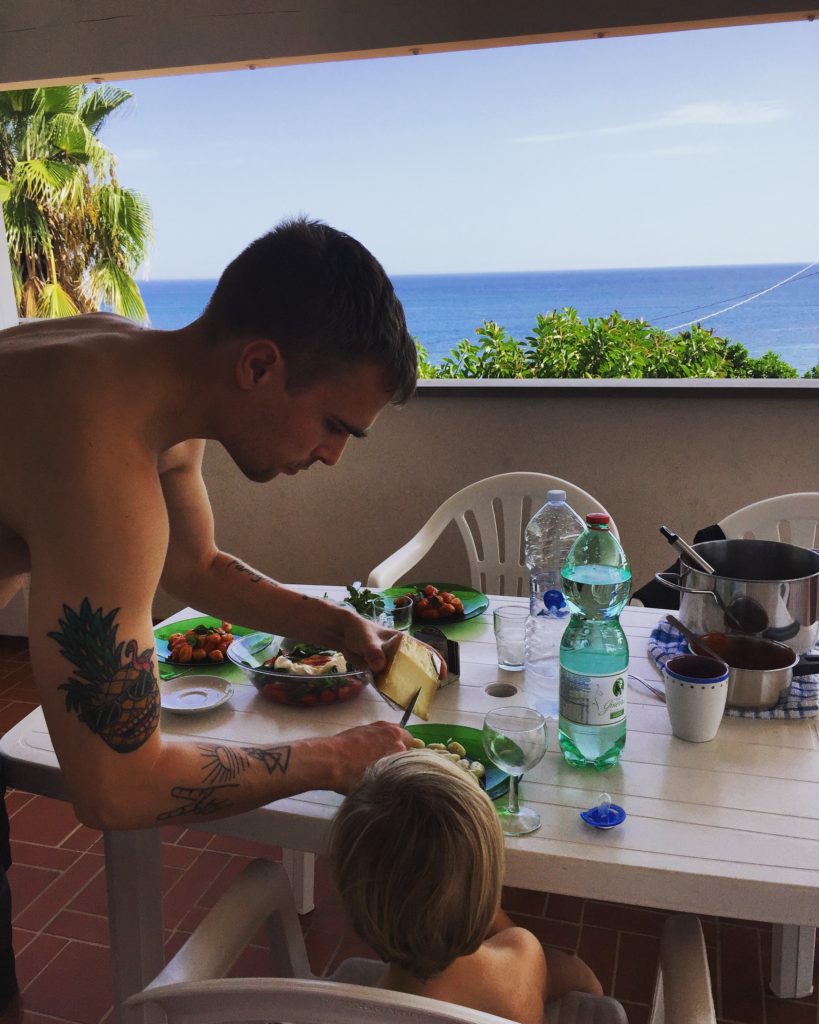 If you like rocky beaches like us, and a beautiful sunset you will like this place. Feel free to contact us for more info.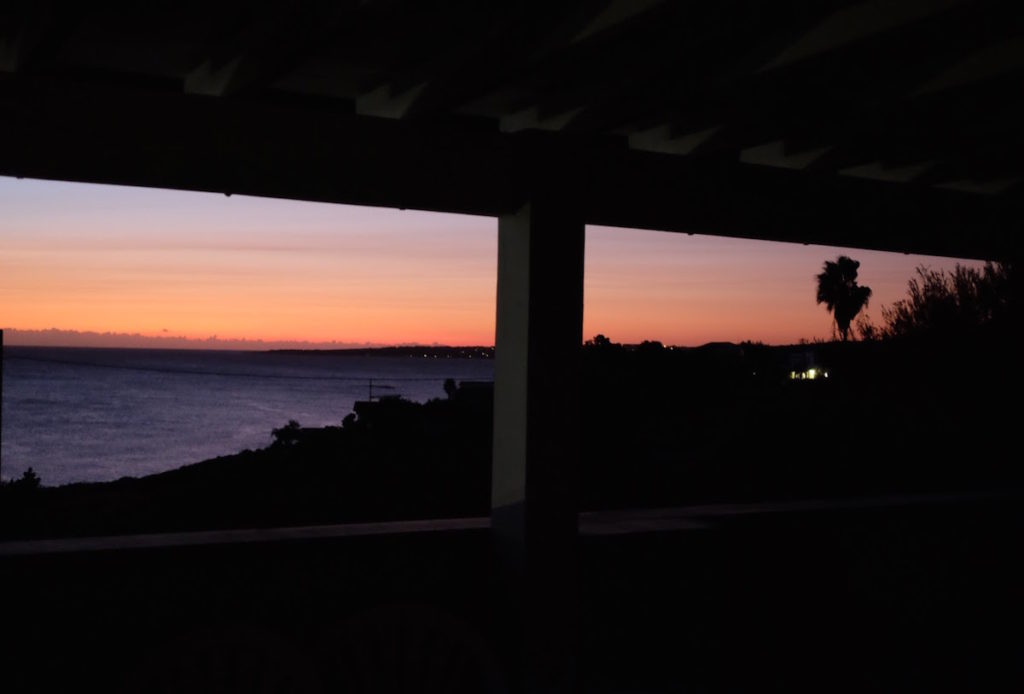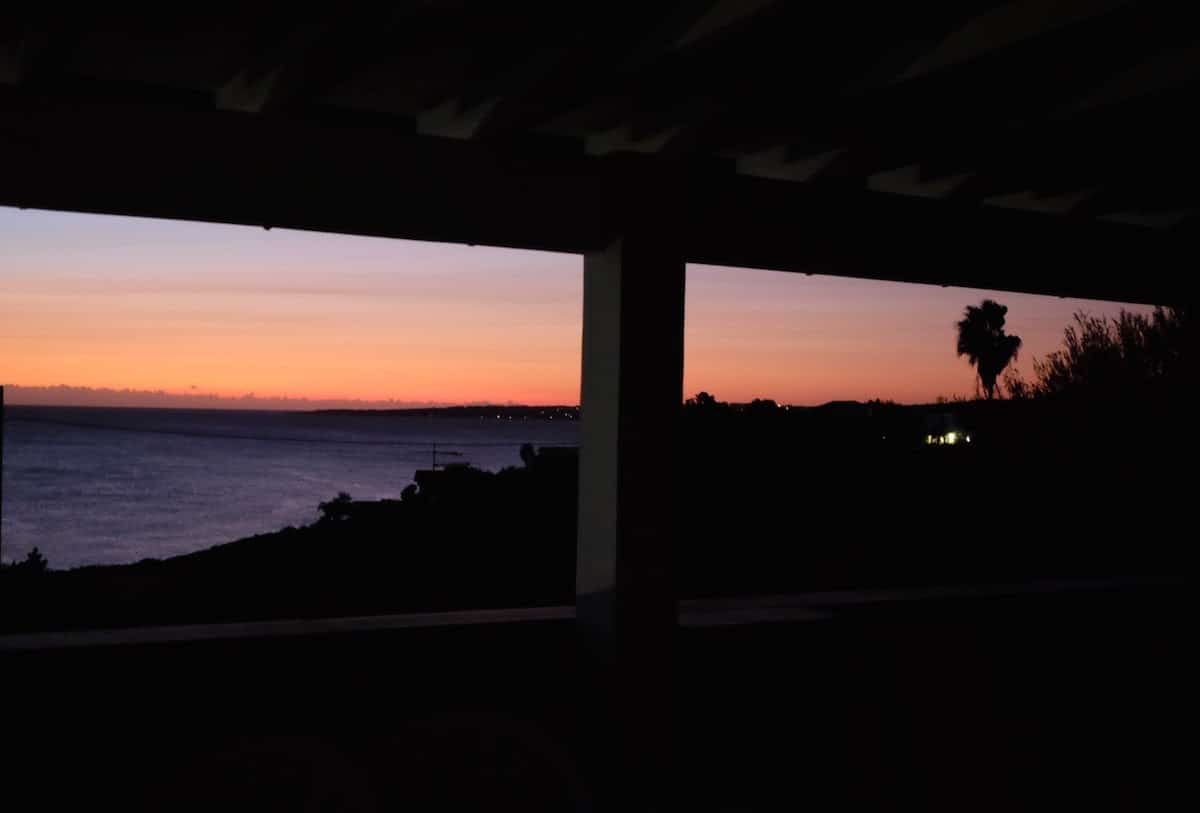 Dinner in Brucoli
Close to Castellucio is the charming village Brucoli which is great for both dinner, ice cream parlors, and a playground.
Our host of the house we were renting in Castellucio recommended us a local family joint in Brucoli: Trattoria Vincenza Savaglia. A simple restaurant with a terrace out in the water.
We came on a Sunday evening and had to wait for the family to come back from evening church mass. All the tables got filled up as soon as they opened. It seemed like a treasured place by the locals. No wonder, they serve fresh seafood of the daily catch and a liter of the house wine for 4 euro.
We sat on plastic chairs with a paper tablecloth on the table. It felt like we were part of a Sicilian picnic, with the family who walked around the tables, talking loudly to their guests and each other.
The Trattoria is located close to the playground, next to the parking lot at the end of the town. Address: Via Canale, 1, 96011 Brucoli.
We also recommend Trattoria I Rizzari, on the main street with a terrace out over the beach. Go for the grilled octopus and make a reservation before you go.
Address: Via Liberta' 63, 96011 Brucoli.  Hours: Mon-Tue, Thu–Sun: 1:00 PM–2:15 PM, 8:00 PM–10:00 PM.
Costa Saracena – Beaches south of Catania
For a change of scenery and to visit a sandy beach we took a short drive up the eastern coast to Agnone. This is a small beach town with many locals, a couple of restaurants and bars on the beach. A bit further north you can also check out the beach of Villaggio San Leonardo. These beaches are also easy to reach by car if you are staying in Catania.
Vendicari
From our house in Castellucio, we had fast access to the highway and it was thus obvious to make a day trip to Vendicari Nature reserve and its beautiful beaches. Read more about this here.