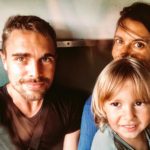 We're Tabita and Matias from Copenhagen, Denmark. We travel together with our son, Sixten.
In 2018-19 we are taking 6 months off from work and daily life. To go travelling, and let our kid meet other cultures, ways of living and people with a different view of life.
On our travels we love spending our time in the nature, to go diving, and hiking. We also like walking around in new cities, exploring cultures, art and architecture. When visiting a new city we search for good food (maybe along with natural wine) and the best ice cream.
Sicily is one of our favourite places in Europe. We love the food, the culture, the nature of the island and we keep going back, why many of the posts here are about Sicily.
Follow along here on lemonsandpalmtrees.com where we share tips & tricks from our previous and upcoming trips. 
Happy reading 🍋🌴